Time & Date
Monday, May 29, 2023
2-4pm MDT) / 1-3pm PDT / 4-6 pm EDT
Reminder emails are sent 24 hrs and 1 hr prior to event.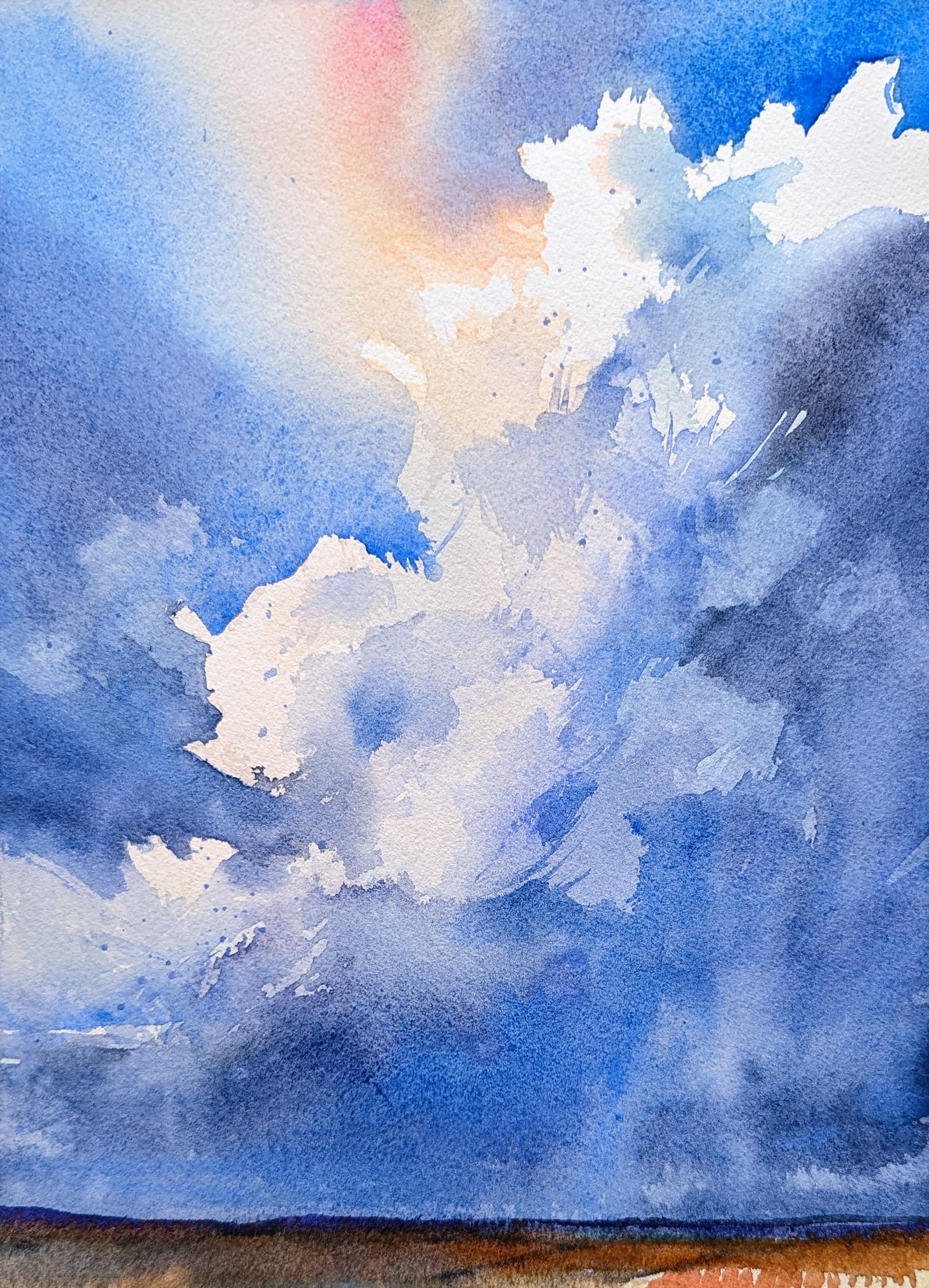 Plan and paint a dramatic cloud bank in watercolour!
Session Outline:
Supplies & Materials Overview, Q&A
Planning: Studying your reference photo and developing a value study.
Mixing & working with blue and other sky-supporting colours.
Creating radiant light
Working wet on dry
Painterly effects on damp paper
Mark making
Questions & Answers
The session will be recorded so you can watch and paint again and again.
Painting the sky is fun because there is so much forgiveness in the rapidly changing sky.
This workshop is designed to help relative beginners to watercolour with painting a subject that can be tackled with a lot of playful freedom, while teaching valuable techniques for colour management, composition and brush handling.
Intermediate painters will find the opportunity to explore pushing their boundaries in contrast and bold expression with alternate suggestions offered for a bolder variation on this subject.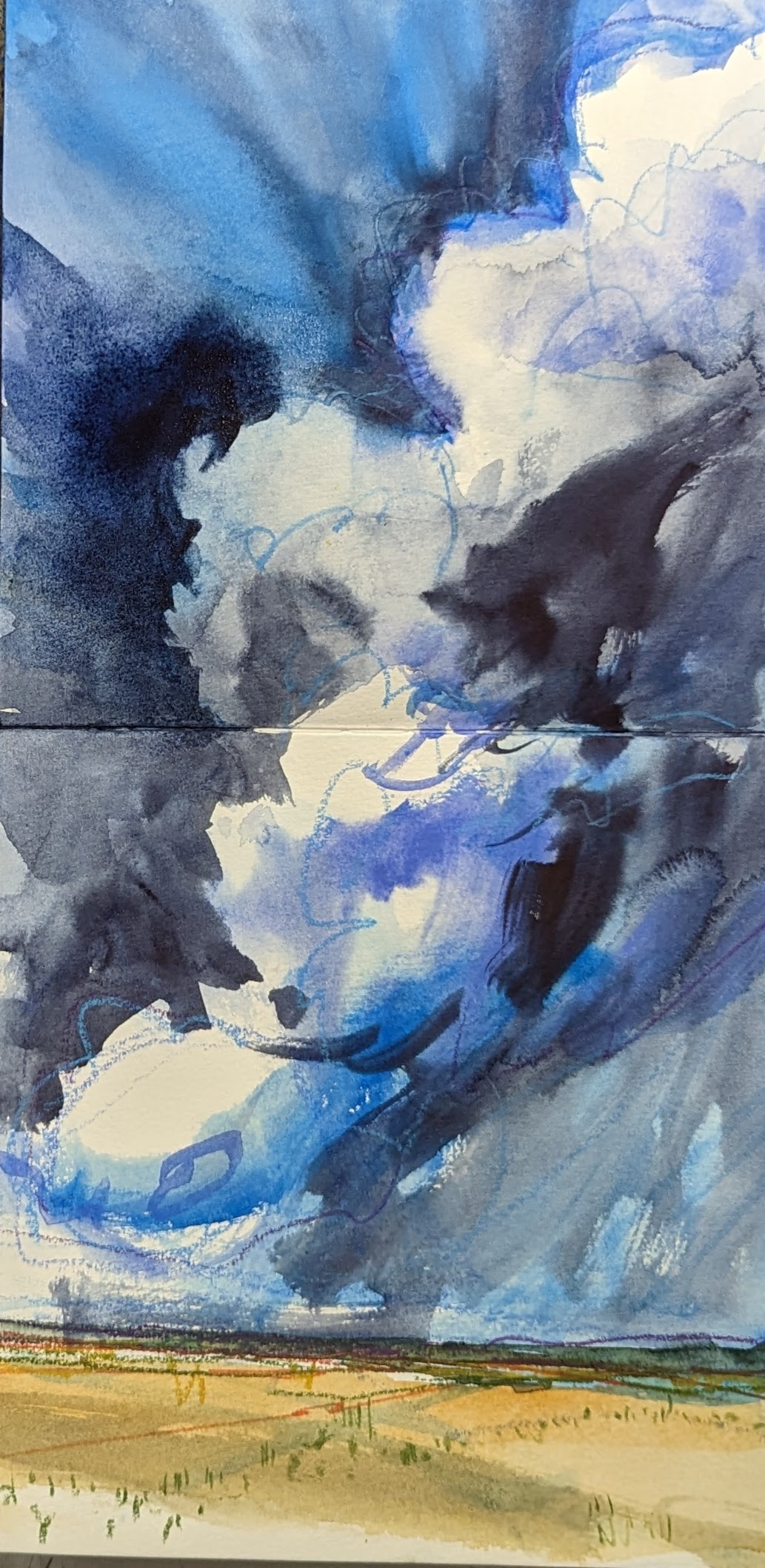 How a Zoom Workshop Works:
This workshop is hosted on Zoom and is happening LIVE. That gives you the opportunity to watch Angela paint in real-time and ask questions as she demonstrates technique.
A recording of the workshop will be made available so you can rewatch the lesson and practice the techniques over and over again.
Questions:
Q: What if I can't attend the live session?
A: While a recording is available for enrolled students who miss the event due to technical issues or other absences, if you know the date and time won't work for you, I would encourage you to plan to join a future live workshop.
Q: What supplies will I need?
A: A basic watercolor kit (paint, brushes, paper) is all you need to take this class. Angela will share suggestions for how to choose colors and materials as you grow your supply stash. See the resource guide in the course for more info.
Q: What will I learn?
A: This beginner course will be focused on actioning watercolor techniques to create a painting, in a step-by-step format. Angela will develop a painting and you will follow along using the same reference photo. (for those wanting to learn how to paint more independently, I recommend my intermediate workshops)
Q: Will Angela critique my work?
A: No. Time does not allow for individual critiques, however you can ask questions freely in the chat while the workshop is going. Angela will answer questions as she is able while she is teaching, and end the workshop with an additional time allotted for student questions.
Have a question not listed here? Send us an email and we'll get back to you as soon as possible!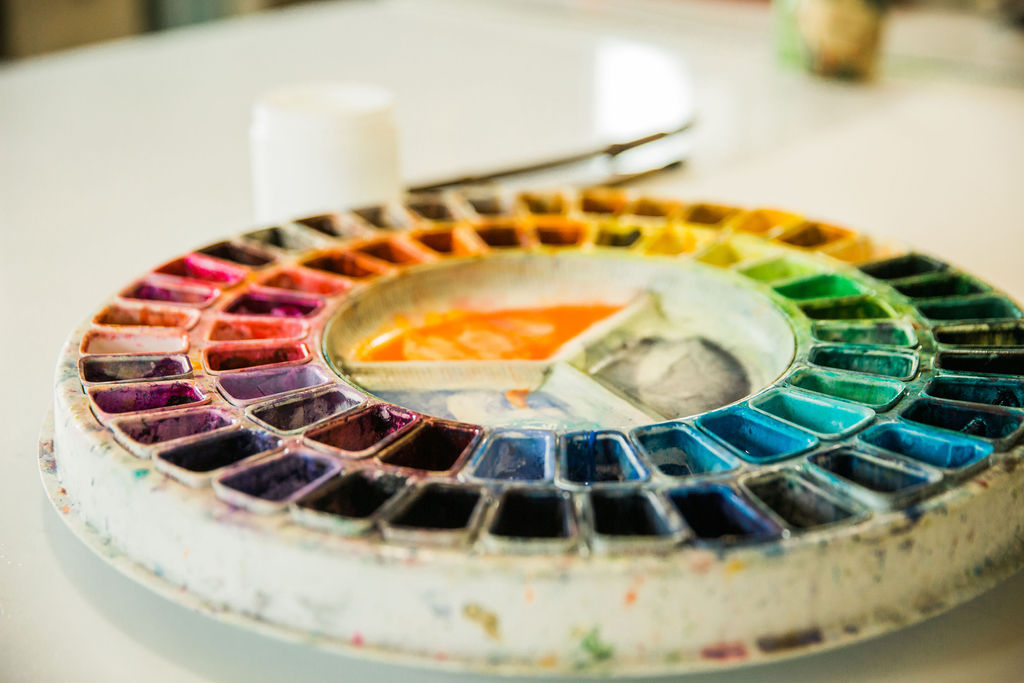 Supplies & Materials
Angela will spend 15-20 minutes giving information about supplies for watercolor and answering your questions. Learn how to choose good materials, where to spend/save money on materials and have your questions answered!

Step by Step Painting
There's a lot to remember when you're a new painter! By following along as Angela paints, you have the opportunity to learn techniques without having to also plan design and composition. Angela will spend lots of time explaining her decision making process so you can apply what you're learning to designing your own paintings in future.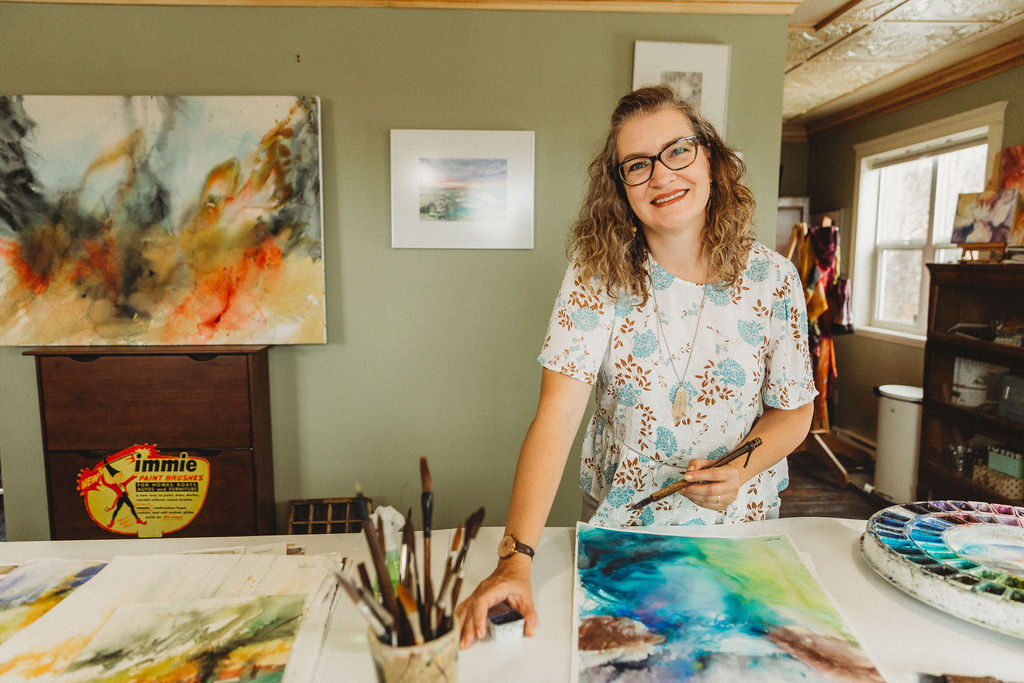 You-Focused Style
Your personal style is what gives your art uniqueness, and even as a beginning painter, you can be learning to express yourself in watercolor. Angela will demonstrate exercises that will help you paint spontaneously and develop your artistic voice.

Course Contents
Available in days

days after you enroll

Resource Guide
Available in days

days after you enroll

Event Link & Recording
Available in days

days after you enroll

Resources for Further Growth
Become Your Own Favourite Artist!
The best artists paint for an audience of one; choosing to paint to please their personal vision and taste in a way that makes their art unique and deeply personal. This is a satisfying pursuit and is accessible for anyone who yearns to paint and is too stubborn to quit!
My first priority is to encourage you to be the artist YOU were meant to be, rather than fitting anyone else's expectations. There is always more than one way to paint a subject, and watercolor techniques can be applied to suit every artist's style.
My hope is that my own creative journey, from fear to freedom, is one that inspires you to choose to paint because you love the process, and a beautiful process creates beautiful outcomes.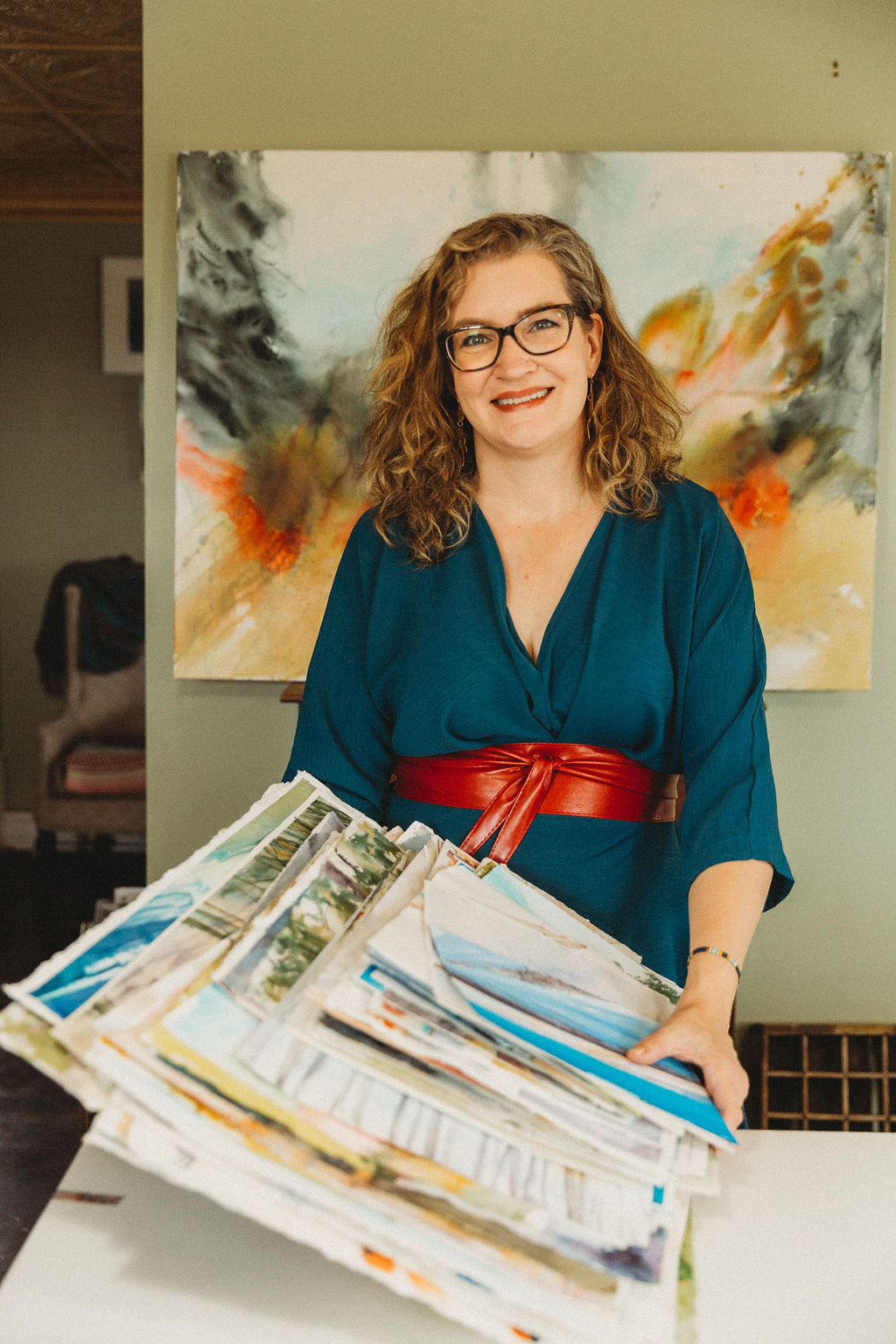 Further Growth with these Self-Paced Courses
The courses listed here have been designed to help you grow skill in watercolor techniques, and become a better decision maker as you use the skills in your watercolor toolbox to create your unique works of art. Each course below will supplement what you will learn in this live workshop and you get lifetime access so each course can be taken at your own pace.