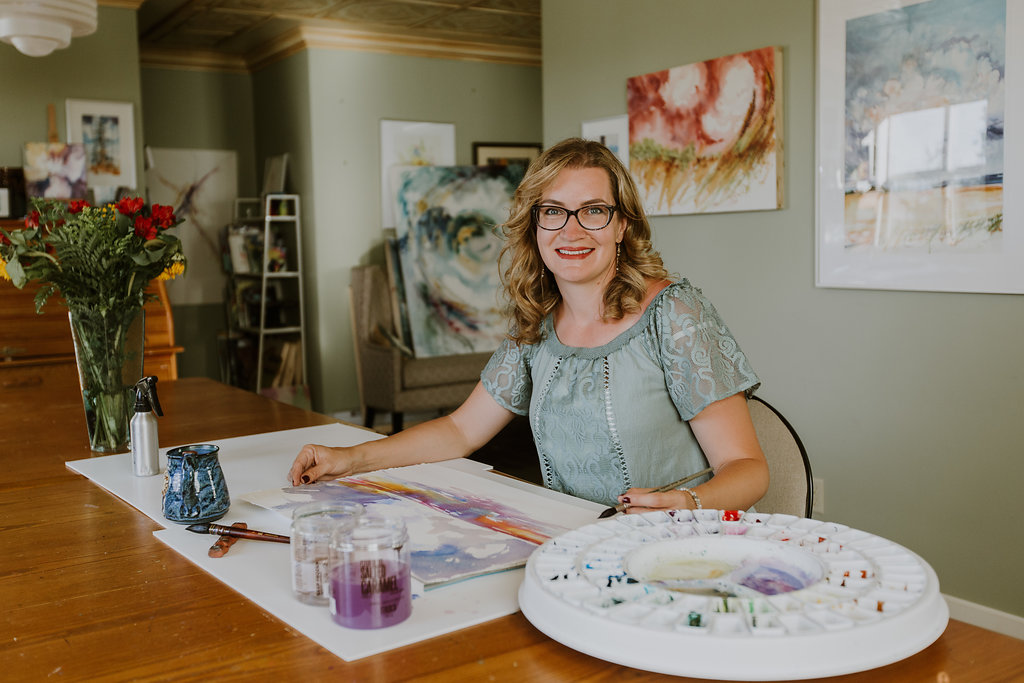 From Angela:

My desire when I created Watercolor Mastery was to provide a structure for artists to transition from student to a mastery-focused mindset. Empowering artists to paint with a heart-led, confident style is my mission and greatest challenge.

See what past students have to say about Watercolor Mastery:

'My lack of confidence in my own ability was my biggest obstacle. With Angela's generous sharing of her own tool box of strategies, I was able to move past the fear of failure, and pick up some valuable skills in color mixing, and learning about "The Pause". Such a great idea that lets one evaluate, and re-evaluate, by noticing what is going on in your painting, and taking cues from what is on the paper. The feature I liked best about the course, was that everyone was celebrated at their own pace. and style. The safety in sharing your work in this safe space was so encouraging and freeing to be your own favorite artist.' - Helen C.

---
'Angela provided ways to just get paint on the paper and inject energy into a session that may have stalled due to indecision. Once the paint was down, it's always exciting to see where it goes next and the paint just flows. Later sections addressed the later layers where you've come to decisions and problem solving and we discussed the basic components that you can consider like value, composition, color, and mark-making that you can use to find or create a path out of a swamp of uncertainty. I really enjoyed the open-ended nature of the projects, and the fact that we were encouraged to use our own photos. With most classes there's always a chance that once the event is over, I may or may not immediately use the lessons I just learned and they fade, but when encouraged to apply the lessons immediately IN the class, I feel like I learned and UNDERSTOOD so much more of the material. Along the way of understanding the principles, using my own inspiration, I was able to learn more about and develop my own personal style and taste at the same time. That doesn't always happen (or happens slower) when you don't get to chose the reference of painting subject. Angela is the most encouraging instructor that I've encountered in the courses I've taken so far. She respects each student's current position in their artistic journey and doesn't attempt to impress any personal views and tastes on her students. As she teaches, she of course follows her own style and methods, but always encourages students to use whatever methods or styles they find inspiring. Having a love of detailed painting, I actually found learning from a loose painter very helpful since it actually made it easier to read past the individual brushstrokes to see the elements of color and value, etc, instead of just trying to imitate and replicate what the teacher is doing. Yes I did pick up some practice loosening up my own work, or more cleaning up my work, but I think it personally made me refocus on what I wanted those details to say in my painting, versus working to loosen up all the detail across the board. I highly recommend Angela's Watercolor Mastery course! As an artist who approached this course with moderate technical skills, but a little lost in the myriad of possibilities of where I could take my work, I found tools in Angela's lessons to navigate that world and make my own decisions to improve my art. Think of this course as teaching you how to use a compass and map that are custom calibrated to you and your art. The class is so dynamic since the projects are pretty much limitless, they can be as open-ended as you want to make them and the more you put into them, the more you learn and get back in return; plus you can return to the class again and again as you continue to develop your work and get a different result depending on how you approach the prompts.' - Jill G.
---
'Angela's encouragement and suggested exercises, especially warm-up ideas and playing with new techniques, like not using a brush, gave me the OK to just "do something" and not worry so much about what a finished product might be. The week-by-week lessons really encouraged my to paint something each week and continue on to the end of the course. If all had been available at once, I would probably have been tempted to "read to the end" and not pace myself. This feature really helped my learning and retention process' - Julie W.
---
'I have become bolder in my painting due to the fearlessness and bravery you exhibited in trying new things and in going ahead and doing just that on live camera! I am so glad I signed up for the Watercolor Mastery class!' - Joanne C.
---
'I liked that each week there was more than one goal - and I was free to try all, some or none of the suggestions. Mostly I tried them all, even when initially thinking I wouldn't like it - Yupo paper, for example, I would never have tried on my own and I really enjoyed it. I would definitely recommend this course to anyone who feels they are struggling to find their own style in watercolor, and/or are feeling in a rut about their own work. Angela offers suggestions on ways to find your own best expression and suggests very helpful ways of breaking out of a rut'. - Mary Jo A.
---
'My thanks to you for designing and teaching the Watercolor Mastery Class is heart felt. Your passion in the watercolor art and your love for teaching inspired all of us, your students, to become more free and fearless. Your words excited and encouraged all of us in our attempt to find or develop our own style. You showed us how to have confidence in ourselves and be our favorite artists. And the amazing thing is that we all responded. I painted more paintings in the past 6 weeks during class than I had in the past 3 years when I first picked up watercolor painting. And what you taught will stay with us for a long time. Thank you so much for this gift'. - Hilary L.
---
'My biggest obstacle in watercolour prior to joining the class was myself and my mindset. Even though I've always enjoyed watercolour and always had good intentions, 'all of the conditions had to be right' in order for me to actually do it. Aside from taking a few workshops a year, weeks, even months would go by without me painting at all! My painting has improved in every way as a result of taking this course, not only because of the content, but because it forced me carve out time to paint. I really wanted to put all of myself into the course and keep up with the lessons and group discussions and I had to paint practically every day for 6 weeks in order to do that. In doing so I developed the habit of painting daily, and because of that I would say that this is the most worthwhile watercolour course I've ever taken. I loved the discussion pages and weekly recaps. It really helped to feel supported and encouraged by Angela and the other members and to give that back. The weekly recap was a great feature because it was nice to regroup and go through the challenges and successes of the past week and also to hear more 'Angela Fehr anecdotes' about painting and maintaining a positive attitude! It's apparent that Angela Fehr loves watercolour and teaches that subject to the fullest, but she also very clearly cares for her students, and that makes all the difference. She always points out positive attributes of people's paintings and stresses that we should remember that we're already successful artists if we're painting for the love and enjoyment of it.' - Michelle Z.

---
'My painting has blossomed by light years. My confidence has soared. Equally important as the instruction was the feedback I received from my instructor and from my fellow students. Before, I didn't know where to start. I didn't know how much water to have on my brush or paper. This course gave me the lay of the land; it sketched out the big picture and showed me what was possible --from the instructor's demonstrations and from the students' posts. I have always looked at landscape and taken photos, asking how would I paint that sky? What colours would I use? How can I capture what I see and feel because it is so beautiful? The Mastery course focused on key principles --touchstones to follow as I begin to paint what I see and love. I loved the content and its organizations-and the demonstrations. Excellent filming and clear explanations. I also loved the Discussion page. Angela Fehr is clear, concise, welcoming, generous, supportive and organized. Her enthusiasm and passion for painting, nature and watercolours is probably what stands out most to me. Her teaching style is fluid --perfect for the watercolour medium! She includes tips in her narratives and everything flows! Angela truly cares about her students and it shows in everything--from the design of her lessons to her comments on our work to her emails. She wants us to learn and to share her joy in watercolour. (Watercolour Mastery) kick-started my watercolour journey. Everyone was so supportive and the message is that no matter where you are on your journey, you can pick up what you're ready for in the course and perhaps other things might sit for a while until you're ready for them. The principles that the course is designed around --colours, values, design, etc--are essentials and inform all art. The course introduces and reinforces those basic principles throughout so they stick with you! An excellent approach!' - Susan B.
---
'I am a relative newcomer to watercolor (or art in general), and struggle with getting bogged down in details and over-painting. My biggest fear was sharing my work. Through this course, I've learned to see the bigger picture and break things down into simple shapes. The support that I received through the course from Angela and other students made me less fearful of sharing and was a great learning experience. I liked the structure of the course with Angela's lessons and learning how to begin looking at what I want to paint and how to break it down by shape and value. Angela's input was invaluable. My favorite part was the live feed each week, where we could interact and ask questions and get feedback in real time. Angela is such a supportive and giving instructor. It makes it much easier to share knowing that the input that she gives instructionally is done in a positive not critical way. She seems to be able to make each student feel supported and a valuable part of her class. She doesn't make you feel less because you may be at the beginning of your art journey and have skills that aren't as developed. She is very nurturing and encouraging each student to develop at whatever level they may be at the time. This is a great class if you want to learn how to grow and develop as an artist. It was less about learning to paint as Angela paints and more about learning to discover your own inner artist and not be fearful of venturing out and trying things'. - Gerri D.
---
'My biggest fear was not having enough confidence in myself as an artist. I now feel more confident and have no more self doubt about putting paint on paper. The best part of the course is hearing/seeing Angela's process and mindset. Angela has the ability to get across to students the importance and fun of getting in touch with your own artistic nature. She lets you come along on her watercolor journey as you both learn together. I would recommend this course for anyone who wants to boost their confidence, abilities and expansiveness in the artistic process. The discussions with the other students, ability to see their work and Angela's and student response to posted work are all invaluable.' - Jean J.
---
'I have been painting almost every day! Really enjoying fun warm ups as well as working through the course. I have started to look at value more . The course has sparked so many ideas in me that I feel as though I will never have to ponder over what to paint ever again! Angela has such a gift for explaining things in an easy to understand way. She is so encouraging and positive in her comments and has a clear empathy with her students. Her love of watercolour is infectious. She is kind, generous ,sincere and authentic and I feel so lucky to have been able to take this course. It is not easy to find courses in watercolour that go beyond the beginner stage. Once a strong foundation of technique has been gained, tuition tends to run out. The Watercolour Mastery course has been so much fun that it really sparks the imagination. The focus on mindset is invaluable.' - Cathy D.
---
'I was struggling for more than 2 years of not being able to paint anything I wanted to share with others, they did not make me happy, and I felt confined and stuck in a place where I did not want to be doing the 'same old same', but I had no idea how to escape from that place. I was very discouraged, frustrated and longing to be inspired, but, nothing really grabbed me and I felt as though I was sliding backwards, head first down a steep incline with no way of stopping the dismal failures I was painting. Now, I am stirred up, eager, excited, motivated, inspired, and most of all happy and filled with delight to continue onward on my own in the weeks and months ahead. I am thankful that I can refer back to the course whenever I want..I will be doing that a lot!!

So, yes, I know and believe that I am improving, and there is change coming. I also now realize that change will always be a part of my painting experiences, and that I need to keep my heart and mind open to those seasons of change (just like any other area of our lives). (This course) has changed my life in many, many ways. I have not arrived, but I know and have the confidence now to move forward, to try and try, to play and play some more, to challenge myself with many new ideas, colours and techniques. Keep on keeping on!...Who would not want to discover who they really are, deep in their hearts? Who would not want to dare to express what needs to be said through their art form? Who would not want to be free, to play, to be full of joy and happiness as they pick up their brushes and implements, spritz their paints and dance with the shapes and colours on the paper?' - Evelyn V.
---
'For my birthday, I gave myself the gift of watercolor lessons at our local art center. I am one who had poured over YouTube videos, articles online, and Jean Haines' watercolor books. I decided to go for it and enroll in the watercolor Mastery course. I debated the first couple of times Angela offered the course and I can tell you I do not once regret my enrollment decision! Angela is encouraging, she is not fussy, and doesn't care which brand of paint, color or brush you choose. Applying the course content to my practice, I really do feel fearless when I paint. Actually watching Angela paint was priceless. Her transparency is refreshing. My freedom of expression is now uninhibited and my desire and love for watercolor is even greater. So enroll, learn from the videos and instruction. Enjoy posting your work and receive compliments and suggestions. I am even excited to watch the course content again! The personal fulfillment of enjoyed painting will be your reward.' - Karen D.
---
I have been learning SO much from your courses...even the ones I just couldn't connect with at the time, are still in my head and now speaking to me....I am glad that in spite of not feeling ready to take this masters course, I just couldn't resist...I am glad I signed up! - Leslie
---
I have just done the week 6 exercises and want to thank you so much for these weeks when you have been sharing your watercolour knowledge with me, It has been such a joy and i have been looking forward to every lesson! I have been drawing and painting since I was a little girl...I have been very self critical, The process of loosening up has been a true struggle! But your positivity and all your encouragement has been a therapy, it has helped me to trust myself more and given me more joy painting and trying things outside my comfort zone. Allowing myself to fail without giving up, I have learned so much from you and you have done so much to give me hope and joy! -Elisabeth
---
...it's like Angela is one of our friends as she comes for a visit and her cheery voice fills our homes...Leaning over her shoulder to view her as she paints and comments; she has really breathed life into my watercolour journey. - - Monica
---
'I loved the feedback from Angela and the interaction between all the students. The support and constructive feedback is so important to gain confidence and growth. She isn't just an instructor in fundamentals and intermediate skills in painting. She goes much deeper than that. Mindset is so key to success. Many creative folks don't understand that you have to believe in yourself to succeed. She could easily be a "life" coach!' - Nancy H.
---
'I struggled with overworking my paintings and losing the freshness as well as how to move on after a first wash, not wanting to spoil the beauty of it. Now, I am more relaxed about painting an image more than once, giving me the opportunity to get to know my subject better and experiment to find new ways to interpret my subject. Angela has the wonderful ability to share information in such a way that it moves us forward not only in how we paint but how we think about our work and approach each new painting. Making it our own and not just a copy of someone else's style. I would highly recommend the Watercolour Mastery course. It is jam packed with excellent information, delivered in a thoughtful clear way. Angela has the ability to guide you through not only the painting but also the thinking process. Such and important part of growing as an artist. The way she shares her wealth of knowledge and her encouragement throughout the course has been invaluable. I will miss our weekly round ups and the wonderful discussion group.' - Jeanne F.
---
'Angela Fehr gently reassured me that failure happens and mistakes can teach me to be a successful painter with patience and diligence. That the best thing I can bring to my paintings is me. Her compassionate explanations have given me the courage to keep painting beyond fear of failure. I love watercolor painting now. I can move on past my failed paintings and be accepting of the process that produces even one in a hundred that I'm truly satisfied with. Thank you, Angela Fehr. You have saved me from my fear and taught me to trust myself. After the second online course I took, I noticed a very important aspect of Angela's instructional videos. She uses a technique of 'coming alongside' her student to encourage successful practice of watercolor painting. I am amazed at how Angela's voice pops in my head when I'm busy with a painting project. I owe my continued success with watercolor painting to Angela Fehr. Even if I make a big mess of my painting, I learn with each brushstroke and my process of painting improves.' - Jannette B.
---
'I have grown to accept and appreciate where I am and am willing to enjoy the learning process. The course was instrumental in my watercolor journey! I painted a lot more than usual and I have been introduced to a style which, though I have not achieved it yet, I feel akin to. My previous watercolor experience has been a lot more controlled and I have always desired to learn how to paint with a looser style. Thank you for sharing your knowledge and ability in such a genuine way.Angela is open, encouraging and genuine in her offerings. She has a wonderful style, much knowledge and great technique.' - Meg C.
---
'This course and all of Angela's tutorials span information that will help beginners move forward and help experienced painters see their work from a different perspective. It was so interesting to see work from participants on the first week sharing some of their paintings done prior to the course. Many had fabulous detail and realism. Now their paintings have loosened and colors have bloomed, literally.' - Lynn S.
---
'I didn't think I was experienced enough to take a Mastery Class. I have been telling people "I'm just a beginner" and I think all I needed was a bit of direction and a lot of confidence. I have learned to relax and let the paint do the job instead of trying to be a perfectionist. Angela touched on why people are afraid to paint as well as covering some very good watercolor principals. She covered the mental as well as physical aspect of painting. She is not afraid to cover a subject and just experiment with it on camera. She instilled in me the thought that mistakes happen and they can be good, resulting in a good aspect of a painting. I learned some very good painting principals and different thoughts about watercolor painting in general.' Mary M.
---
'I learned techniques to get to a relaxed state of doing art and a lot of hands on practical advice, tips and tricks to become my own favorite artist. I loved her focus on teaching from her heart and the love for watercolors. Her open, vulnerable, honest approach and interaction. Her language skills and wealth of words she uses, that helps the listener to connect in a down to earth and deep way.Technical skills and mental guidance are equally provided. The course has a good flow and is challenging on different levels. I also enjoy to be able to do it again when ever I feel like it. The mentor speech at the end of each week is very valuable and encouraging and the support within the community is fabulous.' - Diana K.
---
'My biggest obstacle was my fear of not of my skill level but how to show what exactly I wanted to share. I was I think somehow always comparing myself to others and I needed to learn to paint what was in my heart and not what was in the photo or reference material. I found that I was relaxing more and letting it flow and not worrying about being so detailed and exacting of what reference or photo I was using. I loved the ability to share my work with the other artist and they understood what they were looking at and what I was trying to share. I think Angela is a one of a kind instructor. She shares her knowledge and experience and her encouragement she offers is incredible. She is so personal and easy to follow you feel that you are just visiting with a friend. I would absolutely recommend this course because if you are interested in developing your skill as an artist not just a painter, you will come away from this course knowing that you have the skill and talent and knowledge to paint as your heart leads you.' - Tannis M.
Sign up for Watercolor Mastery! Click here to return to the main enrollment page.