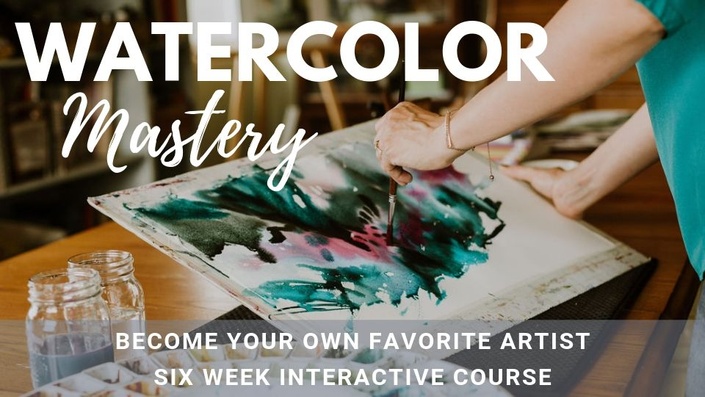 Watercolour Mastery
Growing skill & style in your painting journey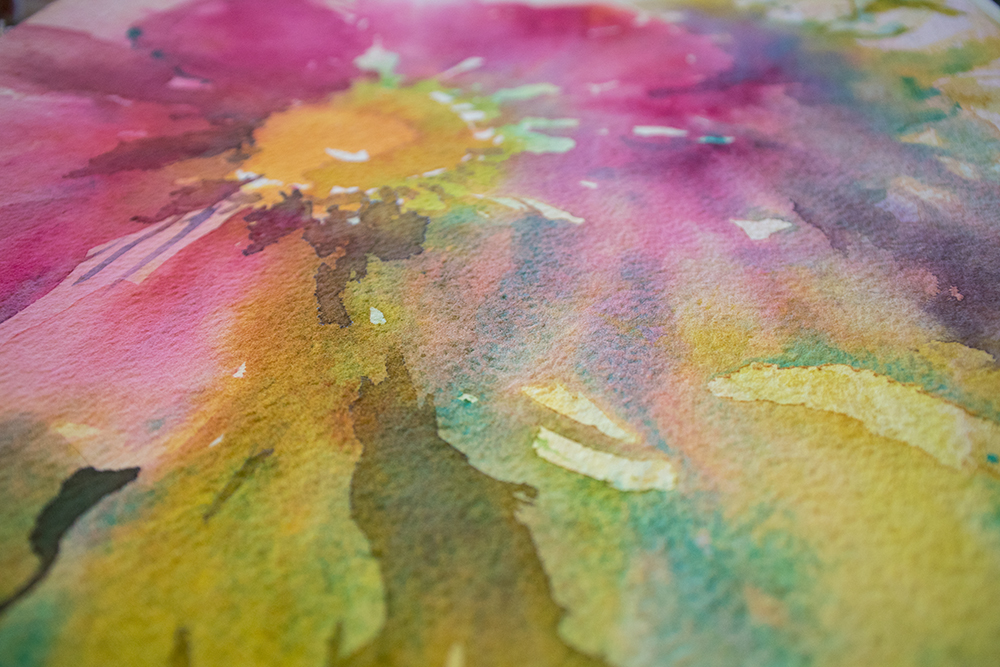 'I have become bolder in my painting due to the fearlessness and bravery you exhibited in trying new things and in going ahead and doing just that on live camera! I am so glad I signed up for the Watercolor Mastery class!' - Joanne C.
This course is closed for enrollment.
About this Course
So you've been painting in watercolour for a while. You understand the basic techniques, and want to take the next step to develop an individual watercolour style. The problem is, you feel like you have no idea how to start.


Watercolour Mastery is aimed at helping you move to the next level in your watercolour journey, that of becoming a confident, fearless master of your craft. This interactive, 6-week course is aimed at teaching you how to become your own best guide and instructor, as watercolour artist & instructor Angela Fehr guides you through principles used by professional artists to develop their skills and evaluate their work.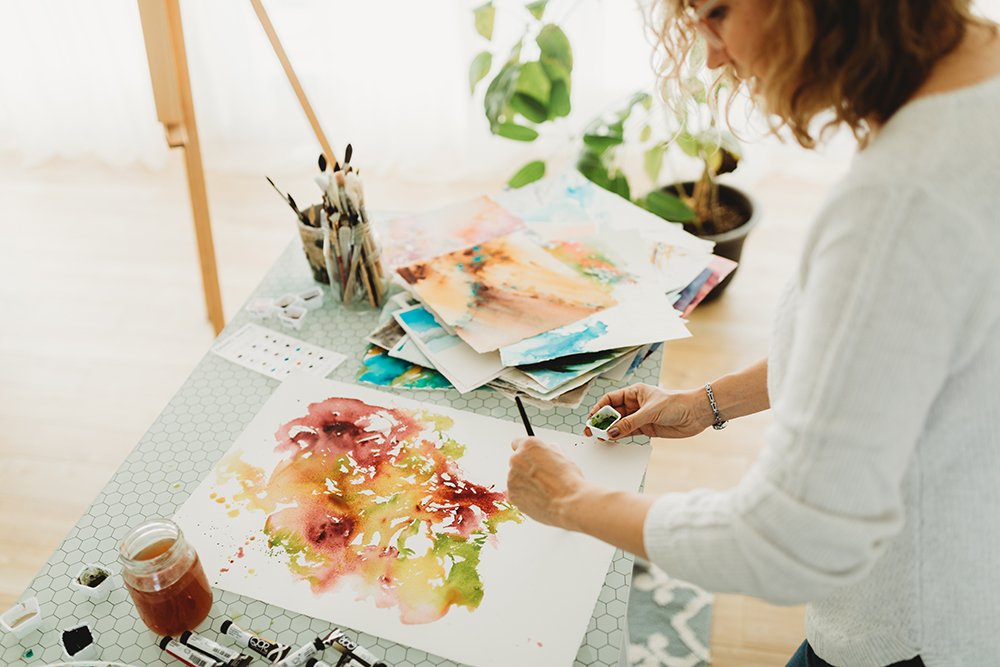 There are three parts to the Watercolor Mastery course: Course Materials, Live Lessons & Community
Part 1: Course Material
Each module starts with an introduction to the topic and a set of lessons designed to reinforce the subject. Paint along with me or use the concepts introduced to create your own paintings inspired by the course. Printable worksheets are included with each week's lesson. As you practice, you can ask questions and upload artwork in the Fearless Artist Community. Complete supply lists are included with the course, however students do not need a specific supply set to join the course; I encourage you to use what you have, while getting a look at some of the materials I love to use and learn how they work.
When it comes to setting the direction of your artistic growth, every artist is self-taught. You curate your education and direction, choosing resources and instructors that reinforce your path and goals for your art. Journey with me, and establish a relationship with watercolour that is uniquely your own.
Your enrollment includes lifetime access to the course material and you may revisit the lessons as many times as you like.
Part 2: Live Lessons: Each week, I'll send you a link to a live lesson where I'll demonstrate for you how I apply these principles in my own work.
Part 3: Access to my Fearless Artist Community: 3 months free access to the Fearless Artist Community.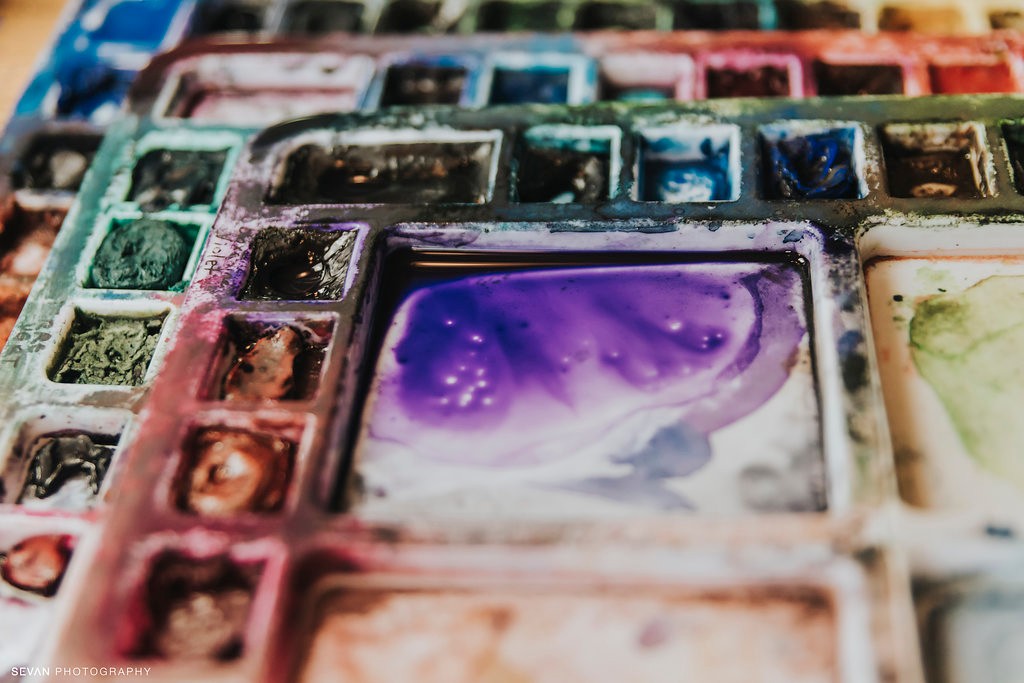 What our students are saying about Watercolor Mastery: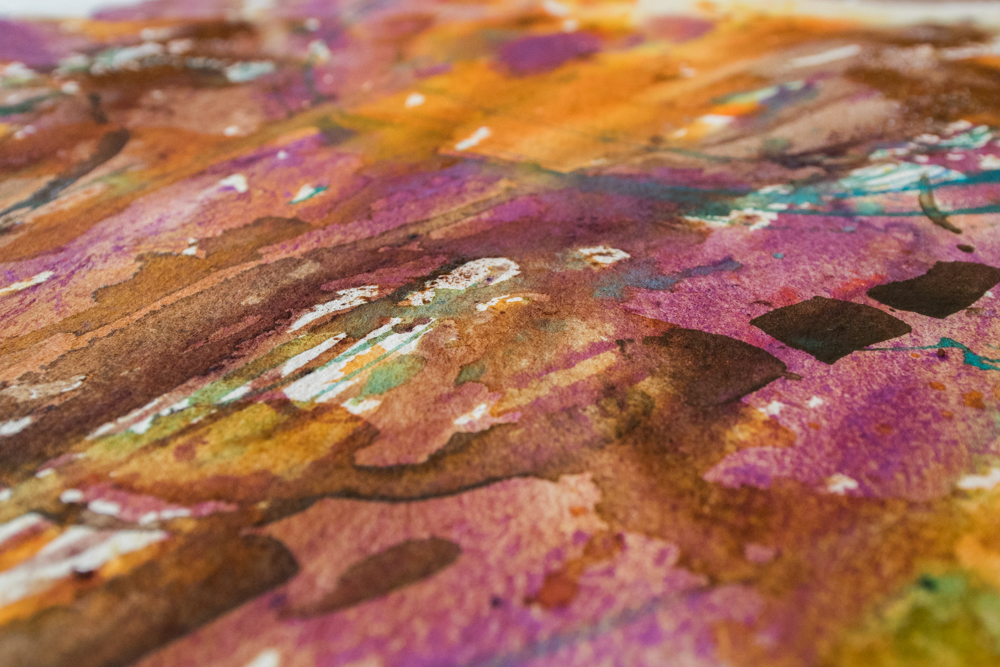 'My thanks to you for designing and teaching the Watercolor Mastery Class is heart felt. Your passion in the watercolor art and your love for teaching inspired all of us, your students, to become more free and fearless. Your words excited and encouraged all of us in our attempt to find or develop our own style. You showed us how to have confidence in ourselves and be our favorite artists. And the amazing thing is that we all responded. I painted more paintings in the past 6 weeks during class than I had in the past 3 years when I first picked up watercolor painting. And what you taught will stay with us for a long time. Thank you so much for this gift'. - Hilary L.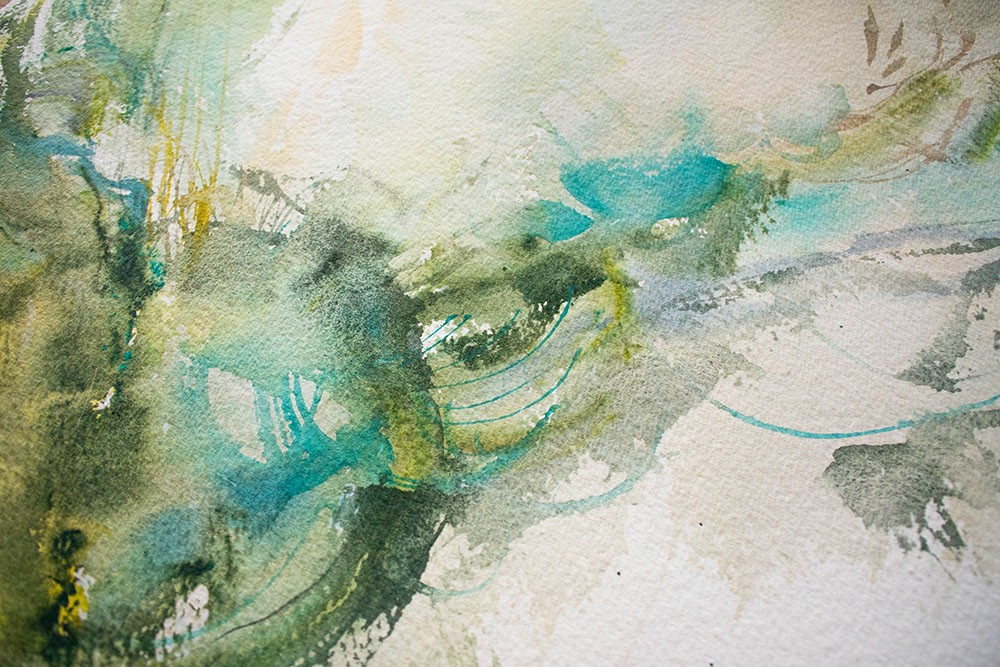 'As an artist who approached this course with moderate technical skills, but a little lost in the myriad of possibilities of where I could take my work, I found tools in Angela's lessons to navigate that world and make my own decisions to improve my art. Think of this course as teaching you how to use a compass and map that are custom calibrated to you and your art. The class is so dynamic since the projects are pretty much limitless, they can be as open-ended as you want to make them and the more you put into them, the more you learn and get back in return.' - Jill G.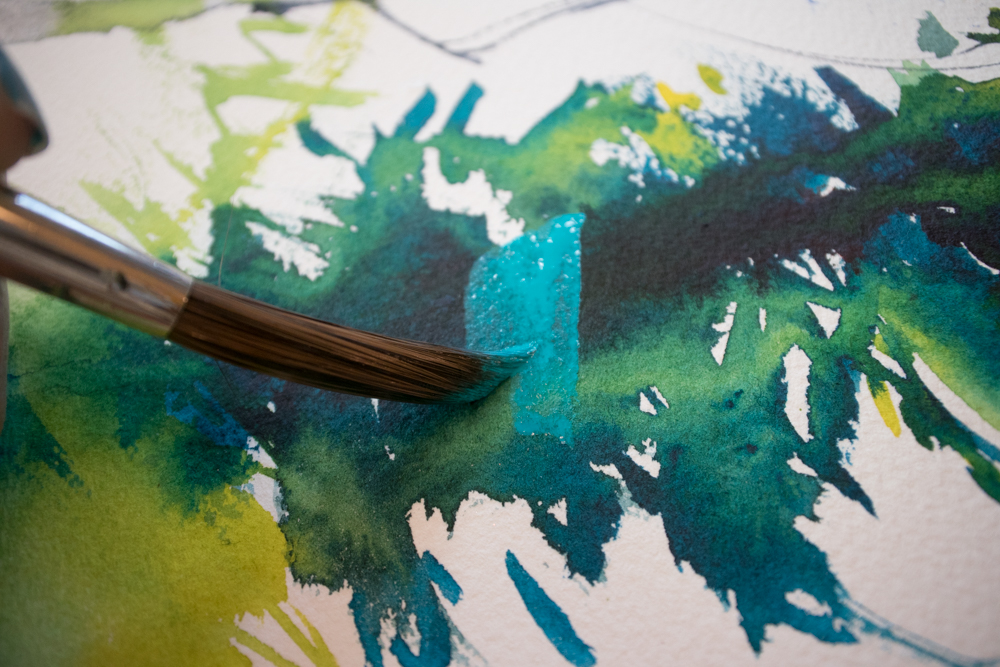 'My lack of confidence in my own ability was my biggest obstacle. With Angela's generous sharing of her own tool box of strategies, I was able to move past the fear of failure...The feature I liked best about the course was that everyone was celebrated at their own pace and style. The safety in sharing your work in this safe space was so encouraging and freeing to be your own favorite artist.' - Helen C.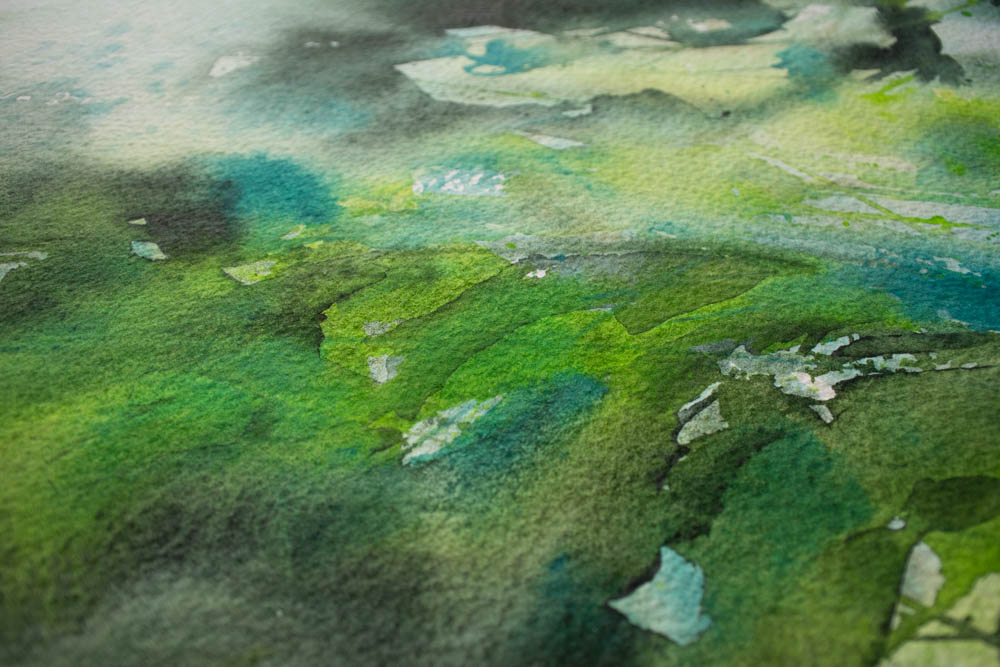 'My painting has blossomed by light years. My confidence has soared. Equally important as the instruction was the feedback I received from my instructor and from my fellow students. The Mastery course focused on key principles --touchstones to follow as I begin to paint what I see and love. I loved the content and its organizations-and the demonstrations. Excellent filming and clear explanations. I also loved the Discussion page. Angela Fehr is clear, concise, welcoming, generous, supportive and organized. Her enthusiasm and passion for painting, nature and watercolours is probably what stands out most to me. Her teaching style is fluid --perfect for the watercolour medium! She includes tips in her narratives and everything flows! Angela truly cares about her students and it shows in everything--from the design of her lessons to her comments on our work to her emails. She wants us to learn and to share her joy in watercolour. (Watercolour Mastery) kick-started my watercolour journey. Everyone was so supportive and the message is that no matter where you are on your journey, you can pick up what you're ready for in the course and perhaps other things might sit for a while until you're ready for them. The principles that the course is designed around --colours, values, design, etc--are essentials and inform all art. The course introduces and reinforces those basic principles throughout so they stick with you! An excellent approach!' - Susan B.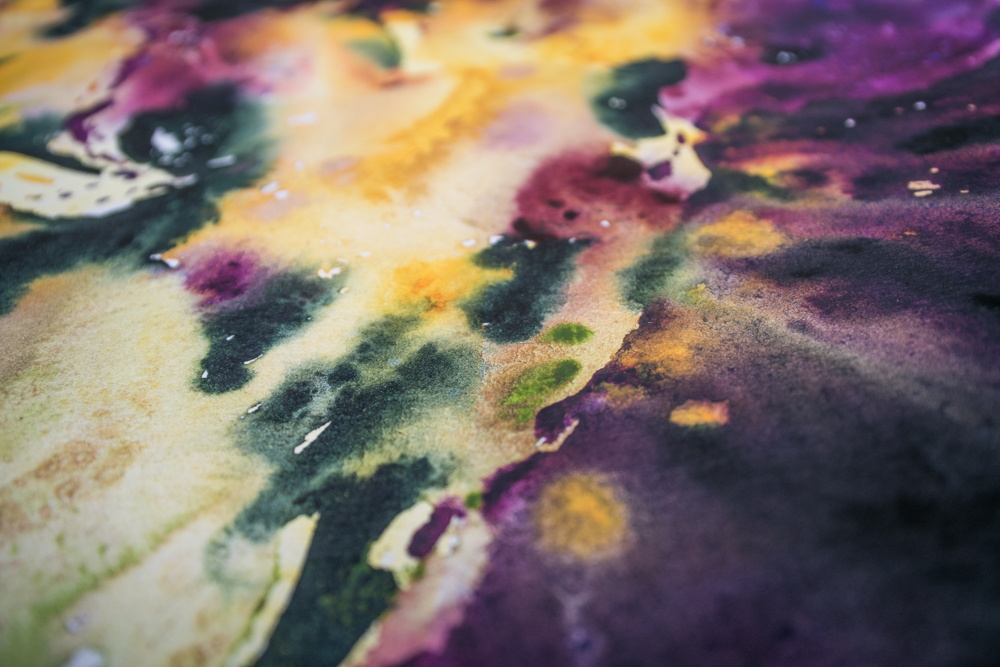 'My biggest fear was not having enough confidence in myself as an artist. I now feel more confident and have no more self doubt about putting paint on paper. The best part of the course is hearing/seeing Angela's process and mindset. Angela has the ability to get across to students the importance and fun of getting in touch with your own artistic nature. She lets you come along on her watercolor journey as you both learn together. I would recommend this course for anyone who wants to boost their confidence, abilities and expansiveness in the artistic process. The discussions with the other students, ability to see their work and Angela's and student response to posted work are all invaluable.' - Jean J.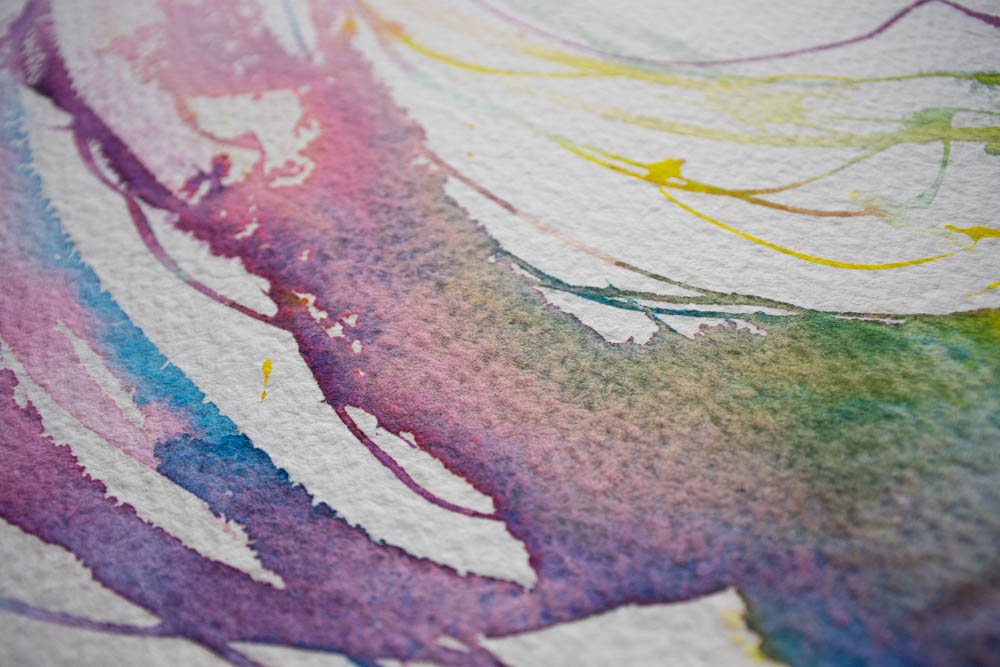 I have been learning SO much from your courses...even the ones I just couldn't connect with at the time, are still in my head and now speaking to me....I am glad that in spite of not feeling ready to take this masters course, I just couldn't resist...I am glad I signed up! - Leslie
Your Instructor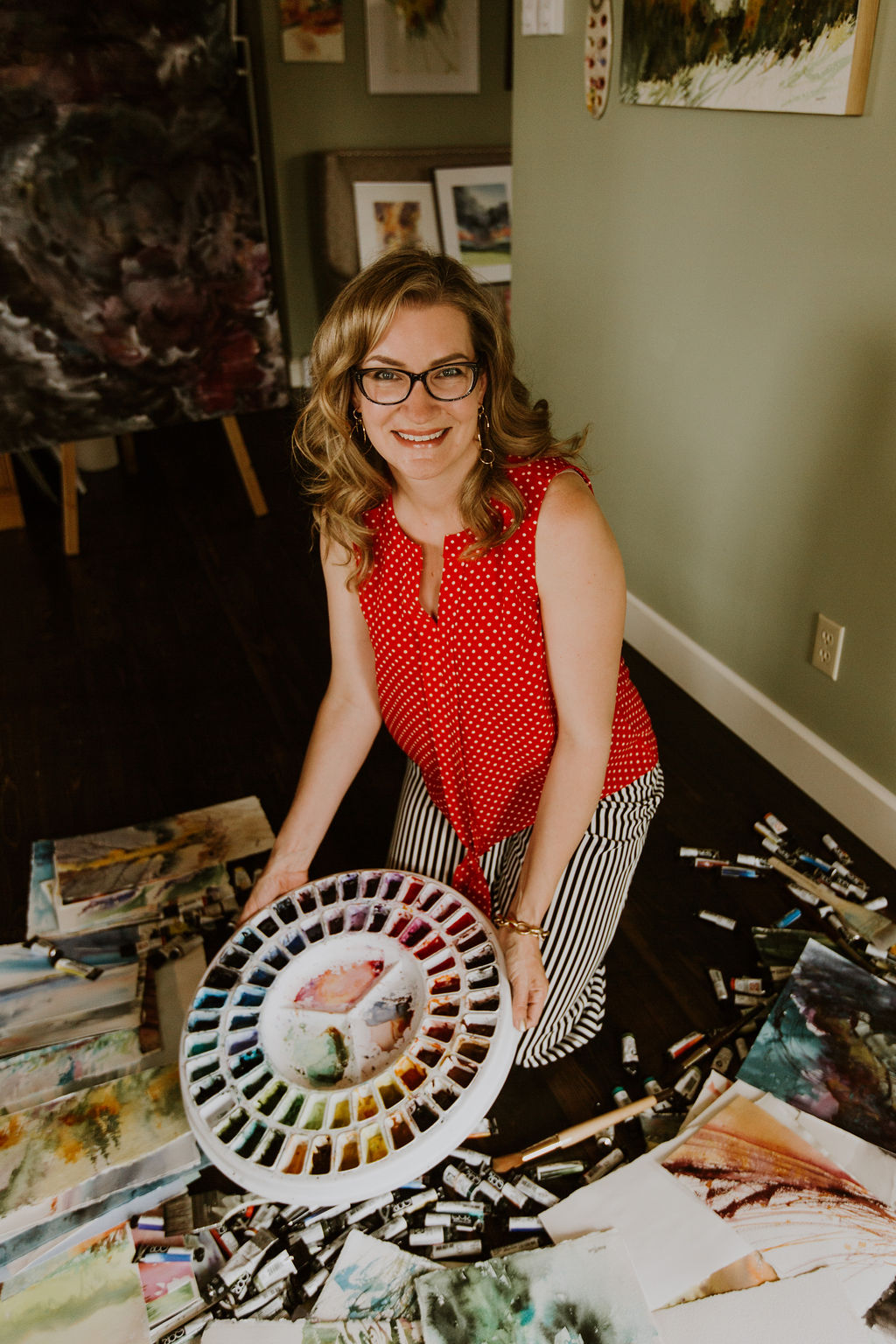 From her home in northern British Columbia, Canada, through her video lessons on her website and YouTube, Angela Fehr has created a community of watercolor lovers that spans the globe. She wants every painter to know the freedom of fearless self expression and she has made it her mission to share this empowering message through lessons in watercolour technique and loose intuitive painting. More than anything she demonstrates that the most important thing you bring to your art is you.
Course Curriculum
About this course
Available in days
days after you enroll
Module 1: Additional (Optional) Demonstrations
Available in days
days after you enroll
Frequently Asked Questions
When does the course start and finish?
Course content opens for students on March 27, 2020 and lessons roll out weekly [with a two-week intermission from April 12-26] for six weeks. Access to the community begins shortly after registration and ends on June 12, 2020. For best results, work along with the group during the six week intensive. If you need more time, don't worry! You can also use the course as a self-paced online course - you decide when to watch the lessons and when you finish.
How long do I have access to the course?
How does lifetime access sound? After enrolling, you have unlimited access to this course material for as long as you like - across any and all devices you own. [Access to the community space for discussion ends on June 12, 2020].
What if I am unhappy with the course?
We would never want you to be unhappy! If you are unsatisfied with your purchase, contact us in the first 30 days and we will give you a full refund.
This course is closed for enrollment.