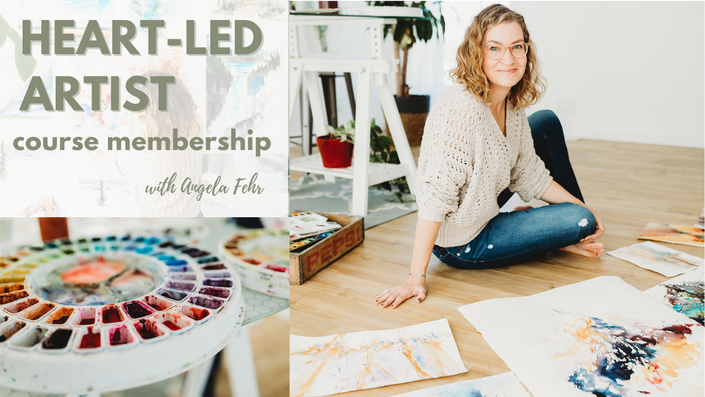 Angela Fehr's Heart-Led Artist Course Subscription
Monthly Subscription to Angela Fehr's Course Library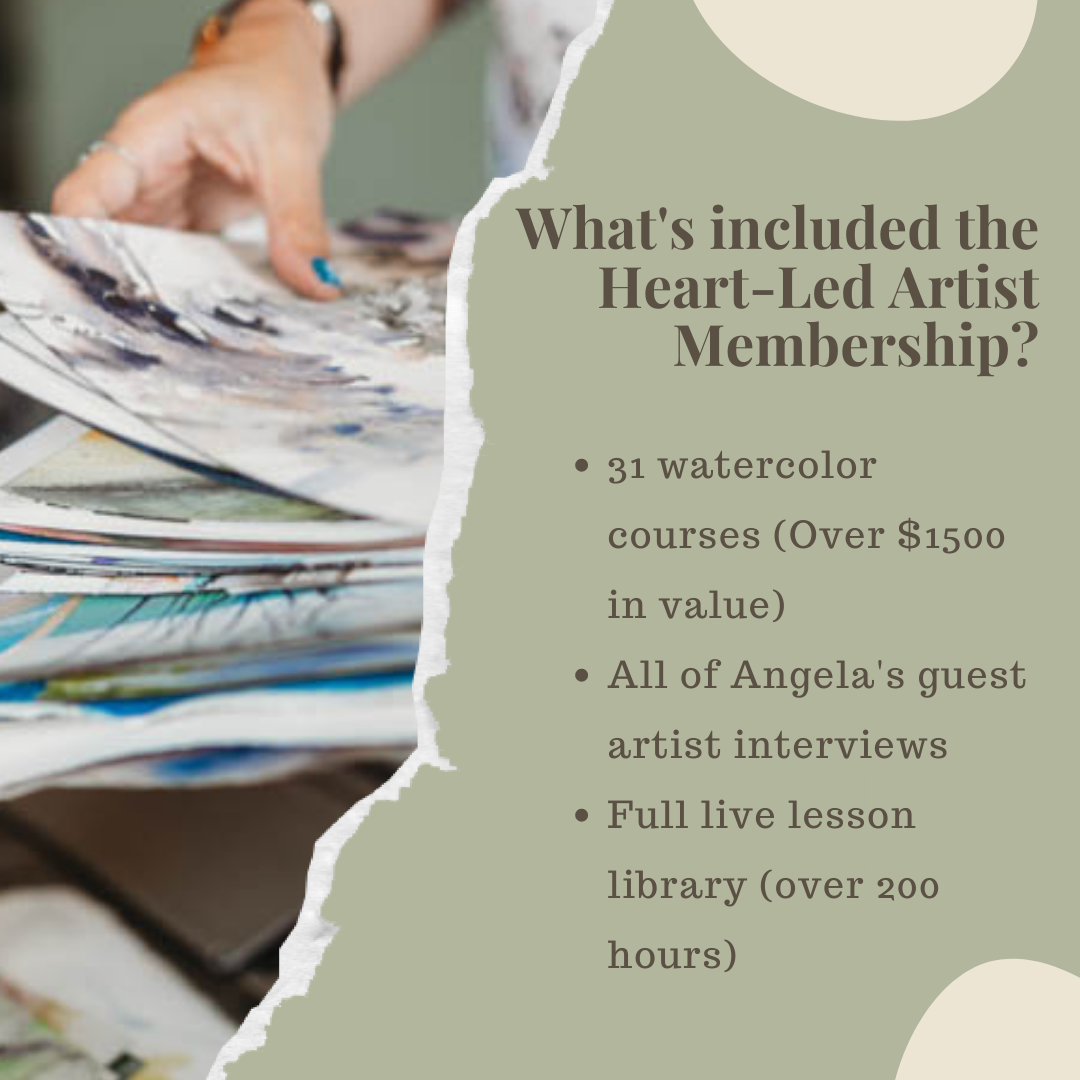 Are you looking for answers in your artist's journey? Do you feel like every painting session reveals more of your shortcomings as an artist? Are you trying to find your artistic style and have no idea what it should look like?
You are not alone! The more time I spend painting, the more I realize that art isn't about having all the answers. In making art, I get to ask interesting questions and explore possibilities in my paintings. In fact, I believe that an artist who has certainty about their path is an artist who's stopped learning and growing. Making art is a lifelong journey of learning and self-discovery, and it's exactly that quality that makes it so rewarding.
You might be ready to become your own favorite artist if you answer YES to any of the questions below:
Do you love painting?
Are you ready to ditch the expectation that you need to have all the answers, and allow yourself to be a curious lifelong learner?
Do you want to take off the pressure of needing to make perfect paintings now and trust instead that every painting is teaching you something?
You have everything you need to make the art you're meant to make today, and the art you're making today is shaping you into the artist you are meant to be!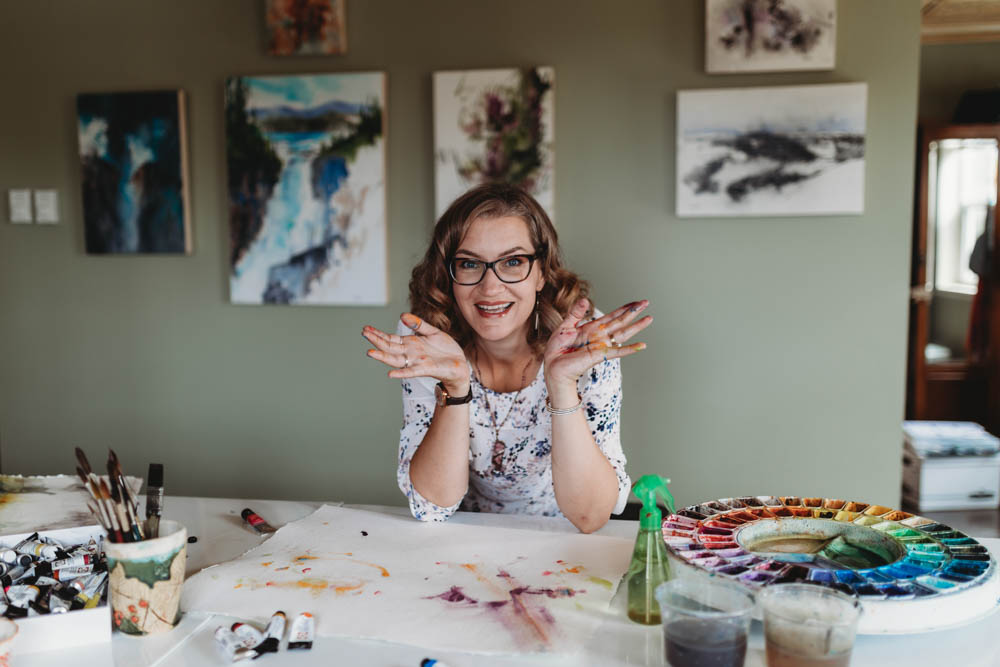 This Heart-Led Artist Membership is designed especially for you.
You are ready for a place where you are allowed to be the artist you are, accepted and free to paint YOUR way.
I love telling people that I teach watercolor online. It's not because it's a great income source, or because I get to teach students from all over the world without leaving my home, although both of those things make me very happy. What really gets me excited about teaching is the opportunity I have had to change lives through my classes.
That sounds a little crazy, I know. It's watercolor, not therapy. I'm not helping anyone get famous or make a lot of money. But every so often I get an email that might say something like this;
I always wanted to learn to paint, but never thought I could. You have helped me feel like I can paint whatever I want and just enjoy myself in the process!
or
The fear of failure and not being good enough and not painting to expectations all held me back. The lessons in pressing on and on and on into failure were so so valuable...No other teacher has ever given me these gifts!
or
After someone criticized my art, I stopped painting for many years. You have helped me remember what painting is all about and I'm having so much fun without worrying what anyone thinks!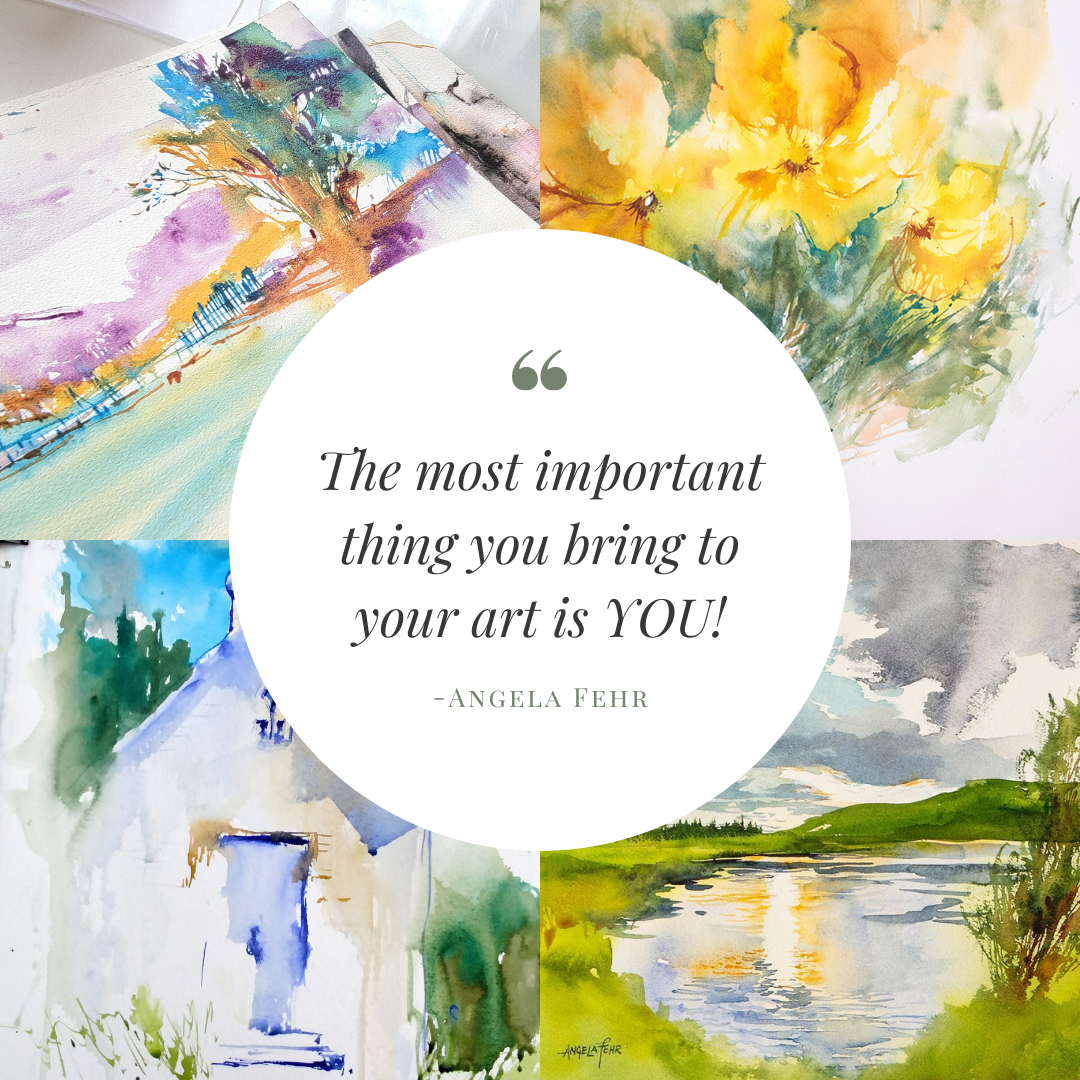 What happened for me, and what is happening for many of my students, is that when we change our thinking about our art, it influences how we think about our lives as well. Saying "yes" to art often involves stepping outside of our comfort zone. Confronting a fear in one area makes it easier to confront other fears and obstacles in our lives. Redefining success as the attempt rather than the finished product is a confidence builder and often helps us make peace with our mistakes.

These themes of self-acceptance, openness and curiosity to learn, redefining success, trusting the process, understanding how failure and mistakes don't need to be feared - these are themes that run throughout my watercolor lessons and courses. I've taught on this for years because they are so transformative to an artist's journey.
It is for this reason that I have decided to make all of my courses and resources available to you for one low monthly membership price!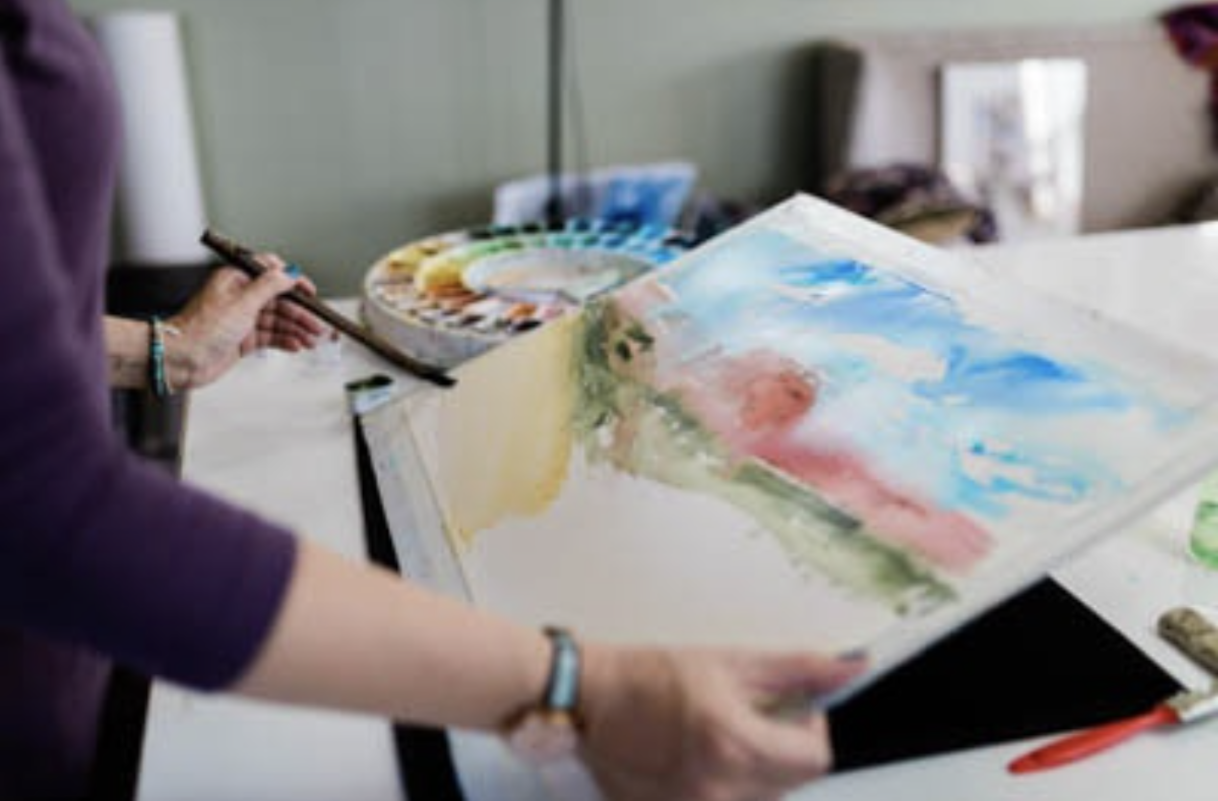 What will your membership include? As a Heart-led Artist member you will have access to all 31 of my courses (excluding Watercolor Mastery and Back to the Brush) while you are subscribed. The courses are a $1500 value! These courses offer in-depth tutorials on watercolor techniques, insight into how to structure the painting process and how to develop your independent personal style. There are subject oriented courses that teach you how to paint landscapes, florals, skies, trees and more. Step-by-step painting demonstrations help you build skill, and intermediate-to-advanced students can benefit from the hours of teaching designed to help a painter transition to independence and self-confidence. The full list of courses is below.

You will also have access to all of the guest interviews I have done with artists such as Ian Roberts, Louise Fletcher and Emily Jeffords. The live student sessions that are included as bonus content in many of my online courses. The critique sessions I have hosted with student artists.
Finally, your membership includes access to the archive of live lessons I have recorded over the years for my private student community (community has been closed). It's like having painting class in your home, whenever you want!
Get all of the tools you need to create watercolor paintings that truly reflect your heart!
Create an at-home studio where you can direct your learning at your own pace!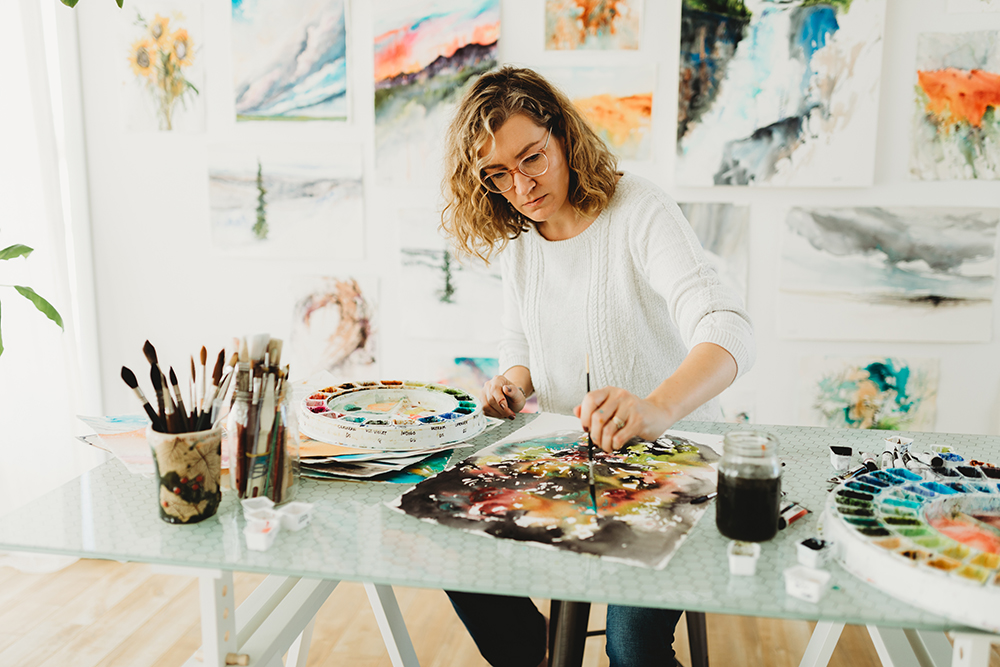 With a Heart-Led Artist Membership, you get everything:
Access to Angela's full live lesson library to guide you on your watercolor journey
Access to 31+ Angela Fehr watercolor courses
(This is a watercolor technique bundle and mindset development courses Watercolor Mastery and Back to the Brush are not included)
All of Angela's guest artist interviews, full of inspiration, stories, and demonstrations!
Regularly updated resources to help you become your own favorite artist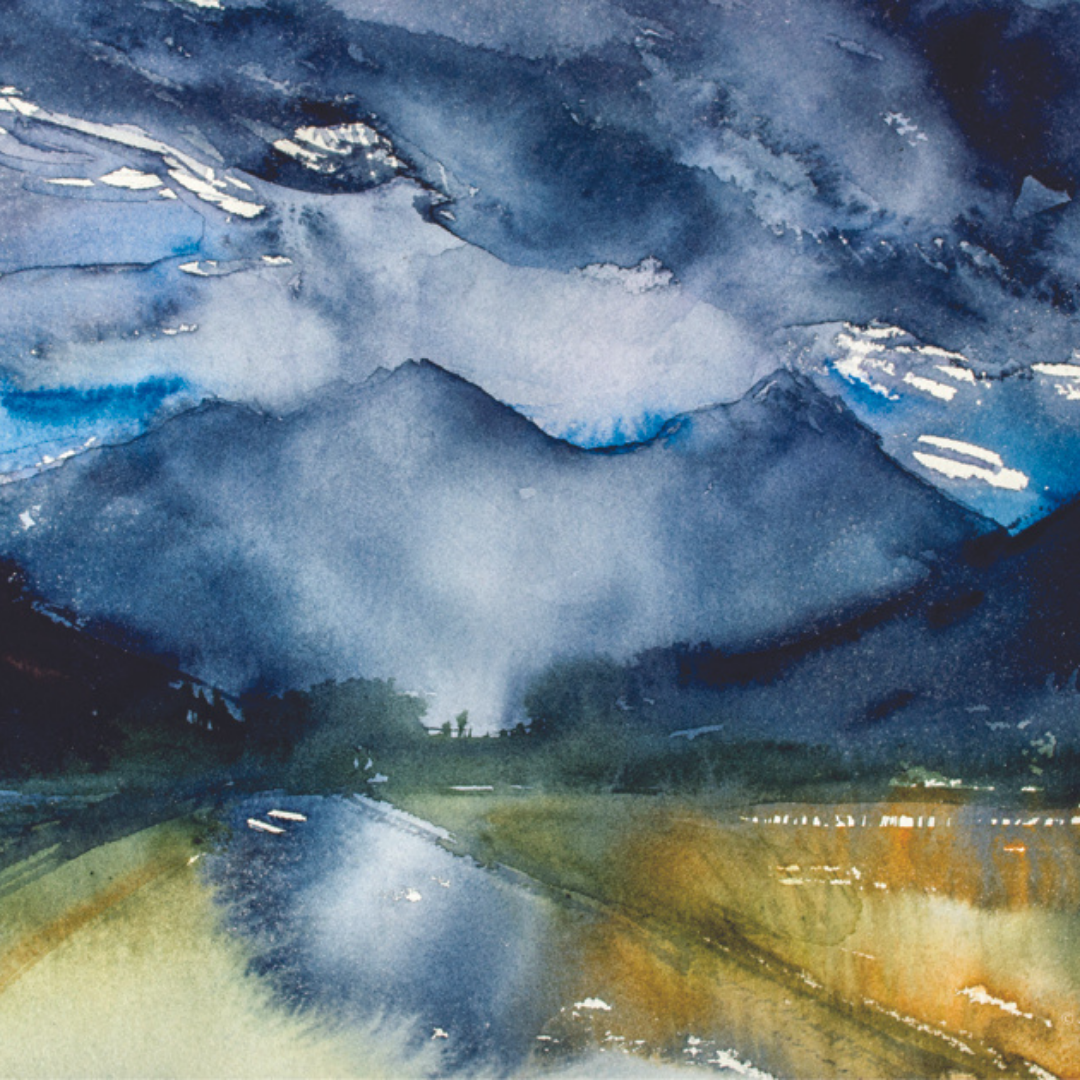 P.S. Most of these courses are not available for individual purchase, and the only way to access them is through a membership!
This course is closed for enrollment.
Frequently Asked Questions
When can I access these courses?
You will have full access to all of these courses as soon as you start your membership.
How long do I have access to the courses?
Access to membership courses ends when your membership ends.
If I purchase one of these courses separately, can I keep it?
Yes! Any courses that you purchase separately, you get to keep forever.
Will my subscription automatically renew?
Yes! All subscriptions automatically renew until you cancel them. Teachable does not send a notice when they charge your card monthly.
This course is closed for enrollment.
What our members are saying: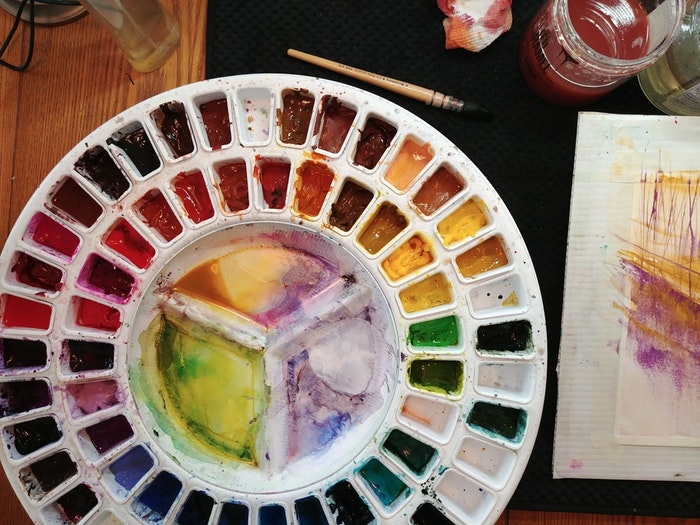 I was in the field of education for 35 years. During that time, I became a school supervisor and then a provincial consultant. I ended my career teaching in the education faculty of two universities. In essence, teaching future teachers how to teach as well as how to design effective lesson plans. I'm not trying to brag. I'm just showing why I know what I'm talking about when I say: ANGELA IS A MASTER TEACHER, BOTH IN DESIGNING AND DELIVERING INSTRUCTION. I've never experienced a course so open to the input of the students. Students are encouraged to direct their own learning, thus allowing for open ended growth. They achieve success each step of the journey. Also, Angela's lesson delivery is superb. She's a natural educator. Thank you, Angela. I believe we've all just experienced the gold standard of watercolour instruction.
-Heather S.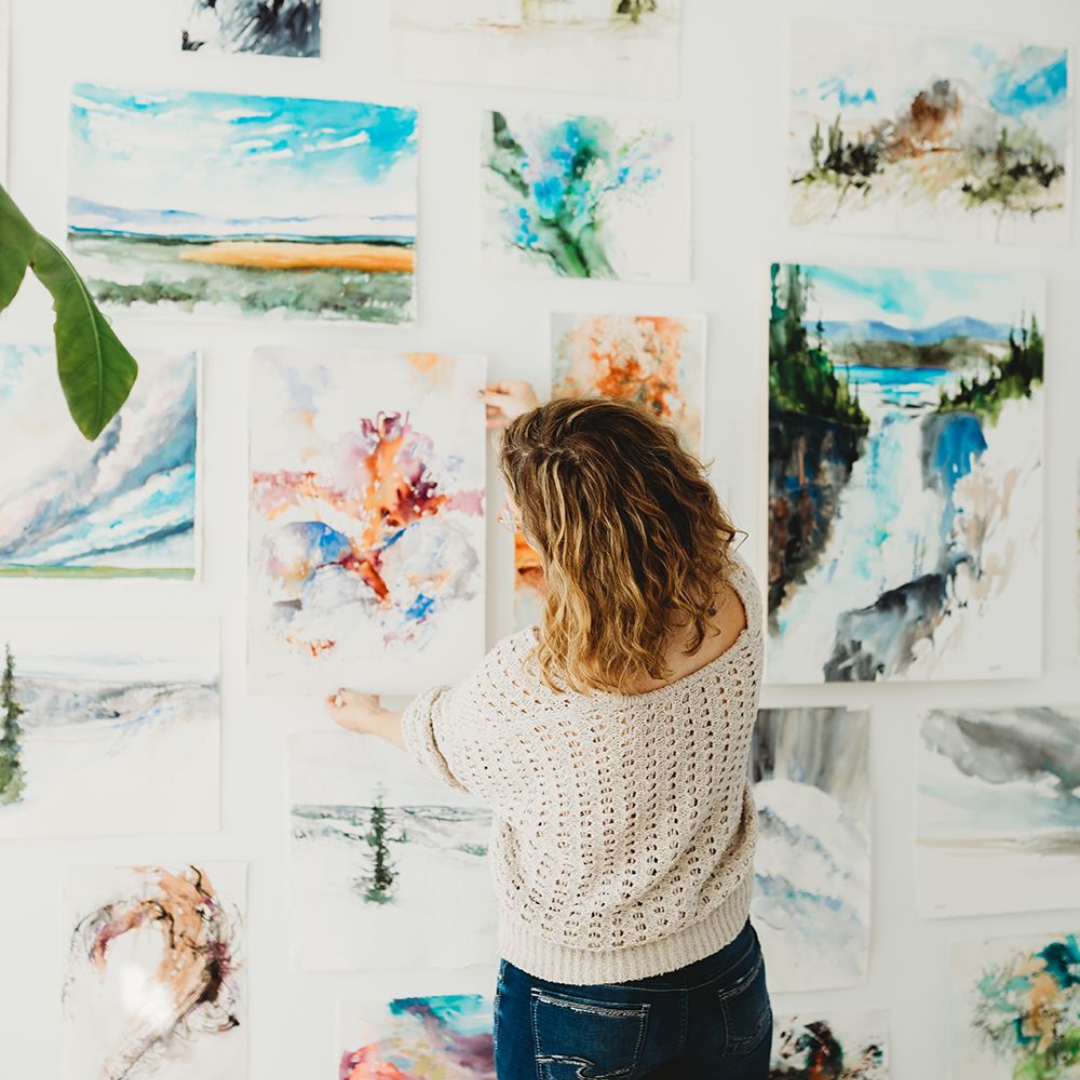 Angela is a wonderful teacher. Not only does she have the gifts of words, knowledge, and experience, but she leads us with authenticity, heart, and humility. I would definitely recommend this course. I hear from so many artists that they want to loosen up but don't know where to start. There is a psychological aspect to artistic expression and Angela addresses this, helping one to get beyond fear and embrace process and joy.
- Pat B.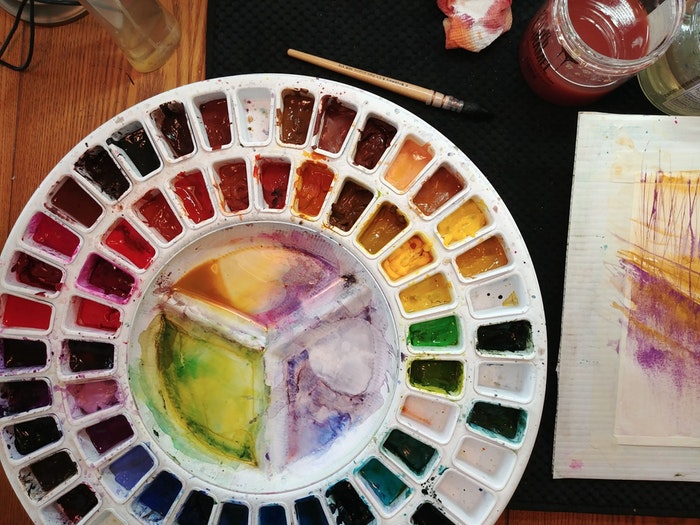 The news of COVID and the fear that caused me to isolate inside for months was hard on my creativity. I needed something to kick start me back up and this course did that - and then some. Angela is a wonderful, open, caring instructor who gives one permission to play, mess around, "fail" and try again. I really enjoyed Angela's teaching style, her personality and her ability to share so much of her own journey. Her complete openness with students; she holds nothing back from her students when teaching and sharing information.
- Rhonda C.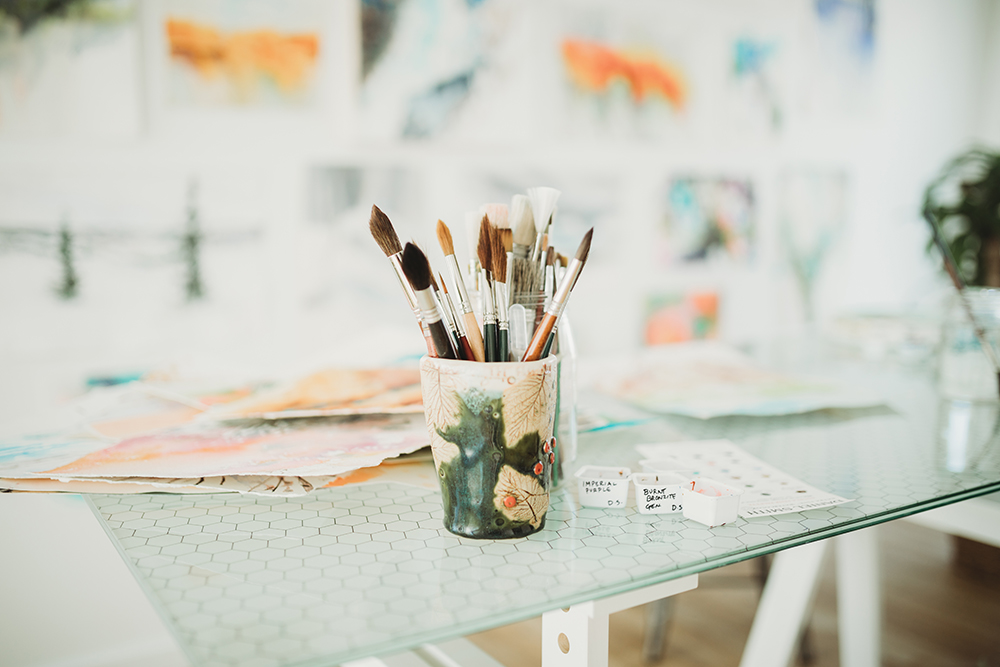 'It's apparent that Angela Fehr loves watercolour and teaches that subject to the fullest, but she also very clearly cares for her students, and that makes all the difference. She always points out positive attributes of people's paintings and stresses that we should remember that we're already successful artists if we're painting for the love and enjoyment of it.'
- Michelle Z.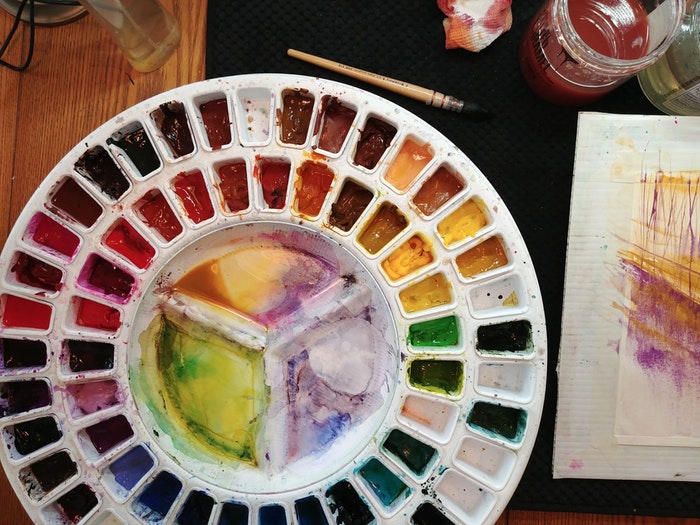 Angela is such a supportive and giving instructor. It makes it much easier to share knowing that the input that she gives instructionally is done in a positive not critical way. She seems to be able to make each student feel supported and a valuable part of her class. She doesn't make you feel less because you may be at the beginning of your art journey and have skills that aren't as developed. She is very nurturing and encouraging each student to develop at whatever level they may be at the time
- Gerri D.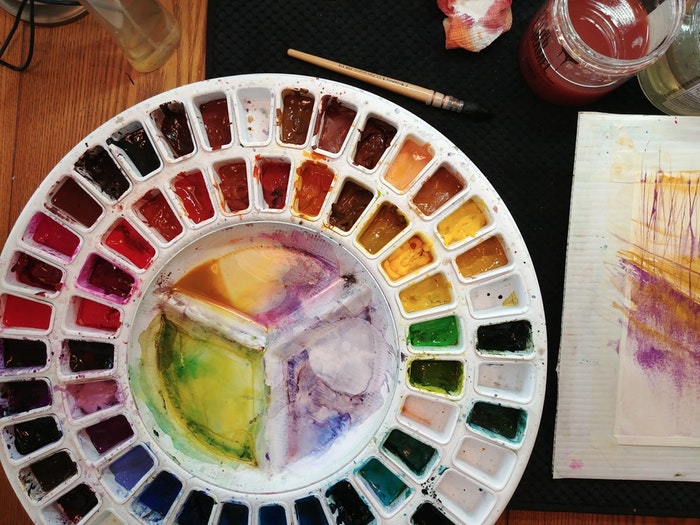 After the second online course I took, I noticed a very important aspect of Angela's instructional videos. She uses a technique of 'coming alongside' her student to encourage successful practice of watercolor painting. I am amazed at how Angela's voice pops in my head when I'm busy with a painting project. I owe my continued success with watercolor painting to Angela Fehr. Even if I make a big mess of my painting, I learn with each brushstroke and my process of painting improves.
- Jannette B.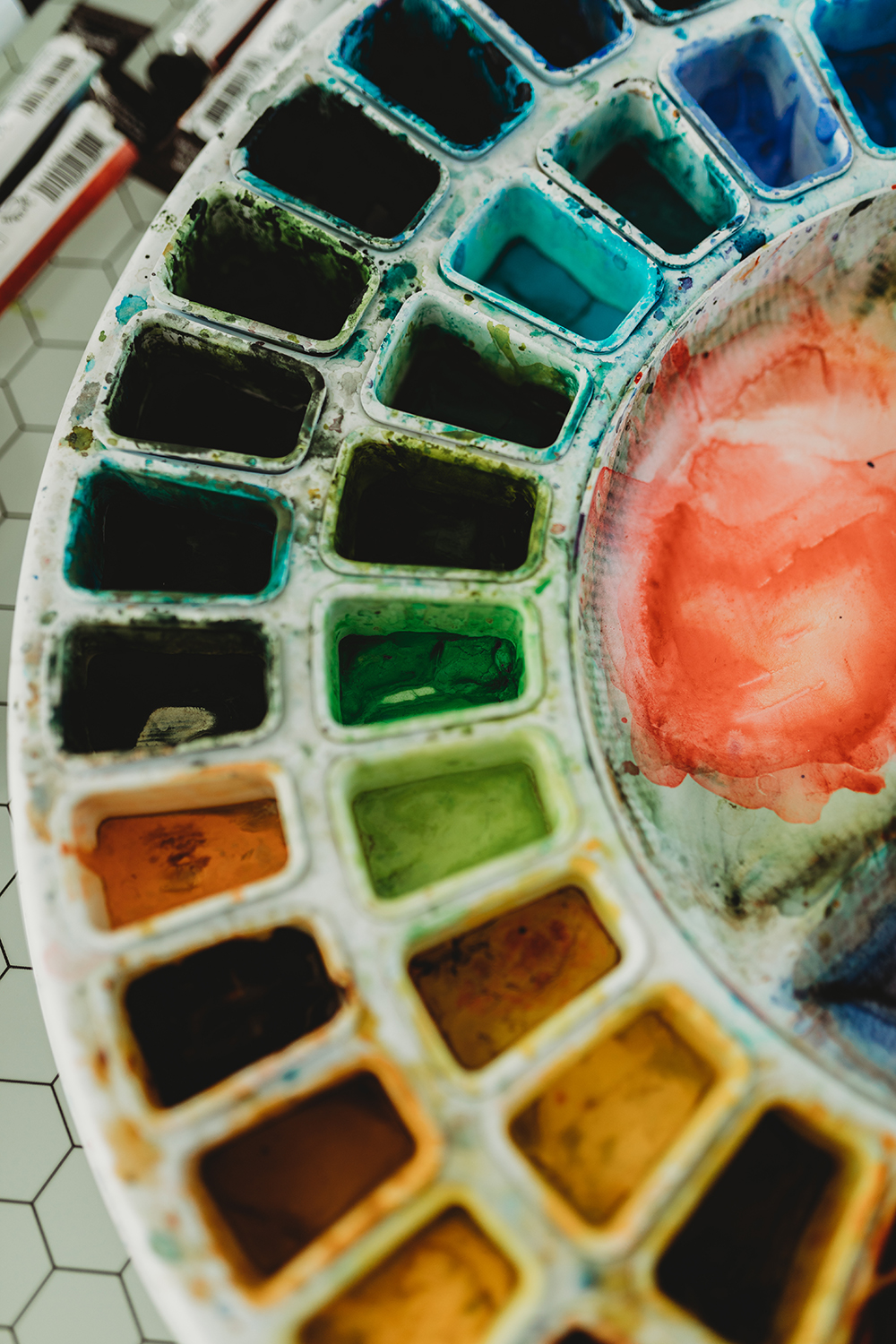 "For me, as a beginner l gained the confidence to paint wherever l want, and the way l wanted because I'm the artist ideas and "what ifs" that flow through this network, I have learned to play!"
-Beatriz N.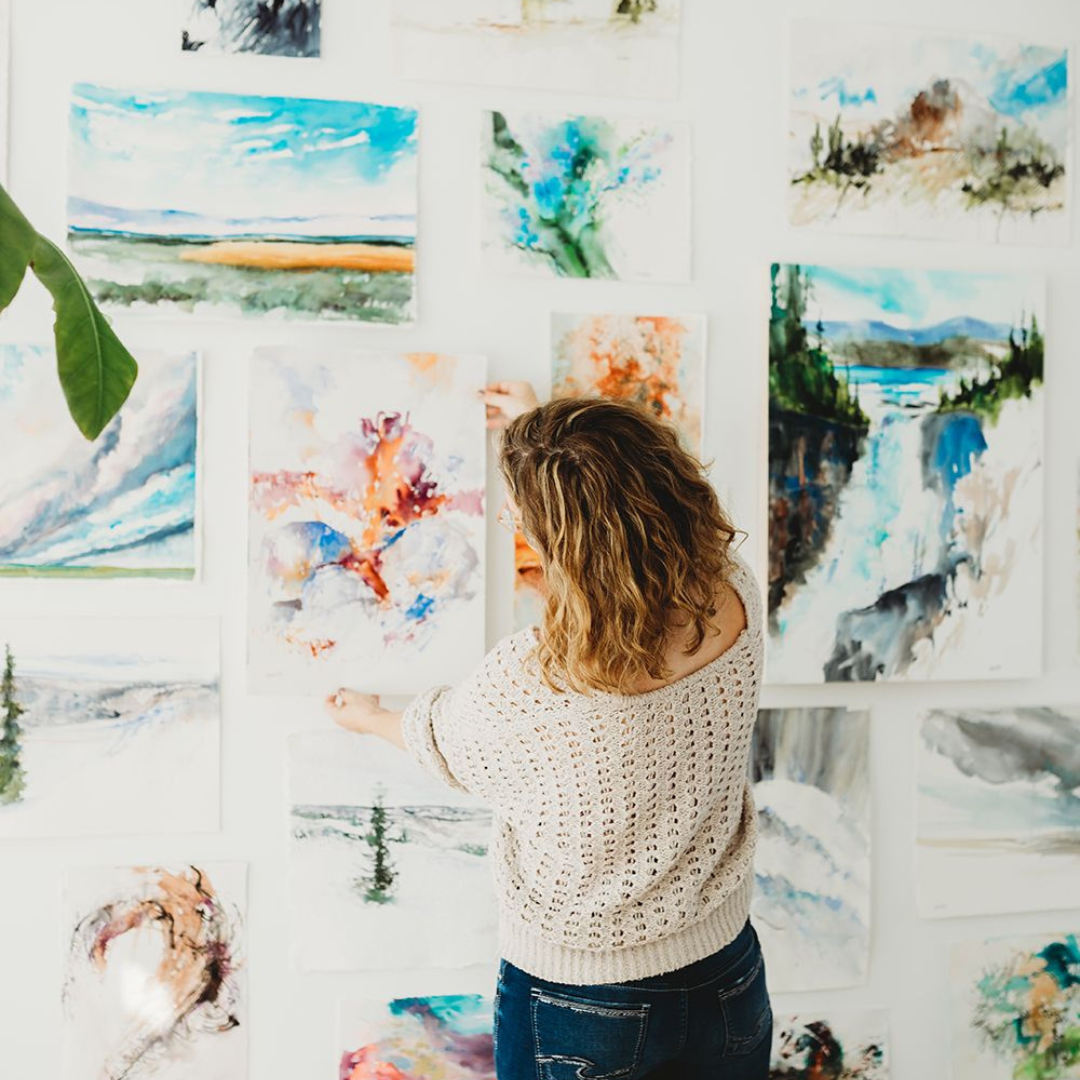 The best part of the course is hearing/seeing Angela's process and mindset. Angela has the ability to get across to students the importance and fun of getting in touch with your own artistic nature. She lets you come along on her watercolor journey as you both learn together
- Jean J.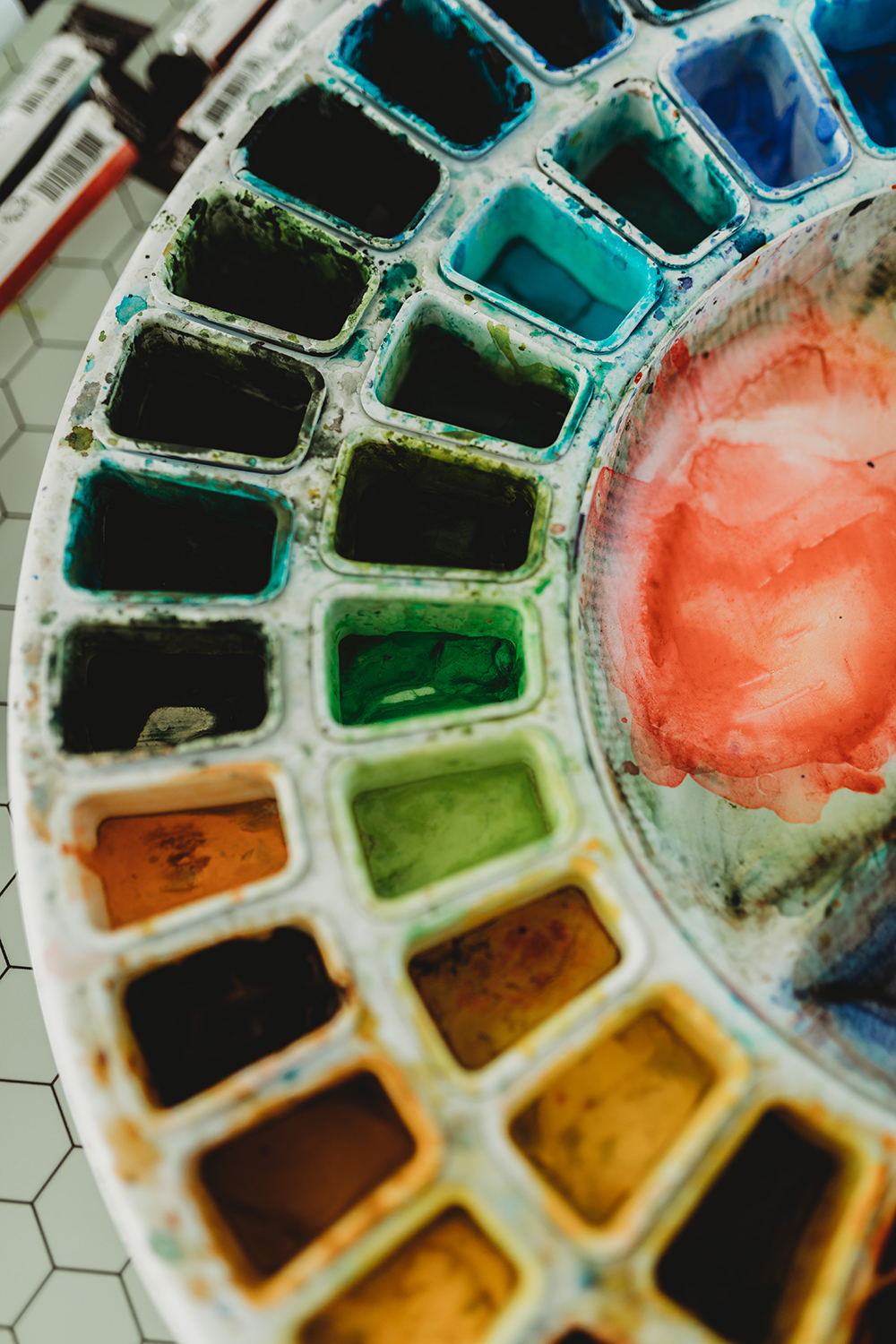 I have been painting for quite some time, but I tend to be pretty detailed and can get a bit hung up in that. Working through this course has given me the tools necessary to loosen up and take my painting to the next level! I just really love how relaxing it feels watching the demos.
One of my biggest takeaways from this course has been working with my reference photos and practicing no line paintings. I believe that is one (big) way I've been able to loosen up! Angela is such a great instructor, very articulate, genuine and easy to follow! Absolutely would recommend this course, even for the more seasoned painters!
It is a lifelong journey of learning! I believe spending time watching the tutorials has truly helped me move forward and inspired me to practice, practice, and more practice, (and have fun doing it)
- Tracy M.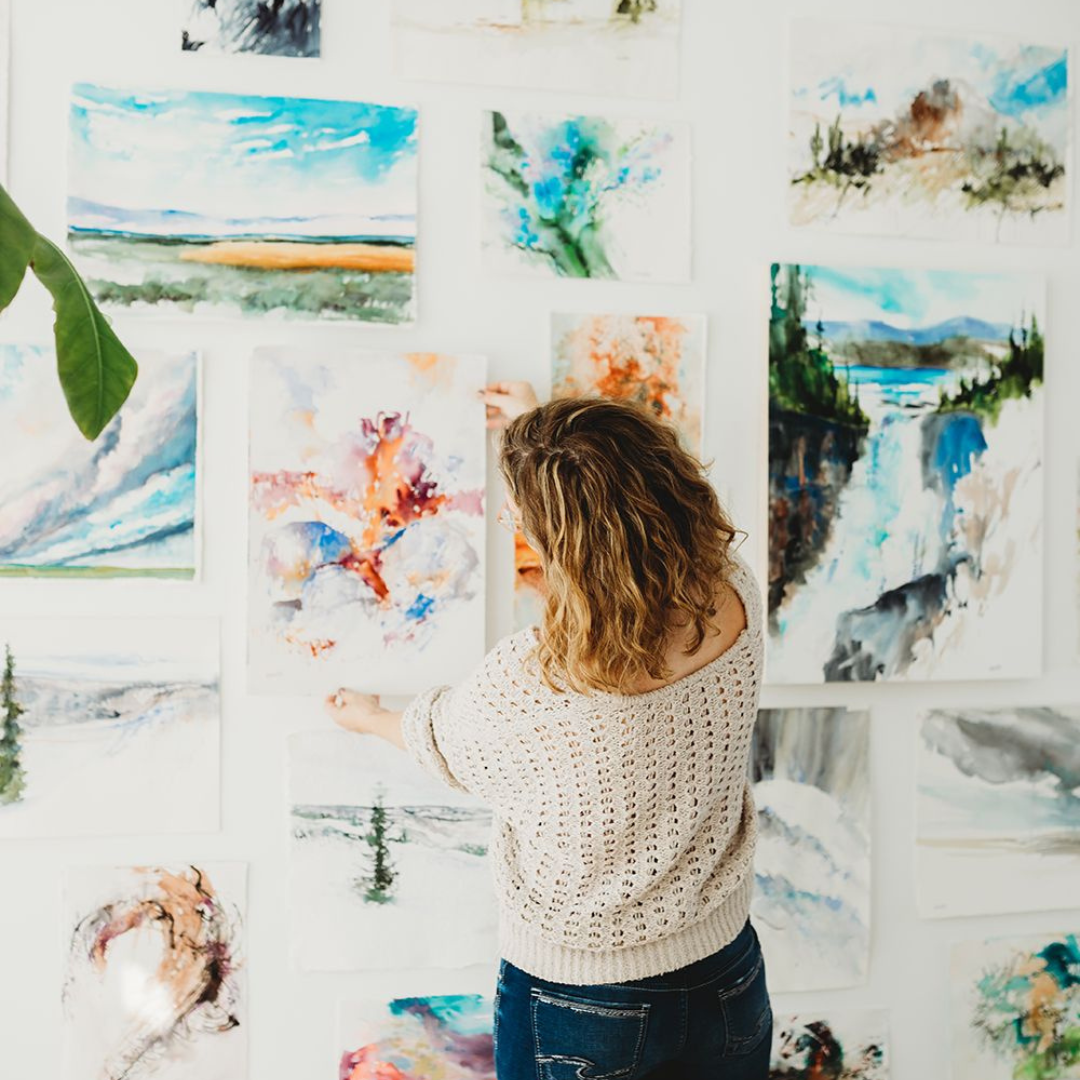 It was just so encouraging seeing you paint! I just love the ease and fluidity, the fulsomeness of it. It was helpful understanding how to move the pain when it blooms, I love the juicy brush, dry brush idea, so helpful. I love wet on wet and seeing your colours flow was wonderful! A real encouragement to not correct but just see what happens.
What stands out to me about Angela is her warmth; I want to have her over for a coffee!
Teaching is so much more than instruction, I love her vulnerability, her truthfulness, her ability to enthuse others and the fact she paints gorgeous pictures that inspire me and also the variety of her paintings.
I have been painting for five years mostly learning from YouTube but
it was the best day when I found your video; you are definitely helping me be my own favourite artist and there is so much joy in the journey.
Thank you!
- Jane V.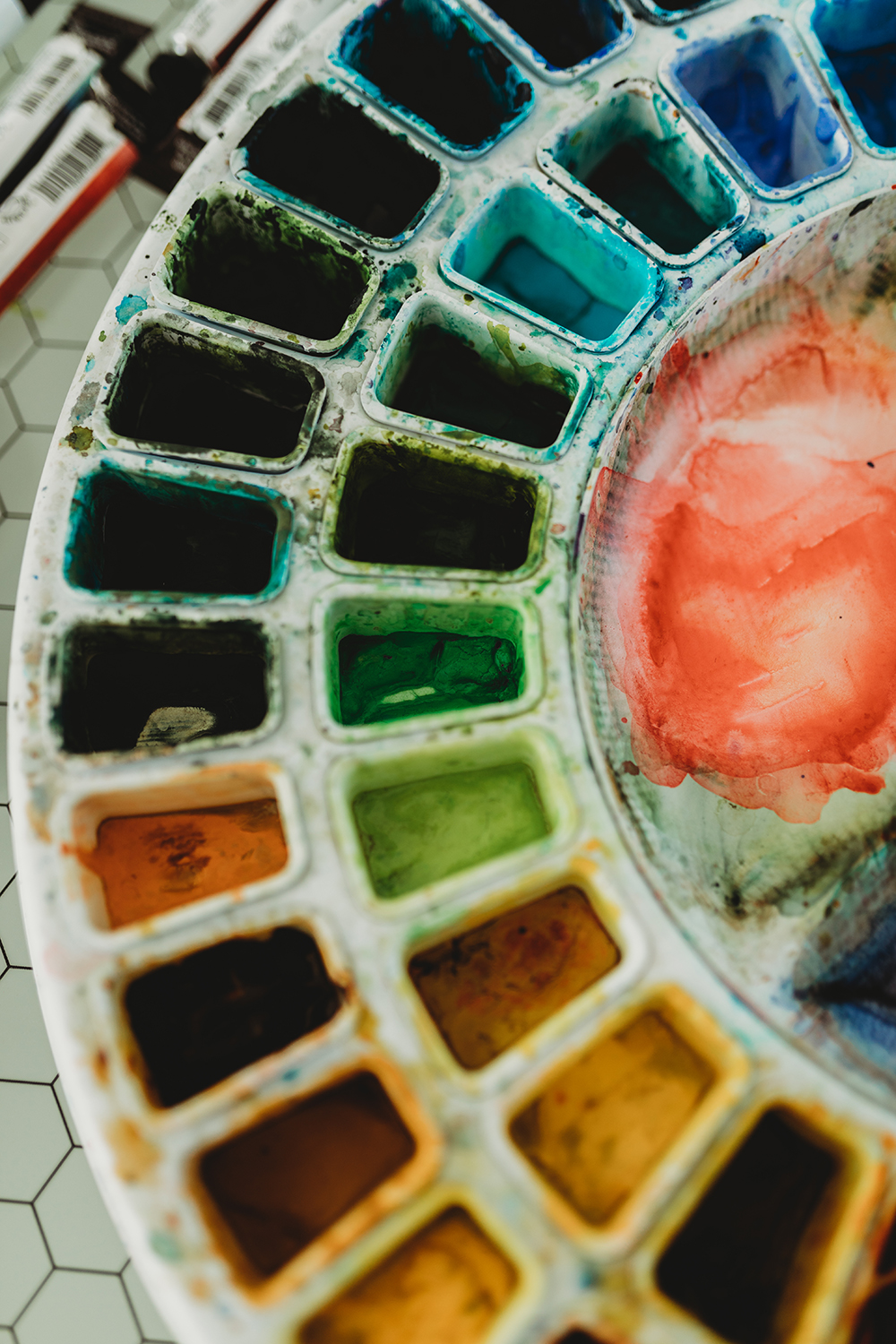 'I feel a new freedom to paint from my emotions and be led by the flow of the paint. I have new confidence in my brush strokes and see a personal style emerging in my work! I enjoyed using my own photos as well as painting along with the lessons. I really feel that the combination of going back to my own photos and understanding how to paint them multiple times was very powerful. I enjoy how engaging and inspiring Angela is to work with. It is also helpful that she shares her struggles as she teaches. The course is paced well and easy to follow. The ideas are practical and open to encourage experimentation. I love that they are not "Do it just like this" but invite you to learn ways to work with the painting for self expression
- Lori A.
This course is closed for enrollment.
See the full list of courses included
in the Heart-Led Artist Course bundle below.
Your Instructor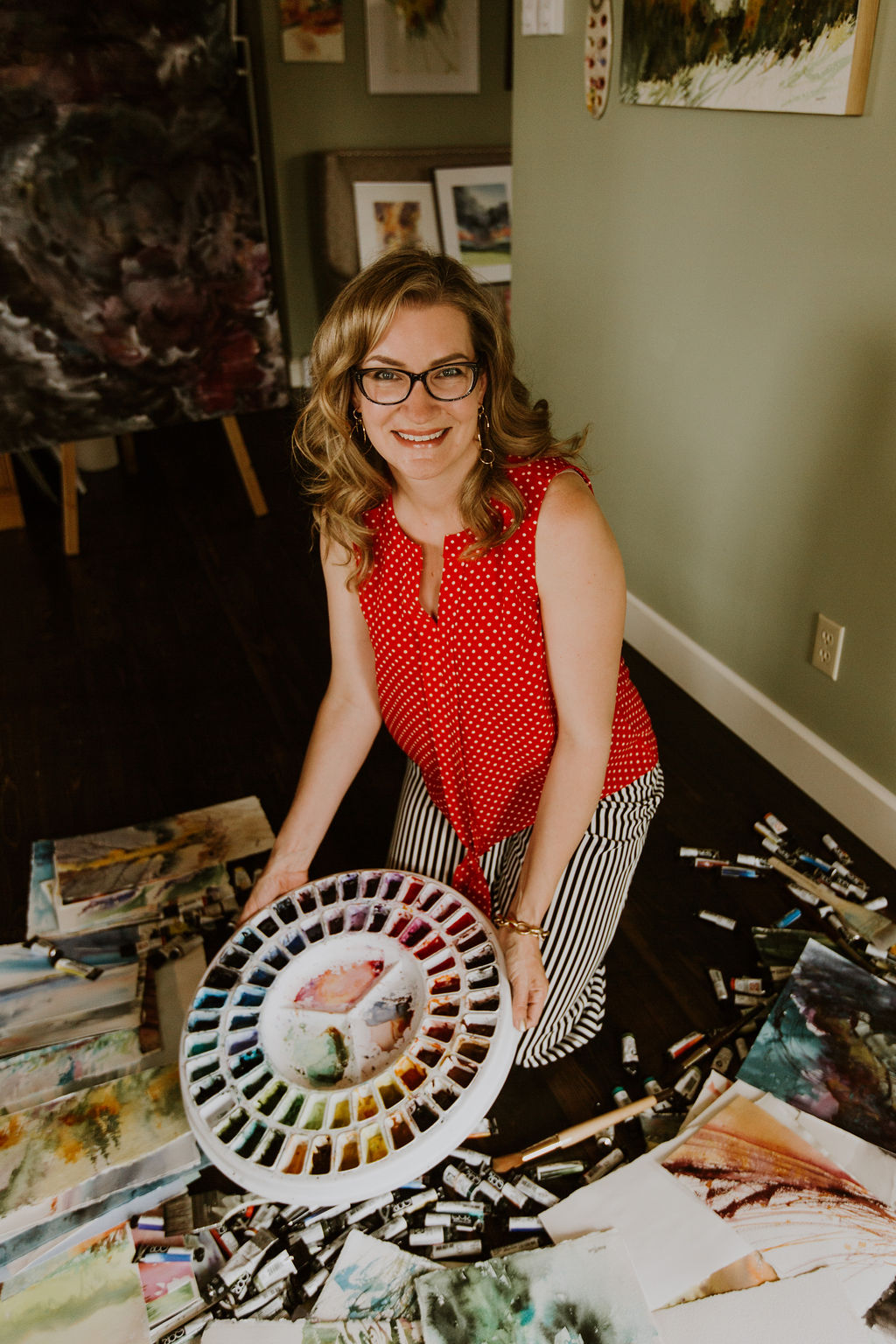 From her home in northern British Columbia, Canada, through her video lessons on her website and YouTube, Angela Fehr has created a community of watercolor lovers that spans the globe. She wants every painter to know the freedom of fearless self expression and she has made it her mission to share this empowering message through lessons in watercolour technique and loose intuitive painting. More than anything she demonstrates that the most important thing you bring to your art is you.
Courses Included with Purchase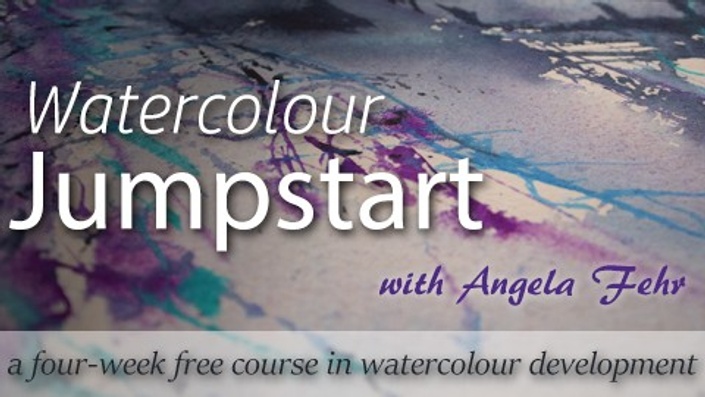 Watercolour Jumpstart: Free Course
Direction & Encouragement for the Watercolour Painter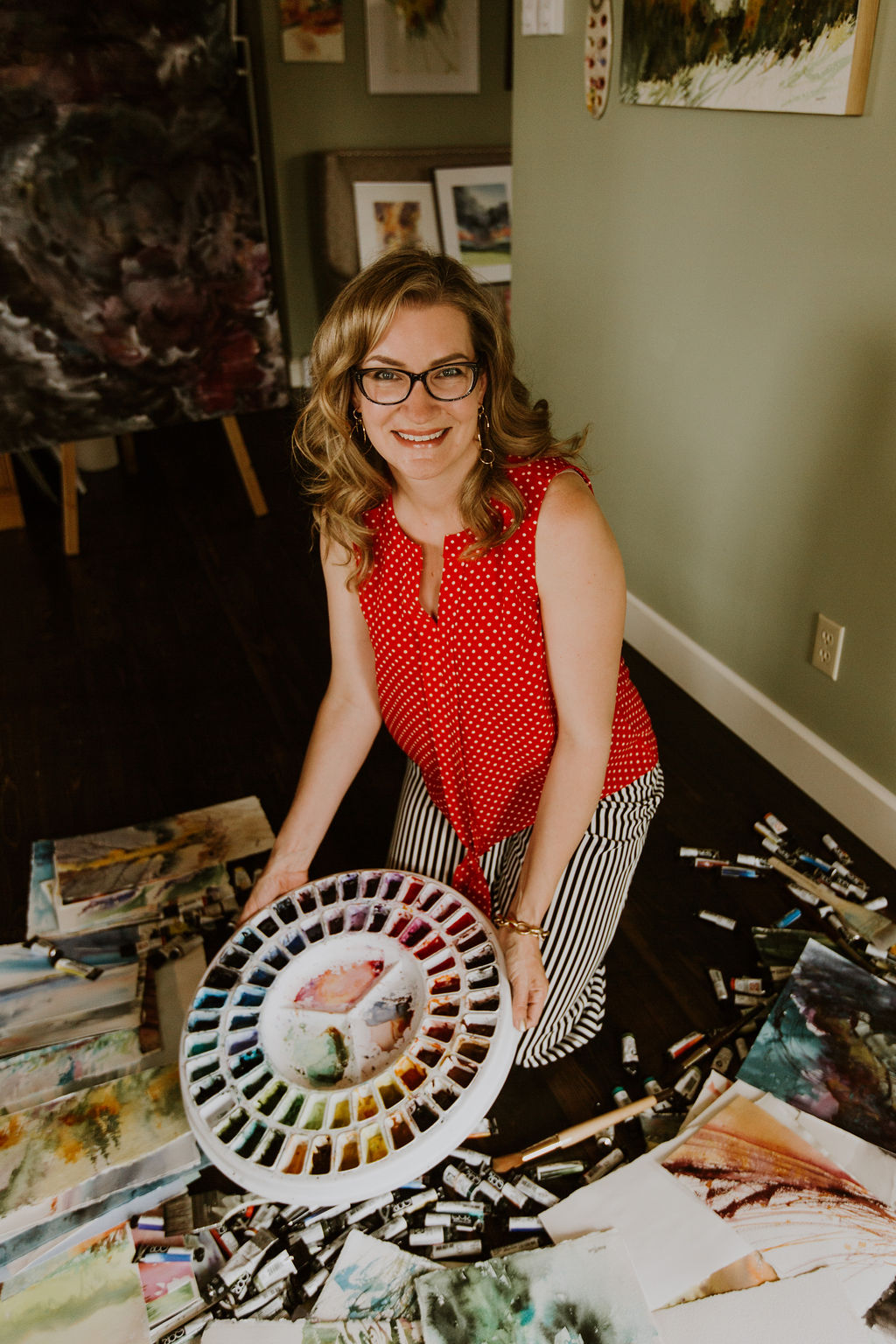 FREE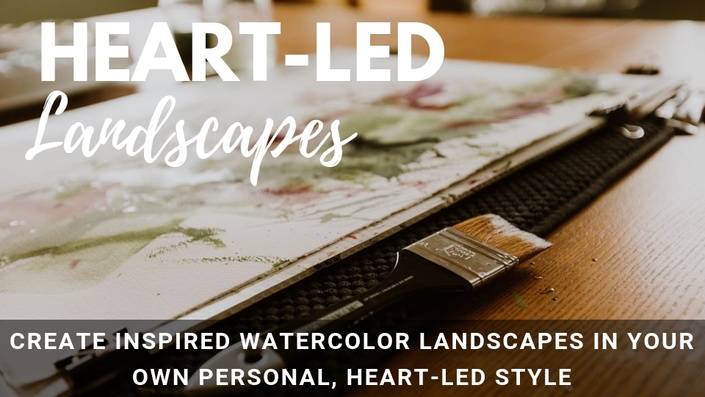 Heart-Led Landscapes in Watercolor (Membership)
Steps to Developing Your Personal Loose Landscape Watercolor Style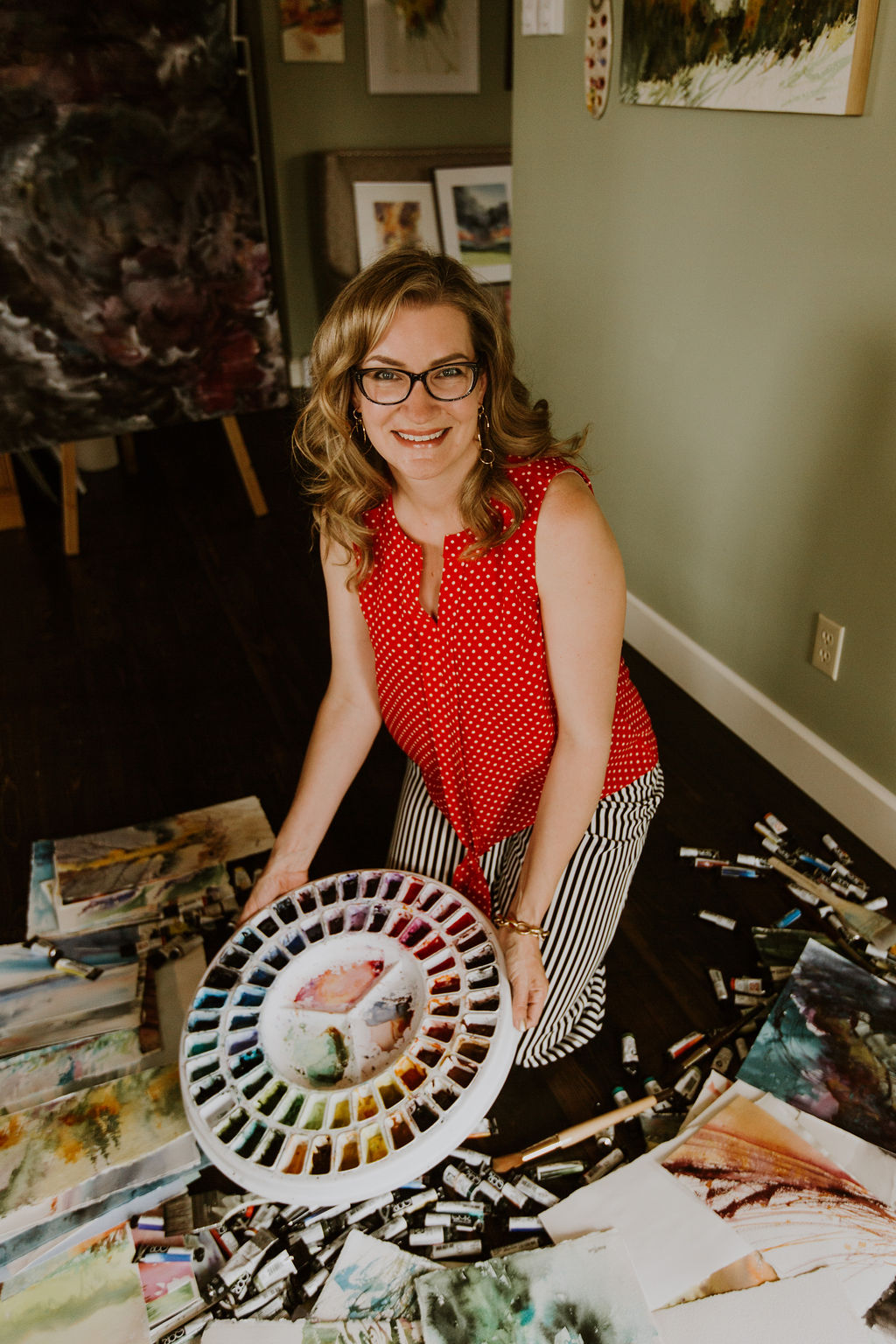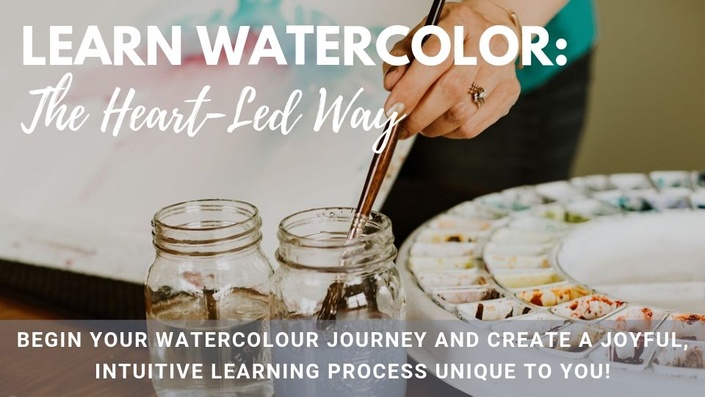 Learn Watercolor: The Heart-Led Way (Membership)
Beginning Watercolor Techniques, Intuitive Methods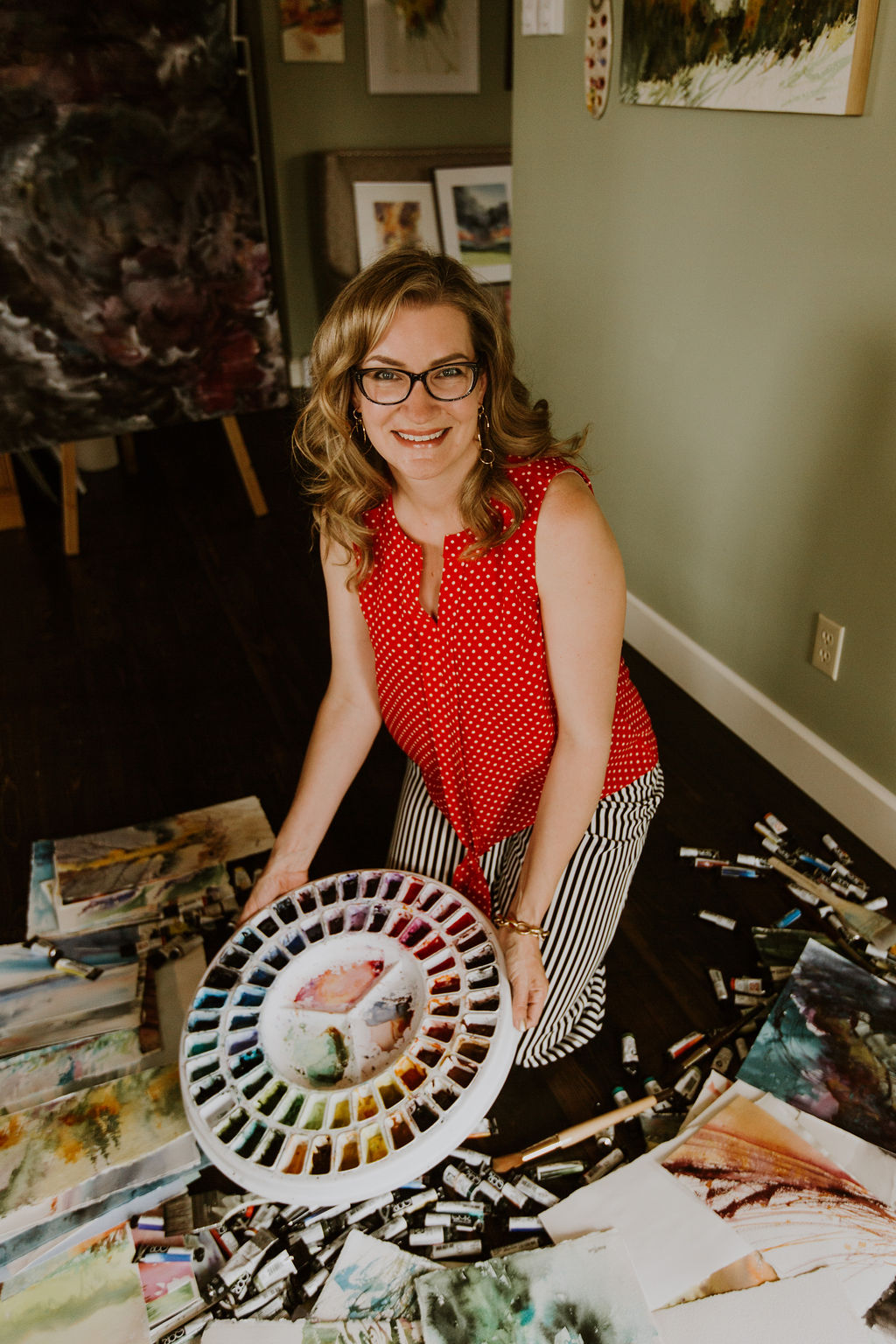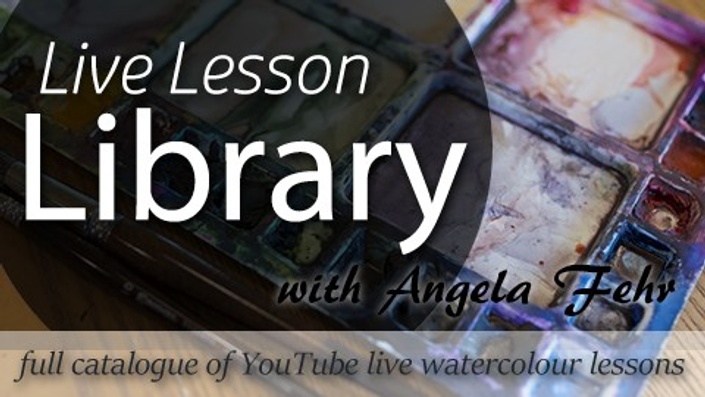 Member Live Lesson Library - Heart-Led Artist Community (Membership)
Complete Catalogue of YouTube Live Watercolour Lessons and Heart-Led Artist Community Live Lessons.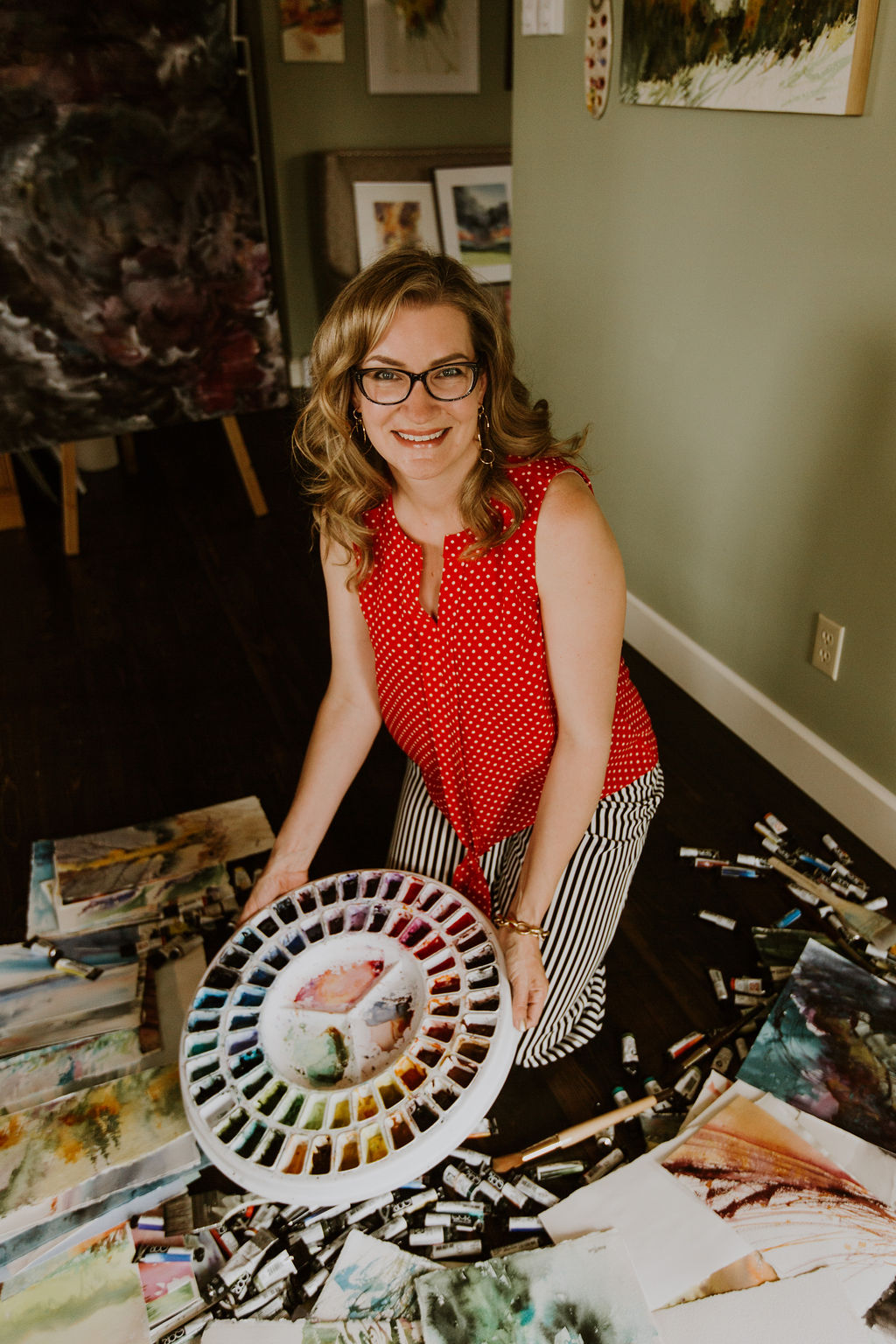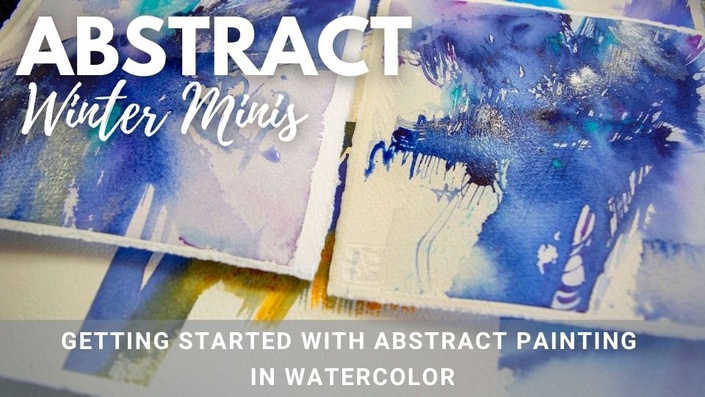 Winter Mini Abstracts in Watercolor (2020) (Membership)
Getting Started with Abstract Painting in Watercolor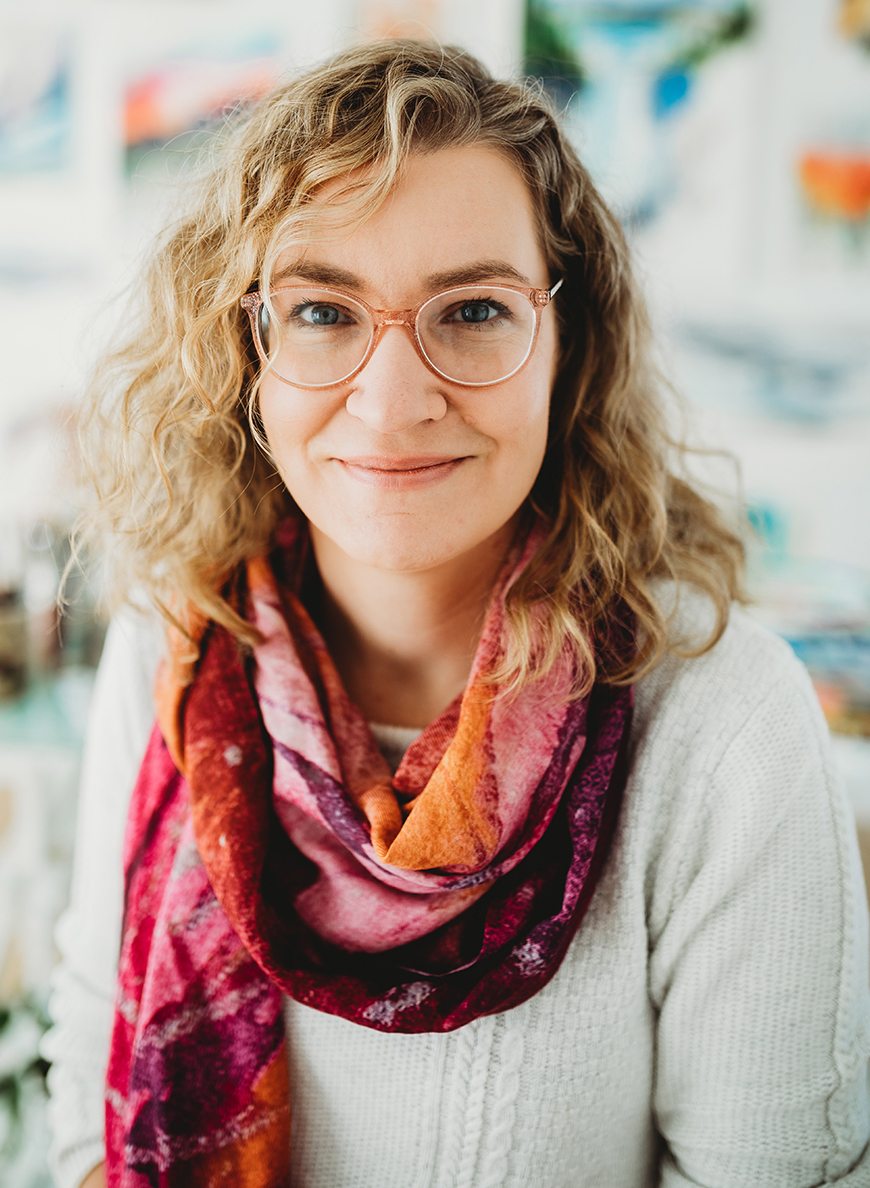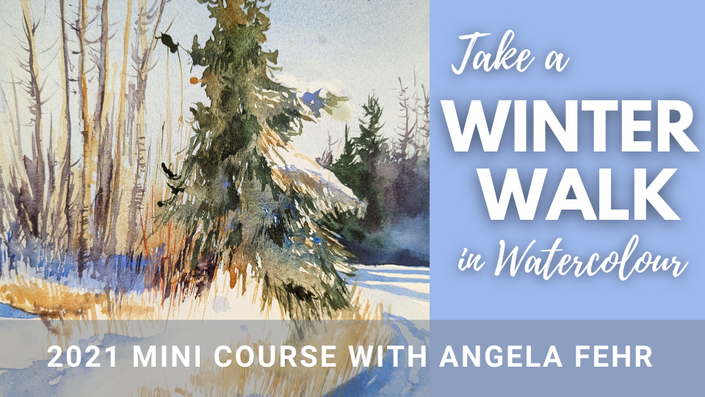 Winter Walk in Watercolor 2021 (Membership)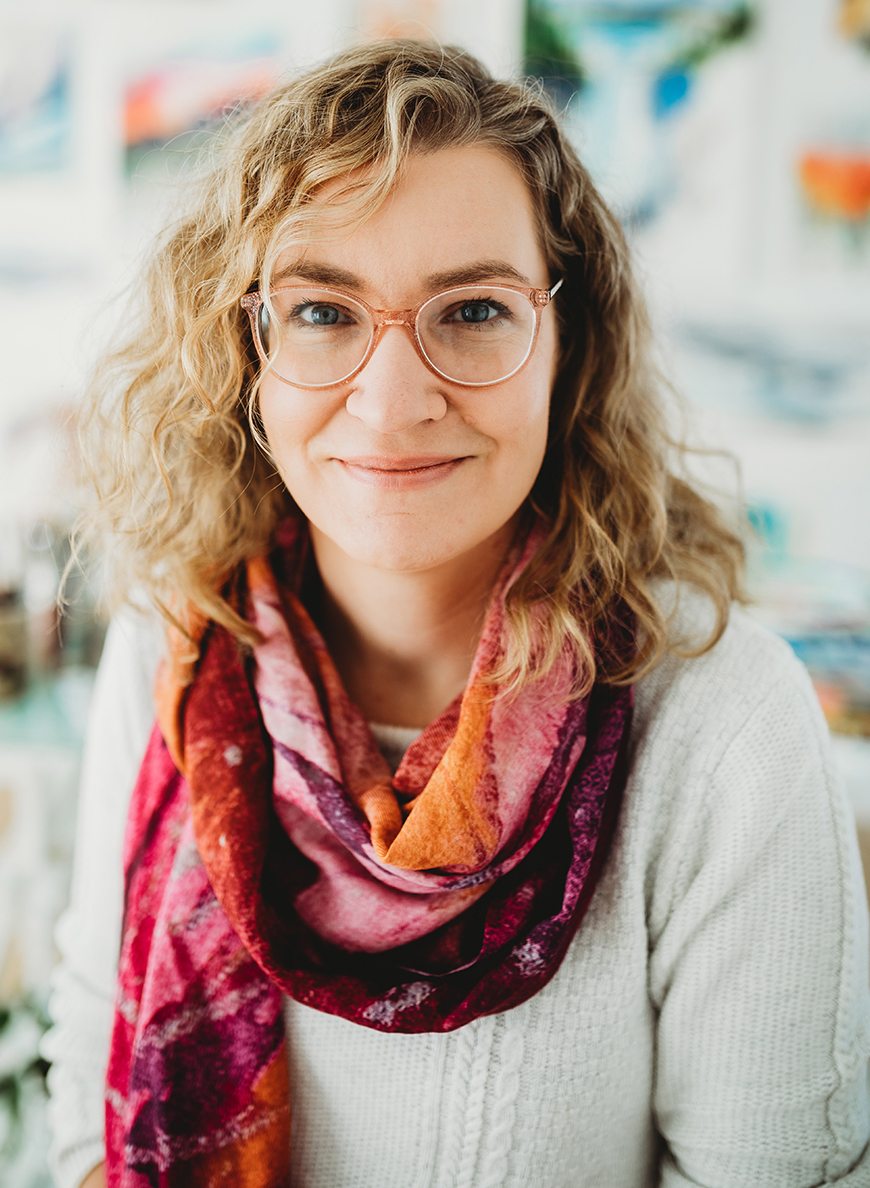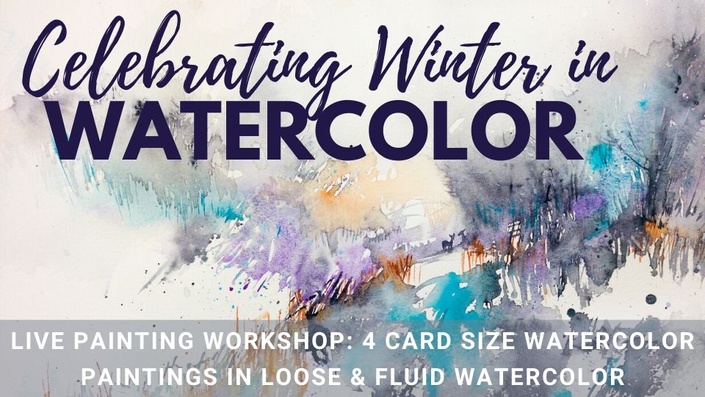 Celebrating Winter in Watercolor [2019] (Membership)
Paint 4 card size winter scenes in fluid watercolor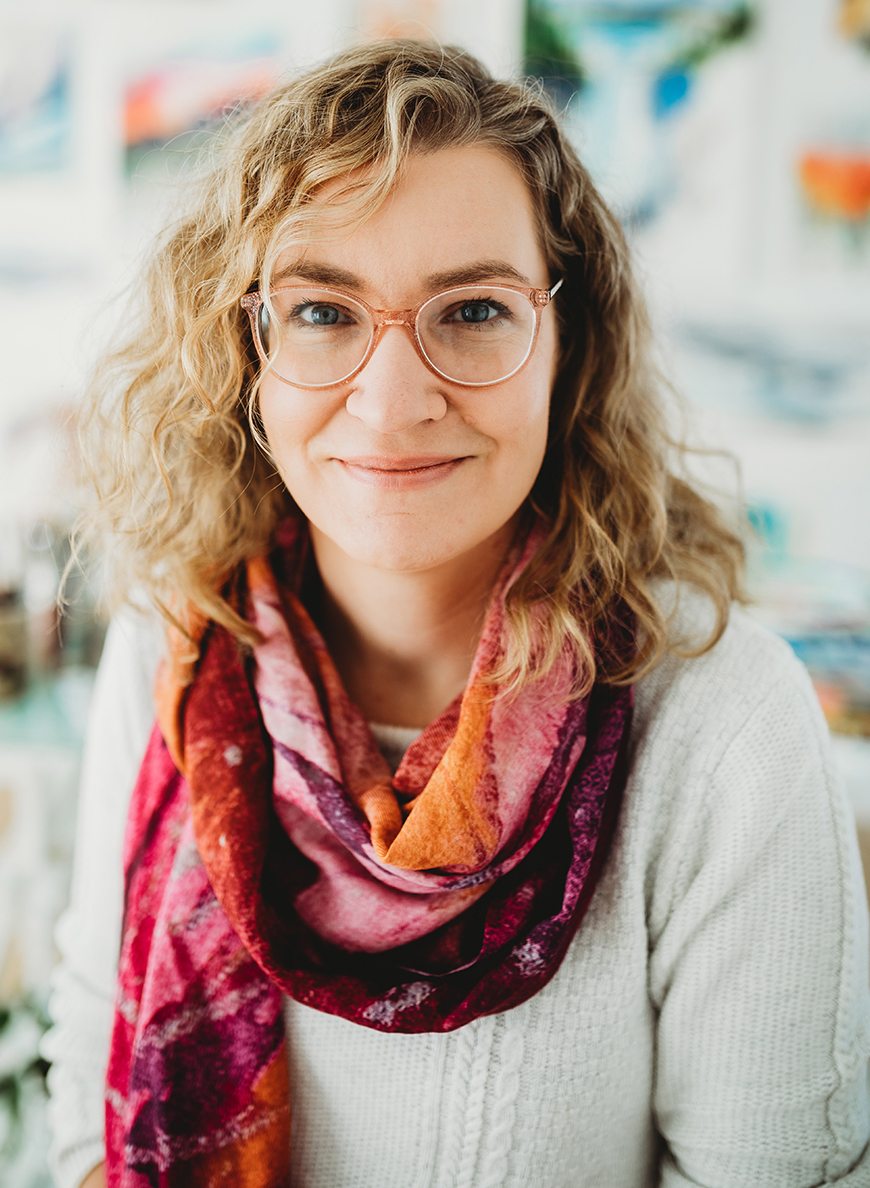 $39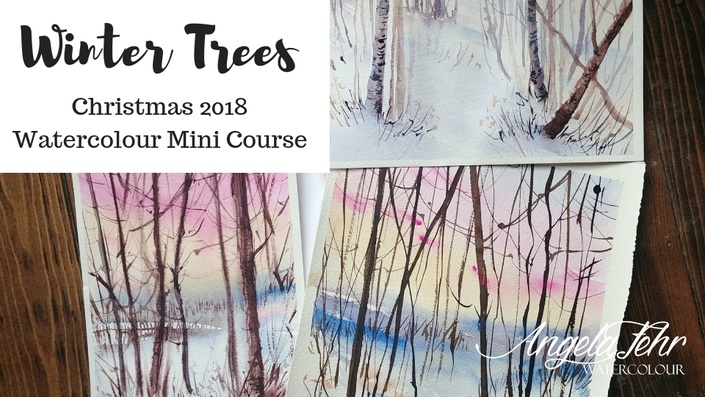 Winter Trees in Watercolor [2018] (Membership)
Christmas Mini Course 2018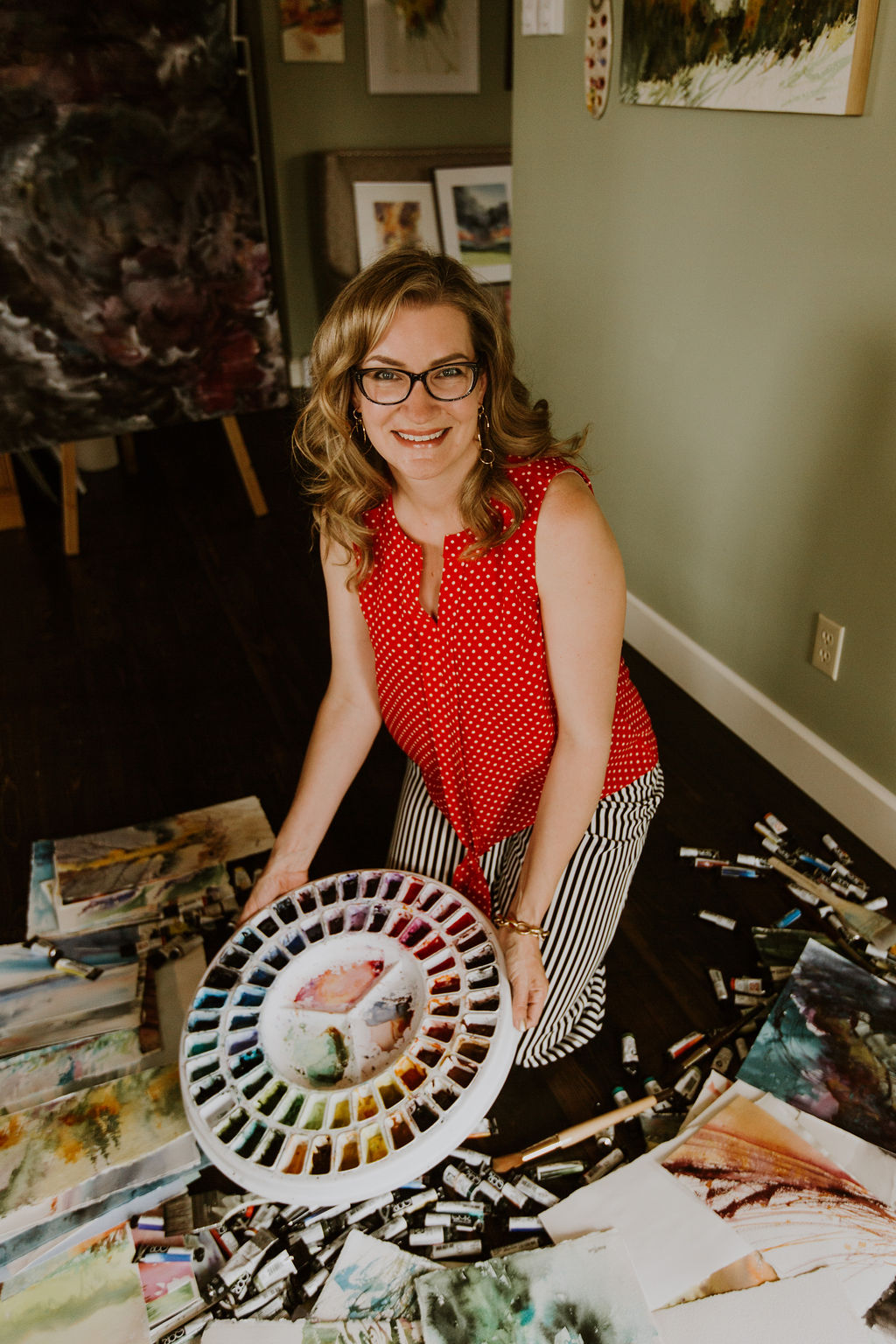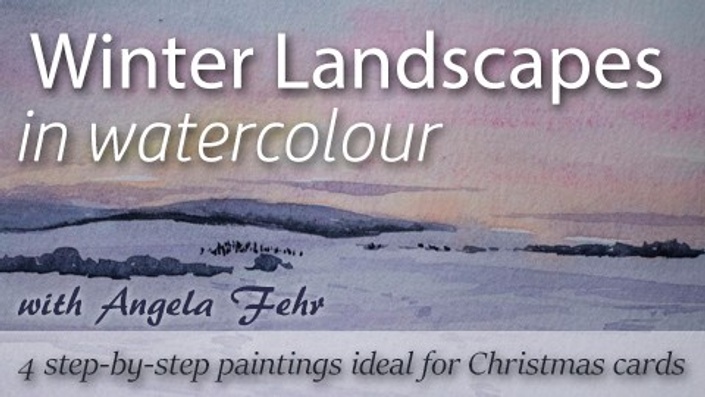 Winter Landscapes [2017] (Membership)
Paint four wintry scenes ideal for Christmas cards.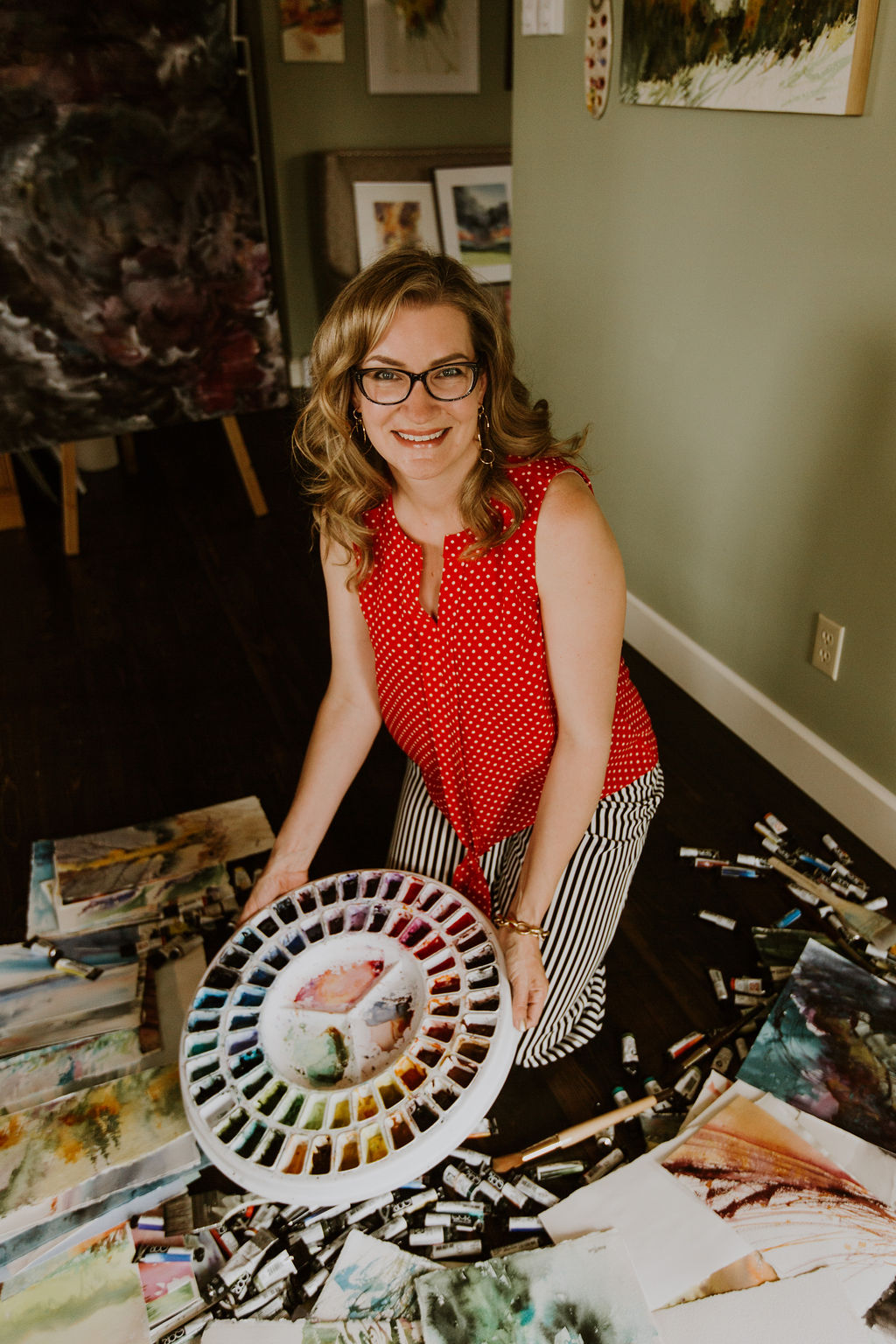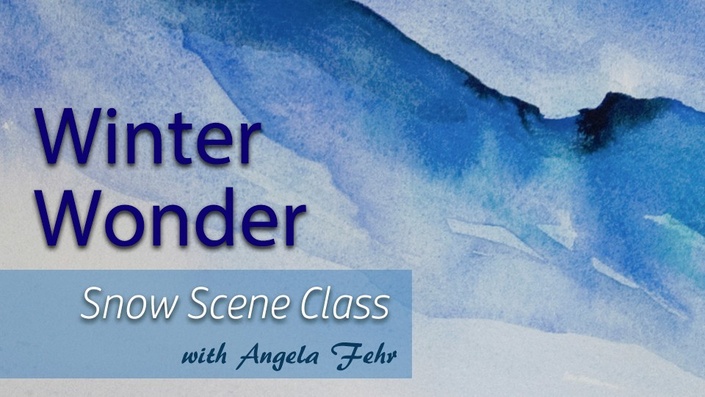 Winter Wonder Snow Scene [2016] (Membership)
Exploring light and shadow and how to paint sunlit effects in watercolour.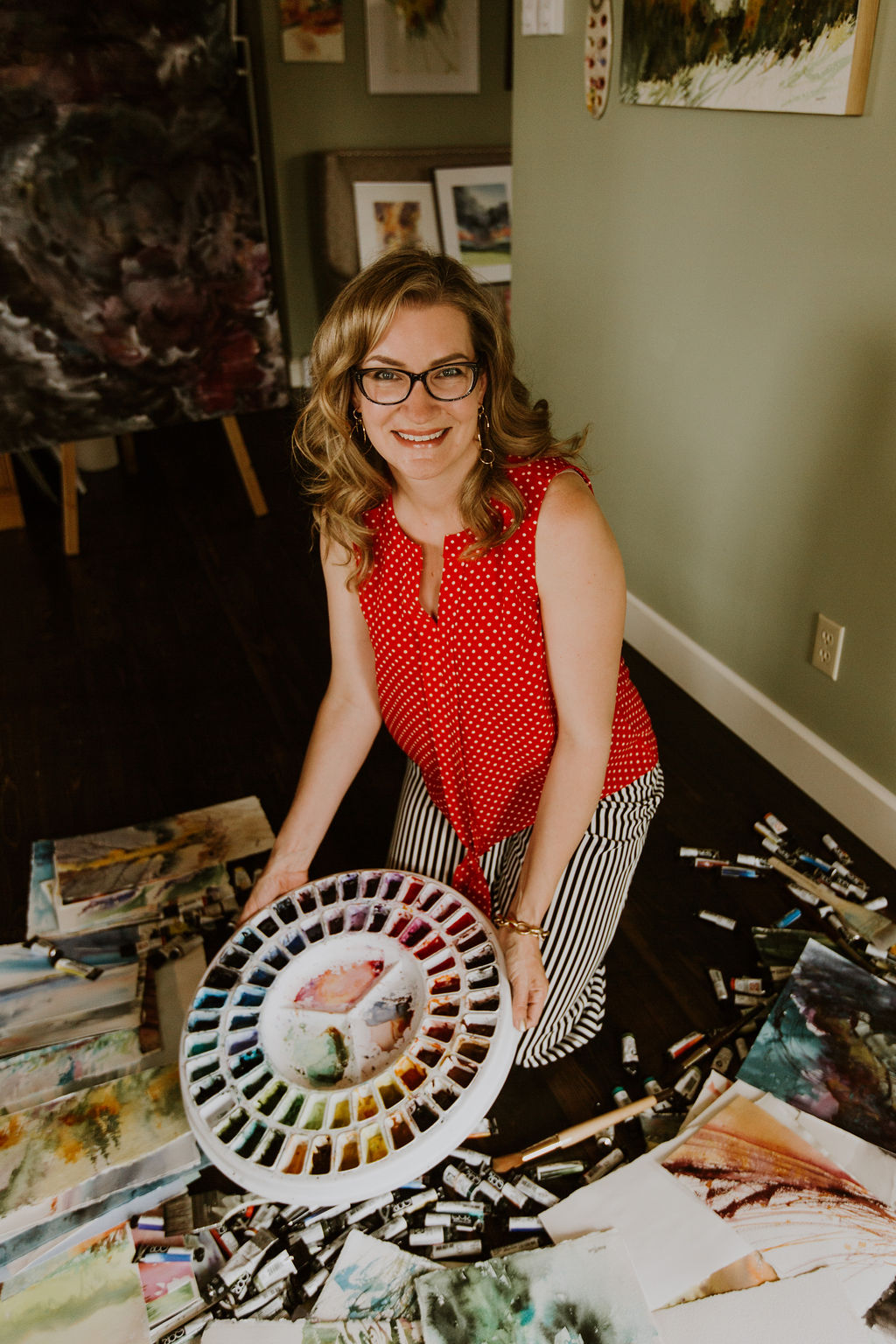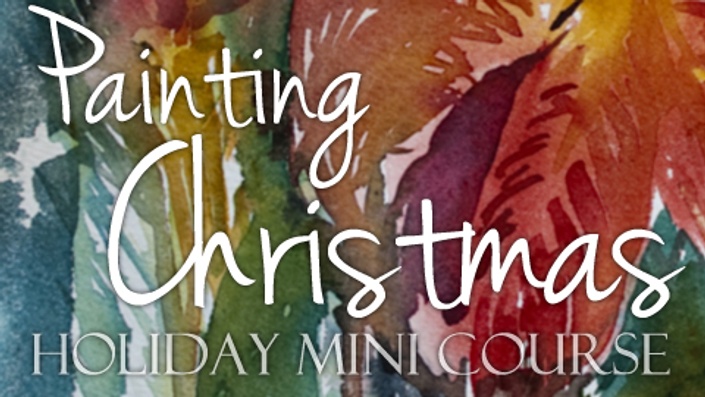 Holiday Watercolour Mini [2015] (Membership)
Paint Your Christmas Cards this Year!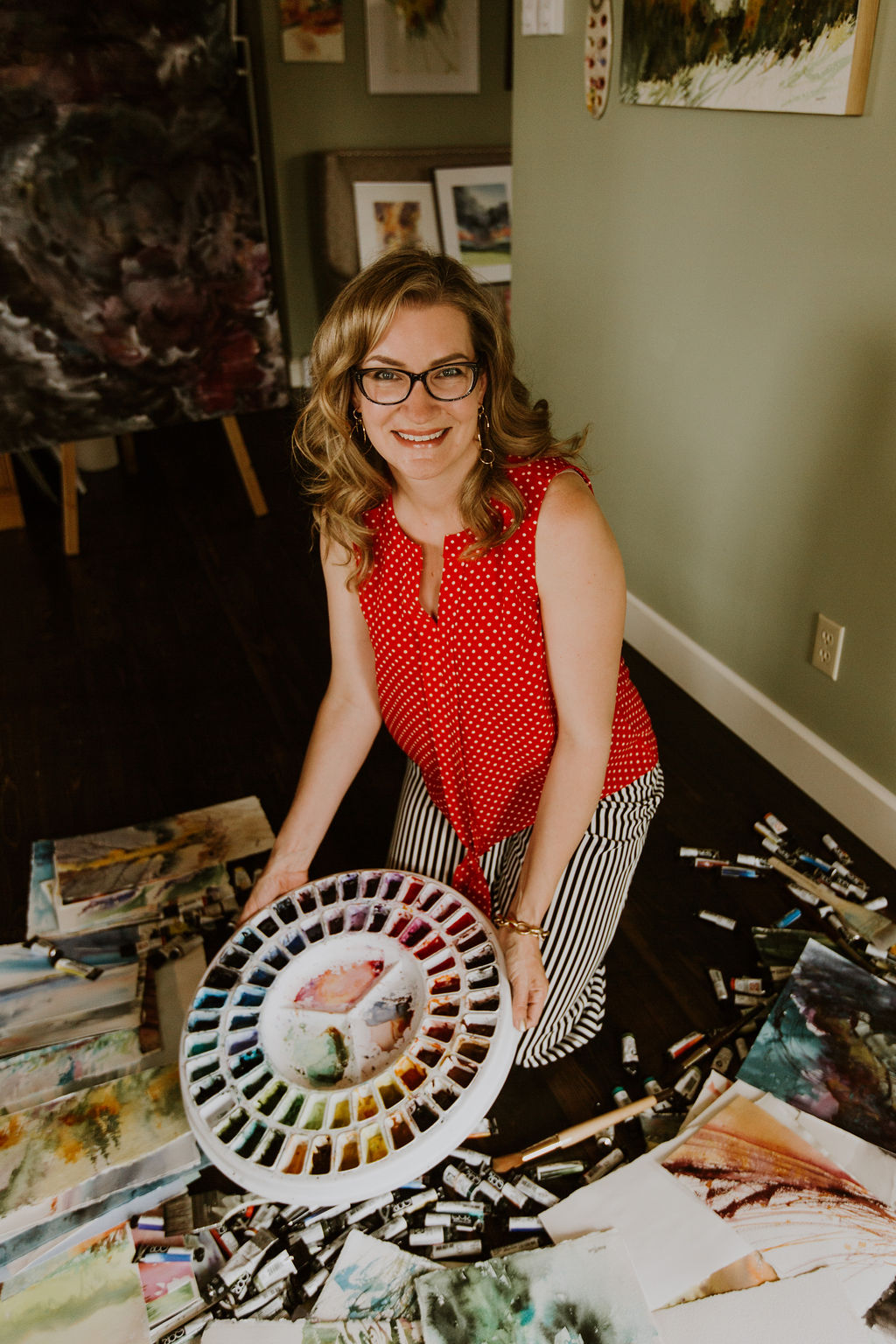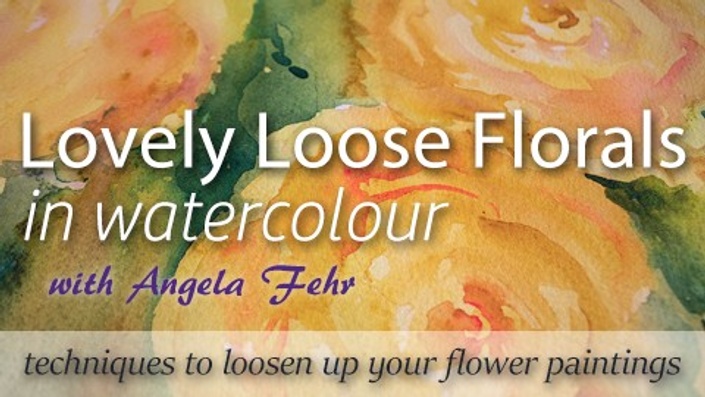 Lovely Loose Flowers in Watercolour (Membership)
Lessons in Painting More Expressively in Watercolour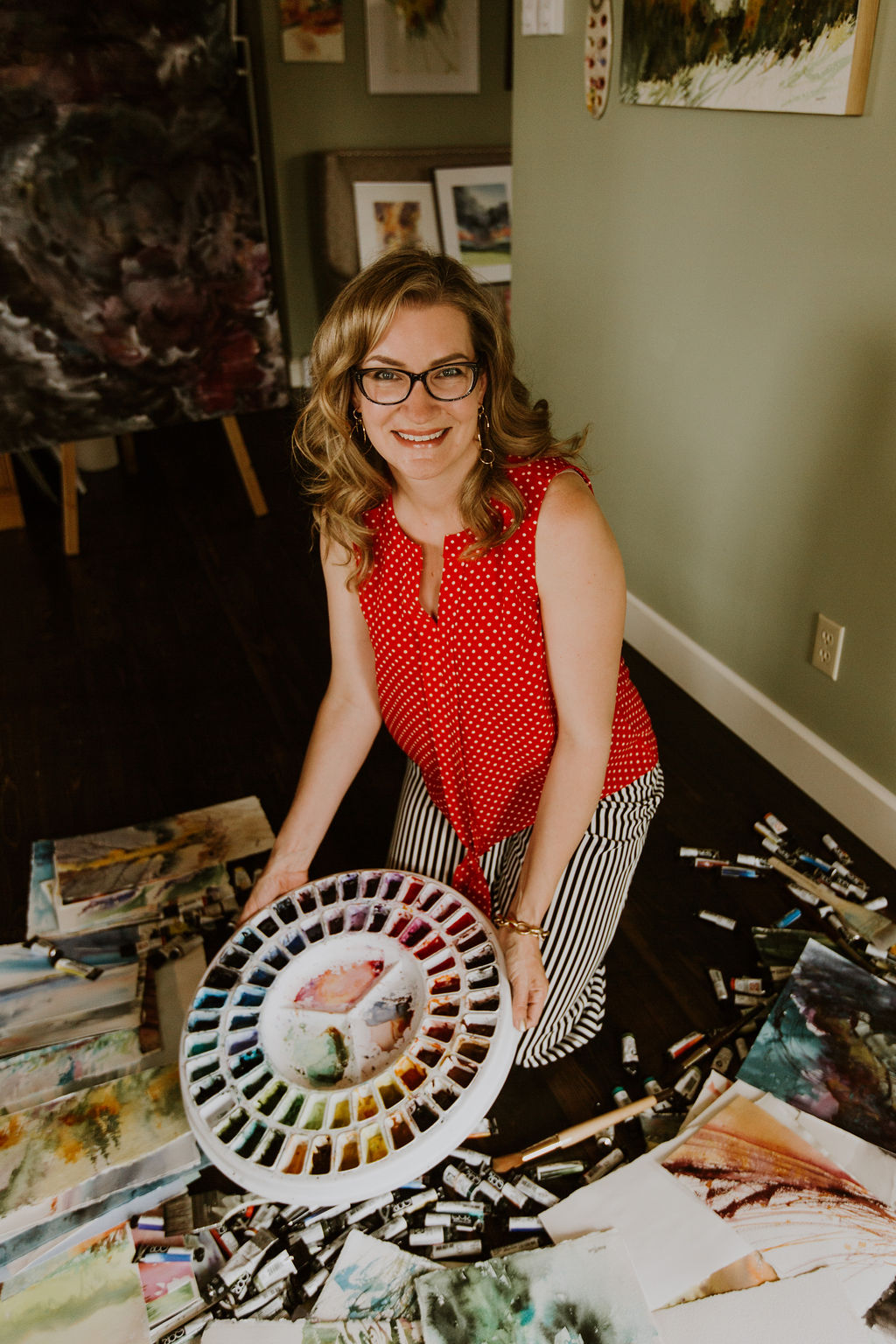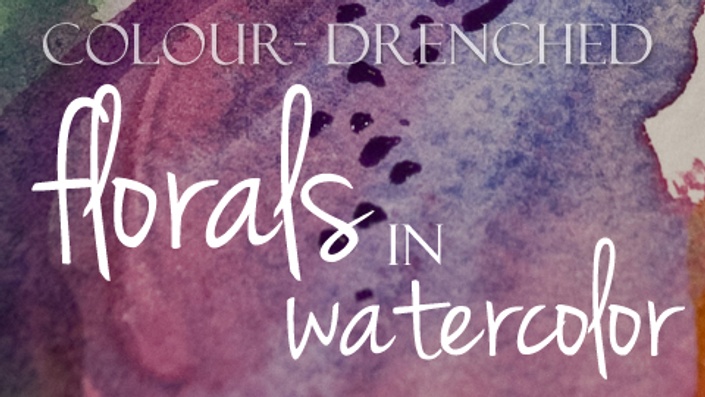 Color-Drenched Flowers (Membership)
Expressive Florals Using Basic Watercolor Techniques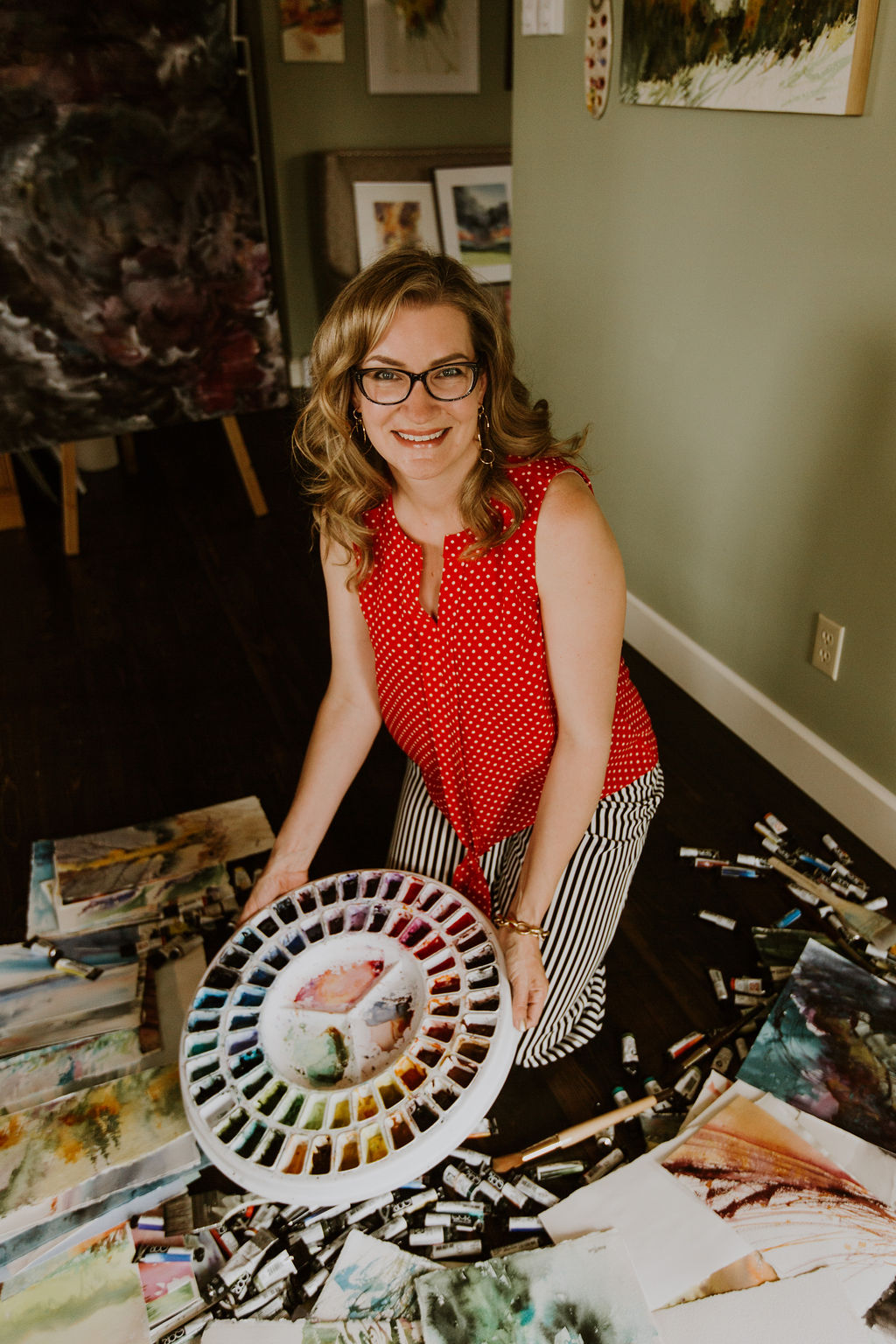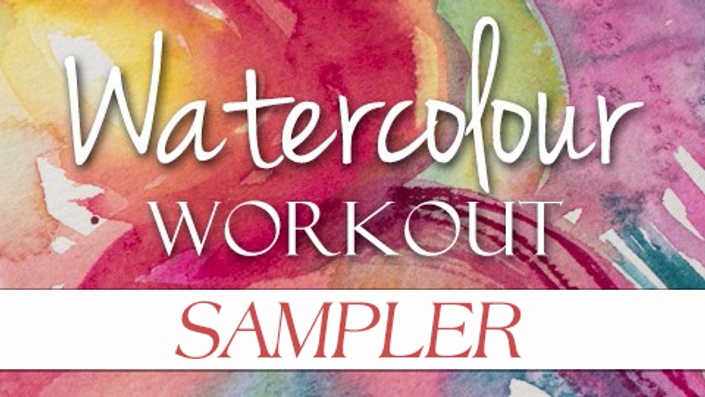 Watercolour Workout Sampler (Membership)
Strengthen Your Painting Skills in a Few Minutes a Day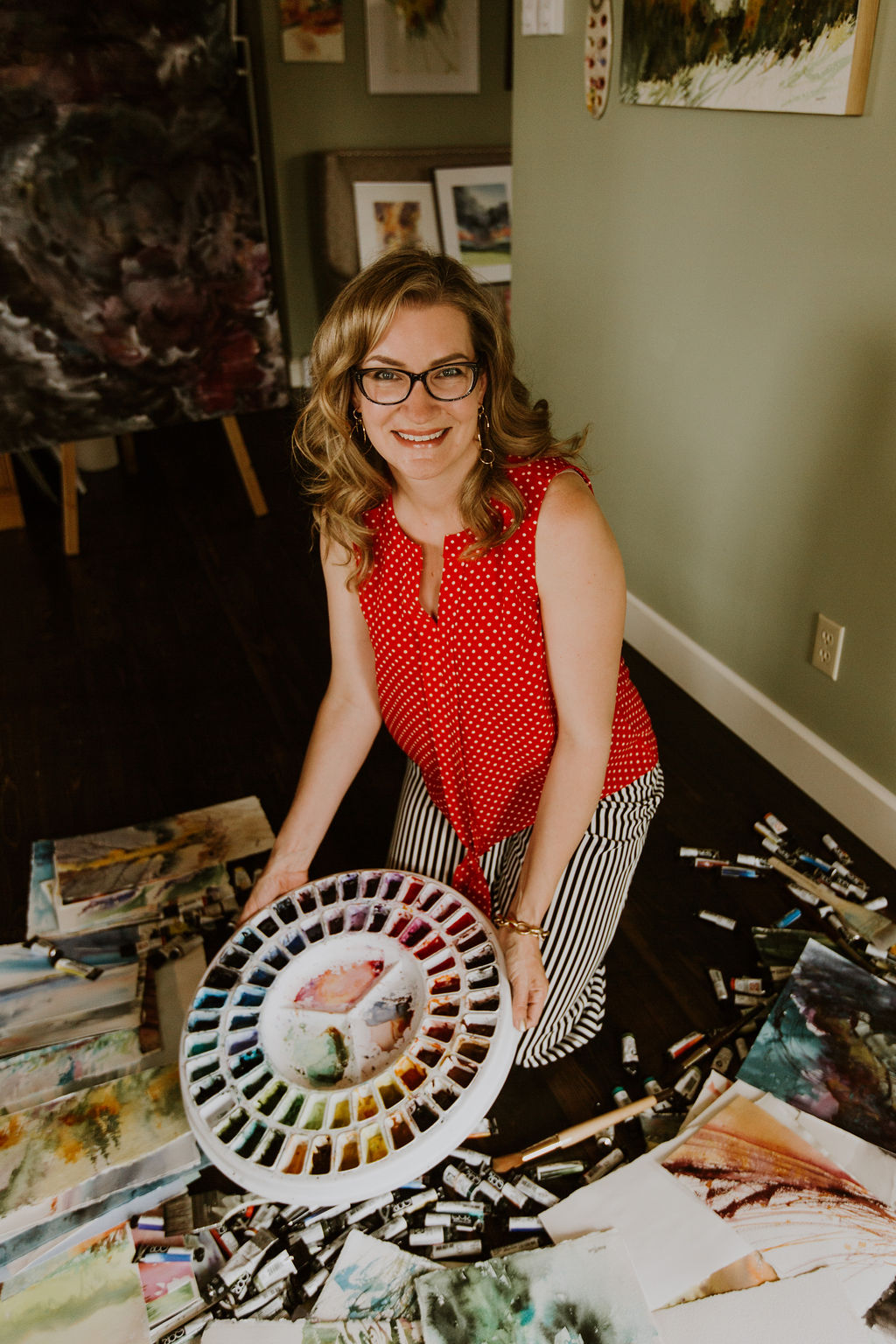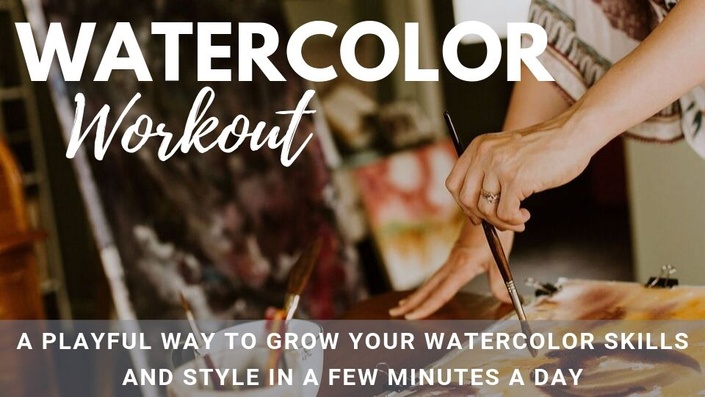 Watercolour Workout (Membership)
A Playful Way to Strengthen Your Painting Skills in a Few Minutes a Day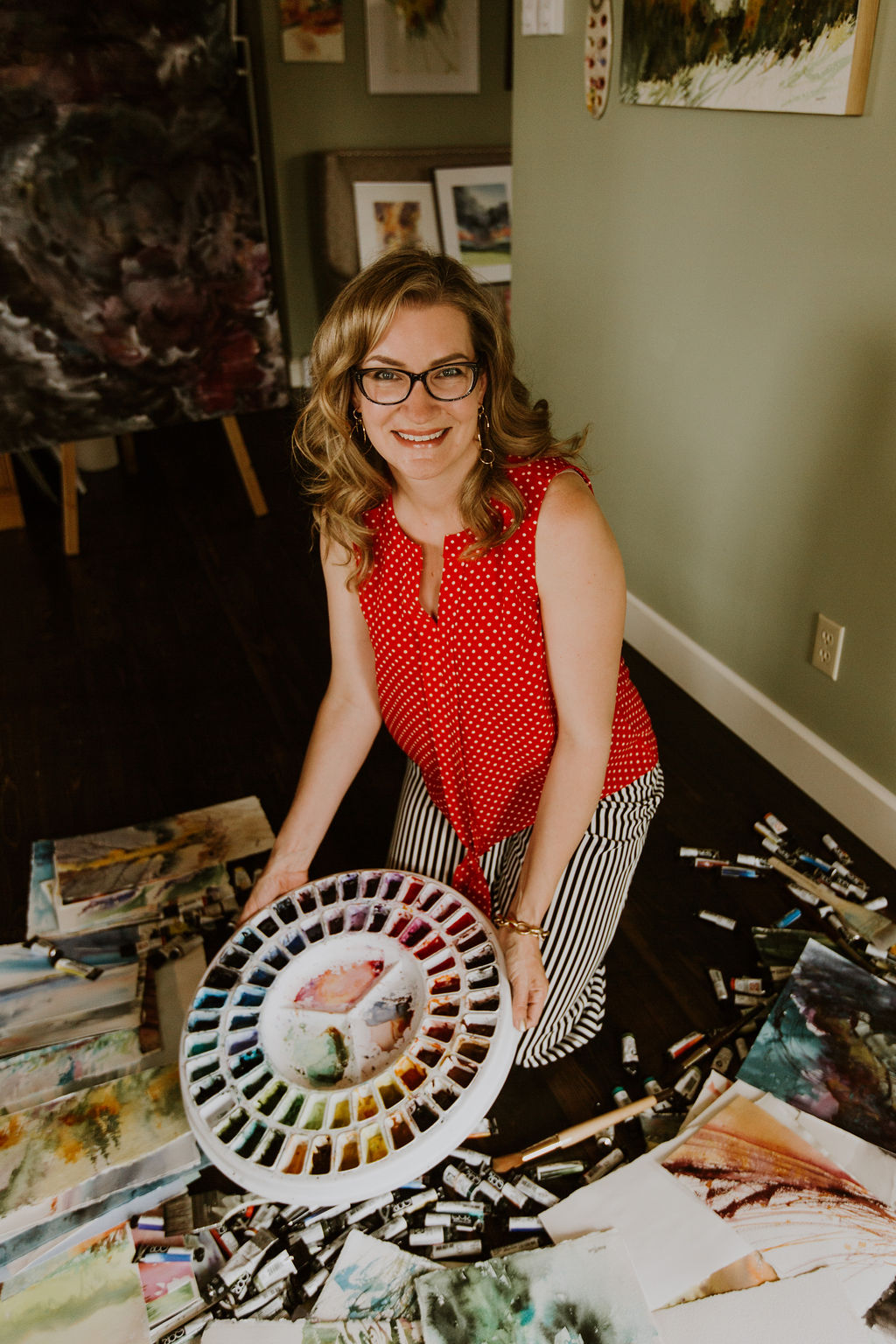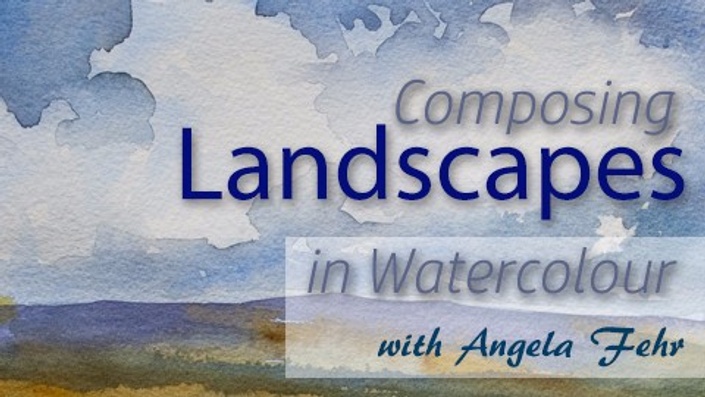 Simple Landscapes (Membership)
Painting the Landscape with Joy & Purpose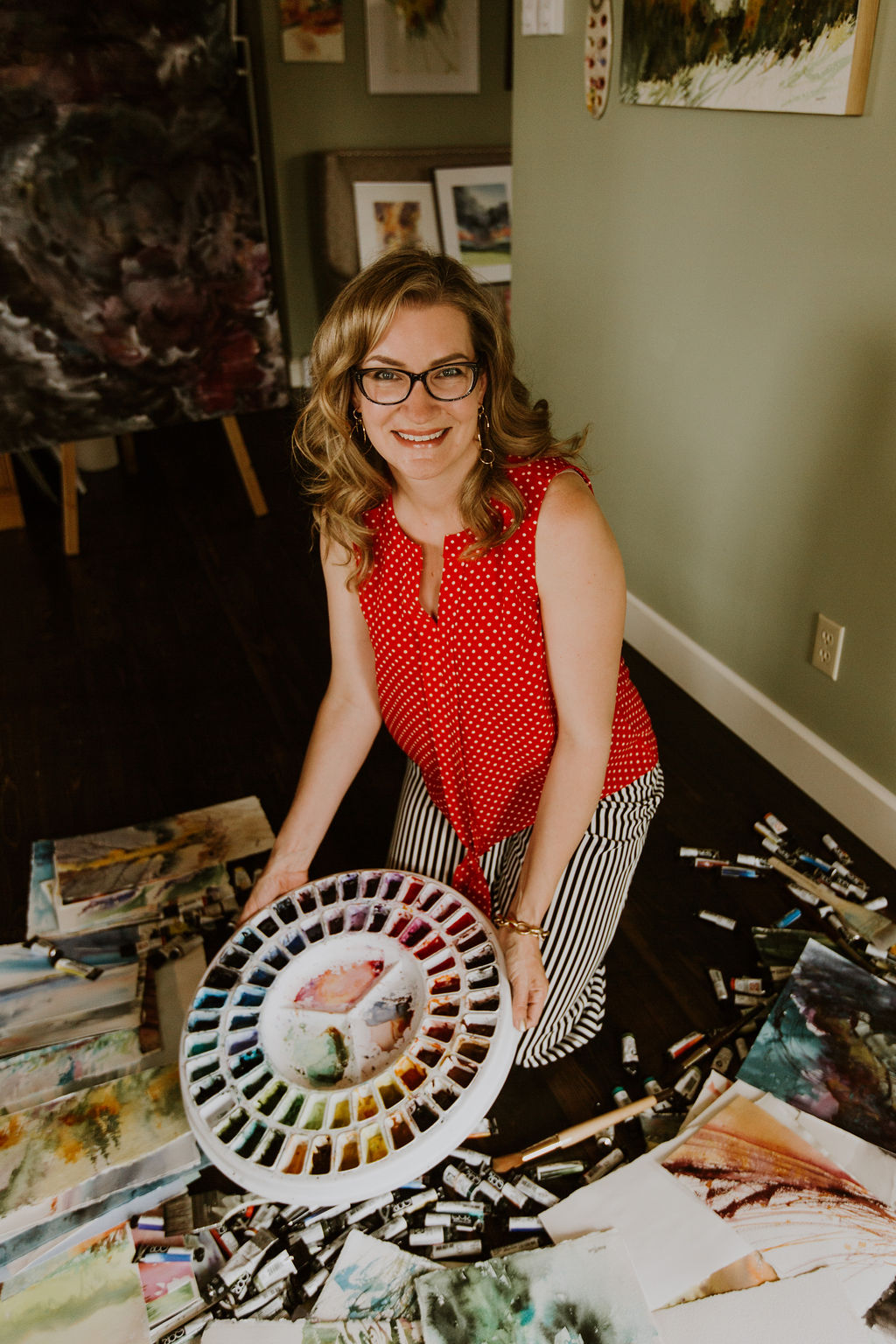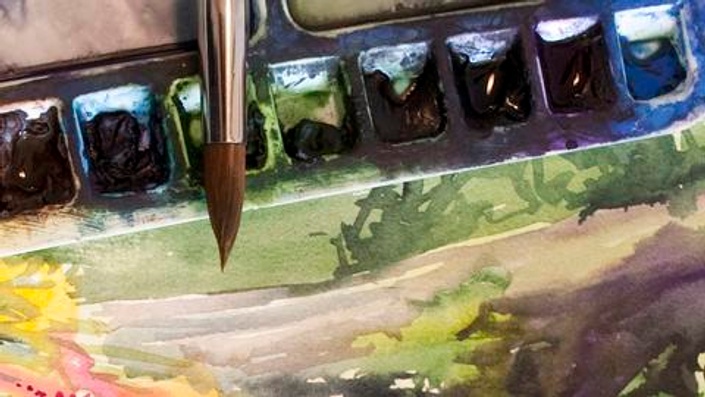 Basic Techniques in Watercolor (Membership)
Things You Should Know Before You Start Painting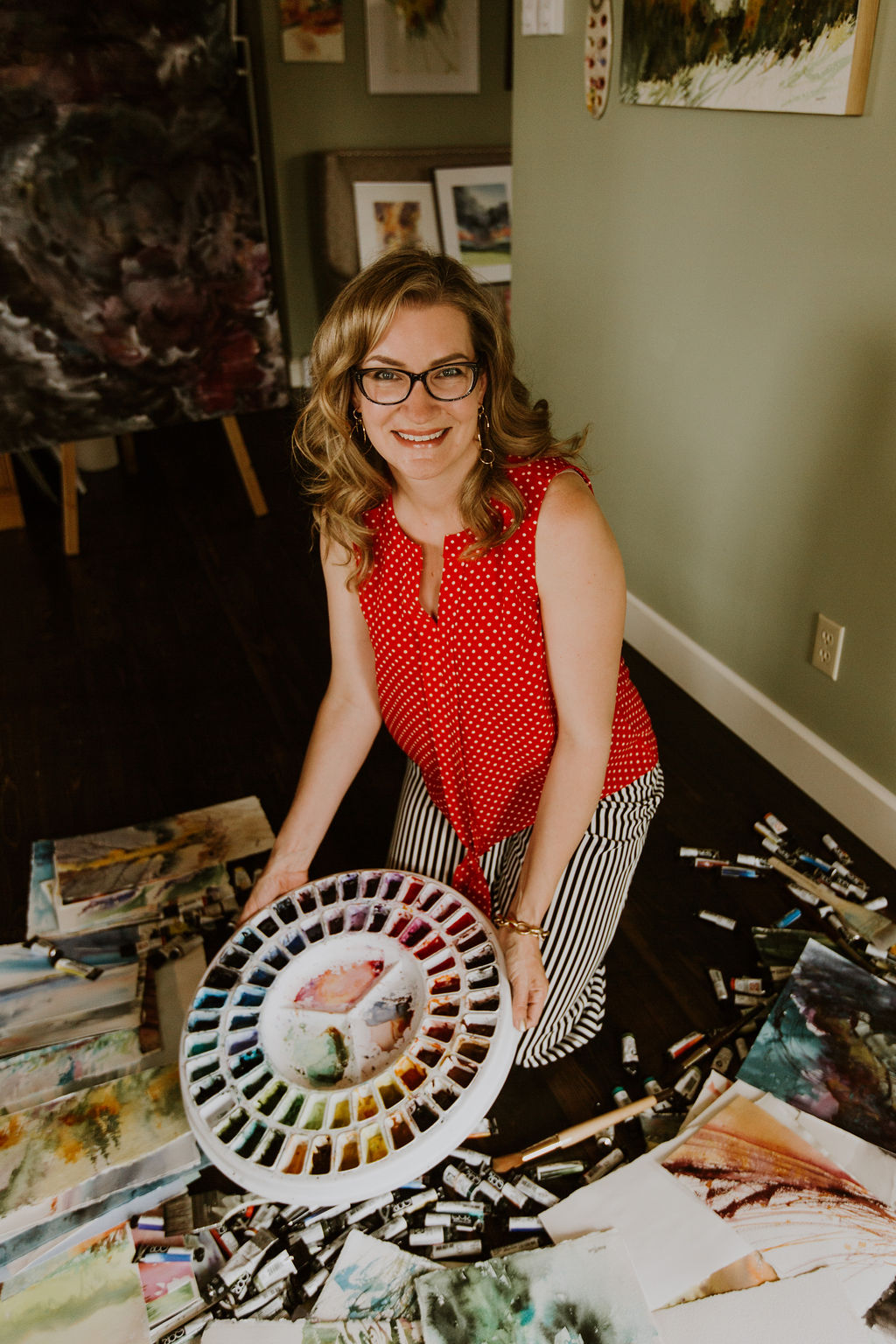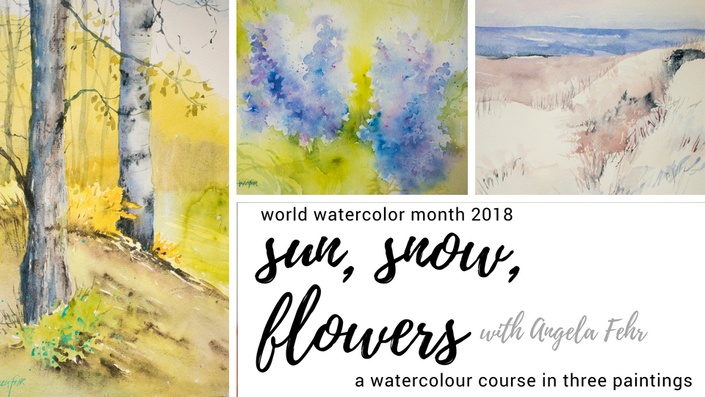 Sun, Snow & Flowers in Watercolor (Membership)
Three Loose Watercolour Paintings, Step by Step with Angela Fehr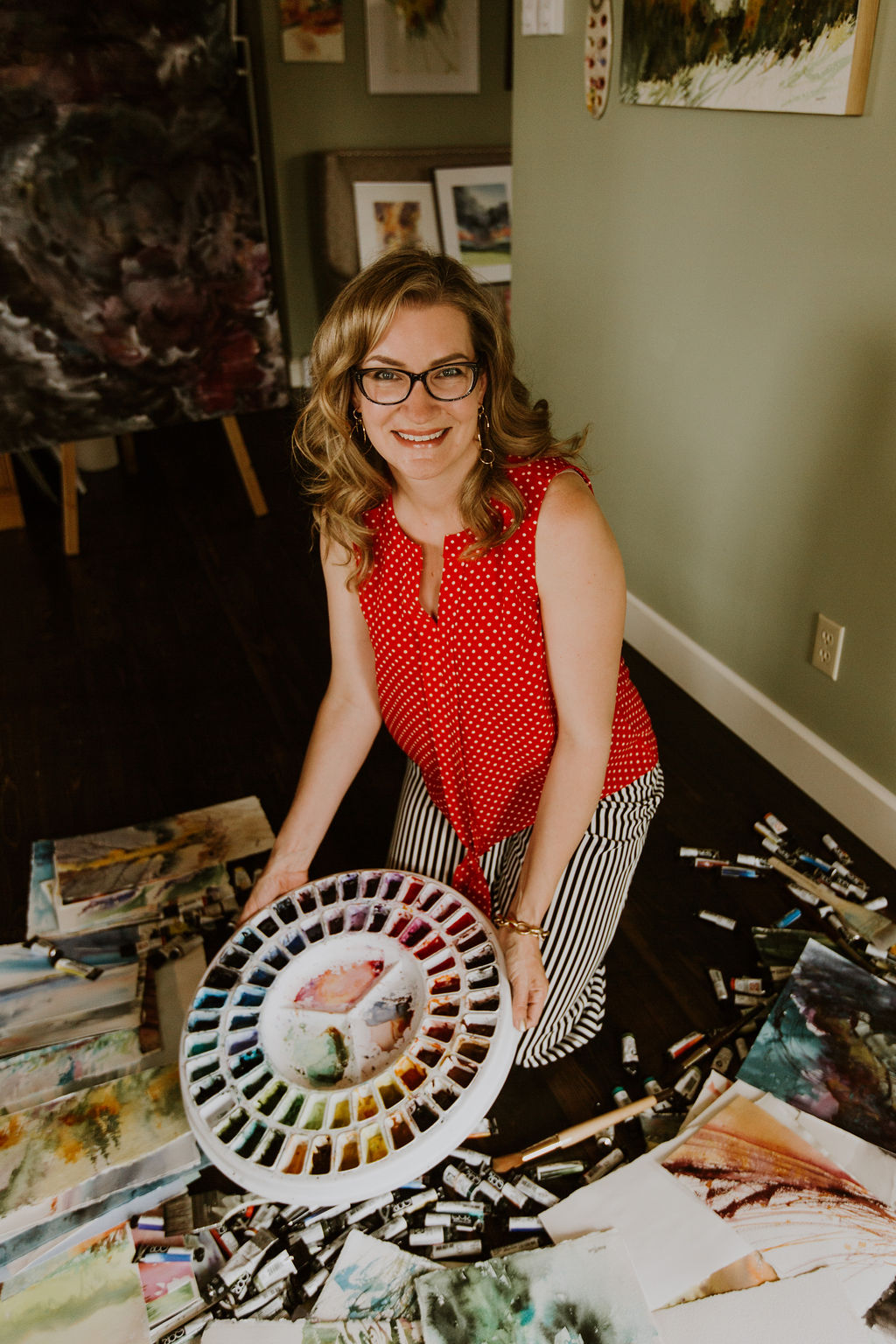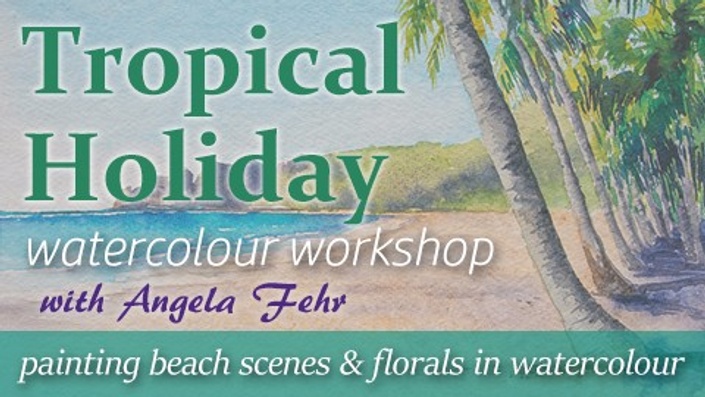 Tropical Holiday (Membership)
Paint the beauty of warmer climates in watercolour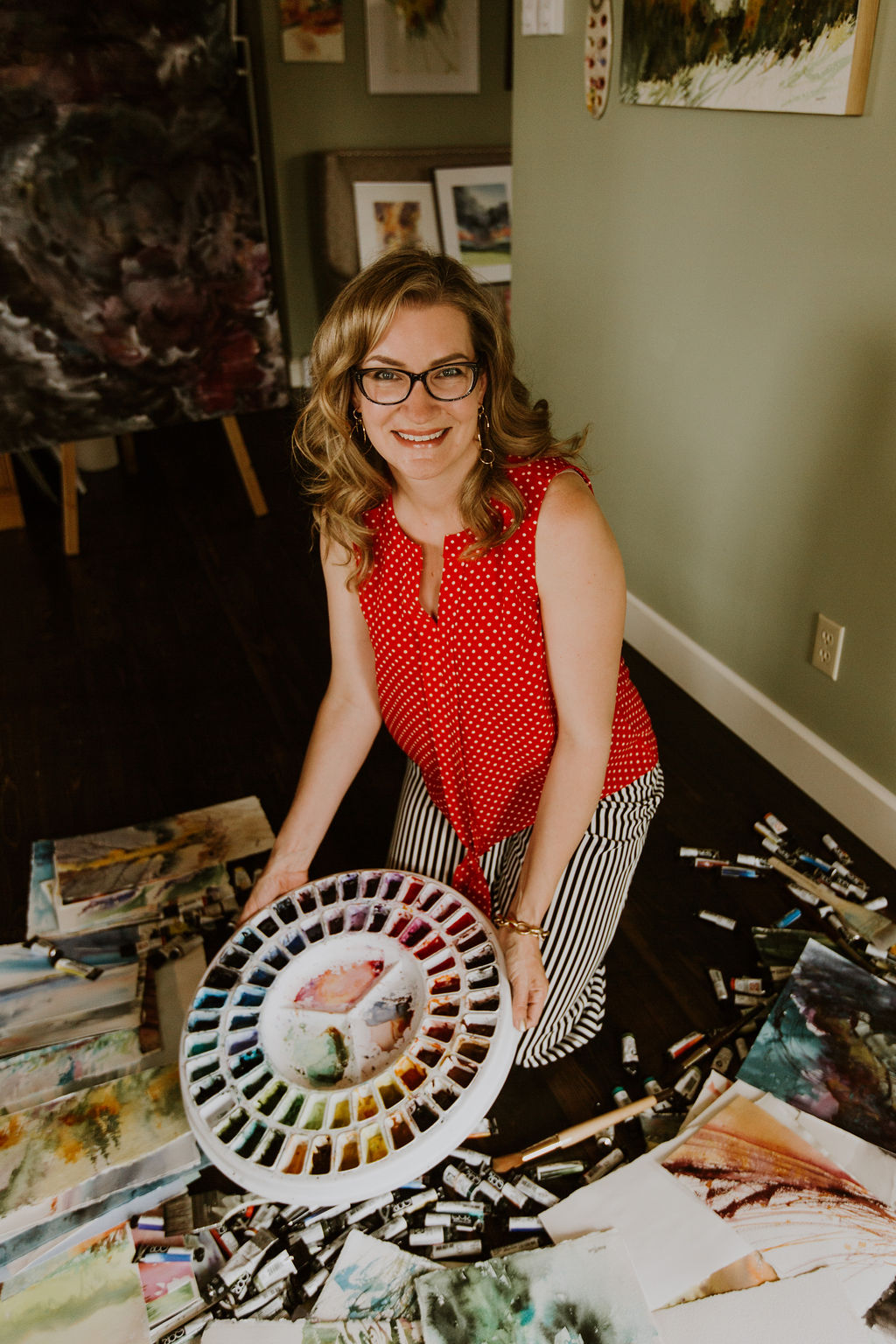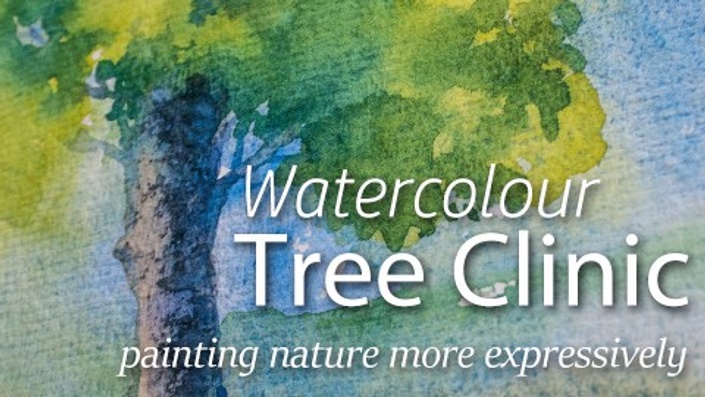 Tree Clinic (Membership)
Painting Interesting Trees in Watercolour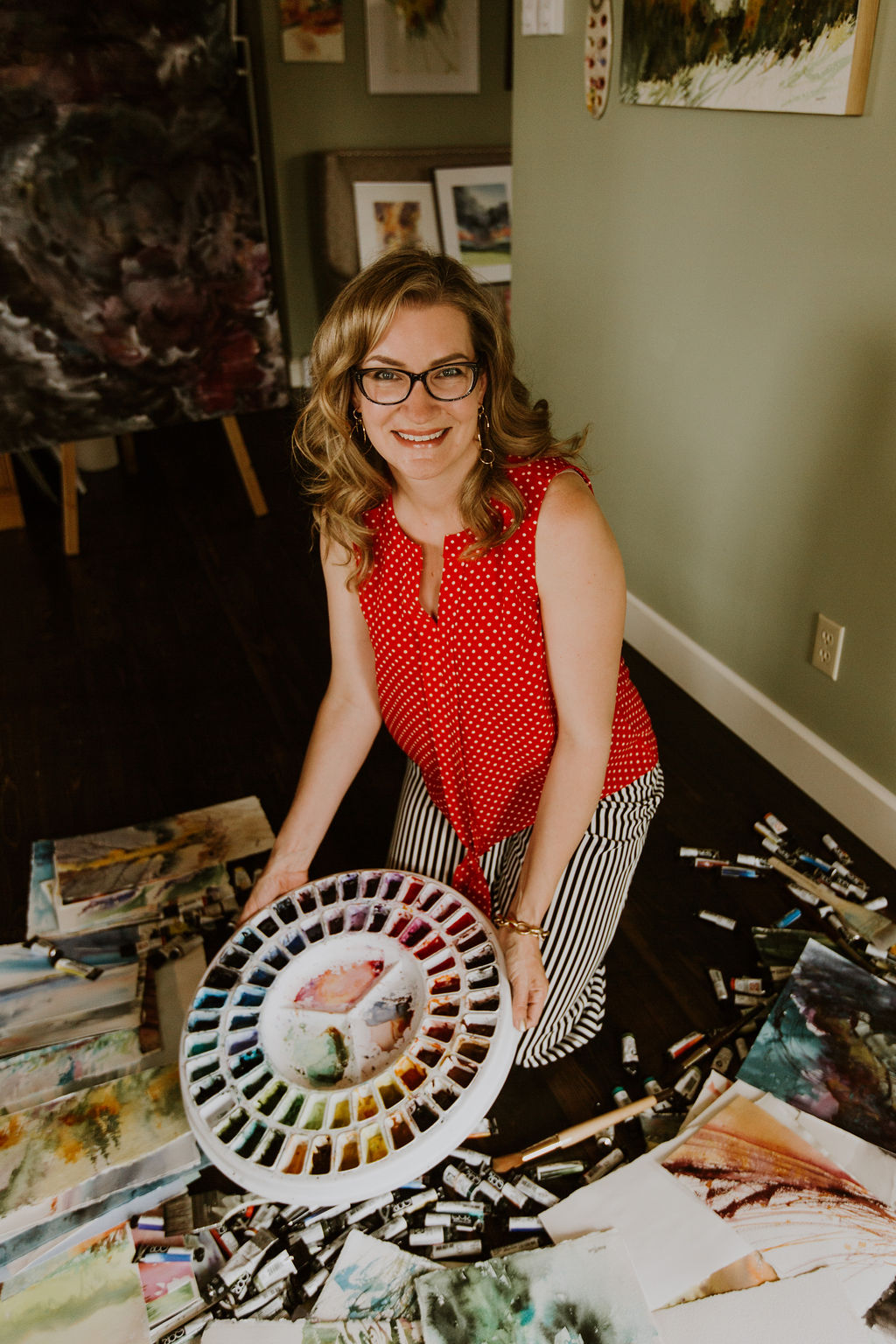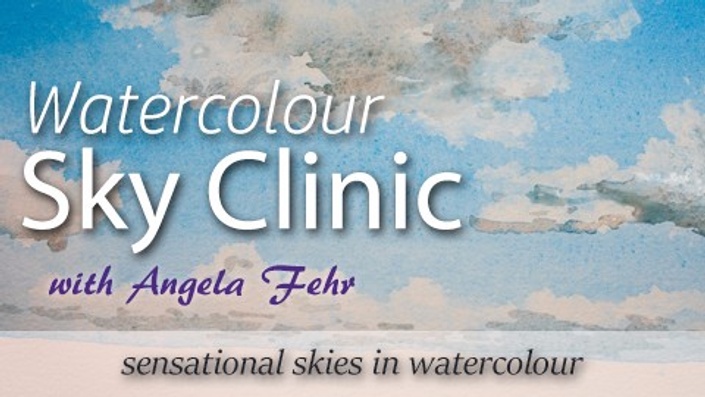 Sky Clinic (Membership)
Paint Creative and Colourful Skies in Watercolour!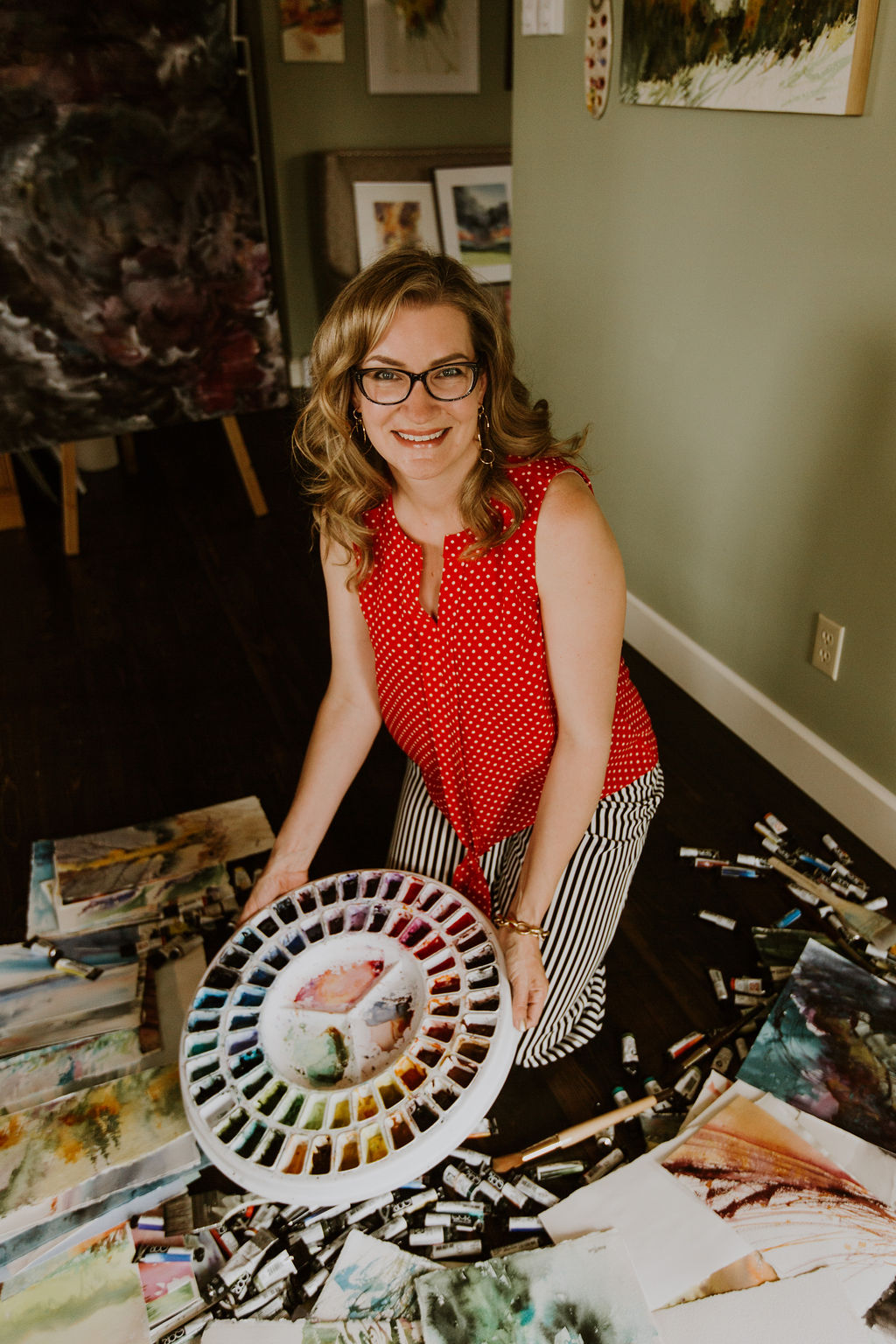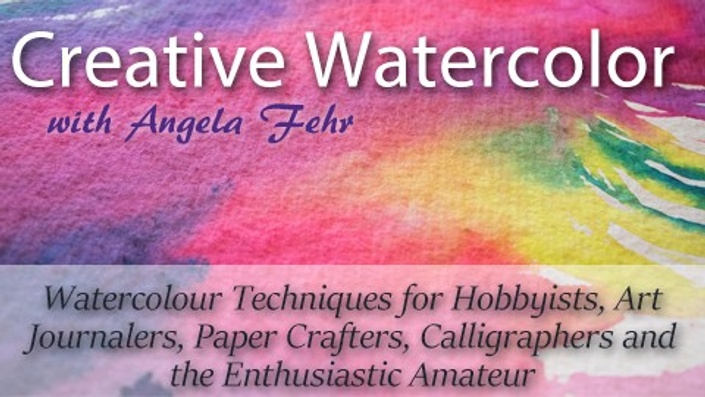 Creative Watercolour (Membership)
Watercolour Techniques for Hobbyists, Art Journalers, Paper Crafters, Calligraphers and the Enthusiastic Amateur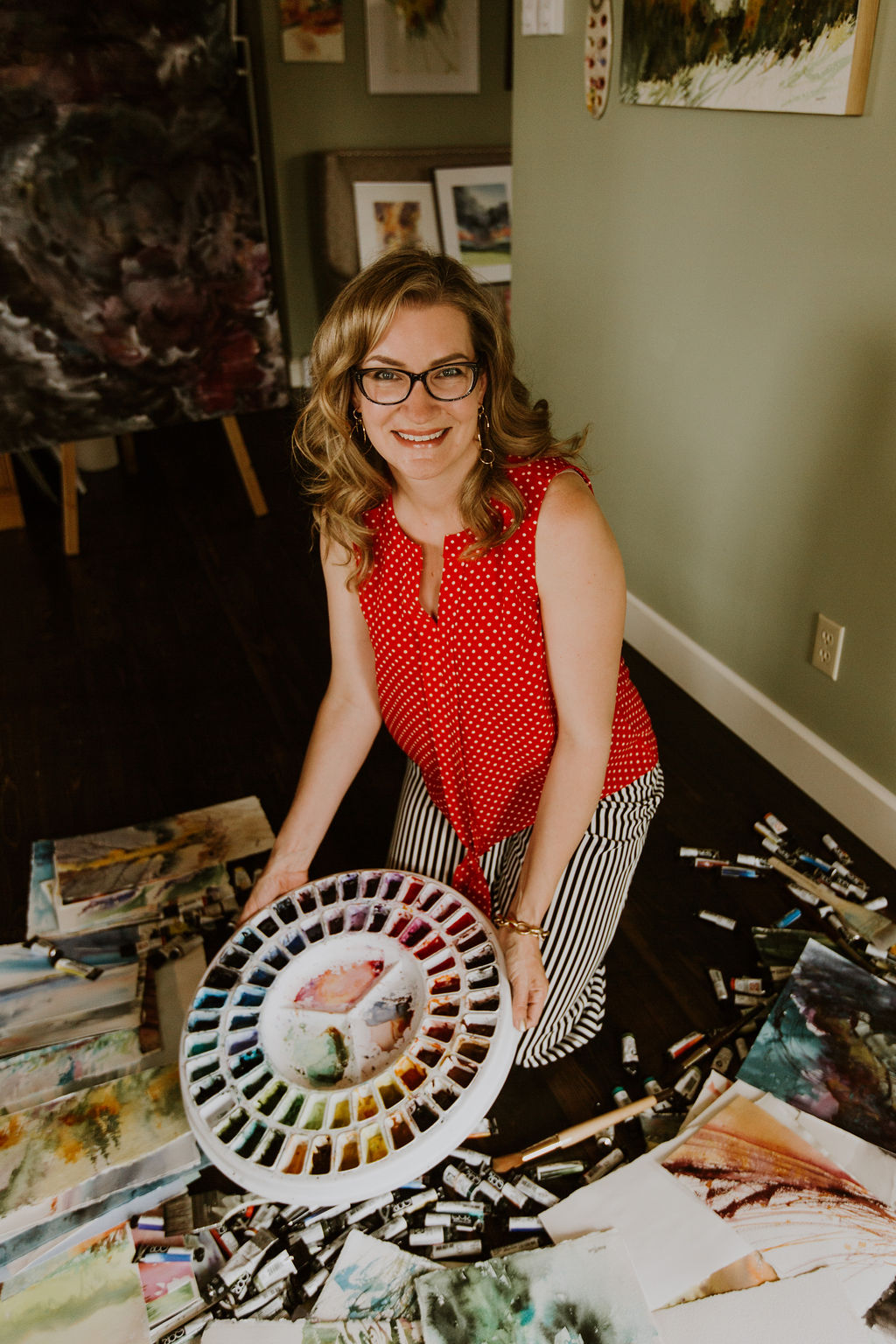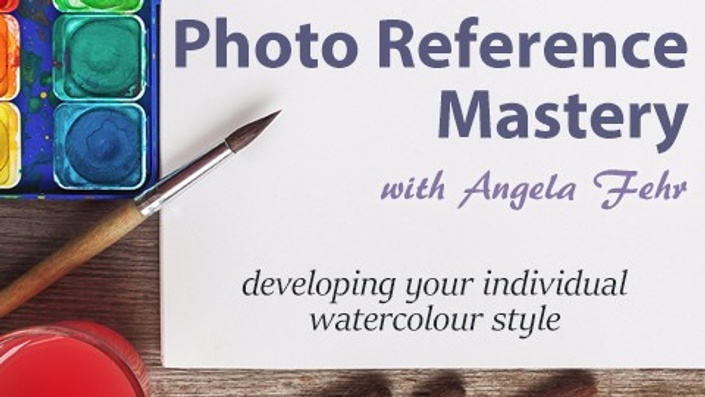 Photo Reference Mastery (Membership)
Developing the Landscape in Watercolour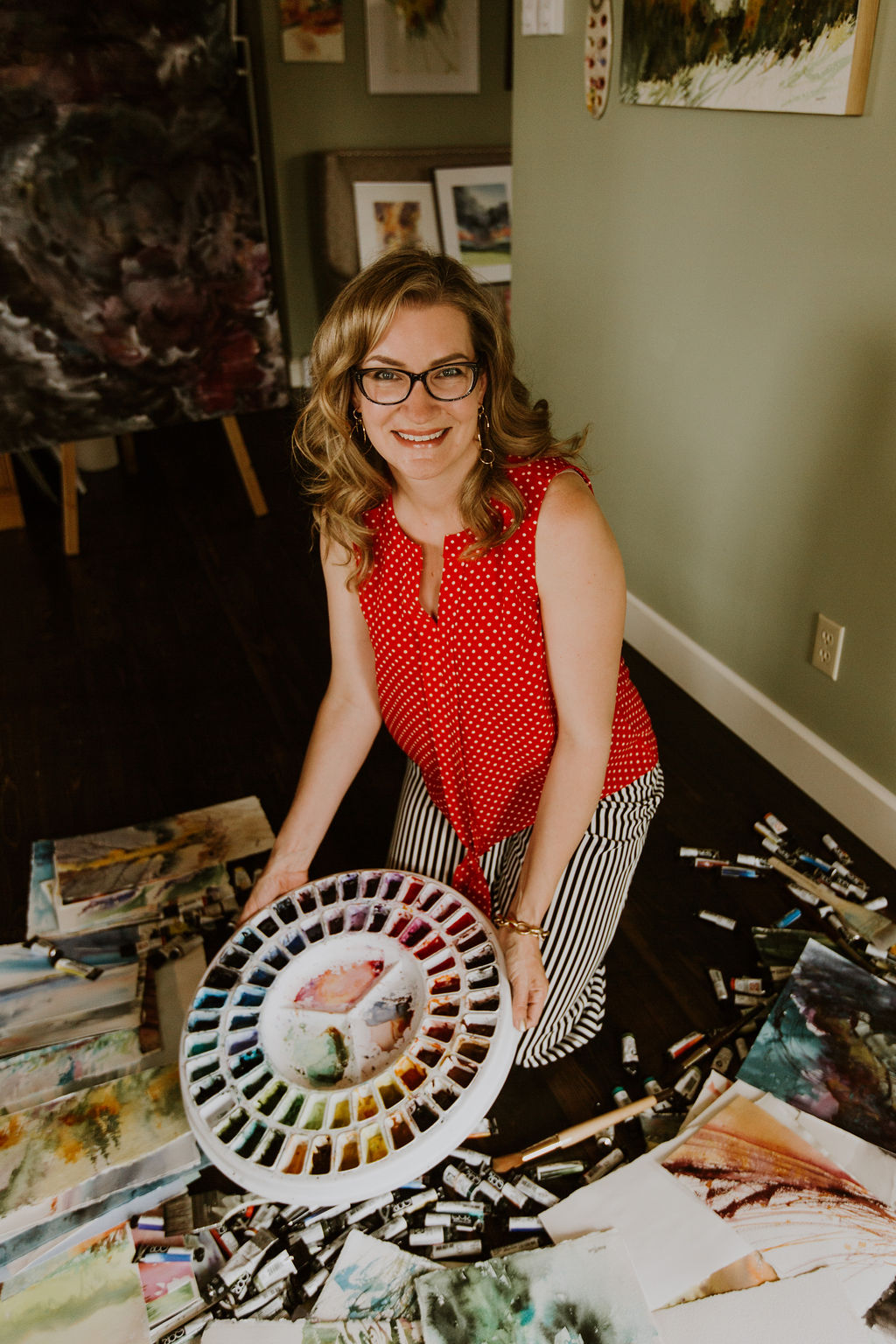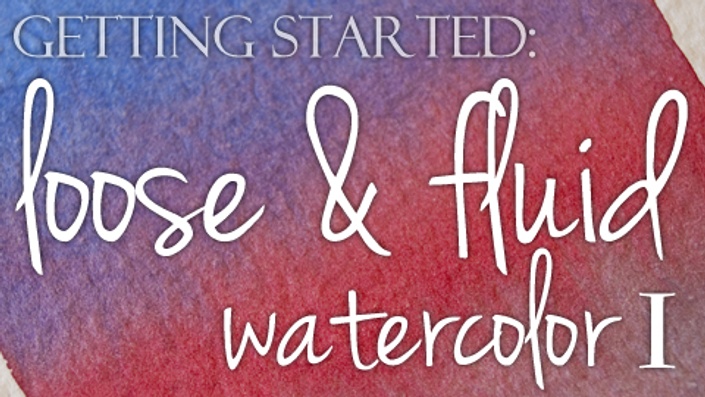 Loose & Fluid Watercolor Painting I (Membership)
Painting from the heart using watercolor techniques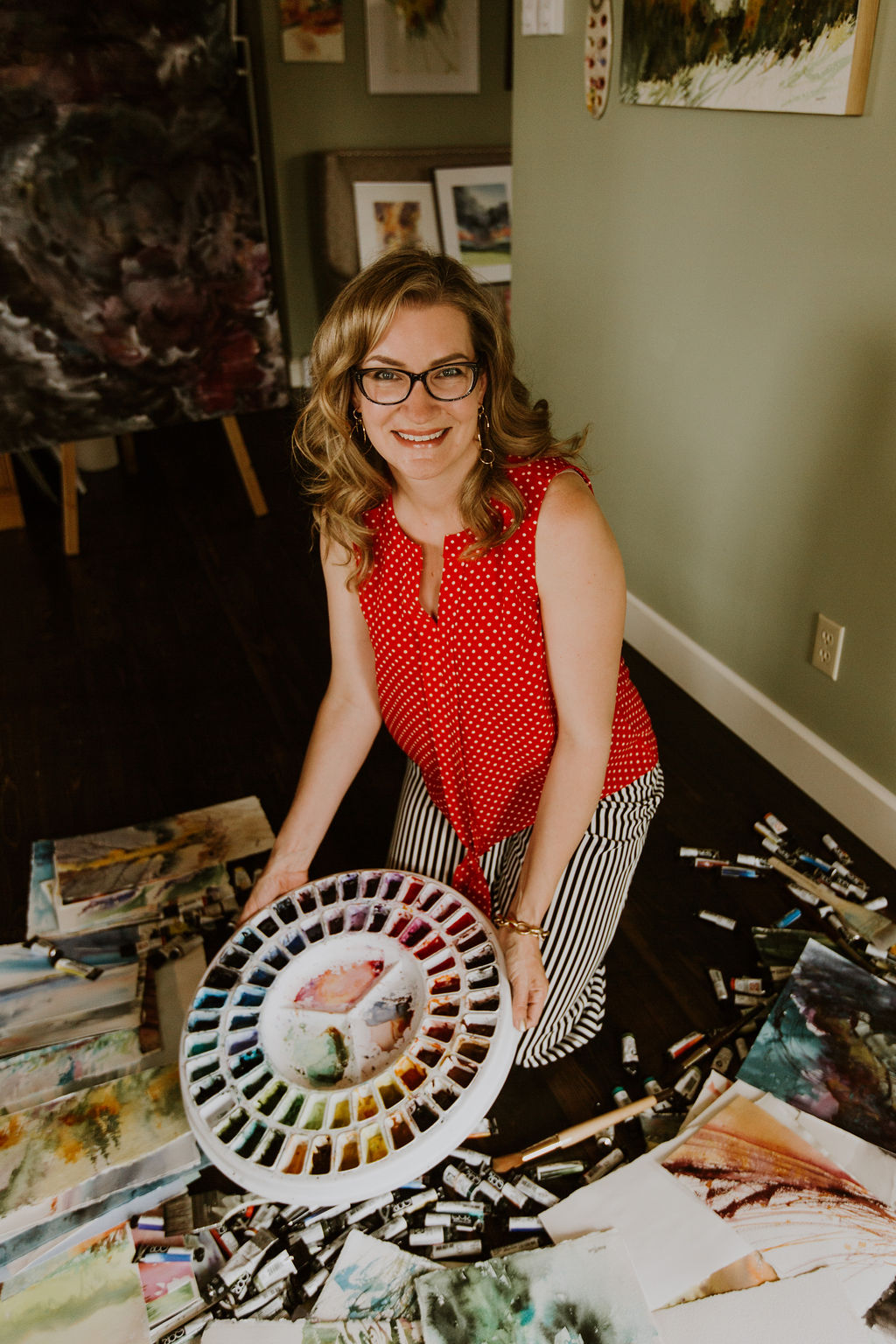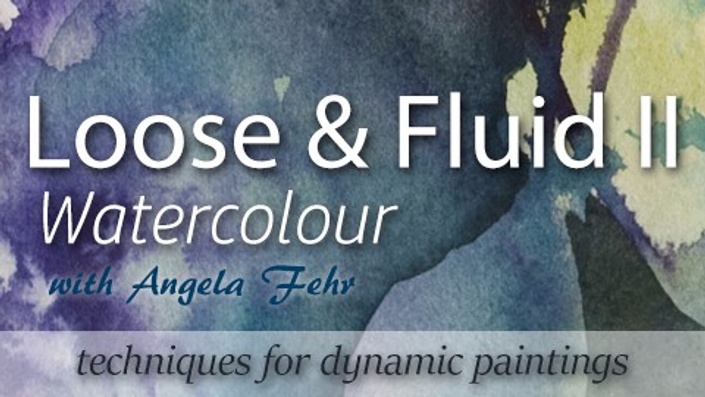 Loose & Fluid Watercolour Painting II (Membership)
Paint Expressively From the Heart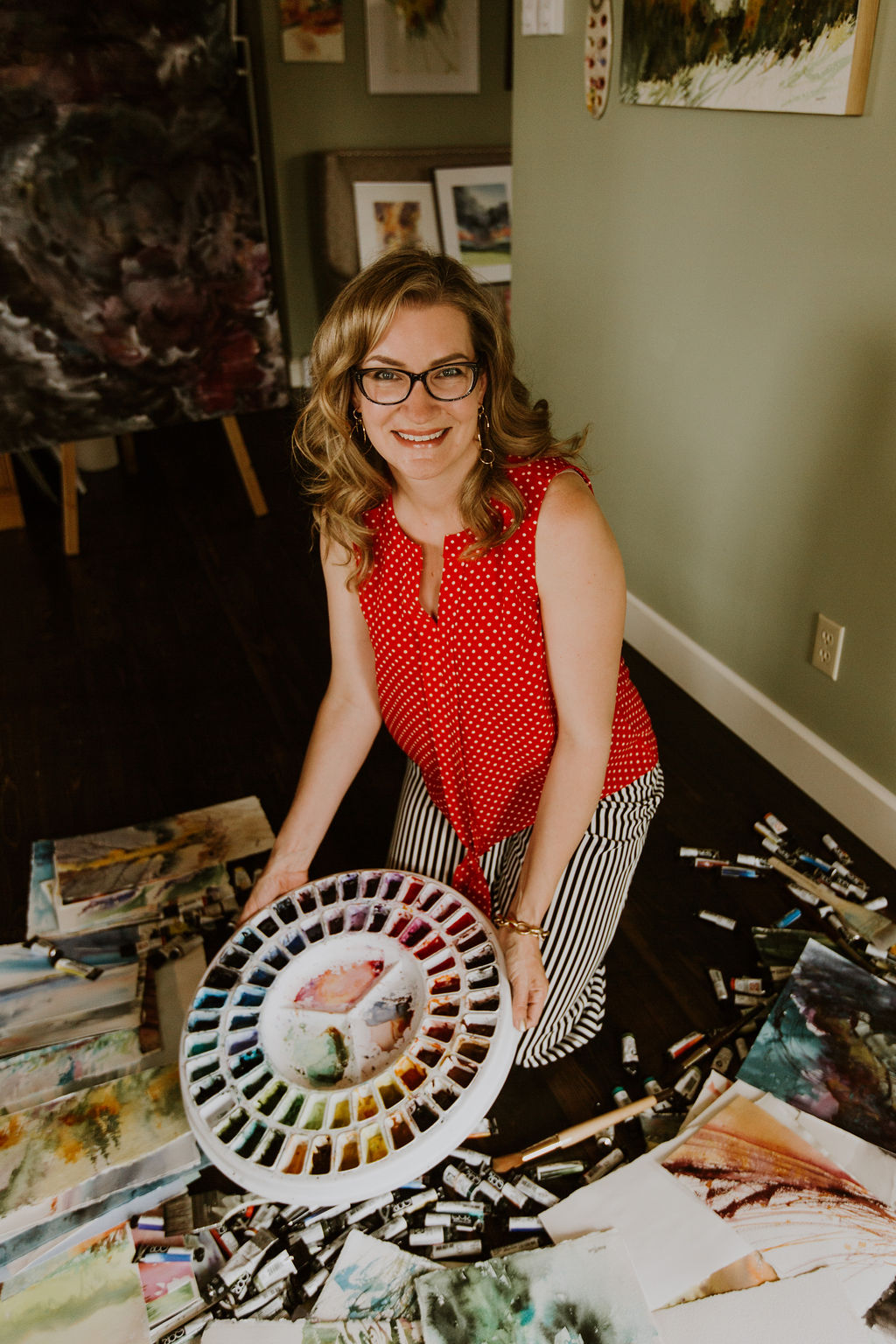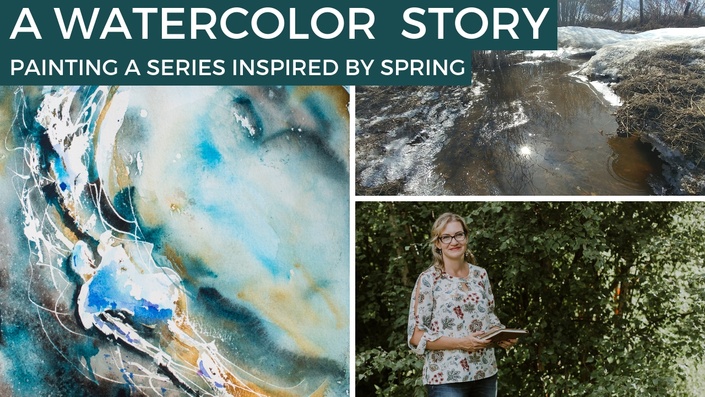 Runoff Painting Series (Membership)
Developing a Theme in Your Watercolour Process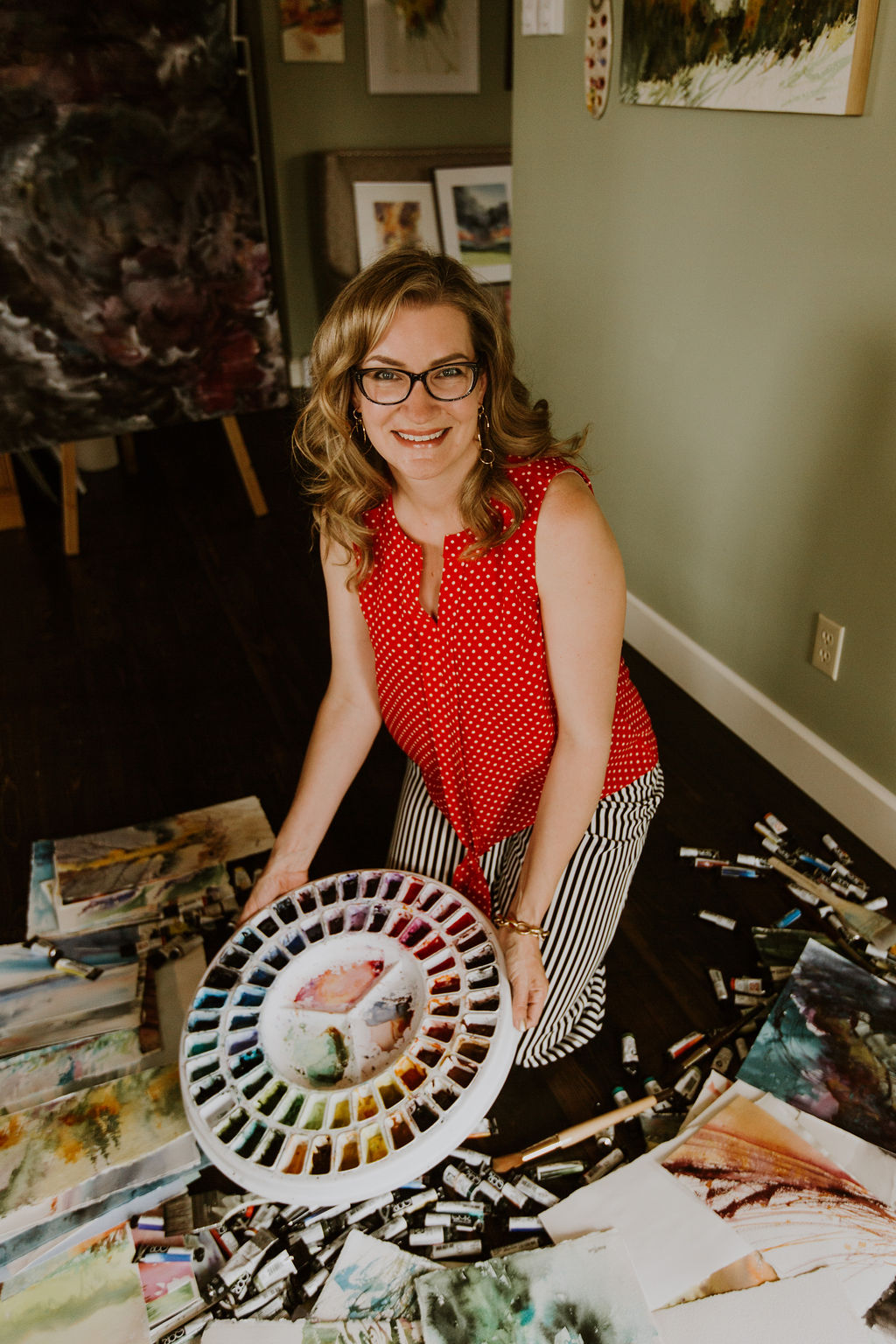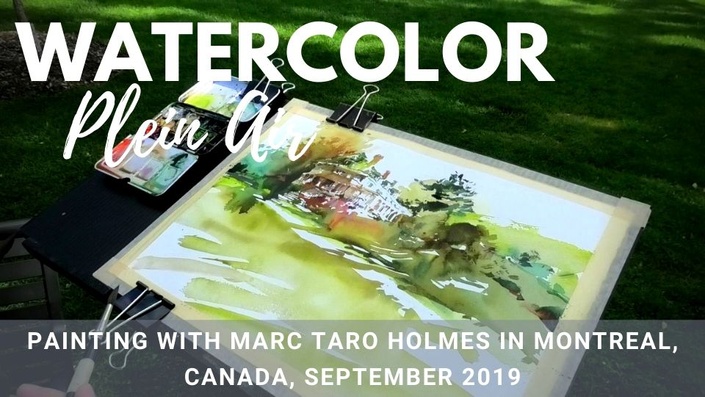 Plein Air Painting with Marc Taro Holmes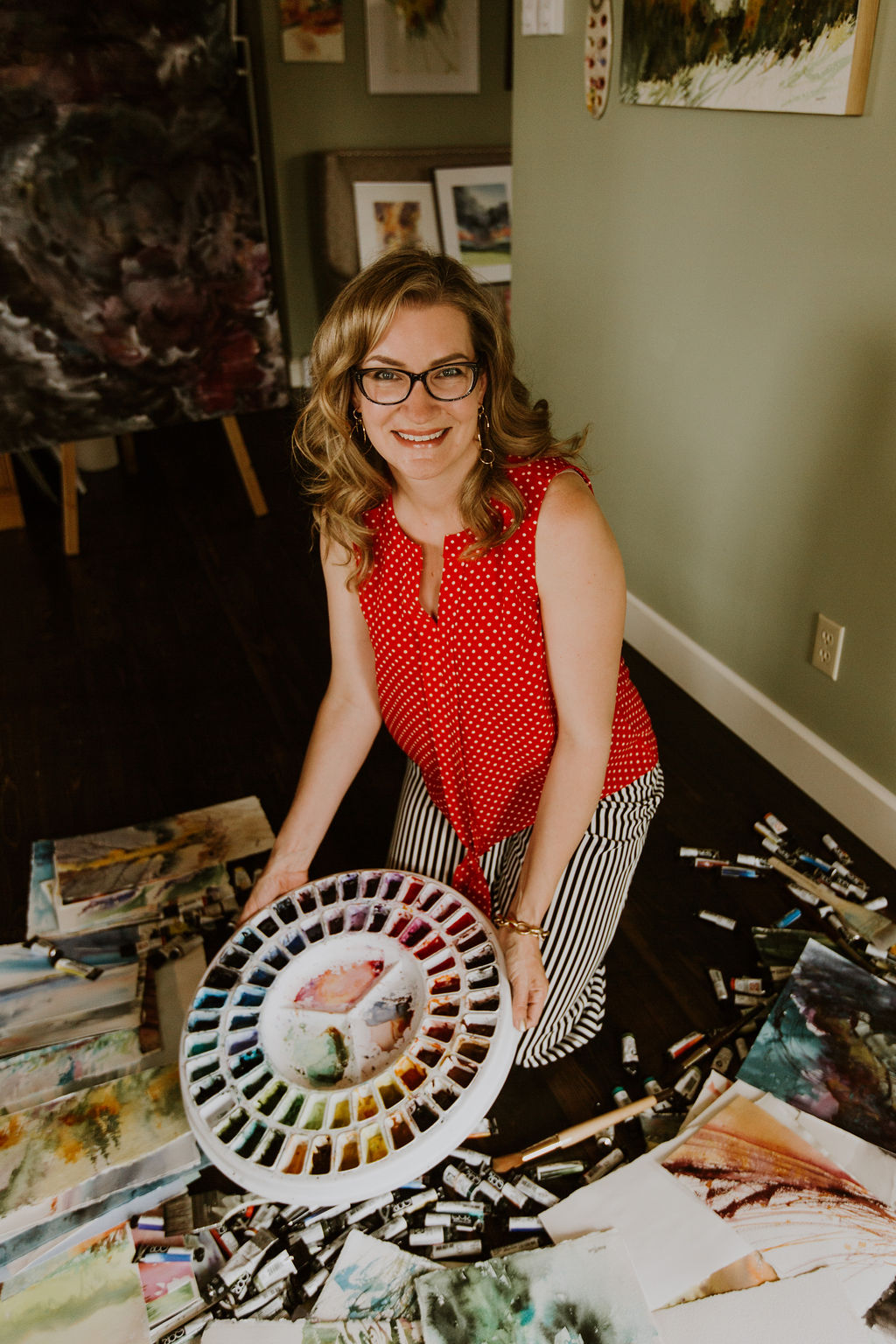 FREE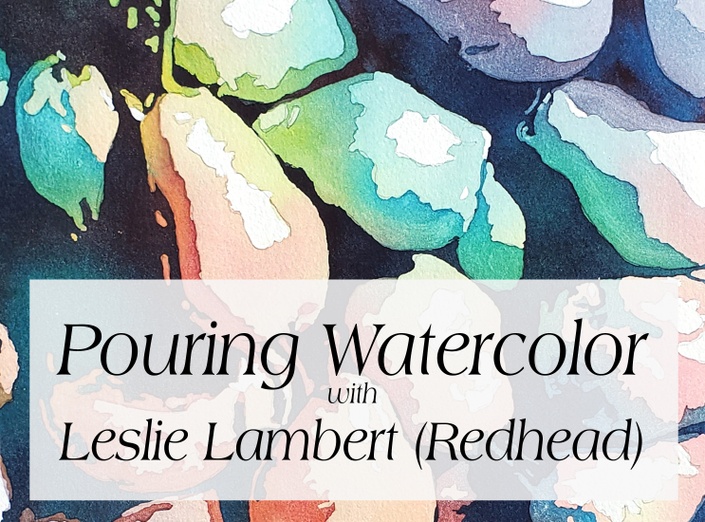 Pouring Watercolor with Leslie Lambert
An introduction to the art of pouring watercolor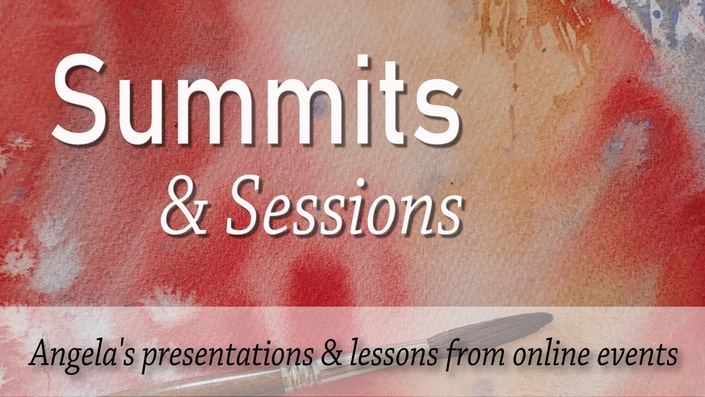 Summits & Sessions [Membership]
Angela's presentations and lessons from online events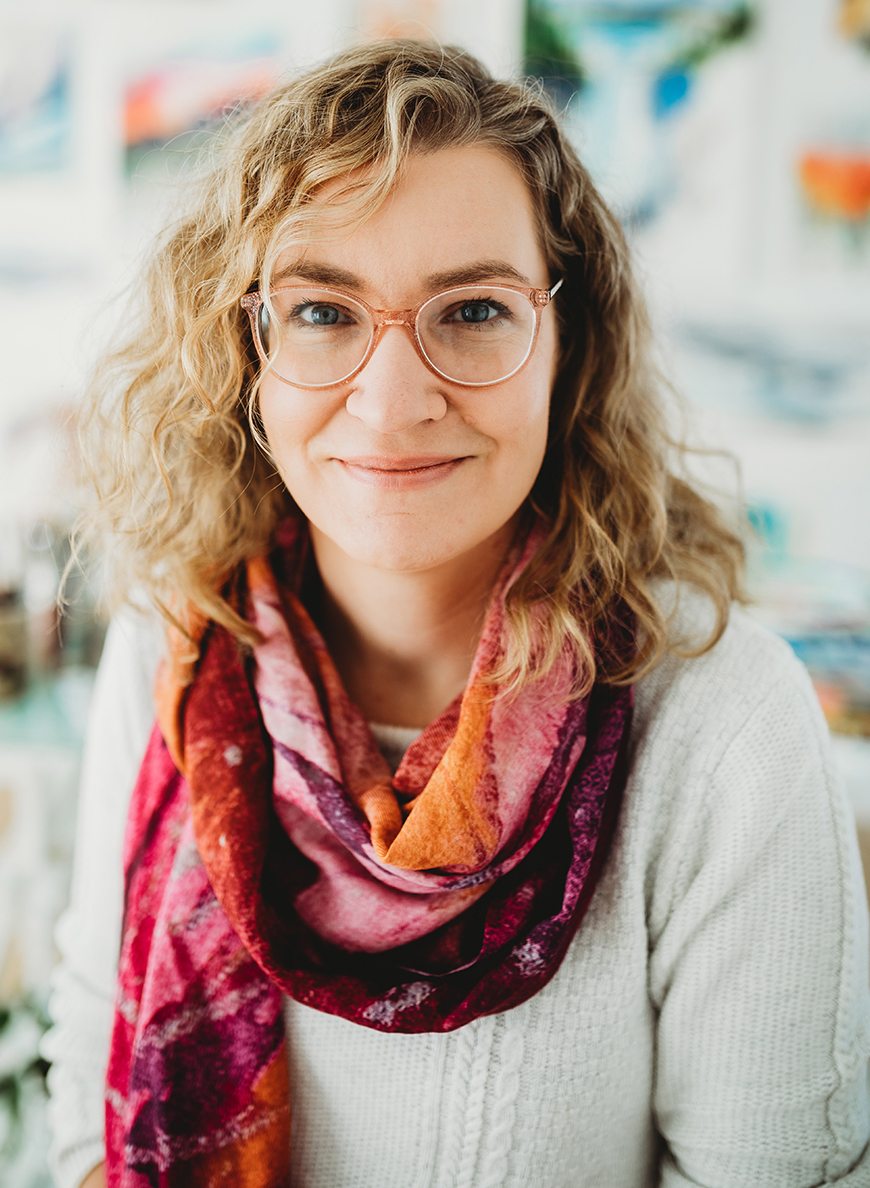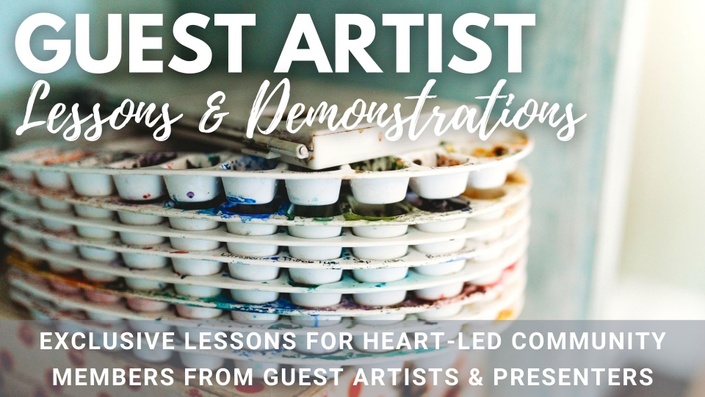 Guest Artist Interviews [Membership]
Angela Fehr talks with other great artists about Mindset & Technique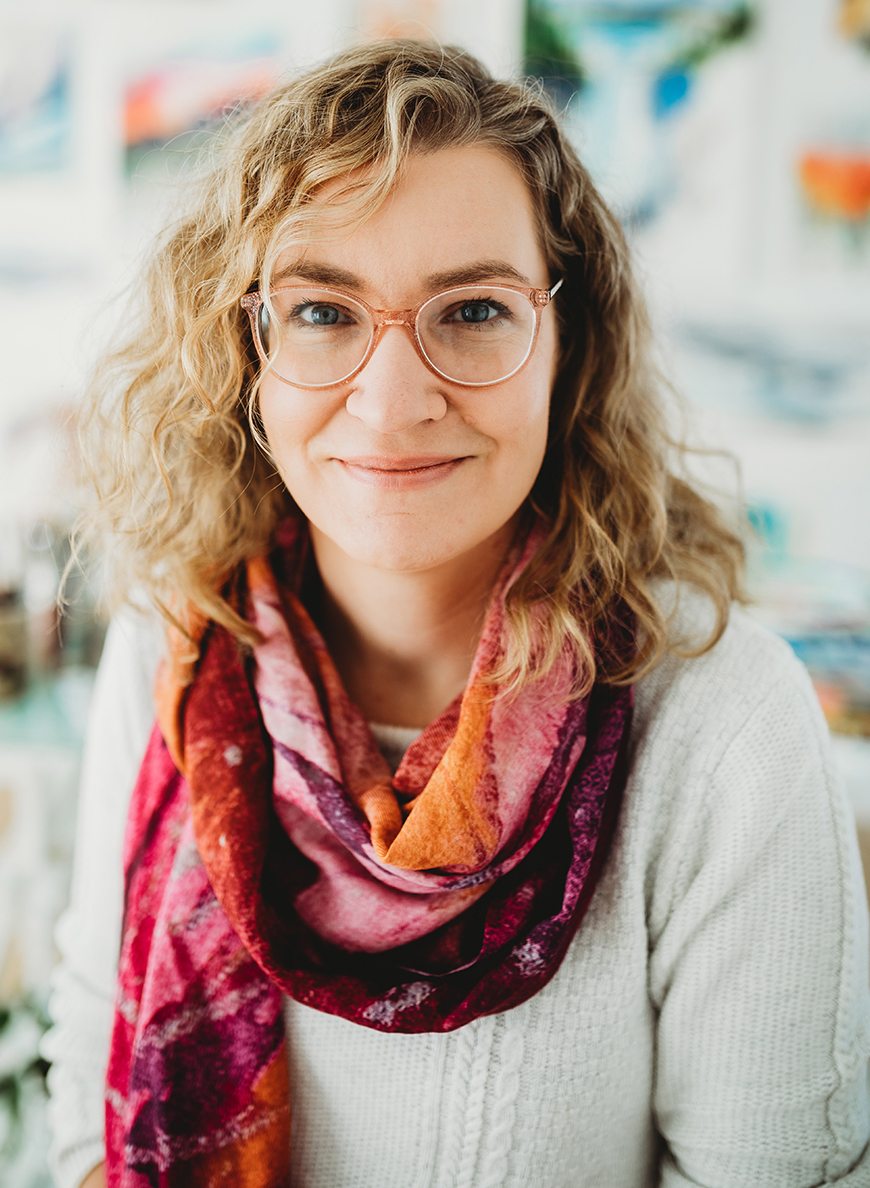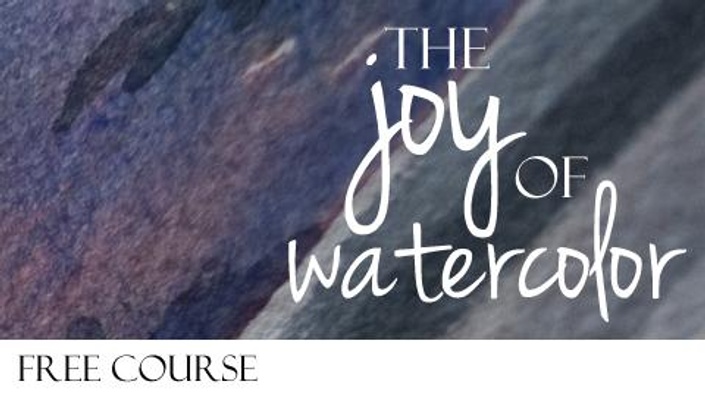 The Joy of Watercolor: Encouragement & Demos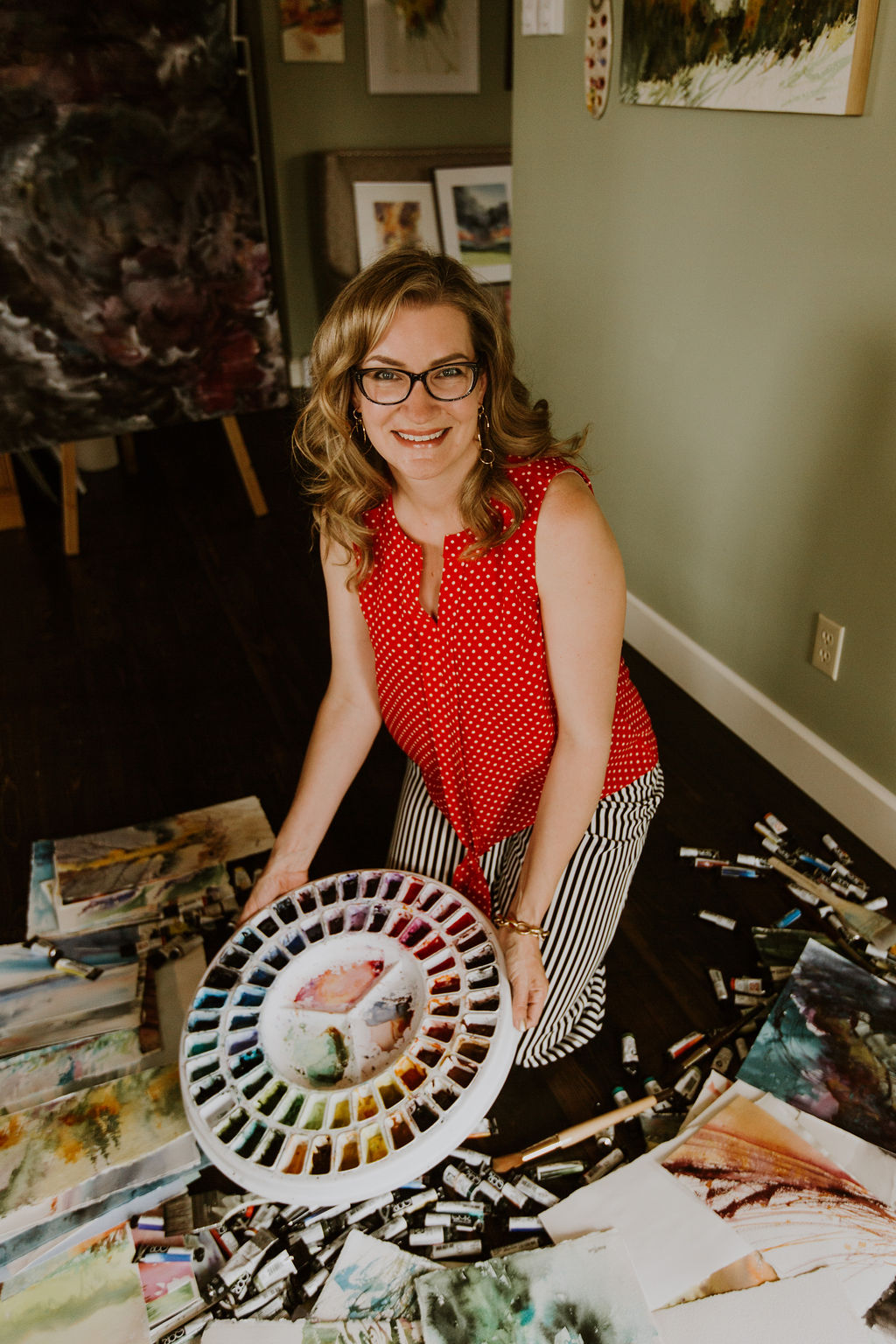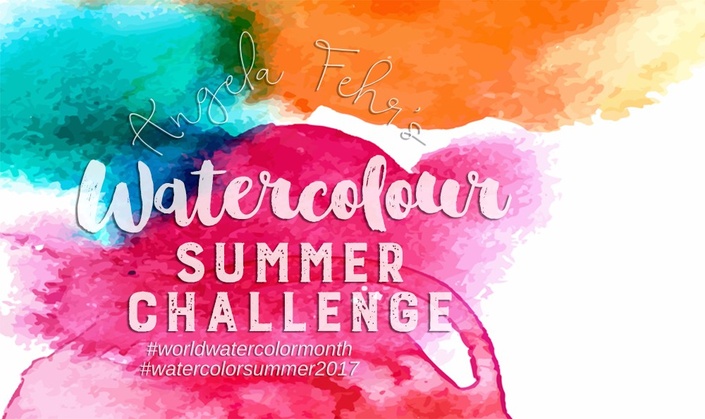 Watercolor Summer Challenge
Enroll to join the challenge group and win weekly prizes!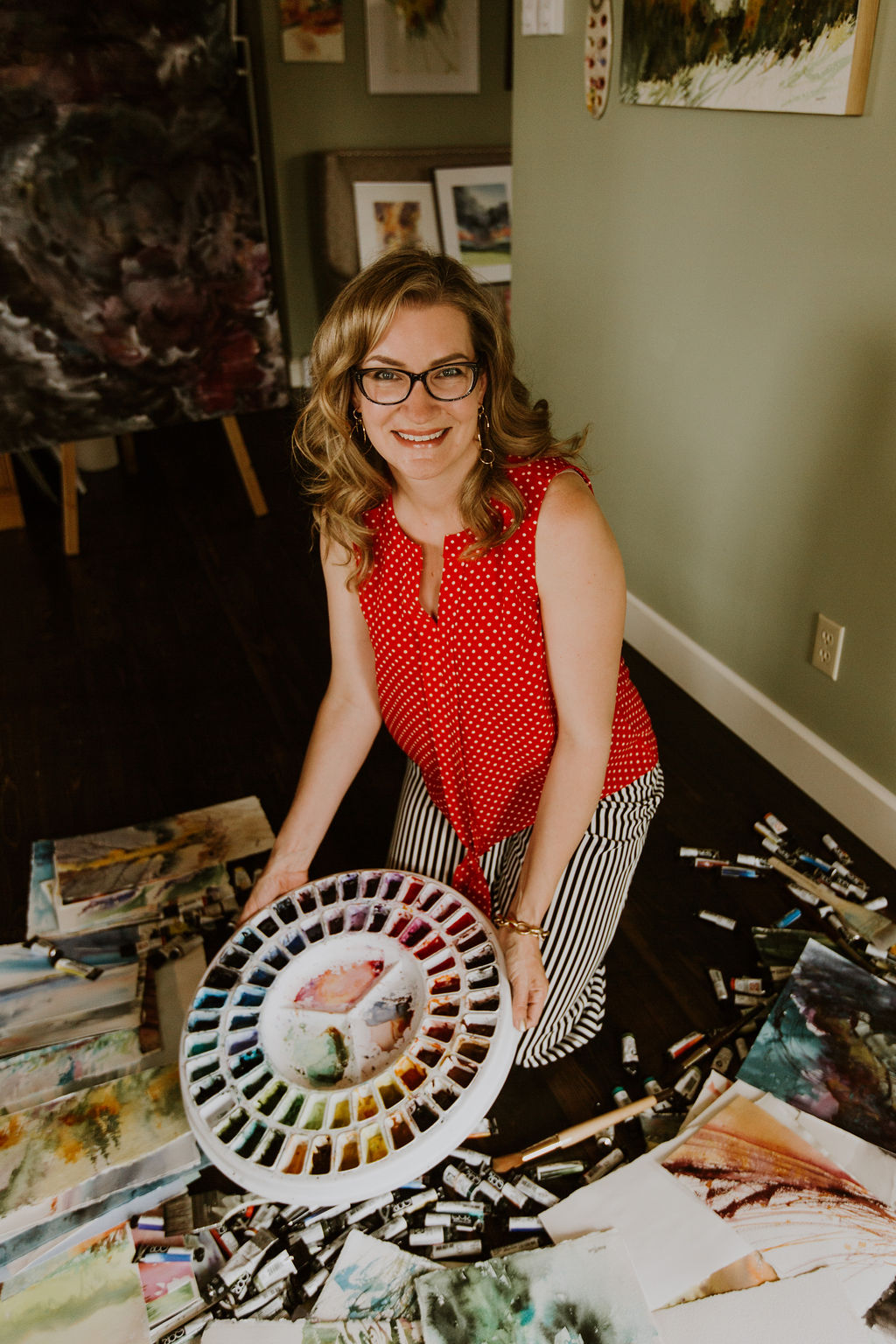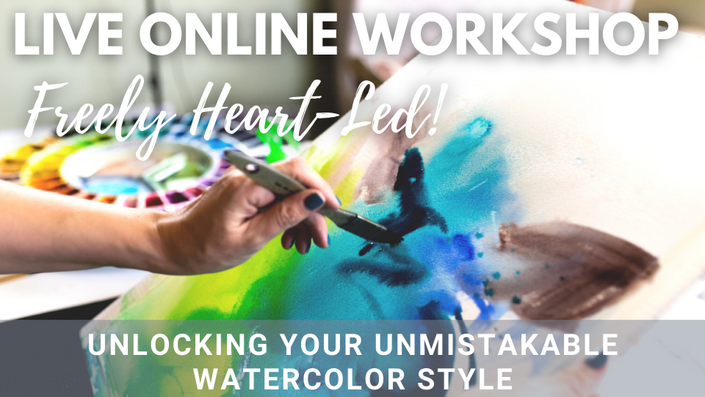 Freely Heart-Led! Unlocking Your Unmistakable Watercolor Style
Live Online Workshop: April 30-May 2, 2021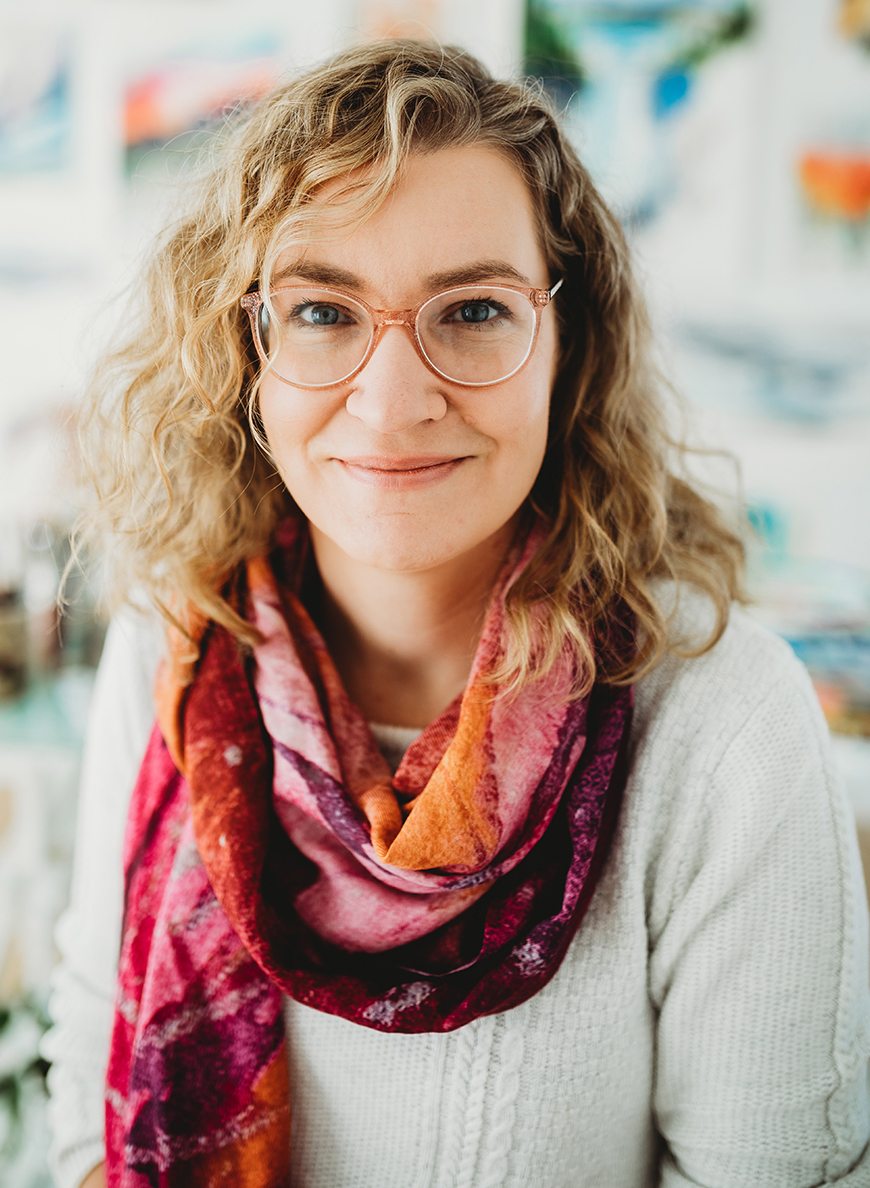 Remember, many of these courses are only available through the Heart-Led Artist membership!
This course is closed for enrollment.
Let me help you become your own favorite artist.
No matter what questions you have, which technique you would like to learn, or where you are starting on your artistic journey, you are sure to find exactly what you need in the vast library of the Heart-Led Artist membership!