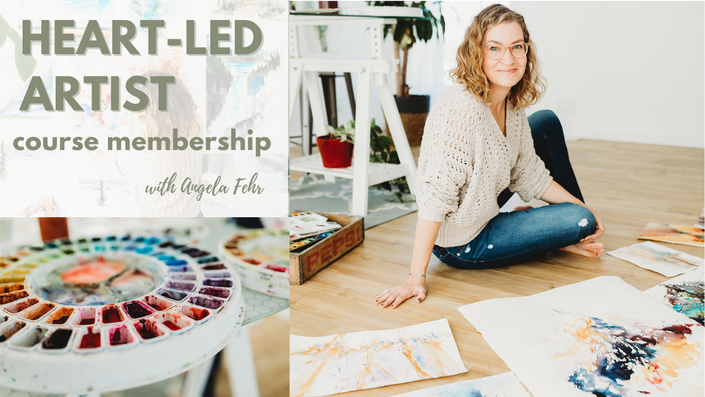 Angela Fehr's Heart-Led Artist Course Subscription
Monthly & Annual Subscription to Angela Fehr's Course Library
Enroll in Course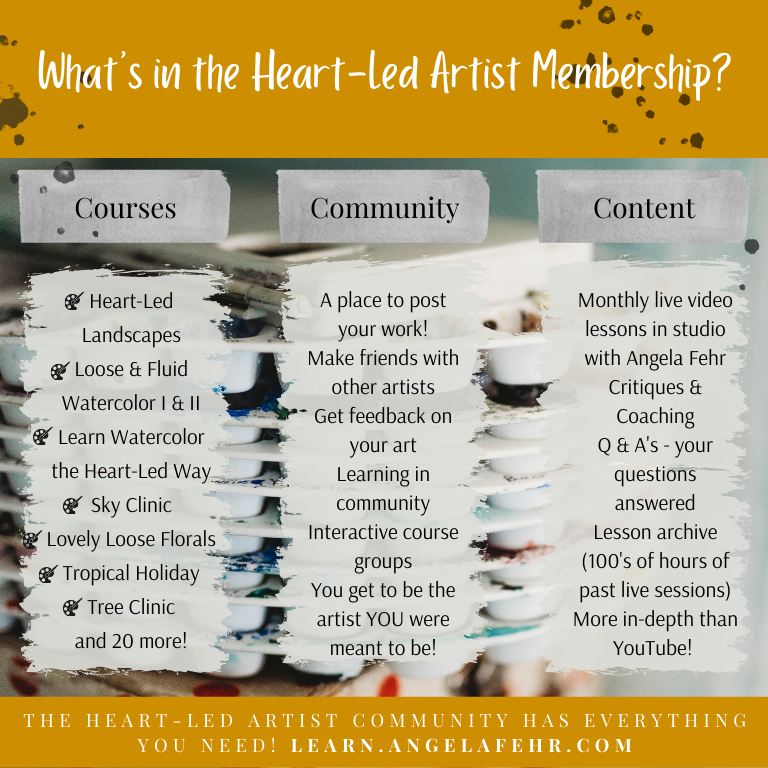 I hear from artists every week who feel alone and isolated in their artistic journey. Maybe you have entered a new phase of life and are physically disconnected from friends and loved ones. Maybe the painting style you are developing isn't understood or recognized by the people who care about you. Perhaps you struggle with feelings of inadequacy and discouragement that would be relieved by knowing you aren't alone. You need people who will support you as you experiment and develop your skills.

The Heart-Led Artist Community is designed especially for you.
The Heart-Led Artist Membership has three parts. The first is the Community. One of my favorite parts of teaching online has been the friends I've made in the process. I connect watercolor lovers who understand the deep drive to create and the value of loving the process. We get to share our love of watercolor, and it unites us! I feel like I am part of an amazing watercolor community with friends all over the world. I want you to feel that way too. You get 24/7 access to the community where you can post your work, ask questions and get feedback from your colleagues. We have regular book clubs, giveaways and daily posts to help keep you moving forward.
The second part of the Heart-Led Artist Membership is the course material. You will have access to 28 of my courses while you are subscribed. The courses alone are a $1064 value! The full list of courses is below.
The third part is the ongoing live content. Each month I offer 2 or 3 live lessons, critiques or Q&As. Each year I interview artists such as Ian Roberts, Nancy Hillis, Leslie Lambert Redhead and Emily Jeffords. You get first access to my YouTube lessons with more in depth explorations of the topics.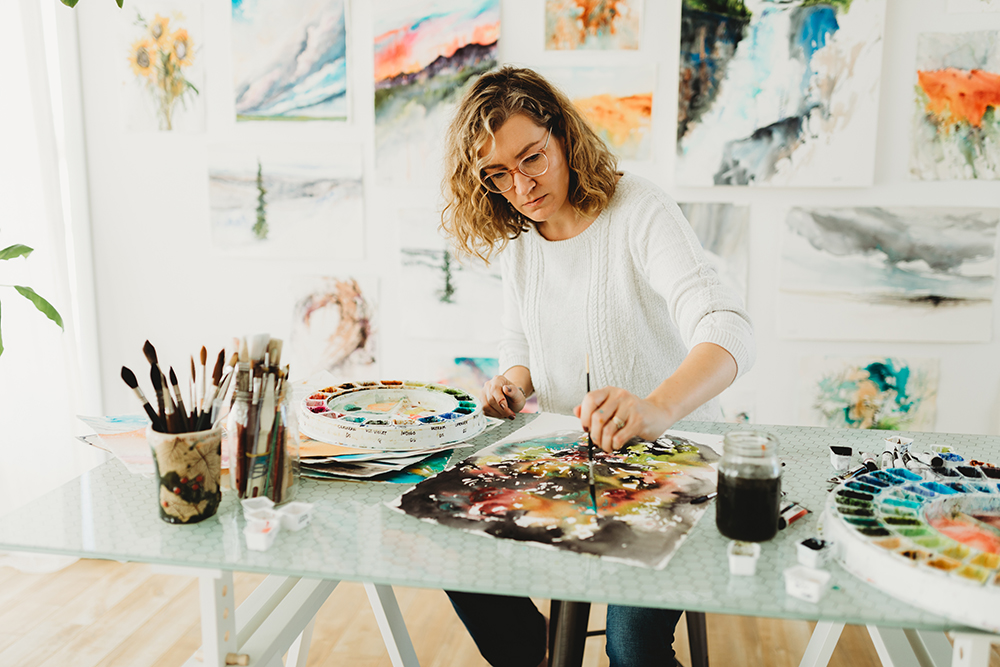 With a Heart-Led Artist Community Membership you'll find:
A private, members-only community network (not on facebook) with a secure, welcoming environment
Exclusive lessons to guide you on your watercolor journey
A place to ask questions, post your work and receive feedback and coaching
Live, members-only, video "studio sessions" with Angela Fehr
Connections to artists near and far
Access to 28+ Angela Fehr watercolor courses (The bundle does not include Watercolor Mastery)
Resources to help you become your own favorite artist
I'm so excited to create a safe space for creativity and connection to flourish, a site where we can learn and love watercolor together!
Scroll down to enroll!
Frequently Asked Questions
When can I access these courses?
You will have full access to all of these courses as soon as you join the community.
How long do I have access to the courses?
Access to membership courses ends when your community membership ends. Access to the Fearless Artist Network & community space ends two weeks after you cancel your membership.
If I purchase one of these courses separately, can I keep it?
Yes! Any courses that you purchase separately, you get to keep forever.
Will my subscription automatically renew?
Yes! All subscriptions automatically renew until you cancel them. Teachable does not send a notice when they charge your card monthly.
What our members are saying: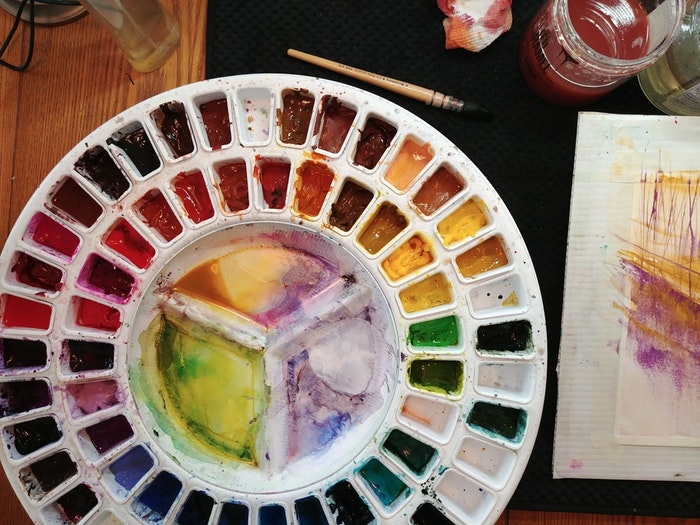 'The community has helped me in so many ways! By seeing other members' posts, I've been able to see their growth in skill AND COURAGE. This has helped me the most. Following their "brush miles" and discussions of their "how, what, why's" has truly informed my own learning. With Angela's teachings and CONSTANT encouraging belief in each of us and the feed-back from the community, it's like I have cheated. I paid for one instructor and got a whole community of them PLUS daily encouragement!!! I love the access to additional art information from around the world. The input from so many artists in so many locations has enriched the whole experience. On top of that, this is the first time I have ever felt that I fit in with an artists' group. They speak my language! Like me, they are learning to trust and persevere! Although I don't engage every day, I know they are still there, interacting, learning, and growing, so that when I am able to join in, there is always a wealth of new gems to mine: discussions to read, paintings to study, stories to follow. All of these, and Angela's lessons, have moved me from "wanting" to "doing" as often as time allows. And believe me, time allows more and more now, because the hunger to follow my heart's desire has grown exponentially as the belief in myself as an artist has grown! I especially like the members' constant encouragement with their insightful comments, being able to access Angela's teachings at any time, according to my schedule and Angela's fierce belief in each of her students and her genuineness. It costs about the same (or less!) than an in-person class, but the depth of experience is far greater. Access to a myriad of lessons, learning at your own pace, fellow like-minded learners, and TONS of encouragement!! So worth the investment!'
- Kit W.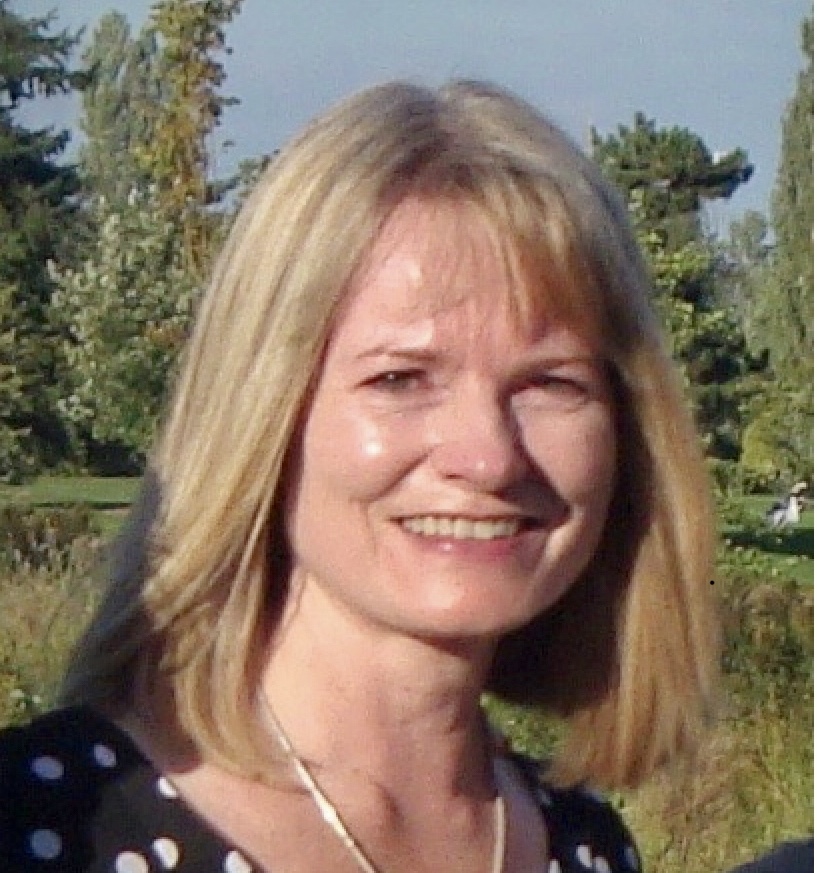 'I have painted more in the last few months than I ever have. I have been "putting in my brush miles" as Angela would say. It has improved my artwork and given me the confidence to share my art with others to the point that I have begun selling some of my paintings! Having access to all of Angela's online courses is an amazing benefit as is being able to share my passion for watercolour with like minded people. I find myself exploring things in my art that I might not otherwise have tried. We learn from one another through sharing our work, information, ideas, and feedback. The community is a safe and positive environment to share about watercolour. I love that Angela plays such an active role in the community.'
- Melanie H.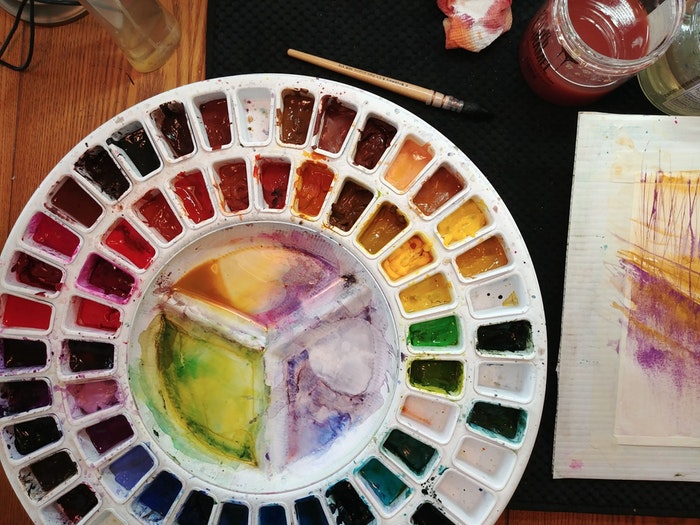 'I am more fearless in my approach. Also seeing how others tackle subjects or ideas, sparks inspiration for me to try fun new things. I like having a non-judgmental place to share my discoveries. Everyone here is so supportive and encouraging. This is a happy place for me. Being part of a creative community sparks a level of creative energy that triggers bigger leaps of fun and learning. Do it, you will thank yourself over and over. This has been the best gift I have ever given to myself.'
- Sandra G.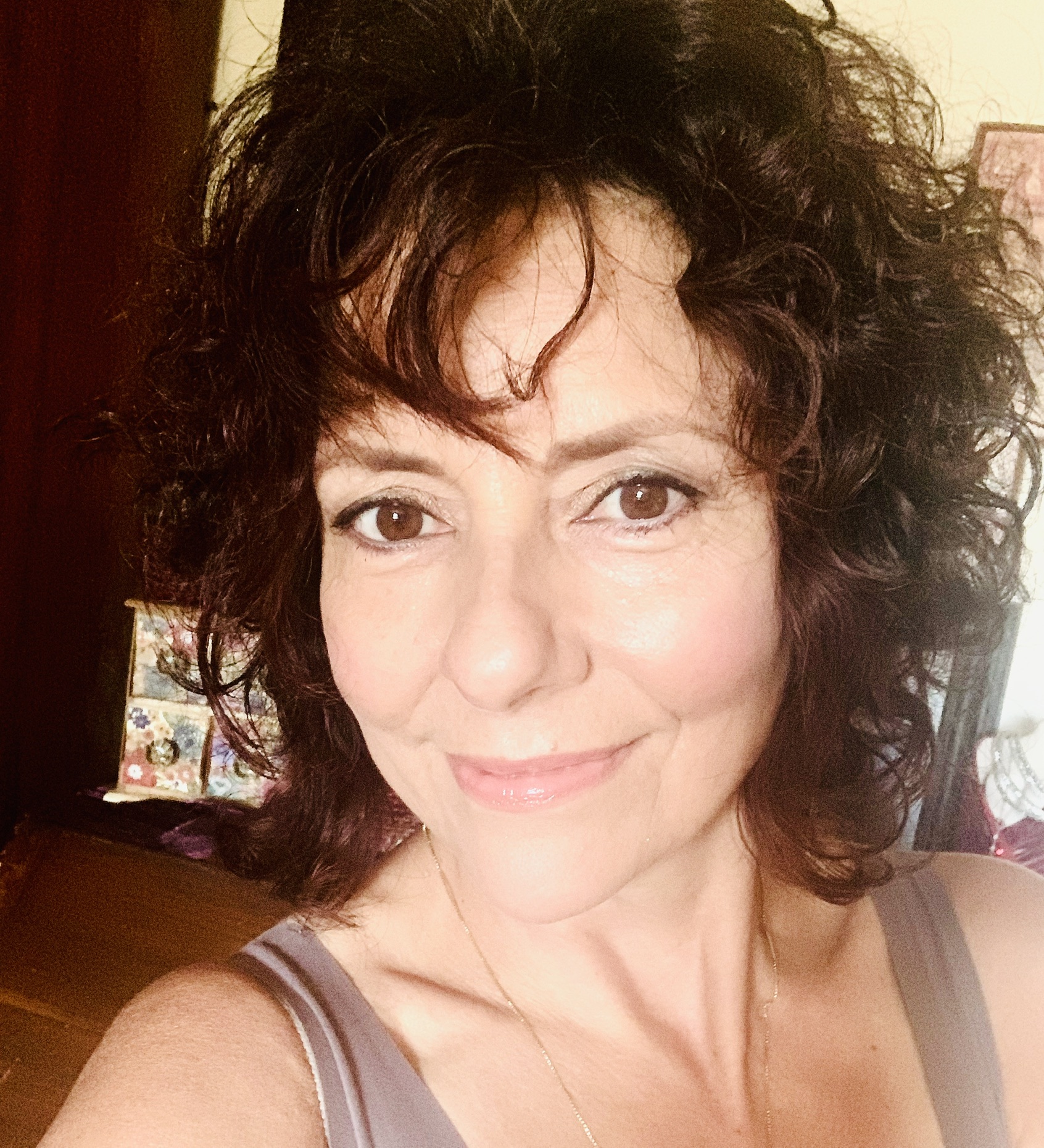 'The community has helped me grow in so many ways..how can I count them..the support, knowledge and room to grow is a given and is fostered by our teacher because she is all those things. I trust and have utmost respect for the things she represents and she is a fantastic mentor. I particularly love that no matter where you are in your art journey there is a place for everyone and we all celebrate each other through respect, love, and compassion. It's a place I can grow and be validated by a common thread, our passion to create and express ourselves through our art! I can ask any questions there and mostly everyone is helpful. The support is so nice. The knowledge is vast and there are so many tips on anything an artist needs to know. I love the live tutorials and the people I've connected with! I have the most energetic, positive, and resourceful teacher. Go for it..for a dollar a day I can get so much information to become better...I can foster friendships with like minded people, I can see amazing paintings and gain knowledge from others more experienced. I say if you really want to paint, it's a good way to set yourself up for success and grow!'
- Dolores R.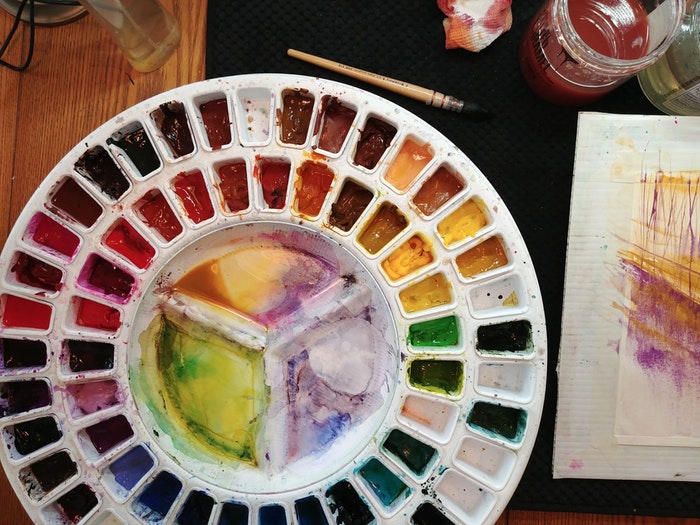 'My skills are growing every time I try something new or paint along with Angela. I also learn from others in the community. Everyone is very generous with their knowledge and experience. I have asked the group numerous questions, not only about what is missing from a painting or what might be a good yellow to try, but also how much to charge for paintings or how to package paintings for shipping and time and time again the community members, moderators, and Angela come through and go above and beyond with concrete help and information. I Product links, video links and other information is freely shared. Honestly, I would not be where I am today without this community! I love being my own favorite artist, creating heart led paintings, and even selling my work! I never even imagined being here! It will be the best thing you can do for your art, creativity, mental health, and for yourself! Do it!'
- Sarah K.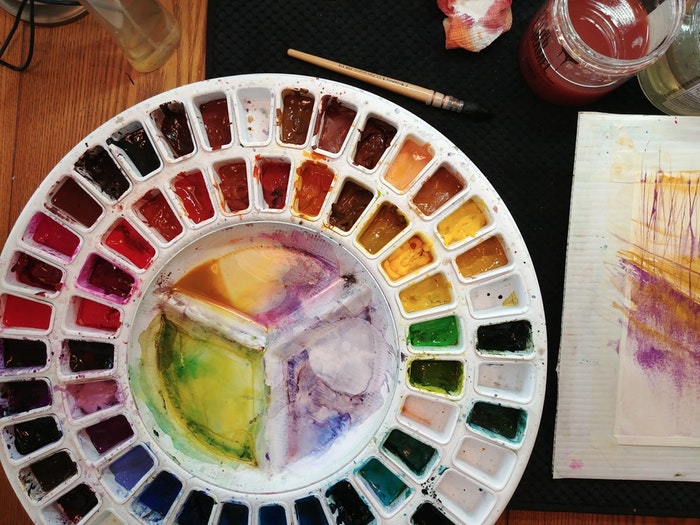 'I have grown in so many ways as a result of joining the community. I have improved my watercolour skills. My confidence has grown by leaps and bounds. I have personally gained confidence and am learning to let go of my perfectionism. Being heart-led brings me joy. I feel comfort in not being alone in my artistic journey. It's a great place to develop your skills and grow as an artist as well as a person. Angela's philosophy and teaching style have truly changed my life. I have grown as an artist and as a person because of her.
- Christine S.
"This community has opened the doors to exploration in all kinds of painting techniques for me. I had no idea there was so much to learn! Being able to see what others are doing and getting inspiration from them has been invaluable. It pushes me to try new ideas and keep going when I get discouraged. I would recommend this to any aspiring watercolor painter."
- Marsha L.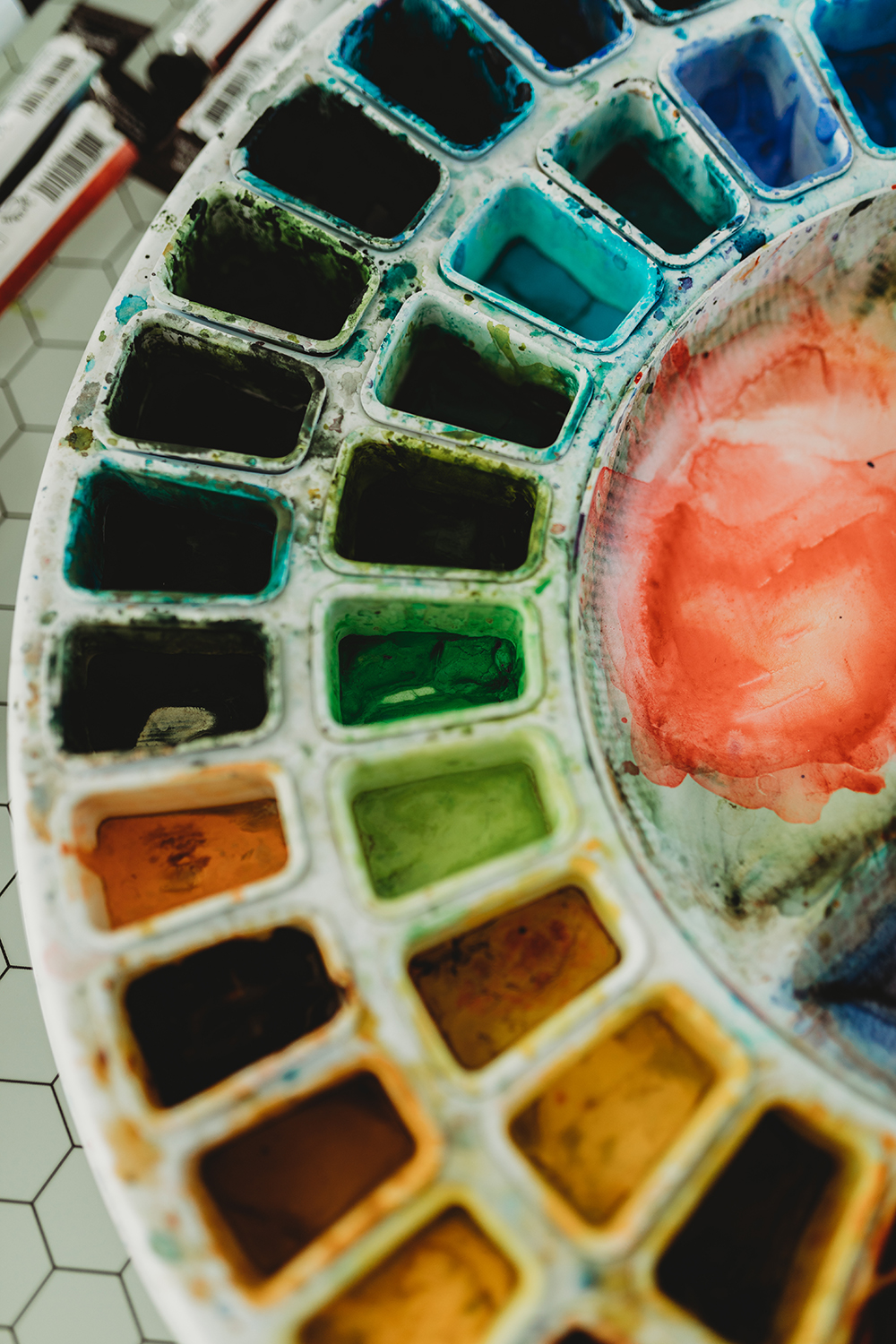 "Through the diversity of ideas and "what ifs" that flow through this network, I have learned to play!"
- Cyndy F.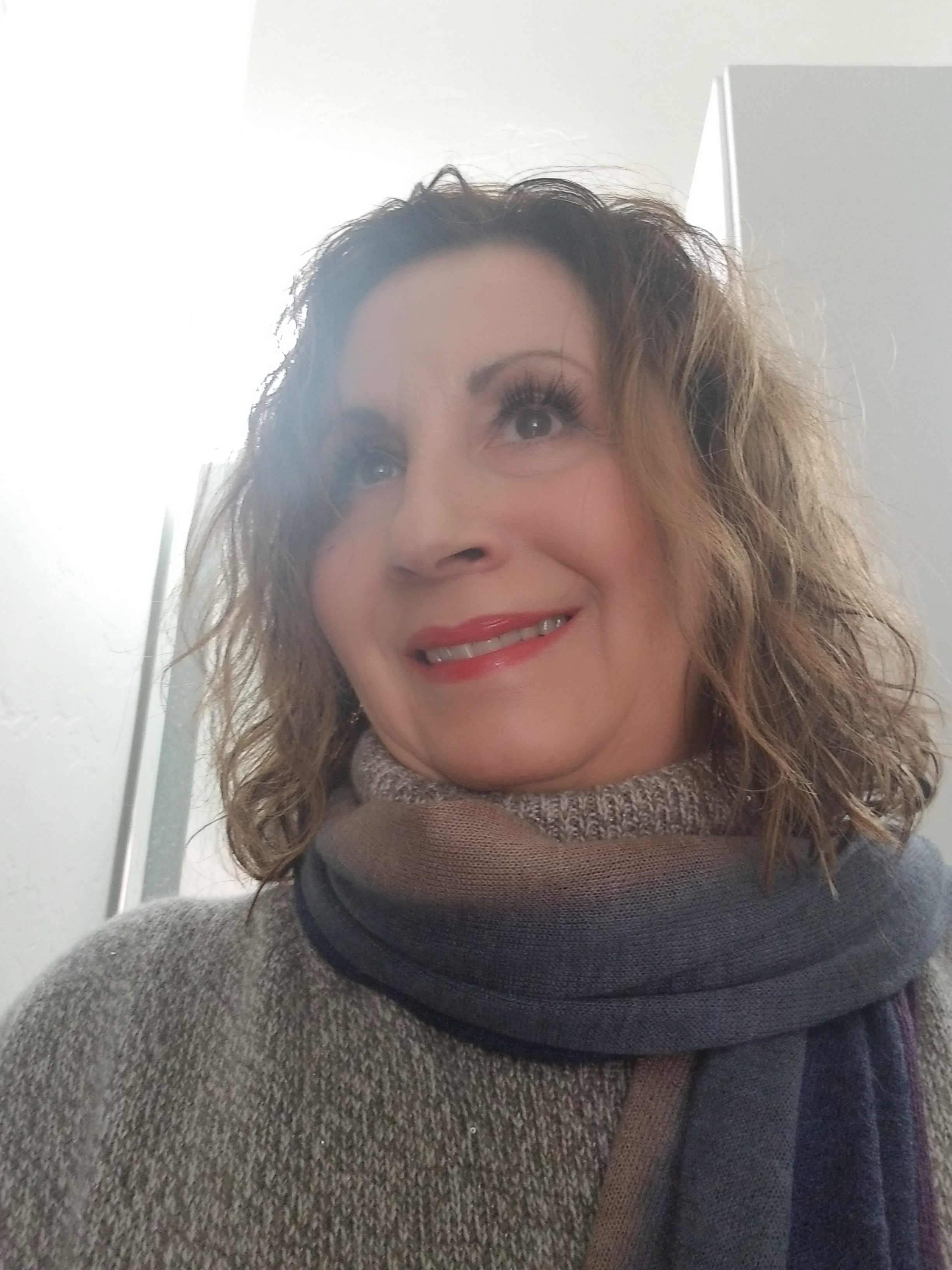 "Angela and her team created The Community on a valuable foundation of exposure to many artistic experiences; a foundation of patience, solid guidance and a genuine offering of support and encouragement. I have already learned so much about who I am and wish to be as an Artist. All of this in less than one year of membership. I am grateful! A continuous and diverse access to not only the myriad of classes and techniques offered, also Angela's own fearless "Live Studio" Lessons which are all so amazing. It is impossible to walk away from these special sessions without a full heart and basket of 'inspiration'. The Community has become a vital part of my daily creative process. Maybe one time it is the support and interest of each of the members expressed. Another time, it is learning about legendary artists of our past and current day. Or another, it is to gain insight from written Inspirational materials. All invaluable knowledge. Angela, her team and the members of the Community have 'heart'. As an artist having a safe and easily accessible community to be a part of is a precious gift. I am able to ask and receive fair, kind, and honest critique. Truly no judgement here; only support and knowledge. Everything a creative needs to grow their own abilities in their own way. I would encourage any artist to not hesitate in joining the Community. While there are many other options we may participate in, I am able to say genuinely, this Community platform and all that it offers is second to none. Jump in; join and you will not be disappointed. Angela Fehr is fearless and she is generous with her time and energy. As the main Artist behind this Community; it only takes a short moment of listening and watching Angela for you to be only positively impacted. So it is for your work as it is what she offers to your life and well being. It is one of the best creative choices I have made!"
- Taylor D.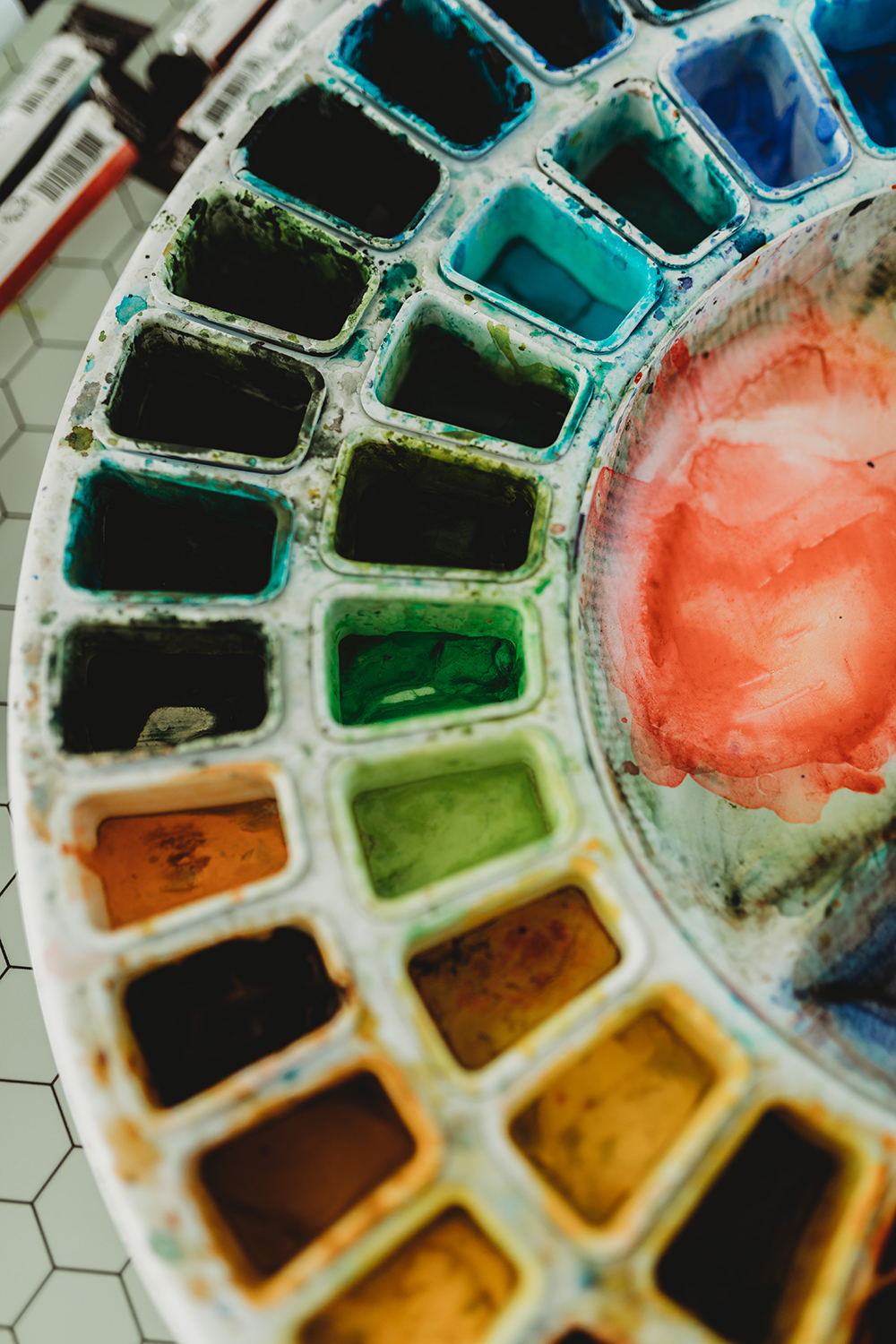 "I have painted as a hobby until about three years ago when I retired. At that point I wanted to pursue my painting in a more serious manner - but I still did not have personal goals and strategies to accomplish this. Joining Angela's community has made me ask myself what I want to accomplish with my watercolour journey and it helps me develop short term goals to develop my unique path in celebrating life's joy through this medium. The community is a support network and a learning forum in a safe space that keeps me motivated, encouraged and inspired. The role the community plays for me is one [of] exploration in my creative development. I always learn something new in the use of watercolour techniques and their applications, reviews of products and books that inspire. My favourite thing about this community is the friendship, participation and sharing in a group of like-minded supportive artists."
- Ursula K.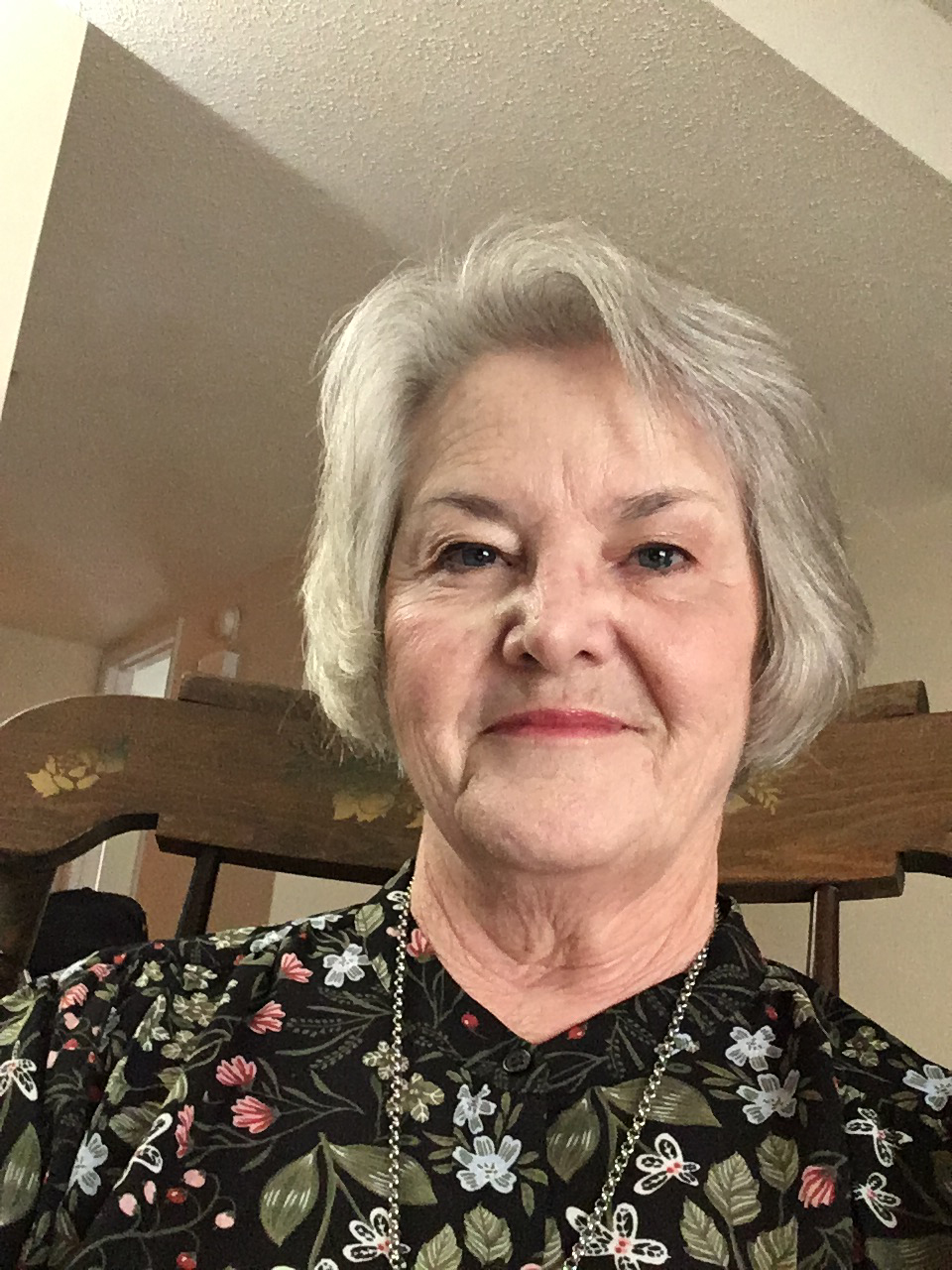 "I have been challenged, encouraged, and inspired to be myself and enjoy the watercolor journey. I enjoy the friendships I have made worldwide in the community. I have learned so much from the lessons. Watching again and again, learning something new each time. The lessons have definitely given me more courage to try something new and improve my skills. I am inspired by seeing what others are trying and painting. It gets me excited to paint. This community of others also painting shares the thoughts and questions you may have asked yourself. The lessons will help you step by step as you wonder what to do next."
- Pam T.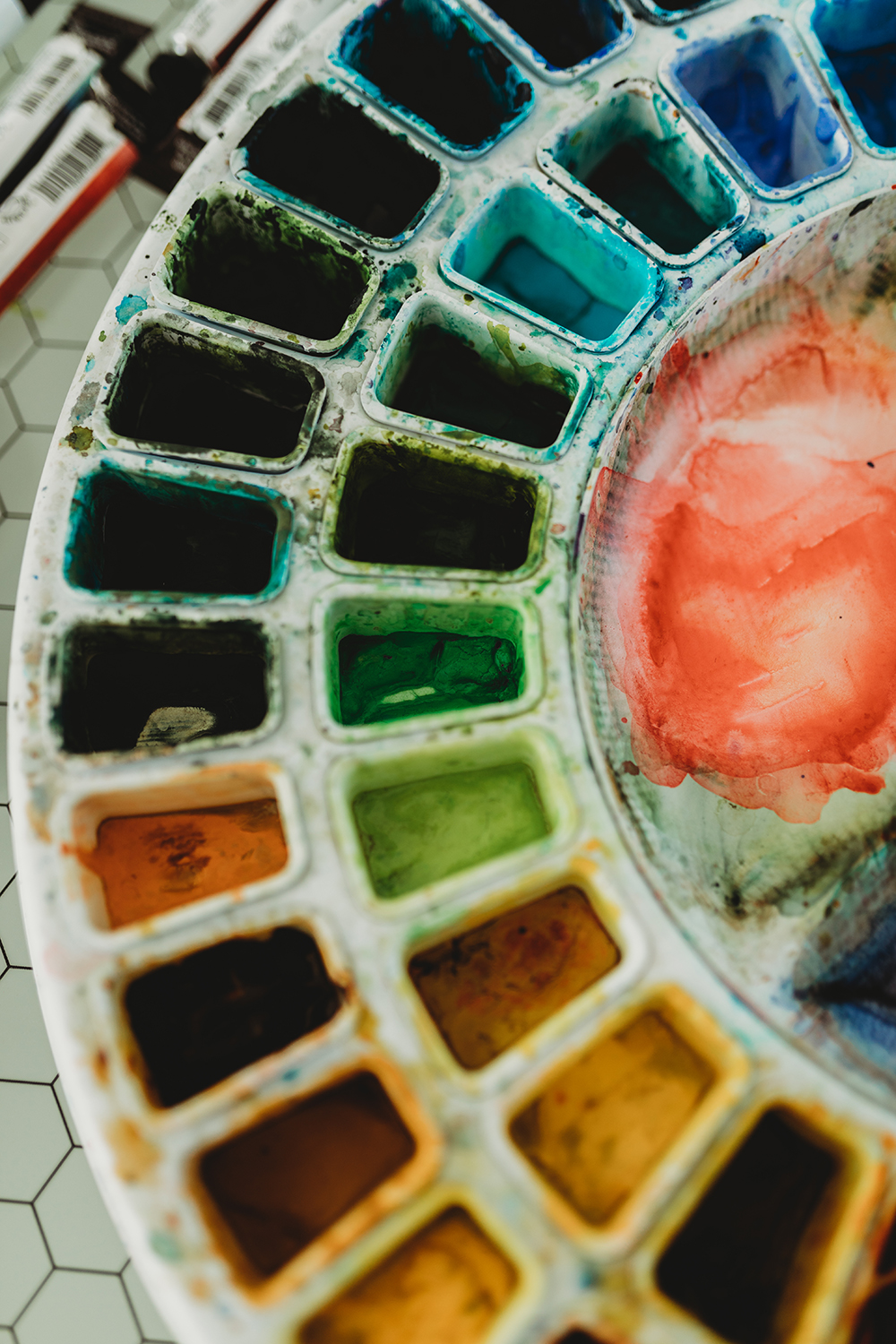 "This supportive community has kept me from giving up. They support my efforts, cheer me on, and are appreciative of who I am as an artist....even as I question myself. Having Angela's classes available as I need them is a gift. I have no art classes in my vicinity, so am so appreciative of having all the classes, videos, and Angela's weekly wisdoms to help me bump along on this journey. It is the first place I go each morning, to see what others are doing is a boost in itself, giving me ideas of where I might go next with my colors and my brush. I learn so very much from the members in this community! The interaction, the support, the humor, the ideas, and Angela leading all of us with her gentle grace and knowledge. Love the videos, the goal setting each week, and the connections I am making....this community is worth every penny. The support, the encouragement, the classes, the videos, Angela's presence and comments and constant encouragement......if you are an experienced artist, just beginning, or somewhere in between, you will benefit in myriad ways from this exceptional community."
- Pam K.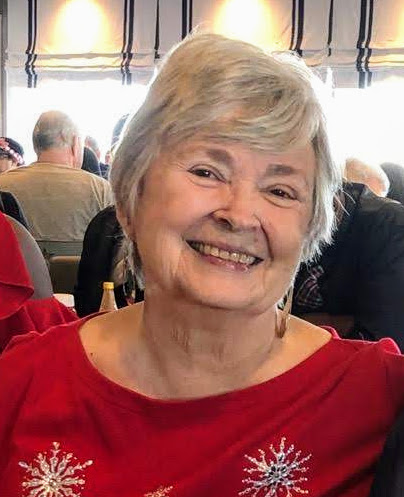 "The community has helped me be less critical of the paintings I create. In the short time I have been participating in the community I have learned I am not alone on my watercolor journey. Not only does membership give me instructions in the "how-tos" of the medium, seeing the work of different people is helping me develop an appreciation of the differences that can be found in this art. The community challenges me to attempt new things in my own practice - to come out of the shell I somtimes hide in. My favorite thing about the community is the collegiality I am experiencing as I participate - the sense of belonging to something larger than myself."
- Ruthine H.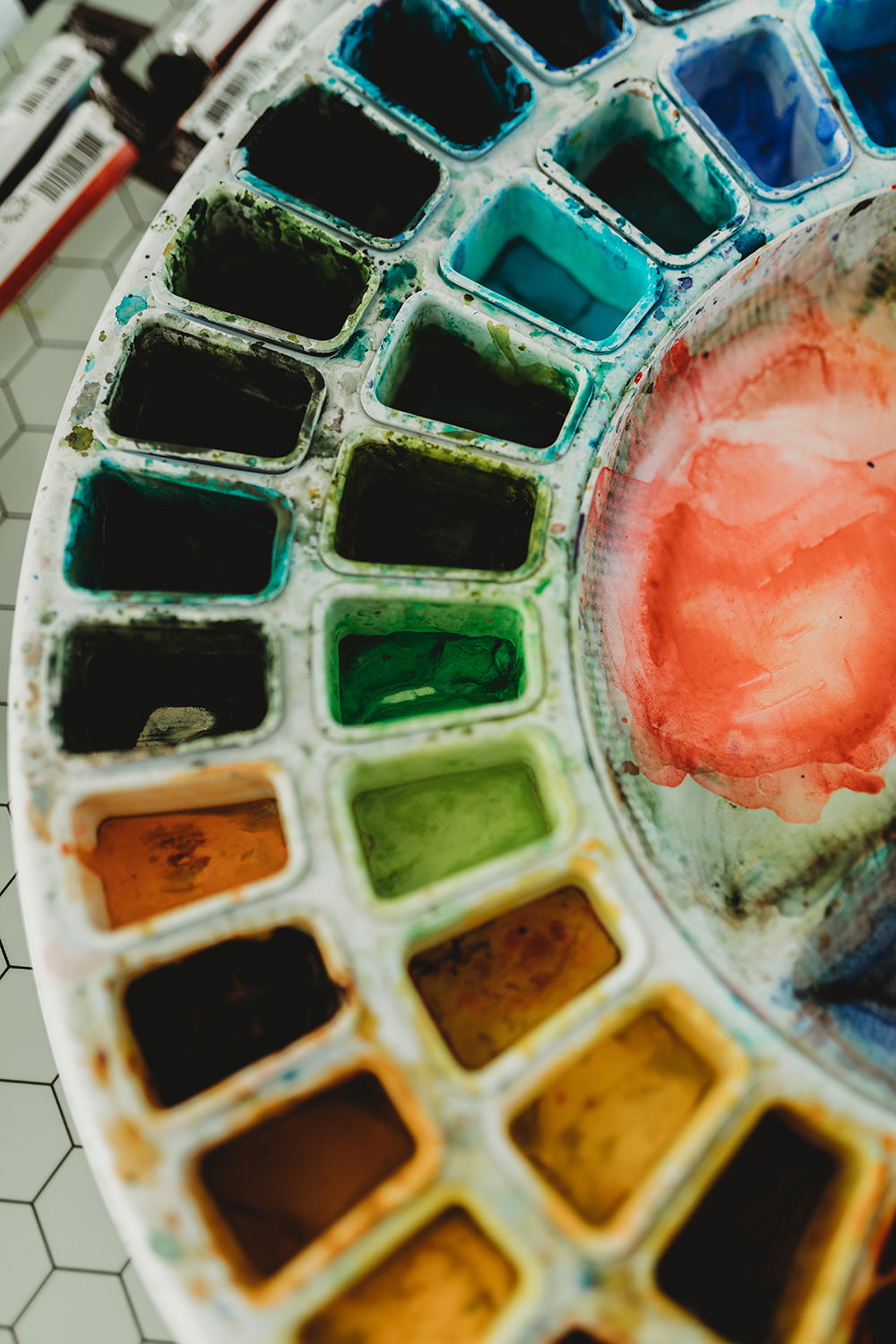 "The encouragement, inspiration and fun activities within the community, helps keep my excitement to try new things growing along with my skills as I work my way through the various courses available. There is a sense of belonging, like I have finally found my tribe. I love seeing everyone's work and the progress they are making. Getting to see how others have done lessons from the courses and how they tackle personal projects provides a lot of inspiration. Knowing I can show my work and ask questions without fear helps me grow and trust my inner vision. Having access to all the courses allows me to works on technical skills while still exploring and playing. You would love it here!"
- Sandra G.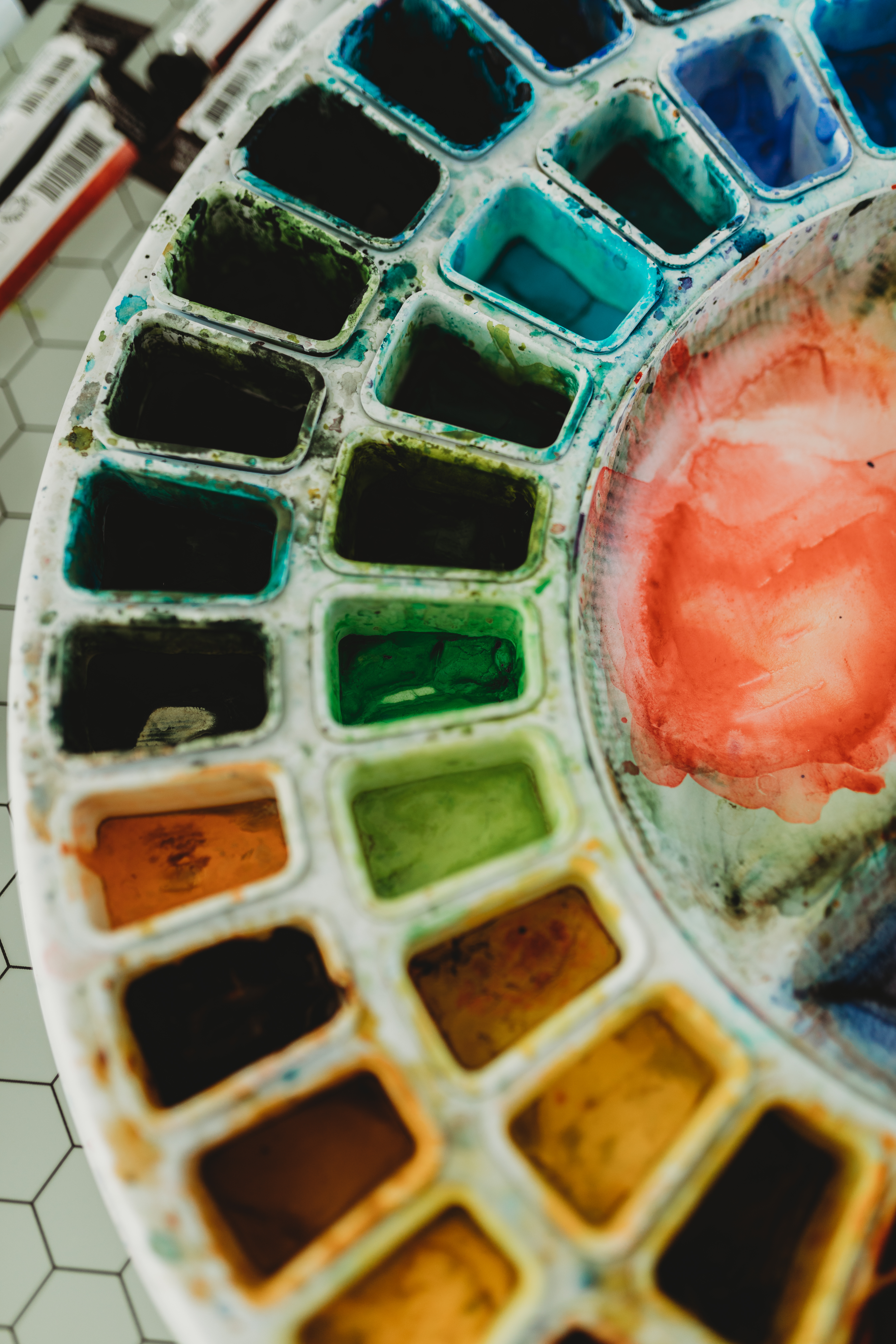 "To see all the art and to read about other members painting process is inspiring, It is helpful to have this safe space where I can show my work to people that are interested in art and are willing to see what I do and sometimes share their thoughts about it, It is energizing, I also learn a lot by looking at and reading about the other artists work. The chance to take part of most of Angela's courses is a great benefit, this and the other members' art and thoughts about art is my art school. I often look at older lessons, or just look at other members painting, read what people have to say for a short while, usually it is enough to boost up my painting energy."
- Vered M.
See the full list of courses included
in the Heart-Led Artist Course bundle below.
Your Instructor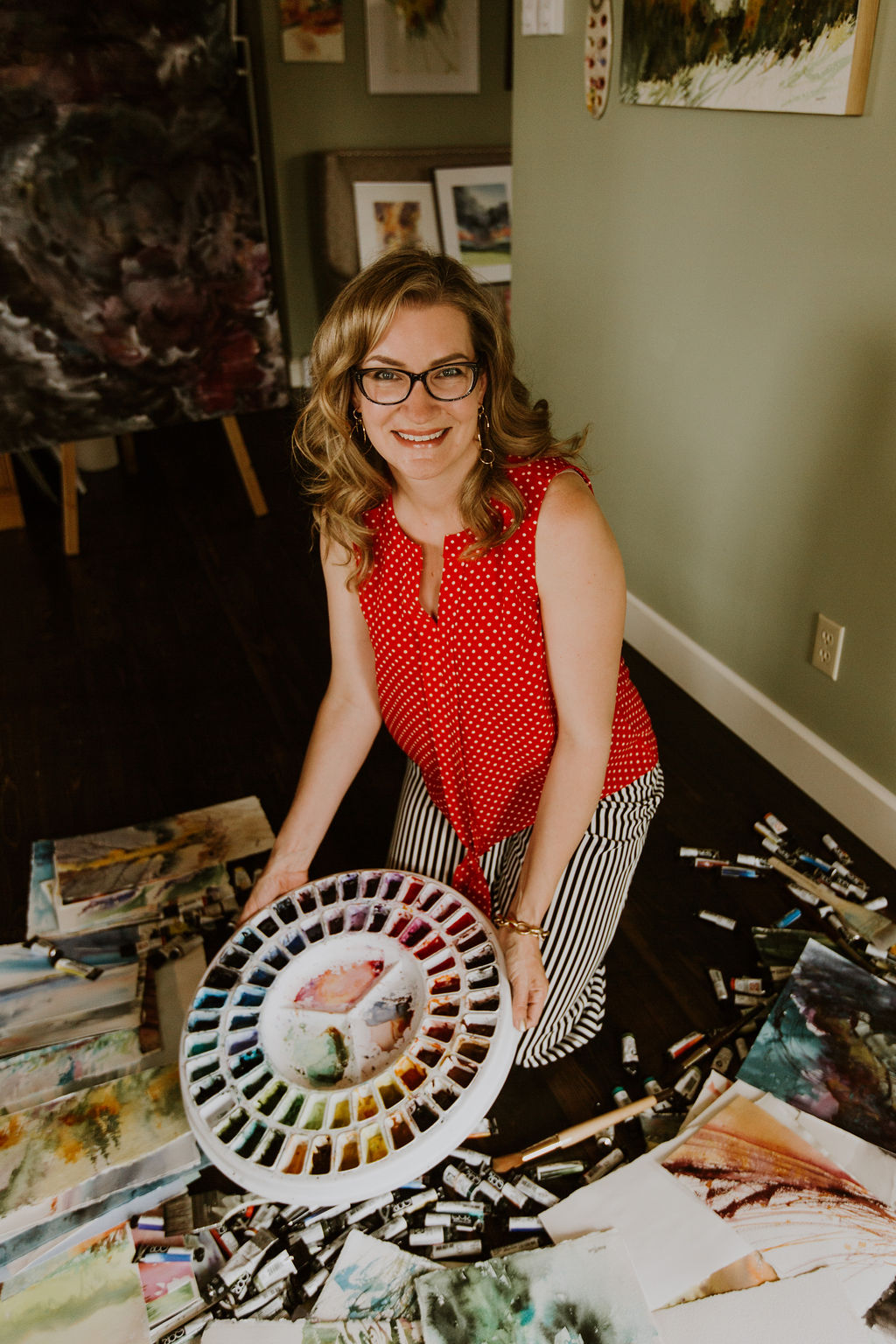 From her home in northern British Columbia, Canada, through her video lessons on her website and YouTube, Angela Fehr has created a community of watercolor lovers that spans the globe. She wants every painter to know the freedom of fearless self expression and she has made it her mission to share this empowering message through lessons in watercolour technique and loose intuitive painting. More than anything she demonstrates that the most important thing you bring to your art is you.
Courses Included with Purchase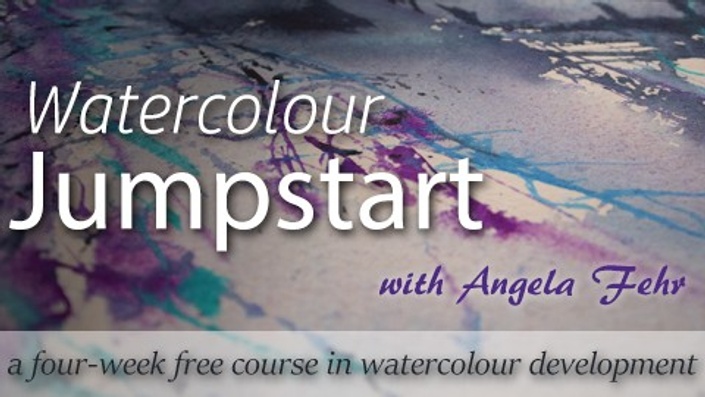 Watercolour Jumpstart: Free Course
Direction & Encouragement for the Watercolour Painter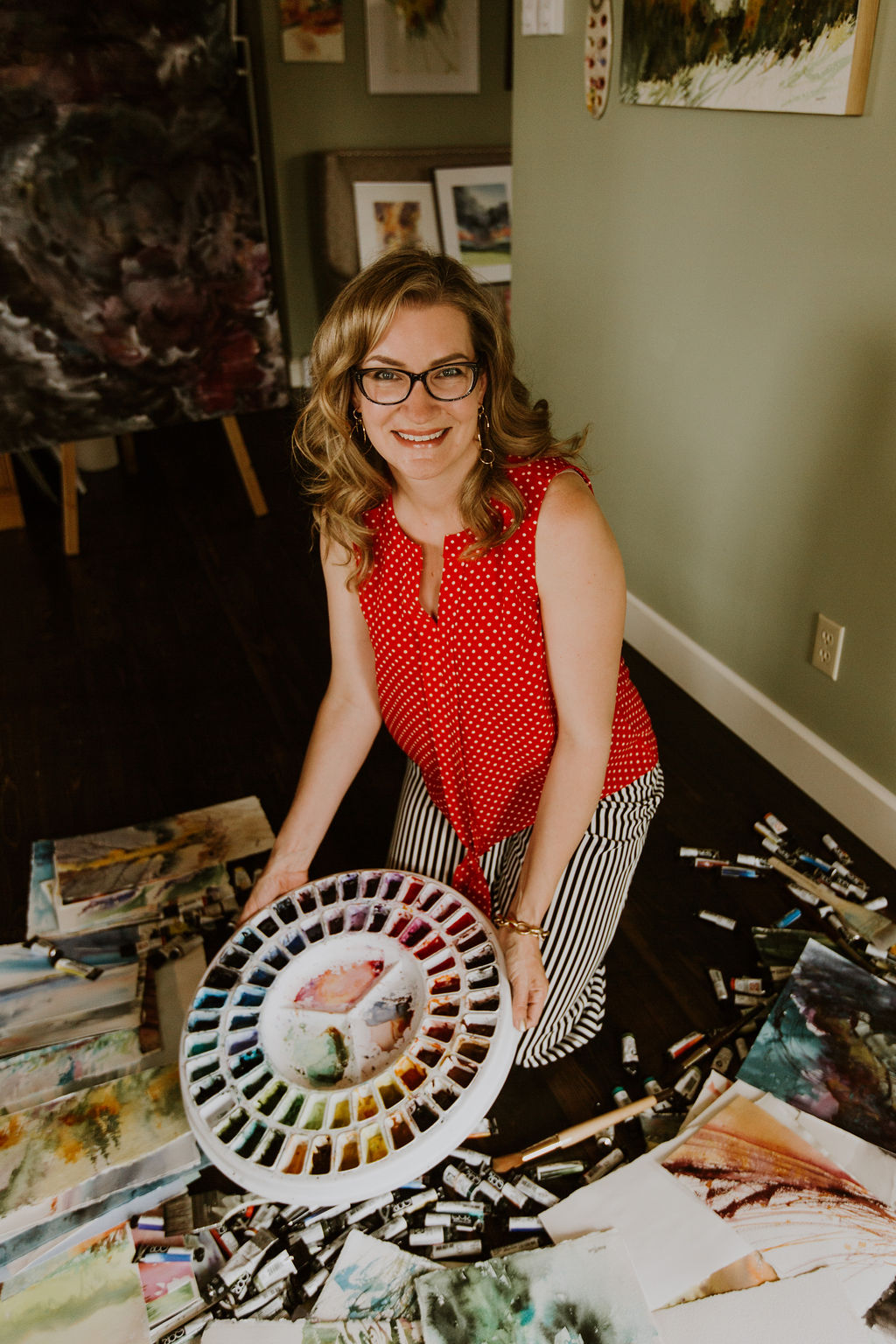 FREE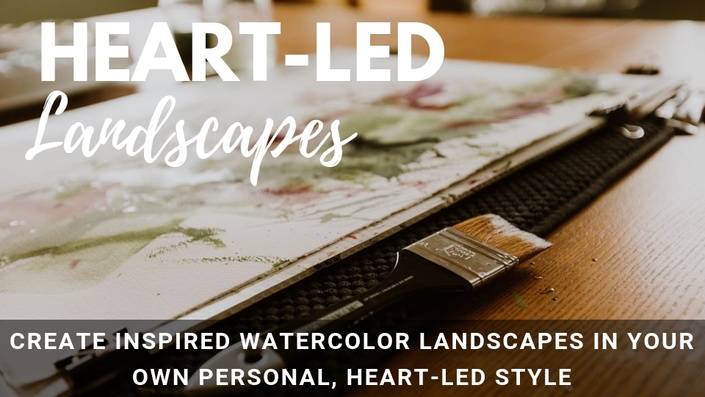 Heart-Led Landscapes in Watercolor (Membership)
Steps to Developing Your Personal Loose Landscape Watercolor Style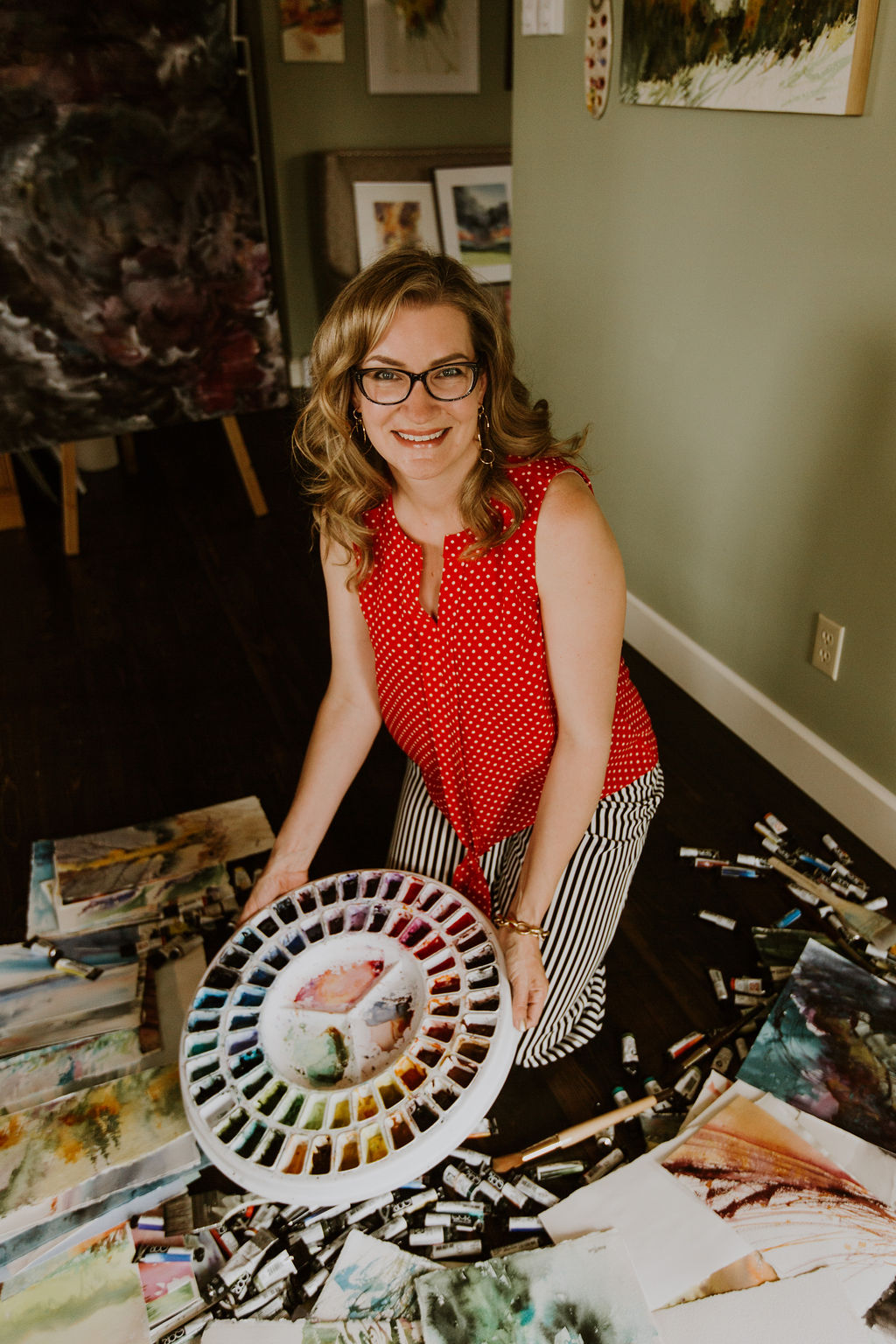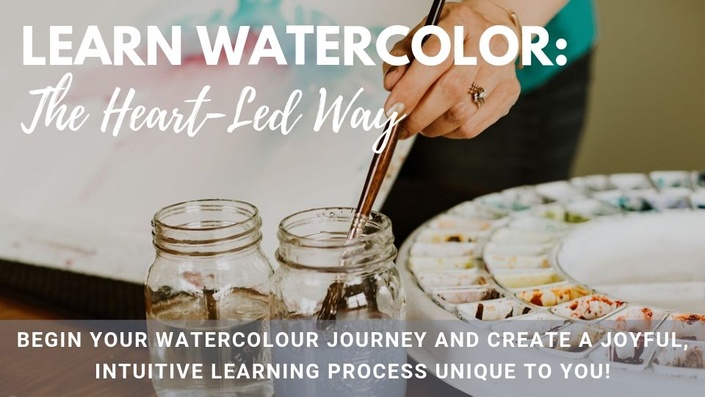 Learn Watercolor: The Heart-Led Way (Membership)
Beginning Watercolor Techniques, Intuitive Methods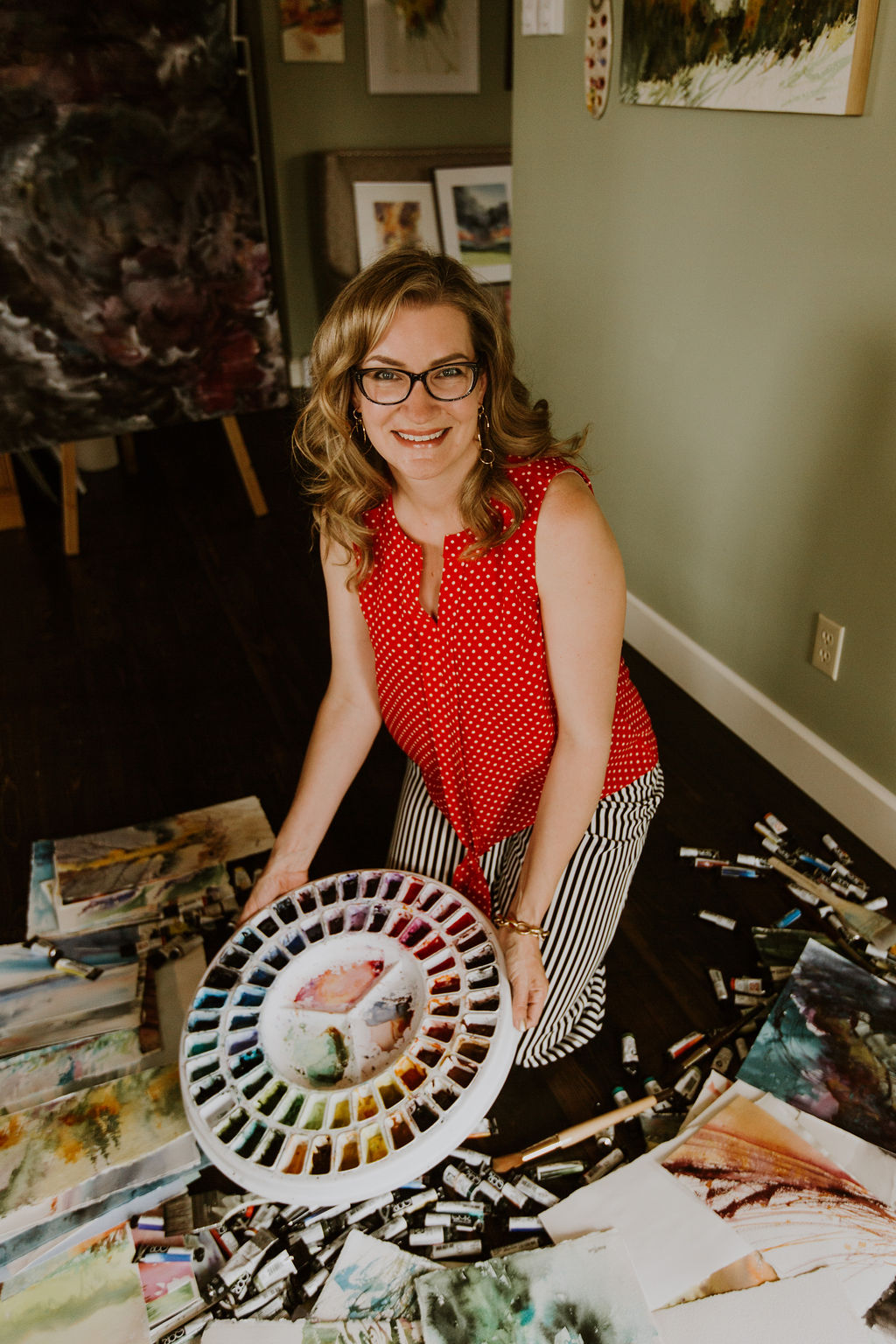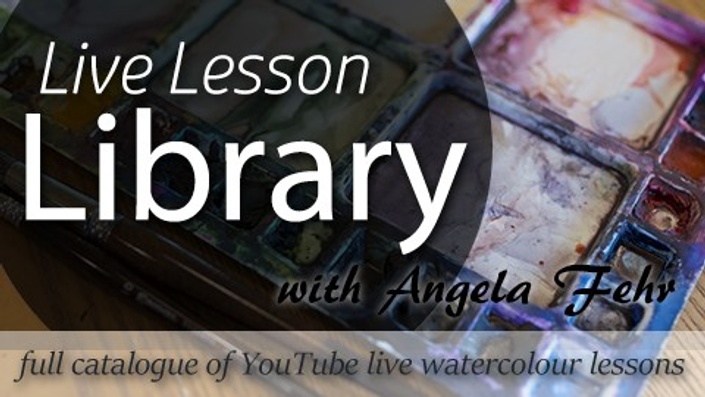 Member Live Lesson Library - Heart-Led Artist Community (Membership)
Complete Catalogue of YouTube Live Watercolour Lessons and Heart-Led Artist Community Live Lessons.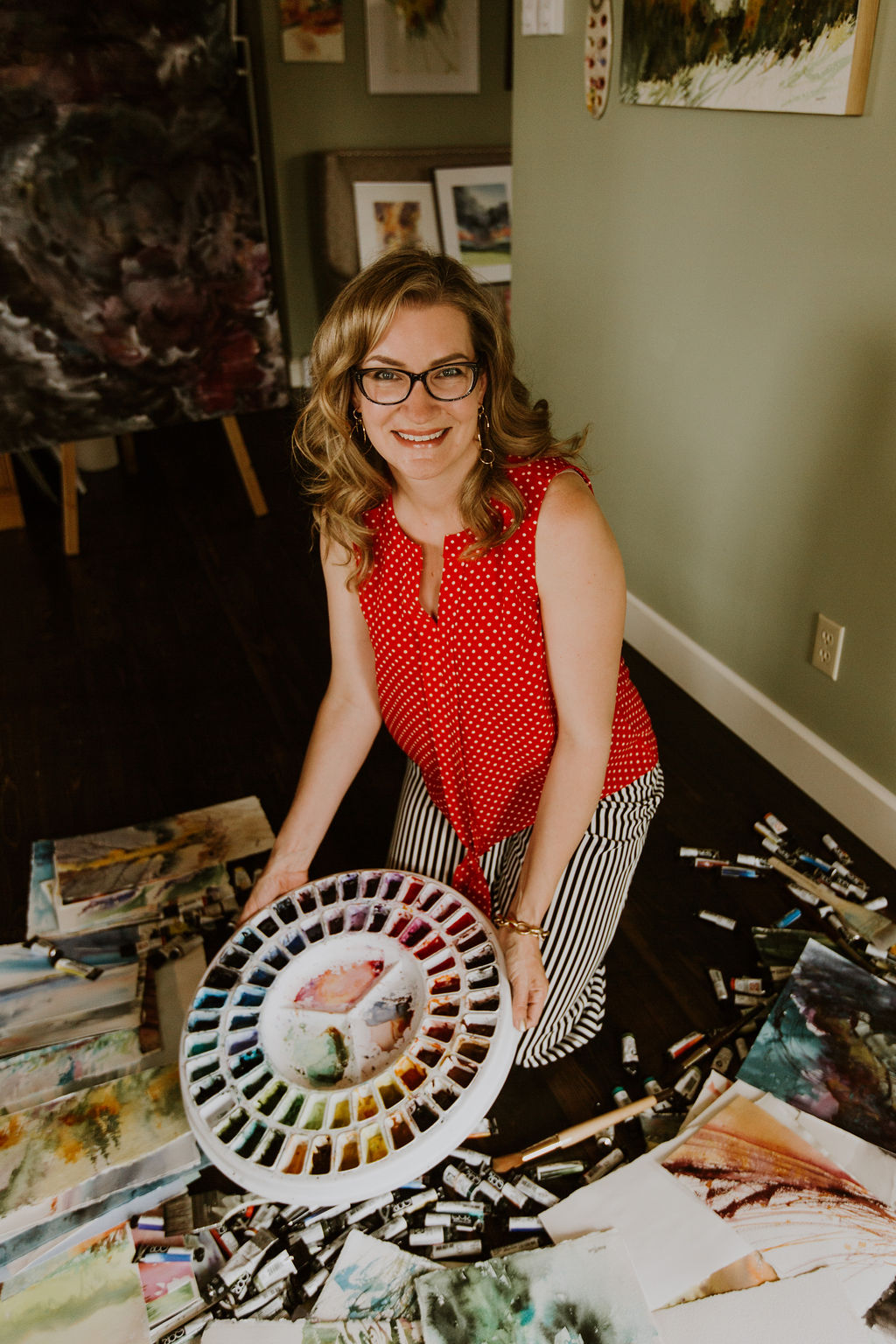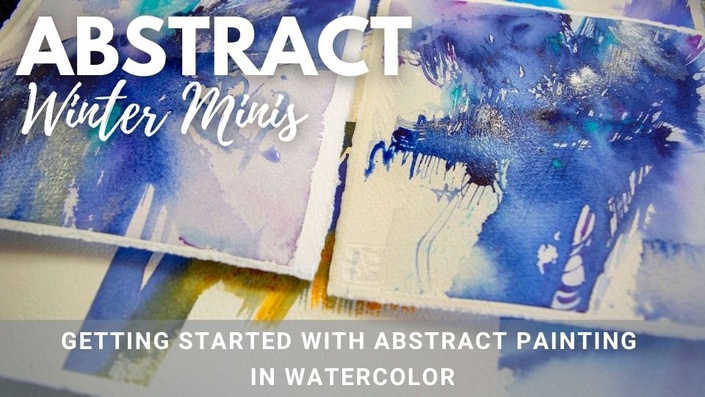 Winter Mini Abstracts in Watercolor (2020) (Membership)
Getting Started with Abstract Painting in Watercolor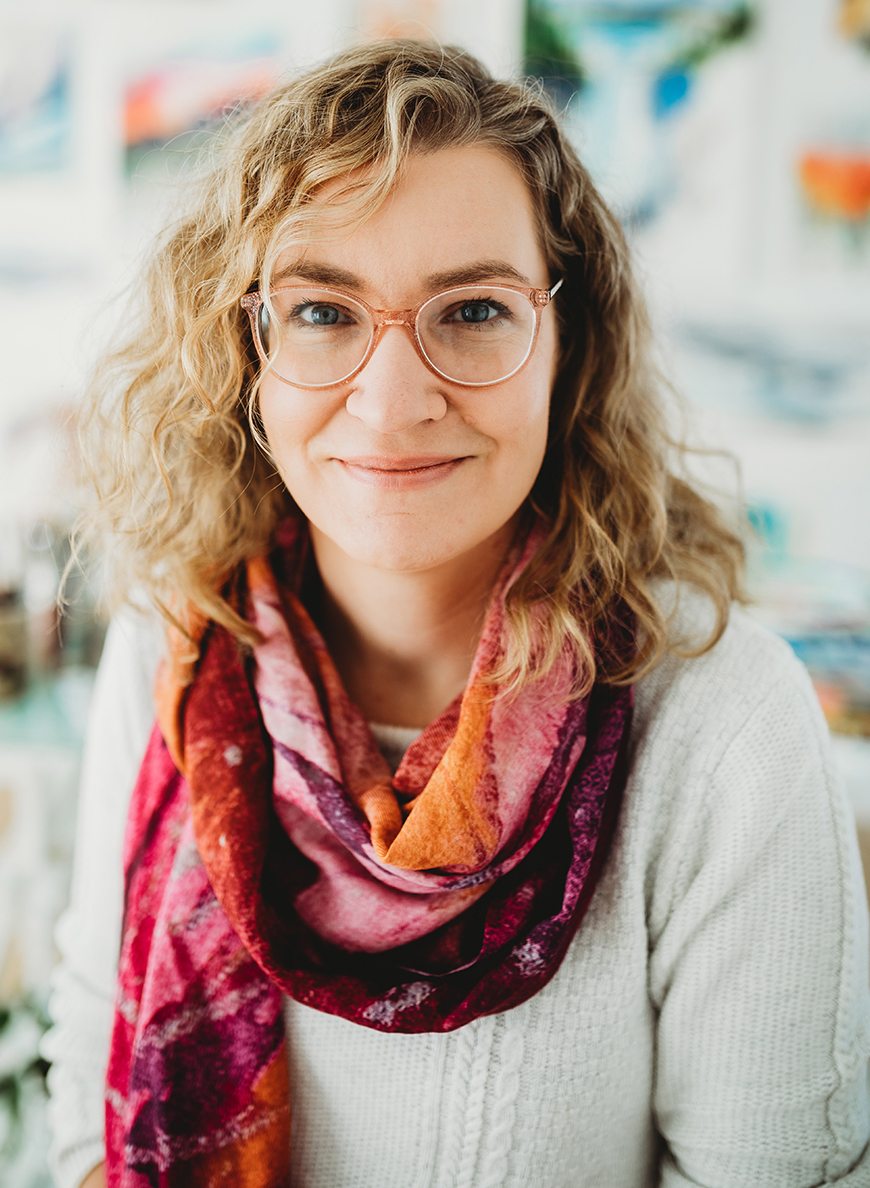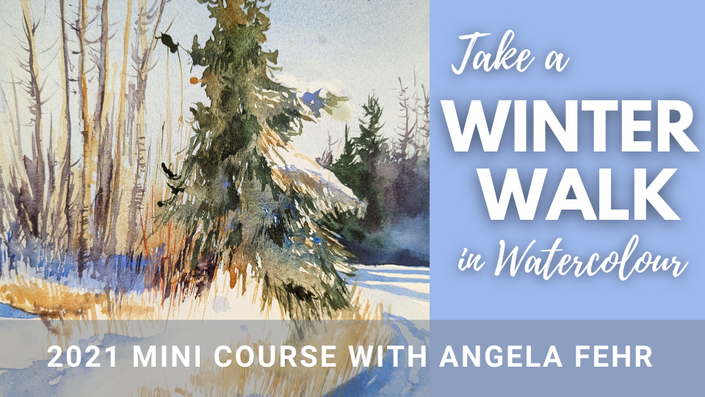 Winter Walk in Watercolor 2021 (Membership)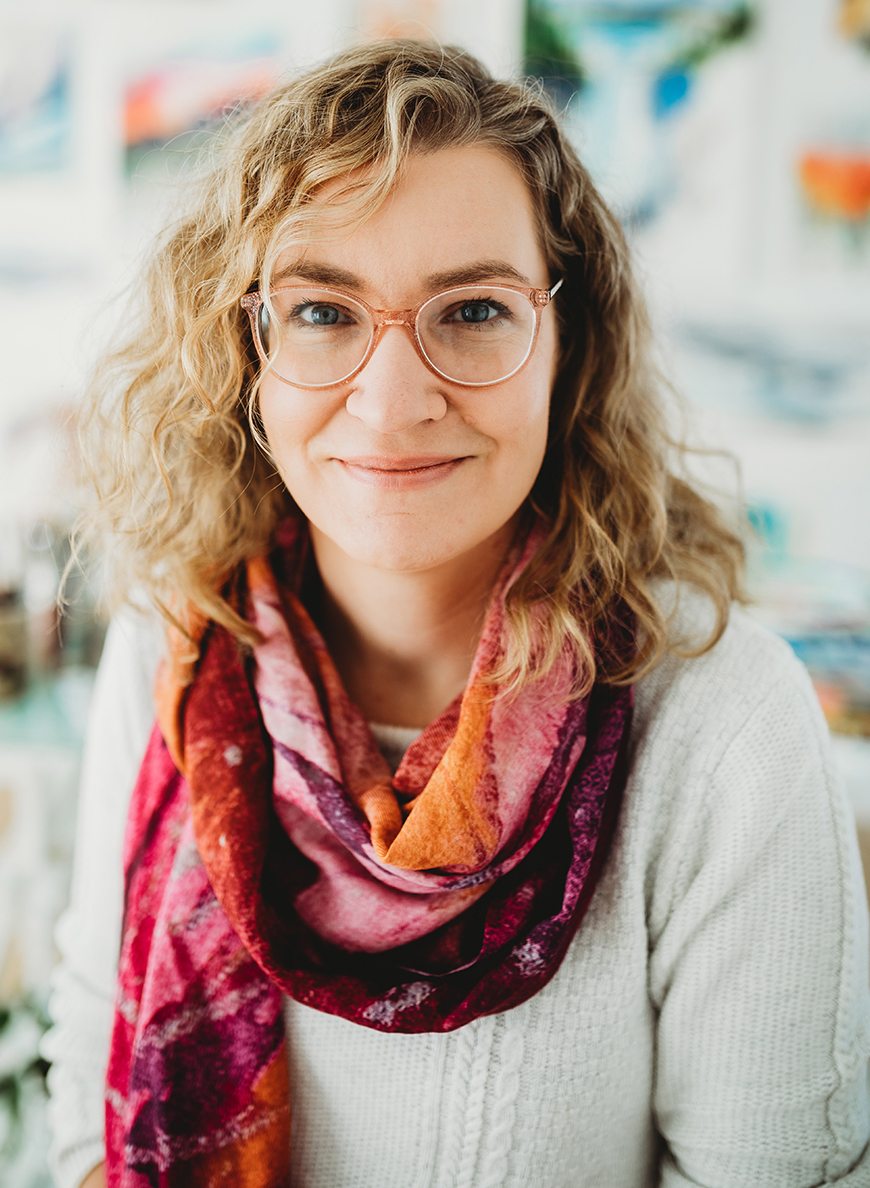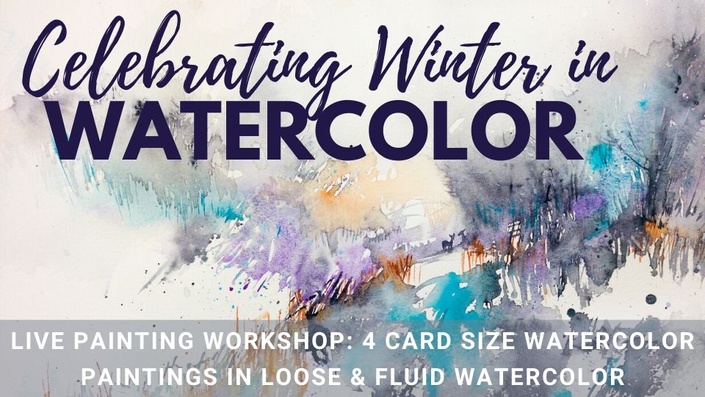 Celebrating Winter in Watercolor [2019] (Membership)
Paint 4 card size winter scenes in fluid watercolor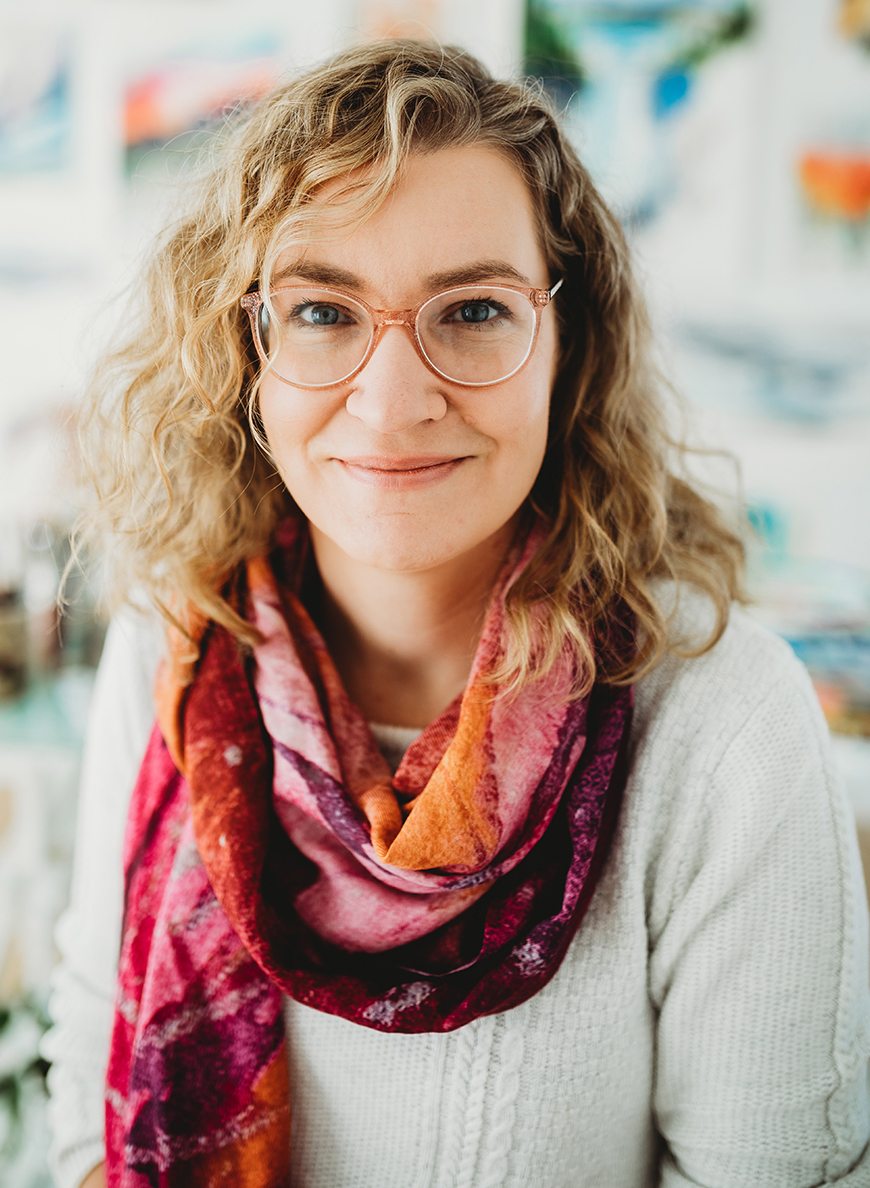 $39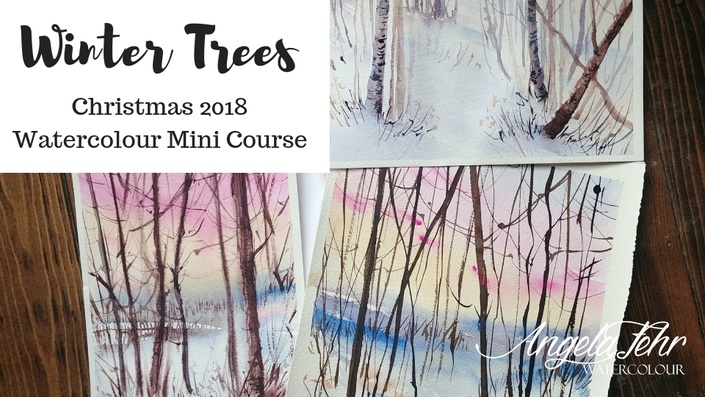 Winter Trees in Watercolor [2018] (Membership)
Christmas Mini Course 2018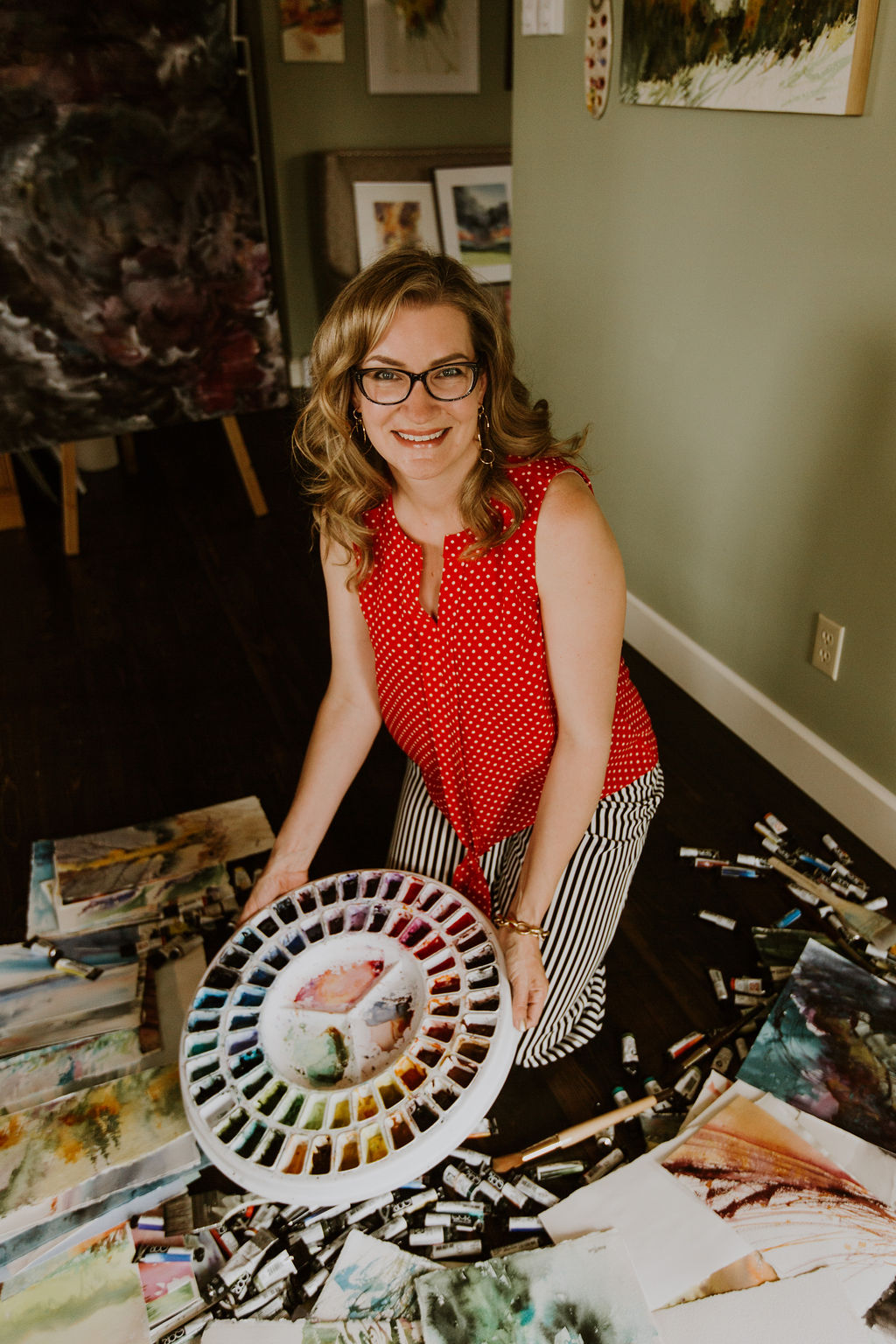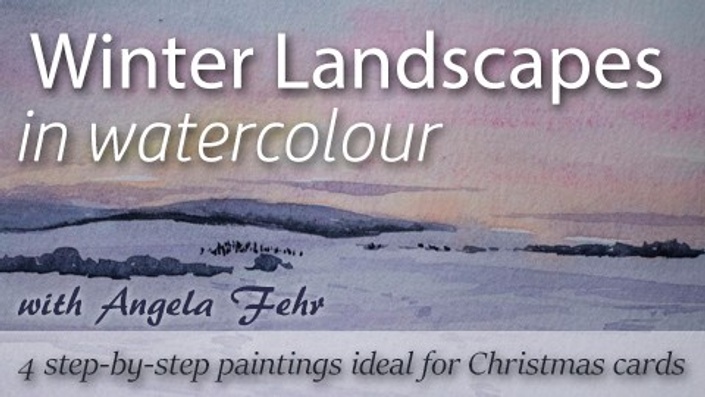 Winter Landscapes [2017] (Membership)
Paint four wintry scenes ideal for Christmas cards.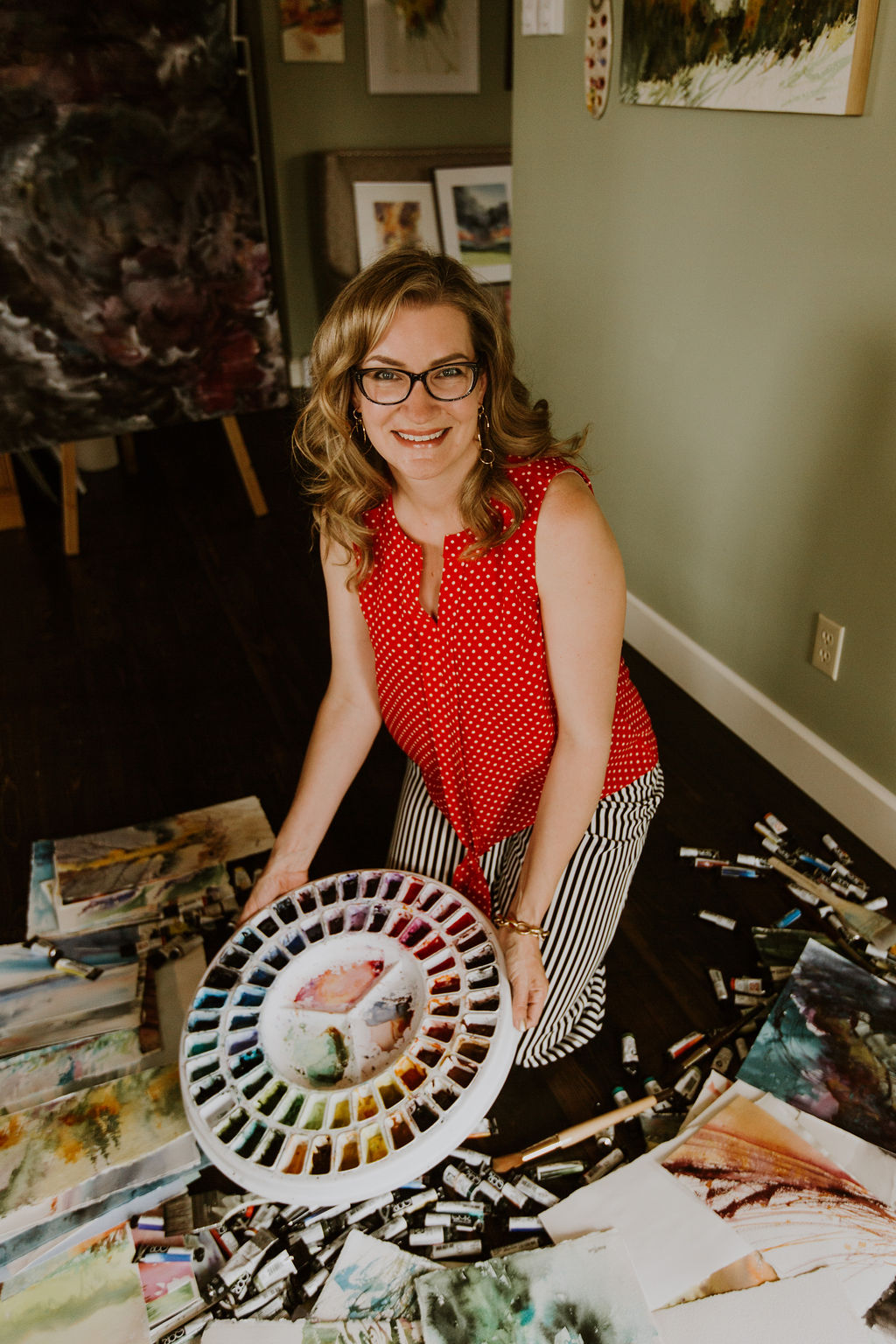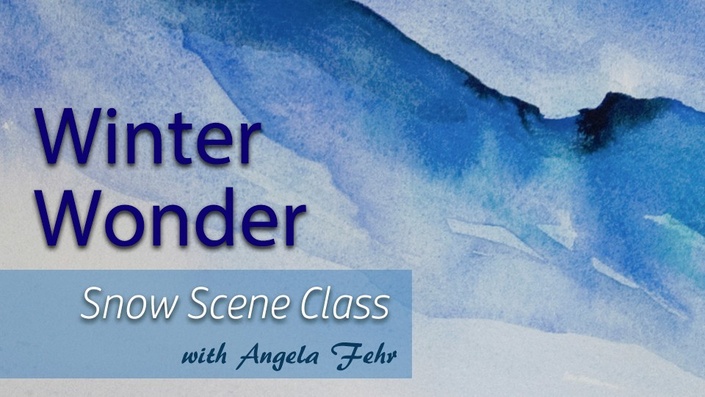 Winter Wonder Snow Scene [2016] (Membership)
Exploring light and shadow and how to paint sunlit effects in watercolour.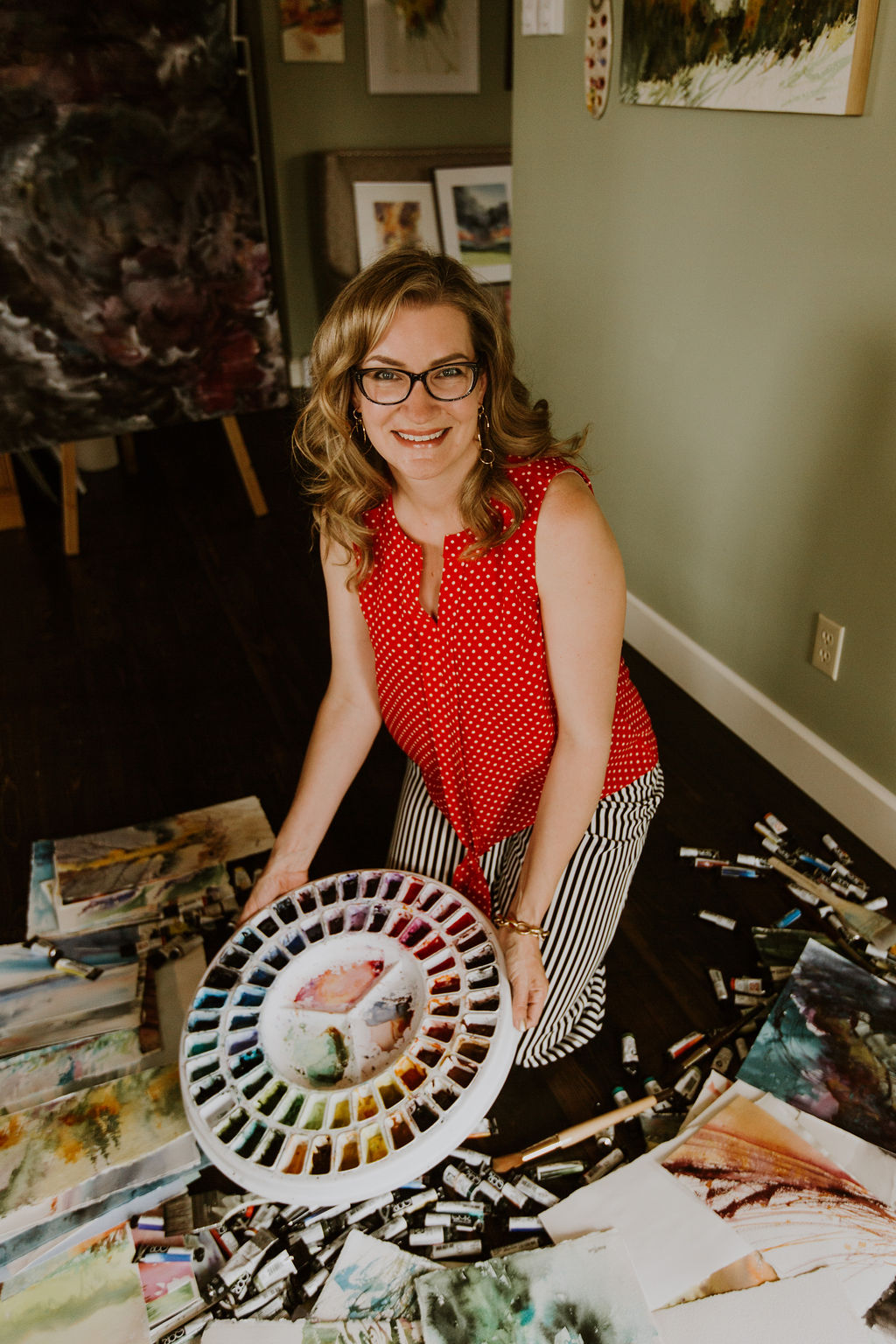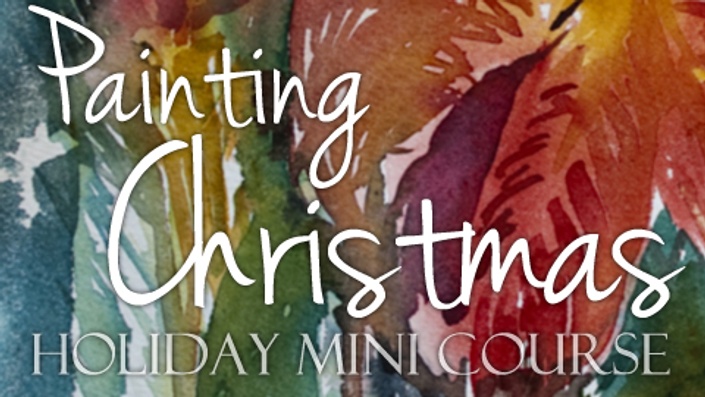 Holiday Watercolour Mini [2015] (Membership)
Paint Your Christmas Cards this Year!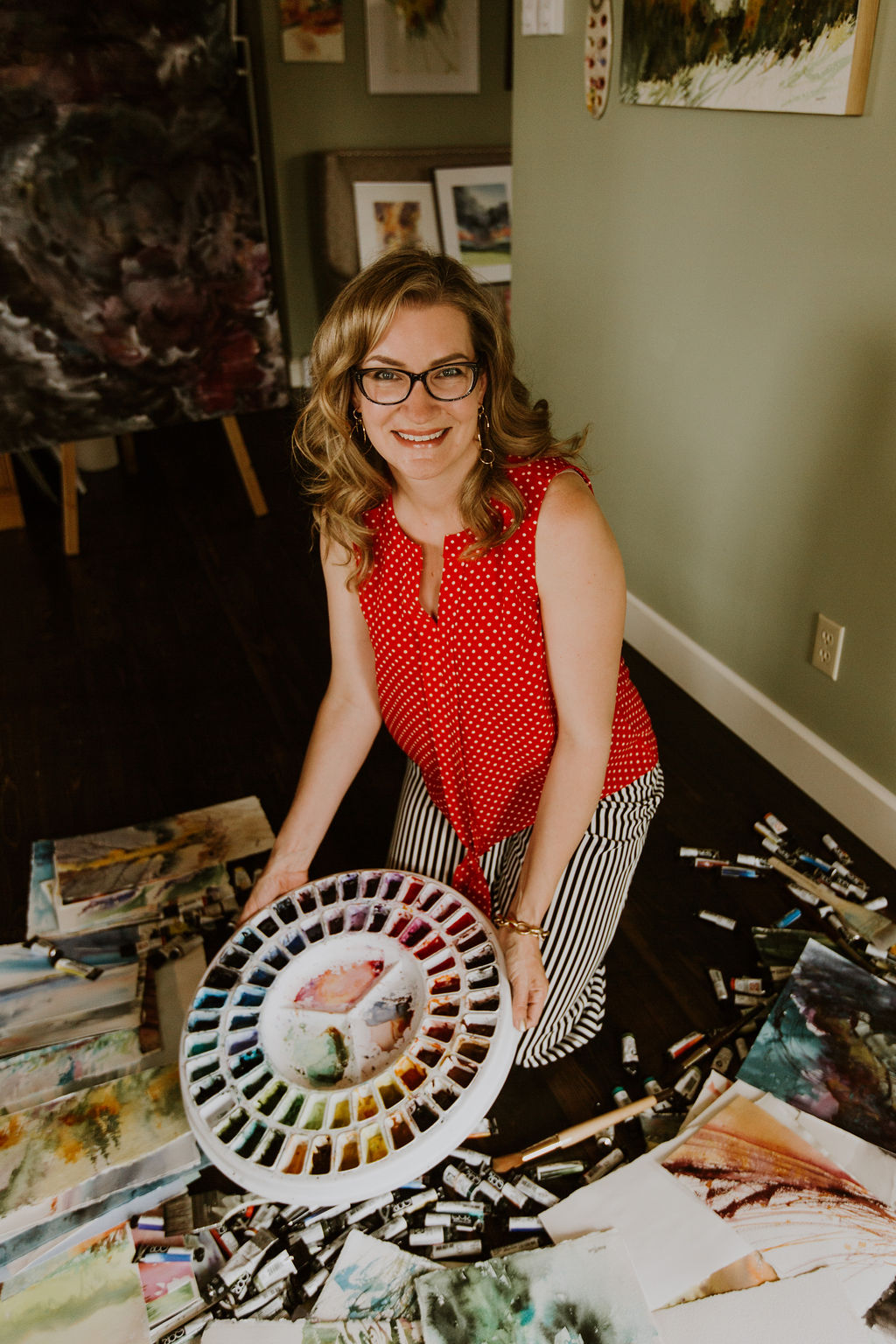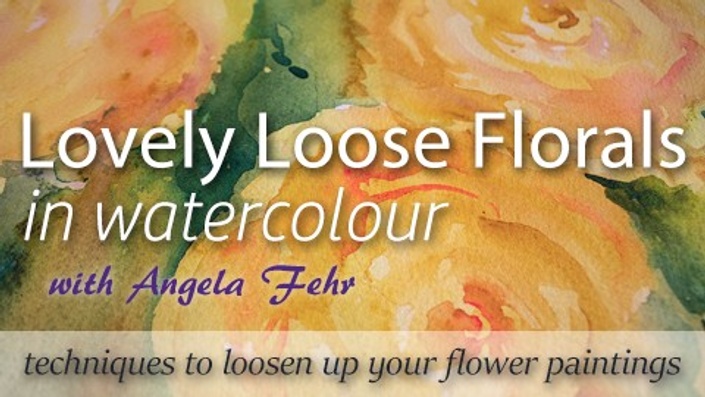 Lovely Loose Flowers in Watercolour (Membership)
Lessons in Painting More Expressively in Watercolour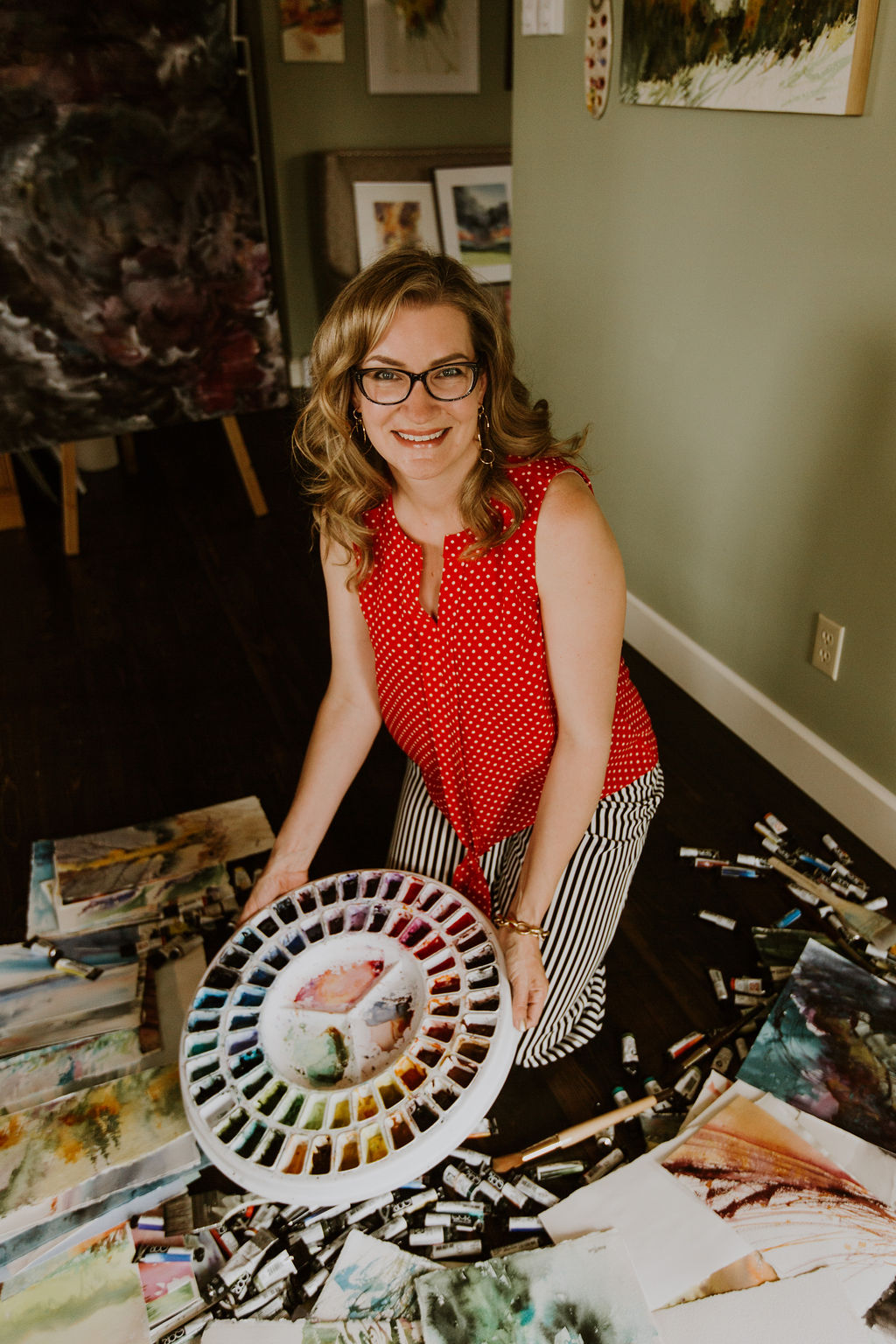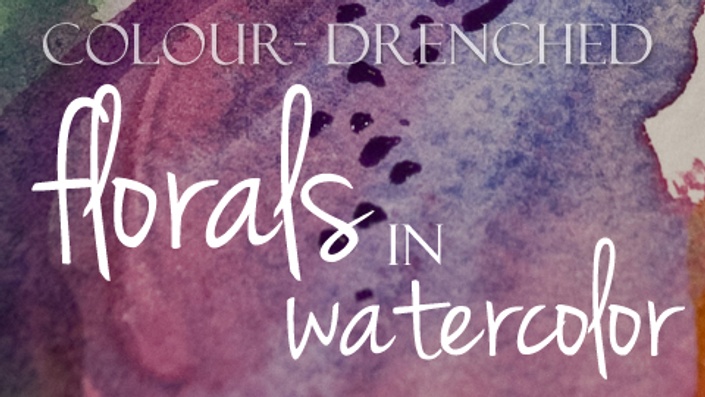 Color-Drenched Flowers (Membership)
Expressive Florals Using Basic Watercolor Techniques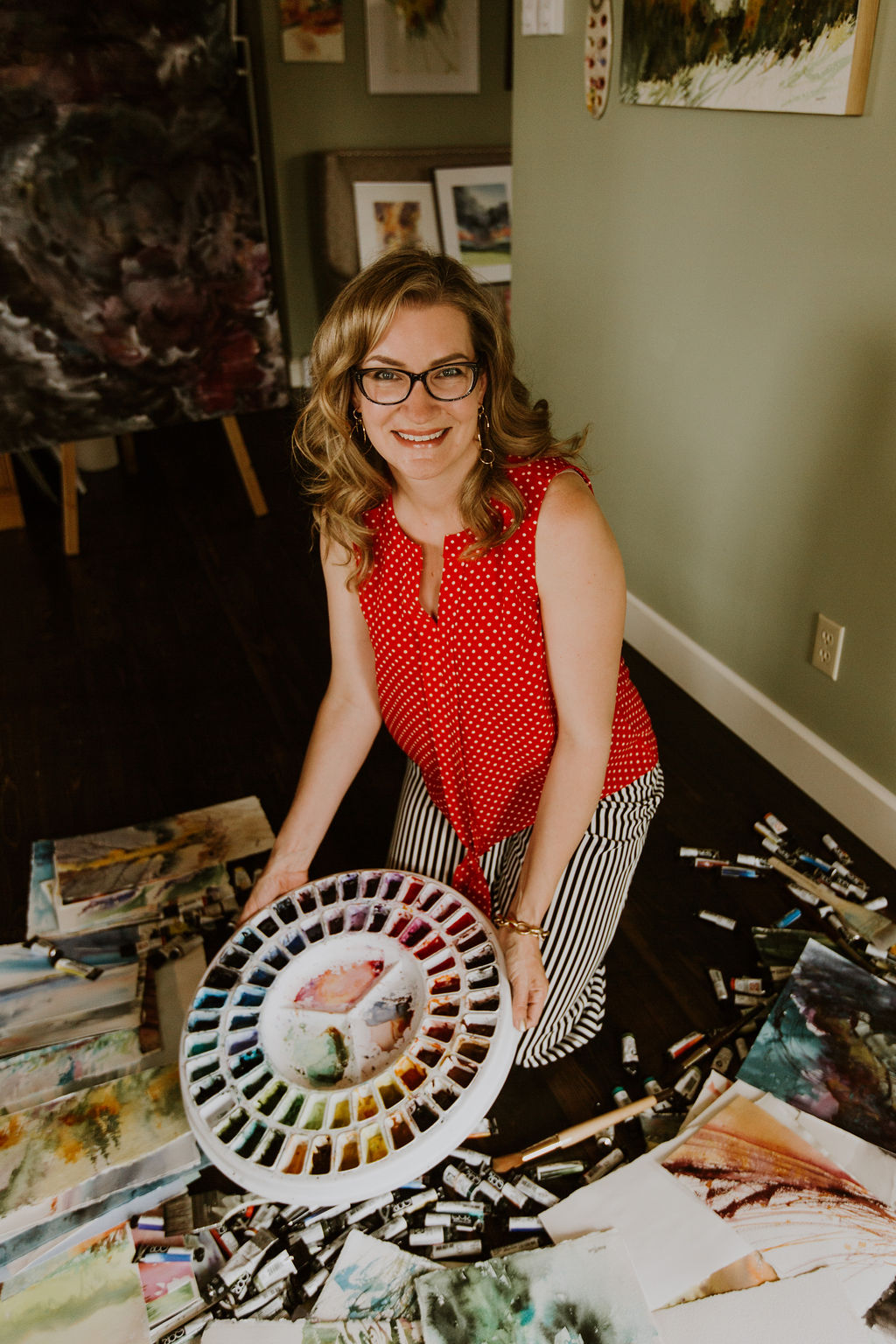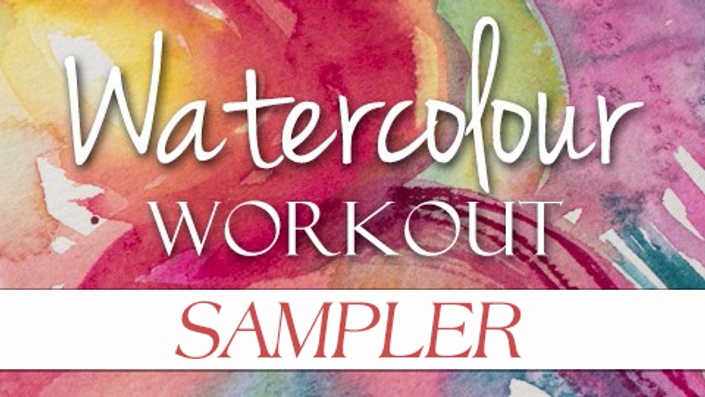 Watercolour Workout Sampler (Membership)
Strengthen Your Painting Skills in a Few Minutes a Day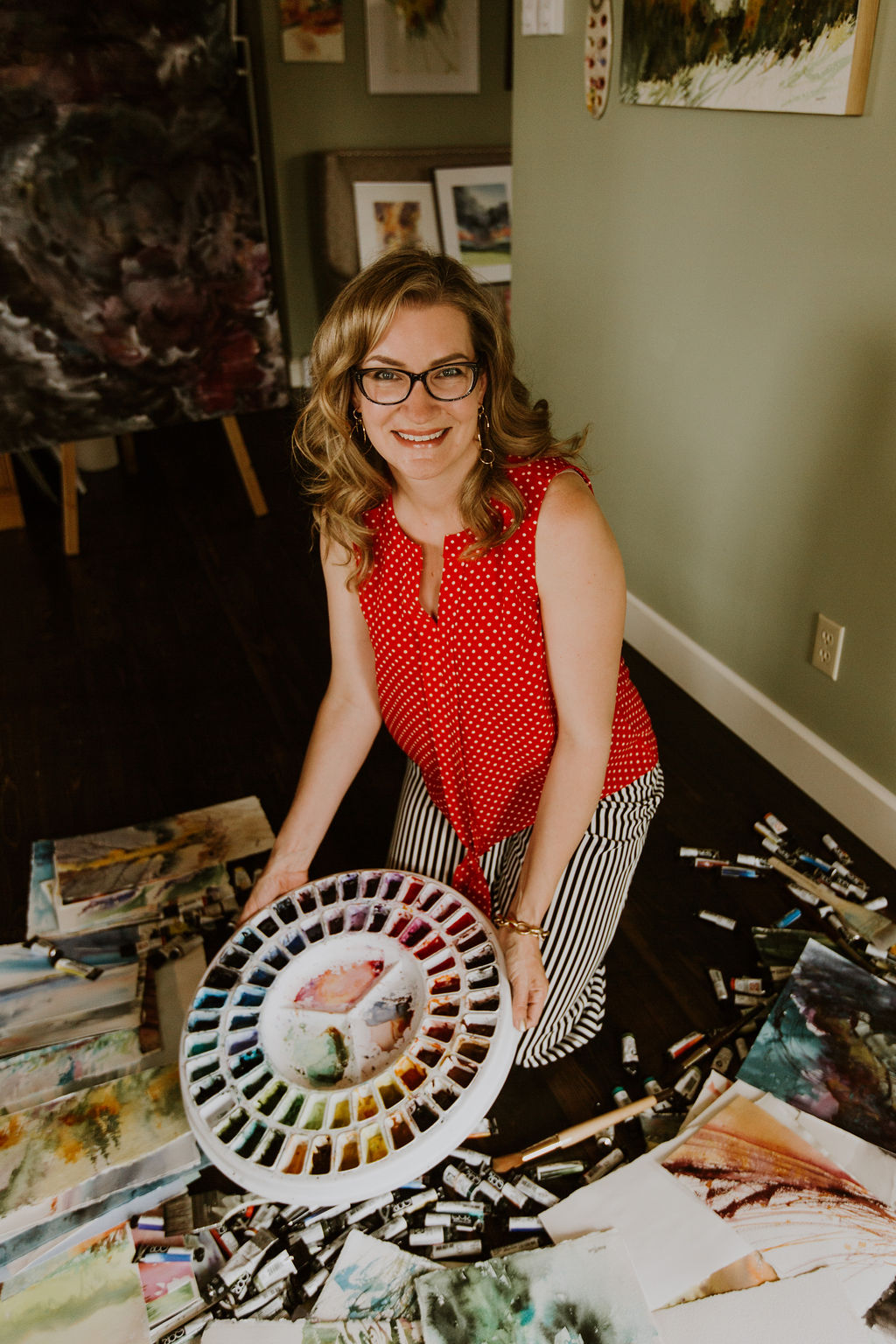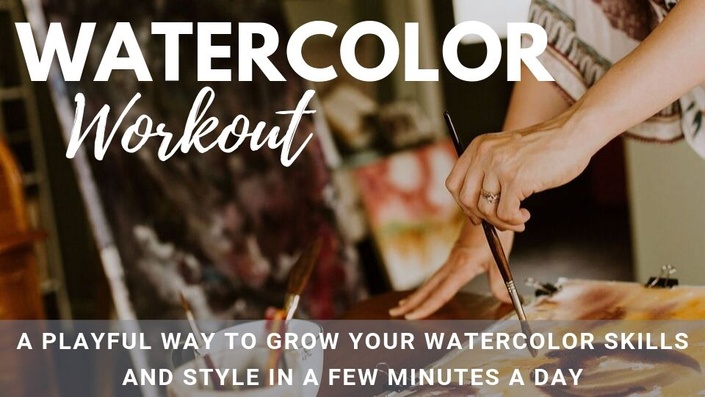 Watercolour Workout (Membership)
A Playful Way to Strengthen Your Painting Skills in a Few Minutes a Day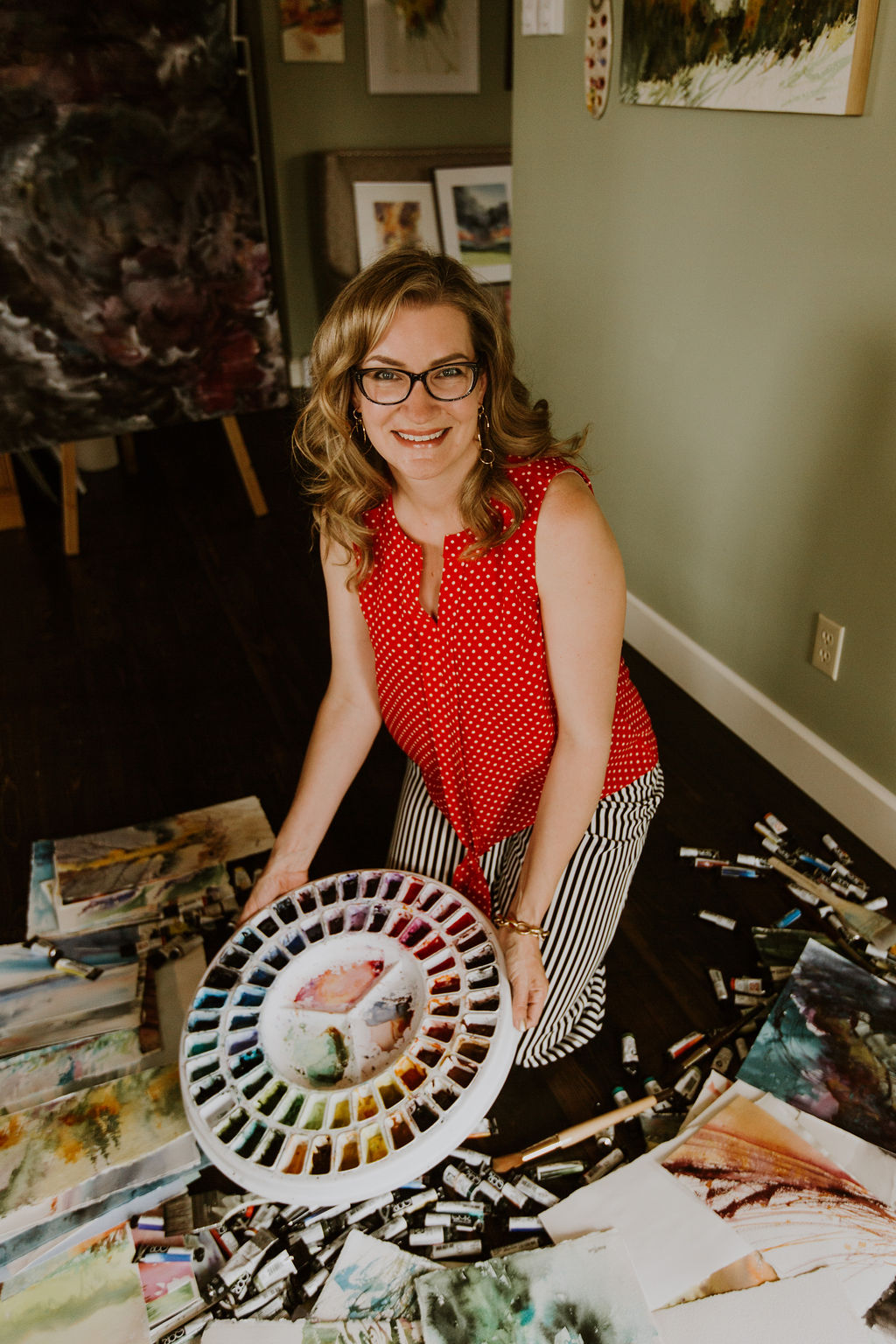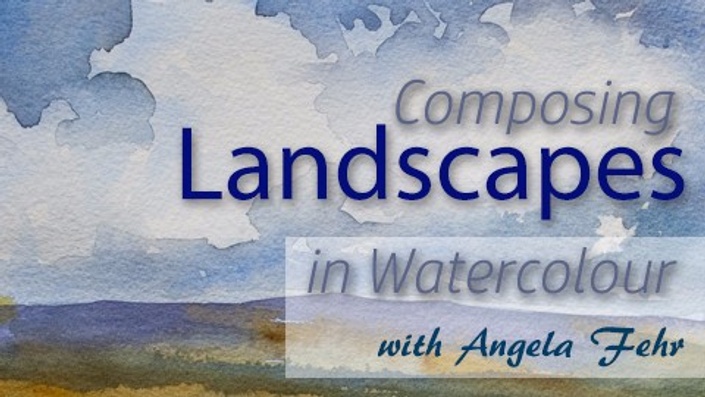 Simple Landscapes (Membership)
Painting the Landscape with Joy & Purpose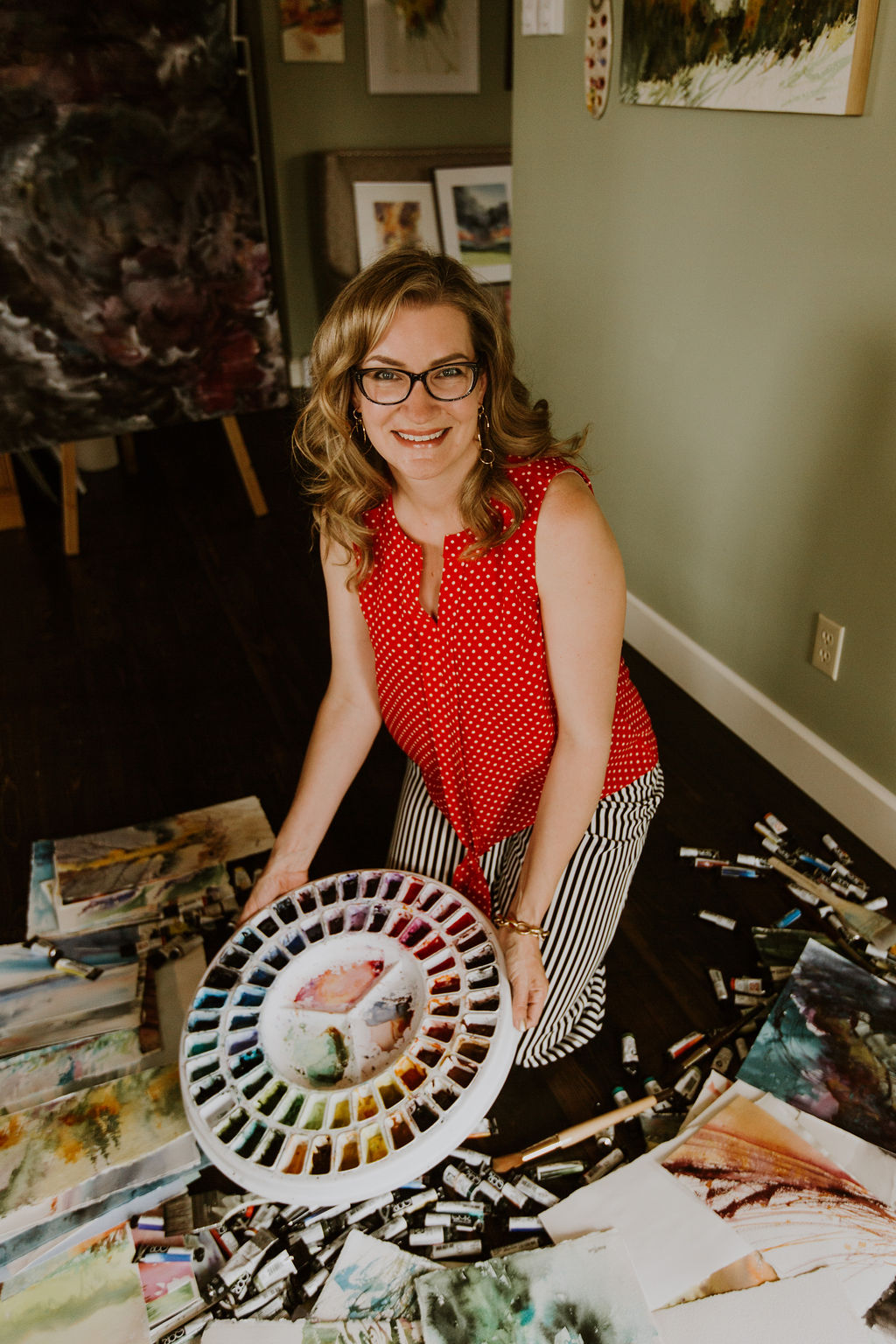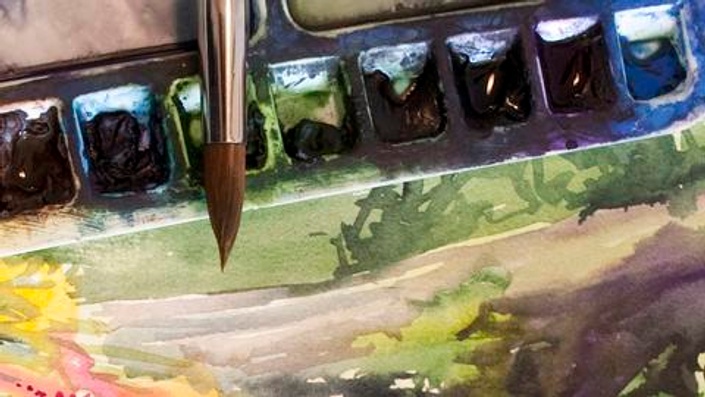 Basic Techniques in Watercolor (Membership)
Things You Should Know Before You Start Painting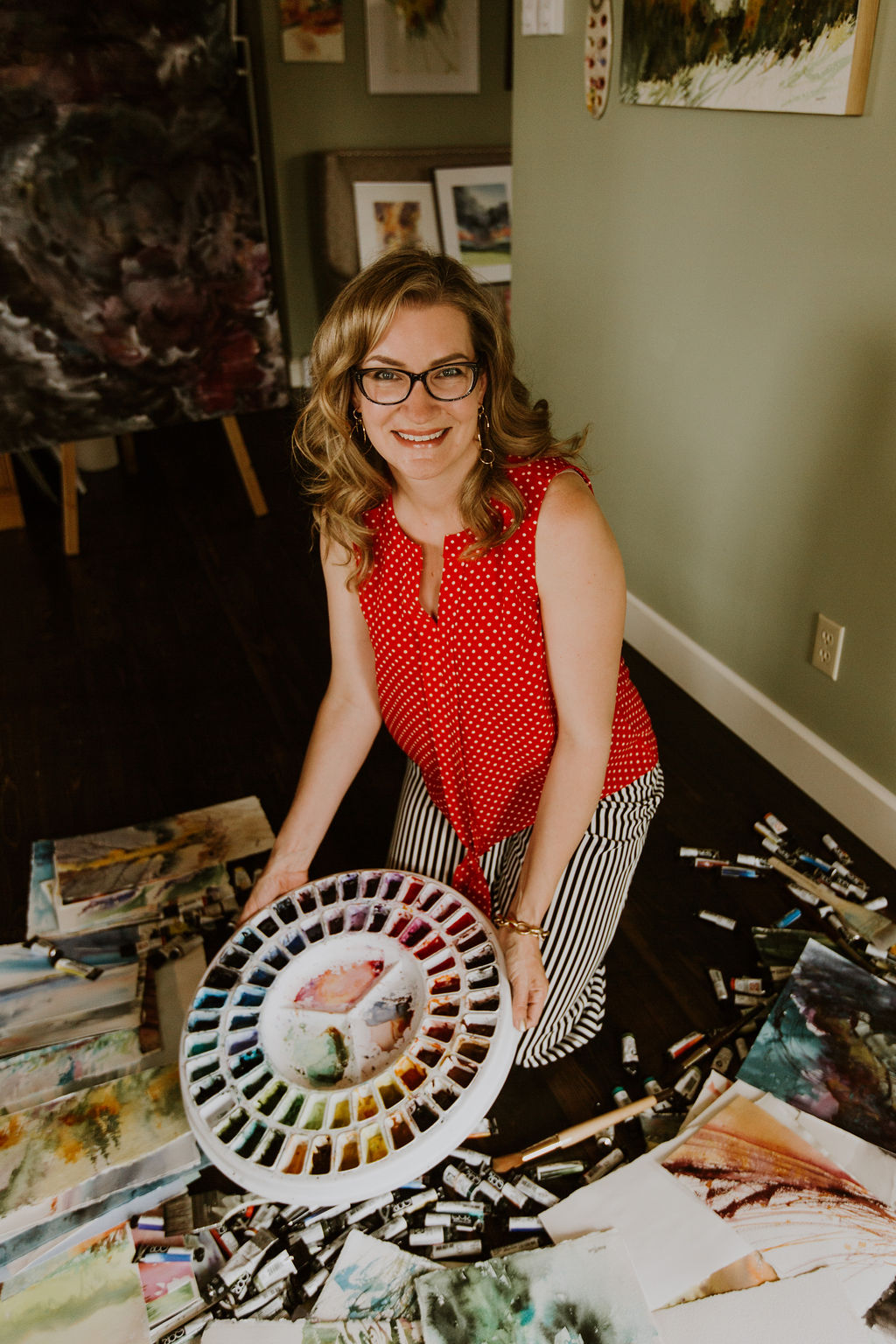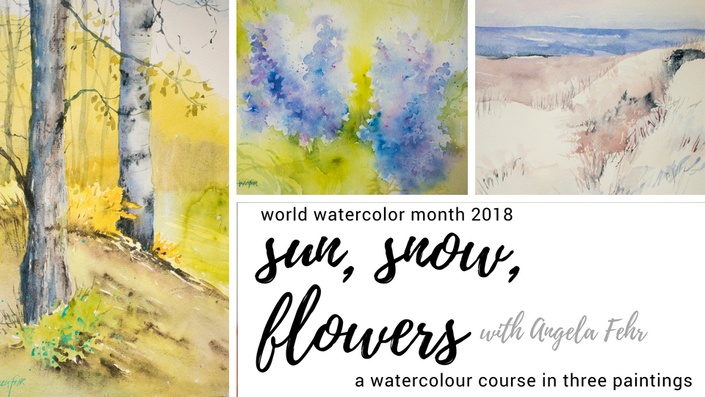 Sun, Snow & Flowers in Watercolor (Membership)
Three Loose Watercolour Paintings, Step by Step with Angela Fehr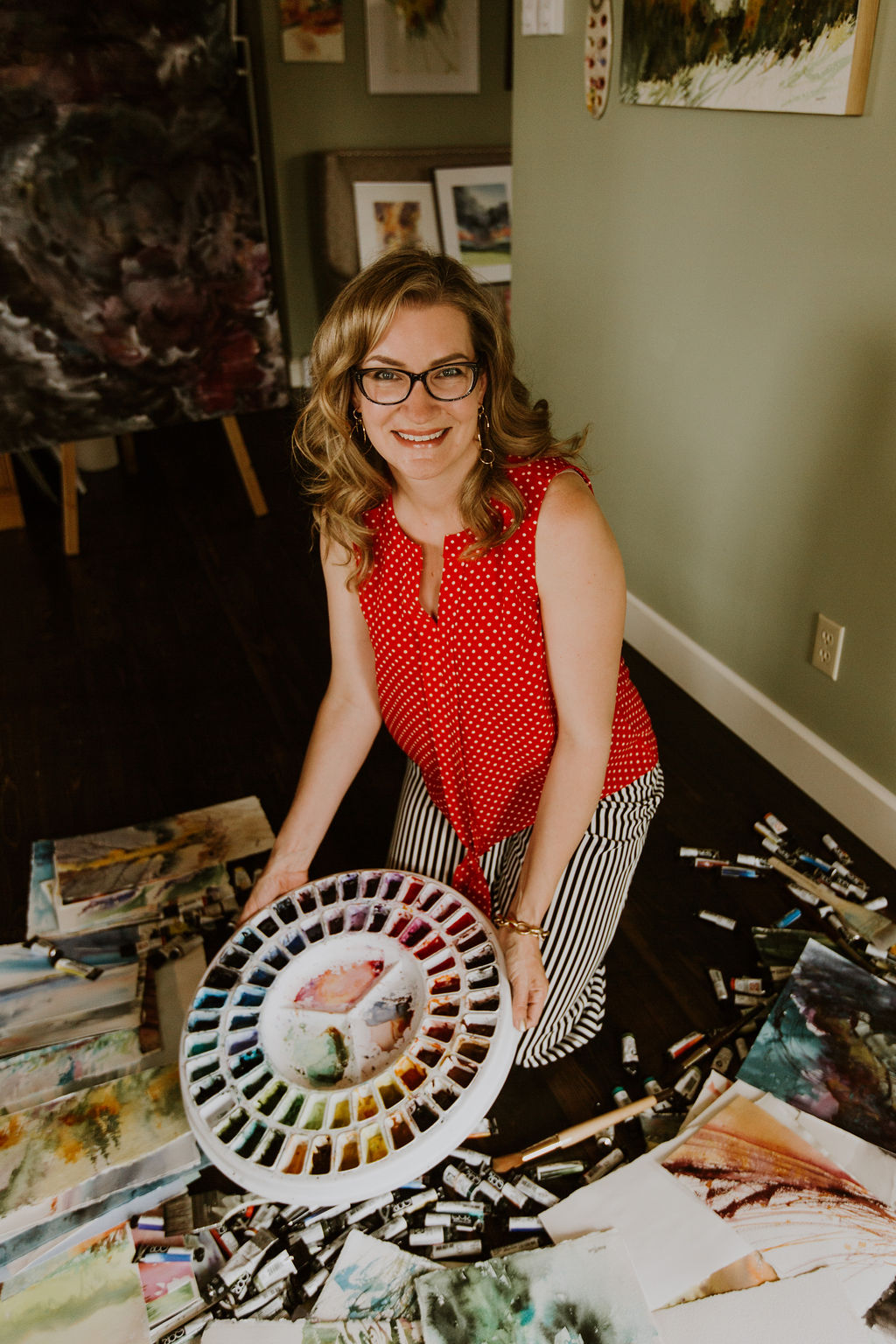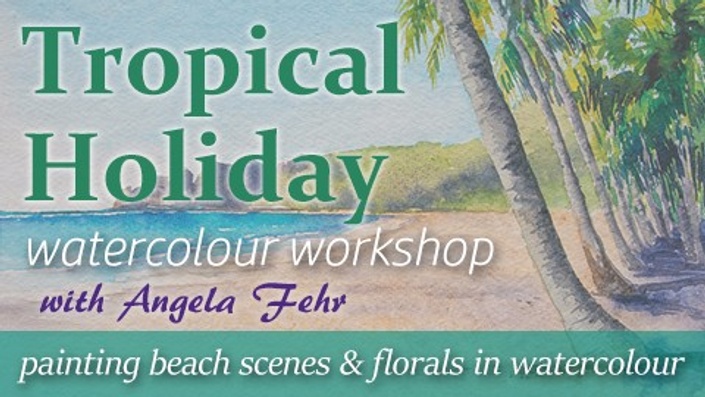 Tropical Holiday (Membership)
Paint the beauty of warmer climates in watercolour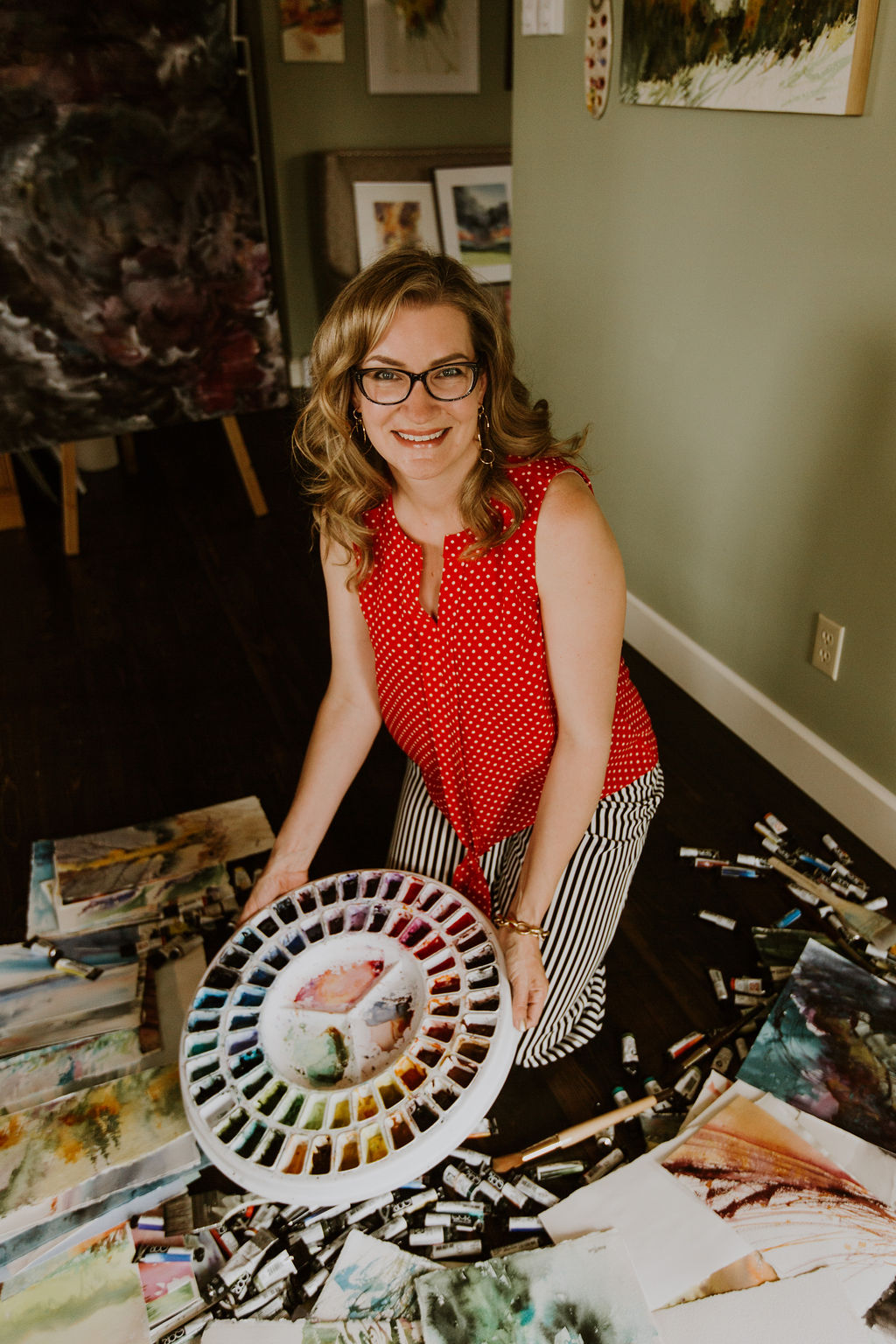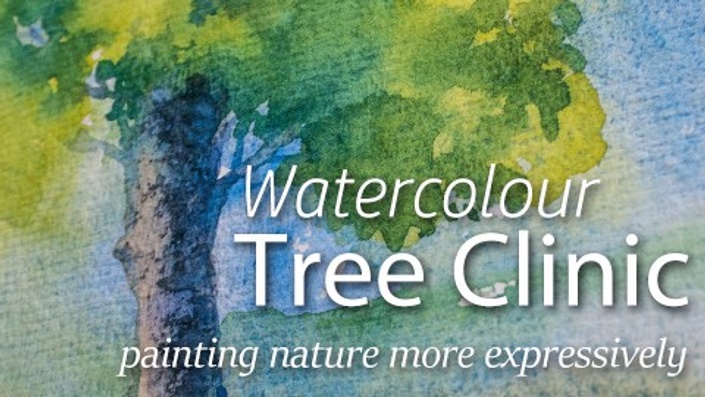 Tree Clinic (Membership)
Painting Interesting Trees in Watercolour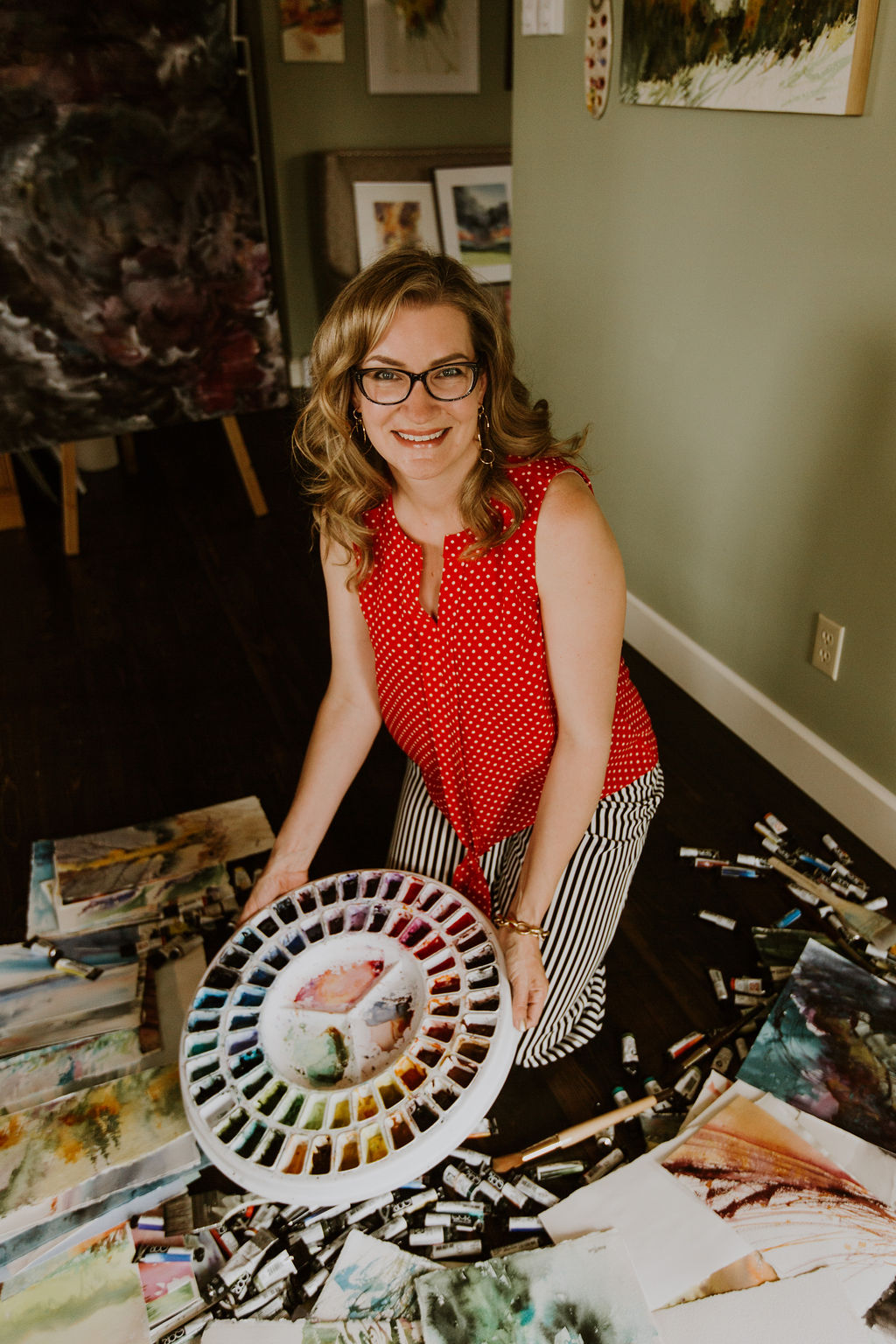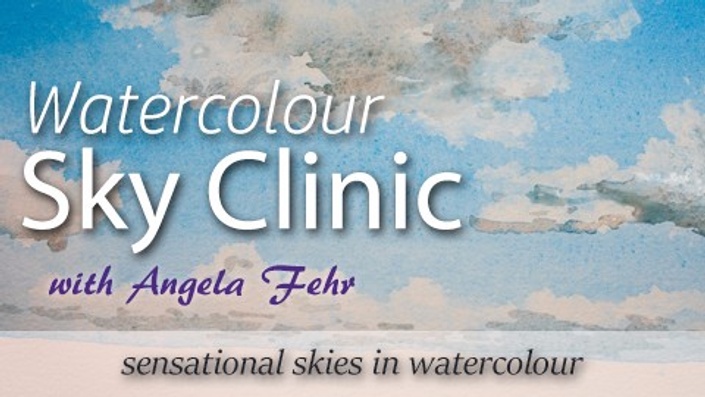 Sky Clinic (Membership)
Paint Creative and Colourful Skies in Watercolour!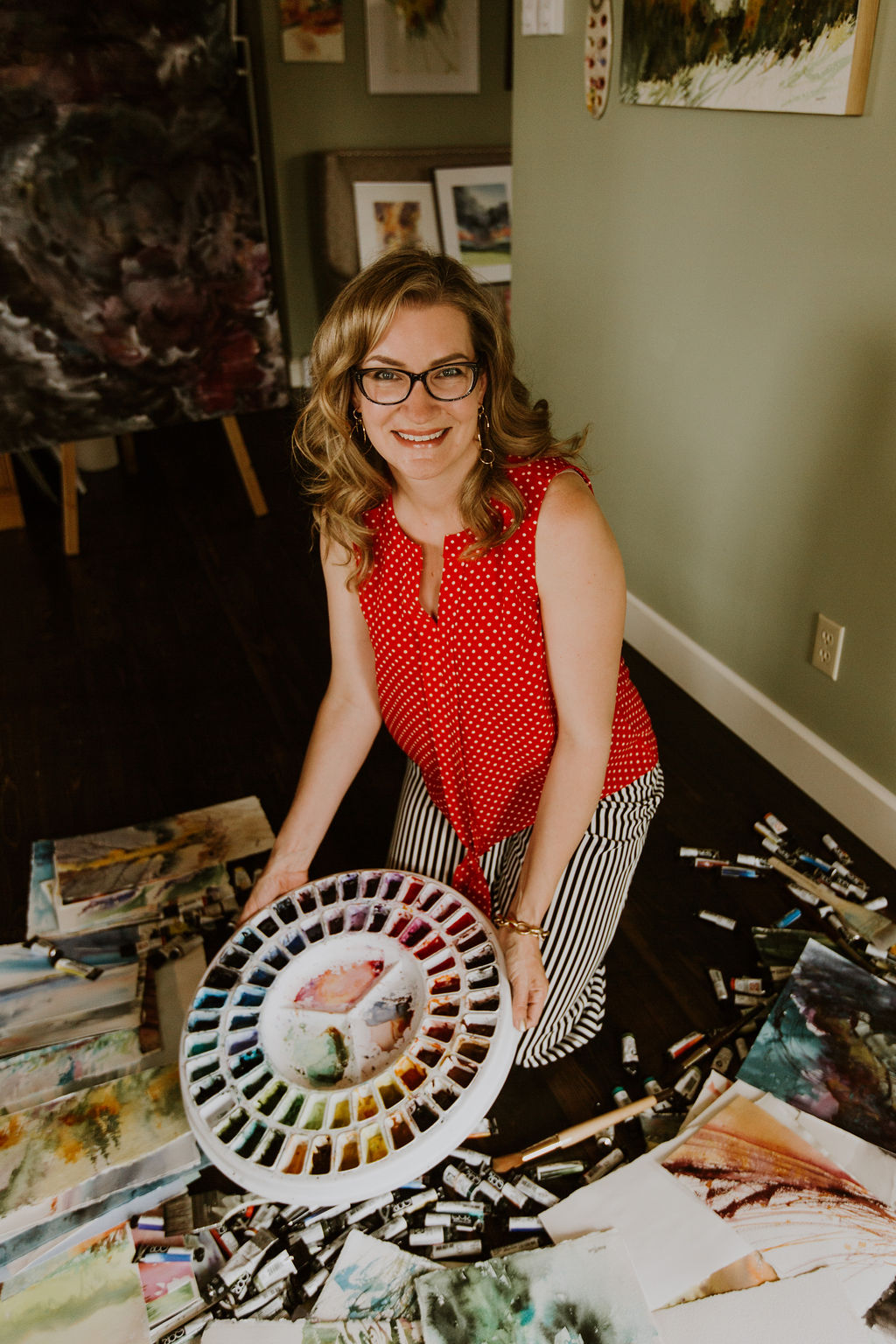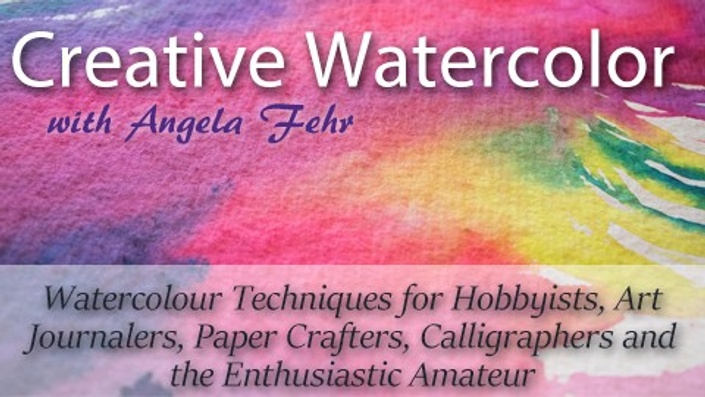 Creative Watercolour (Membership)
Watercolour Techniques for Hobbyists, Art Journalers, Paper Crafters, Calligraphers and the Enthusiastic Amateur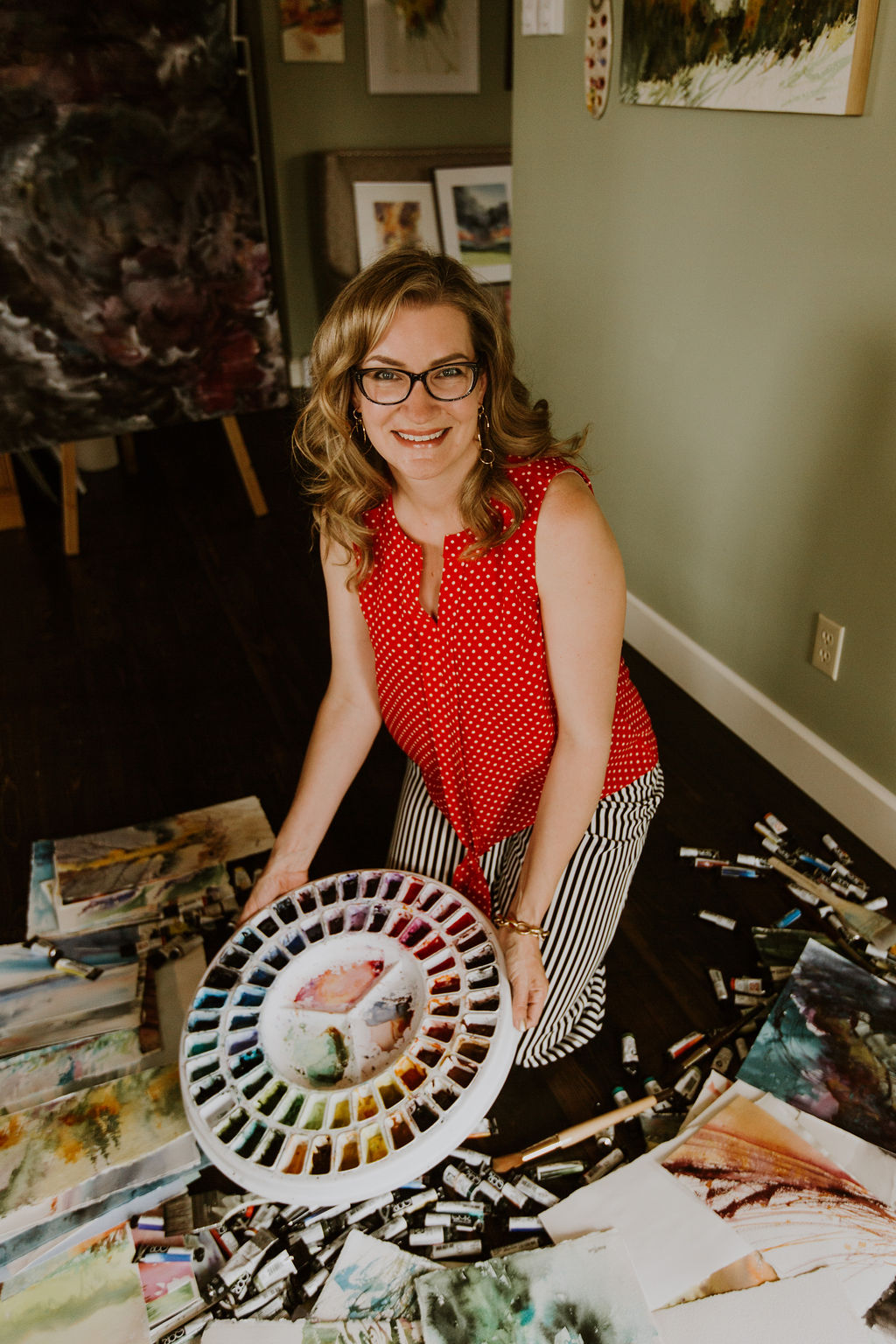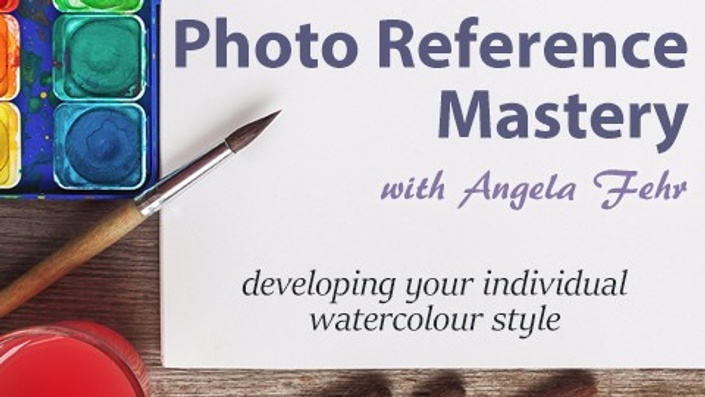 Photo Reference Mastery (Membership)
Developing the Landscape in Watercolour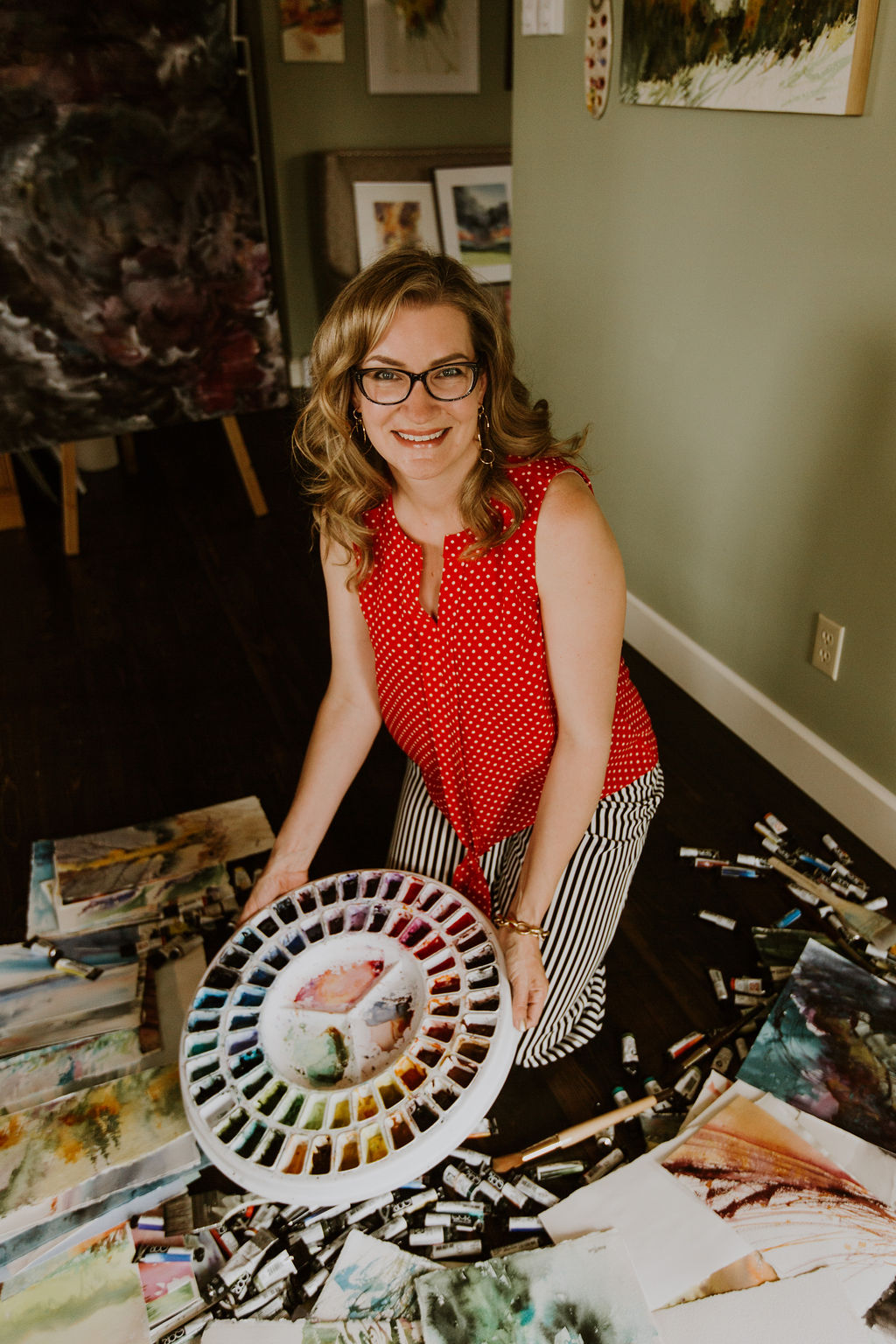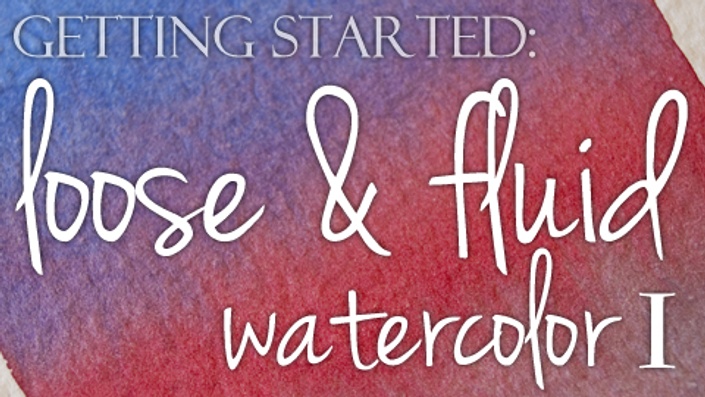 Loose & Fluid Watercolor Painting I (Membership)
Painting from the heart using watercolor techniques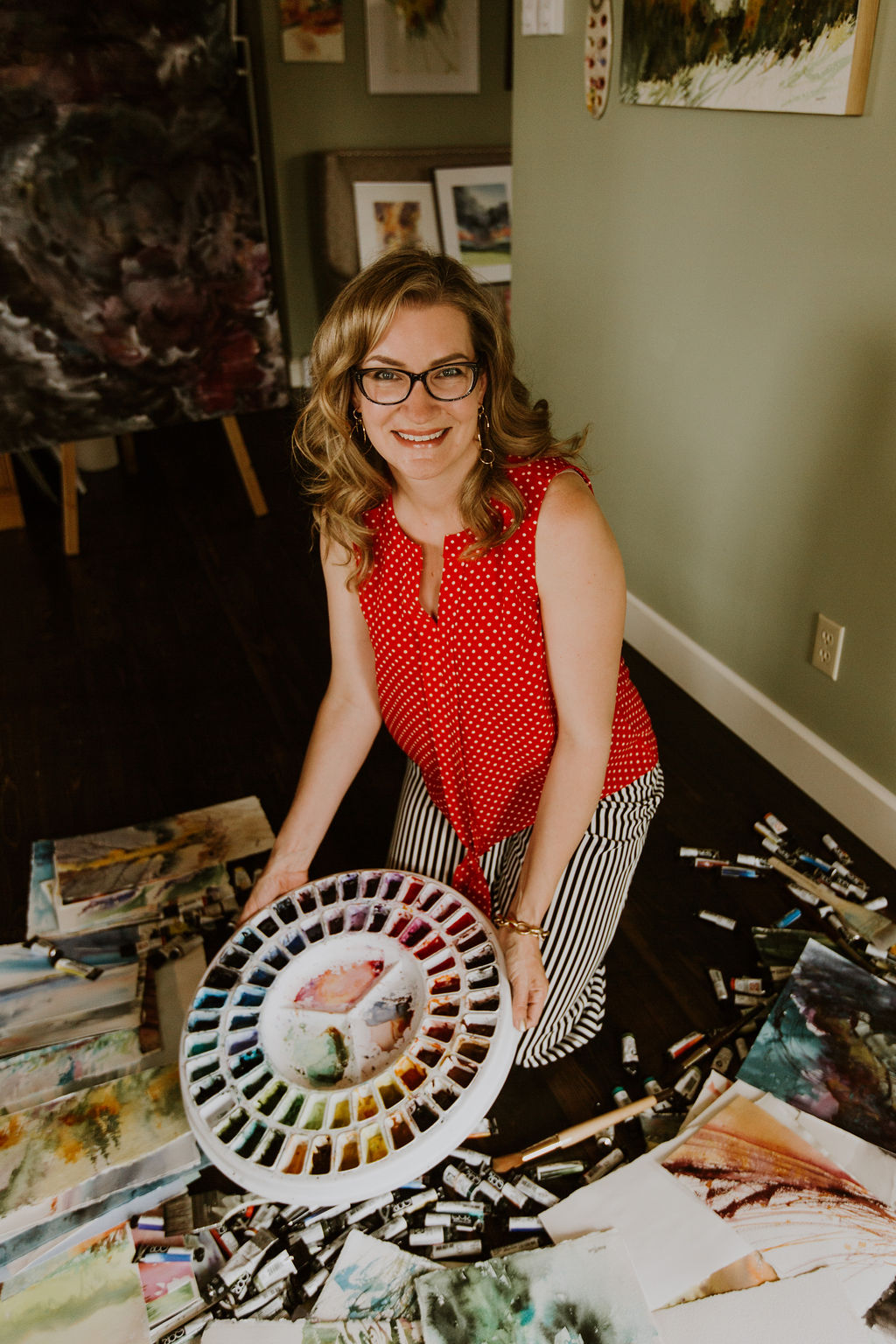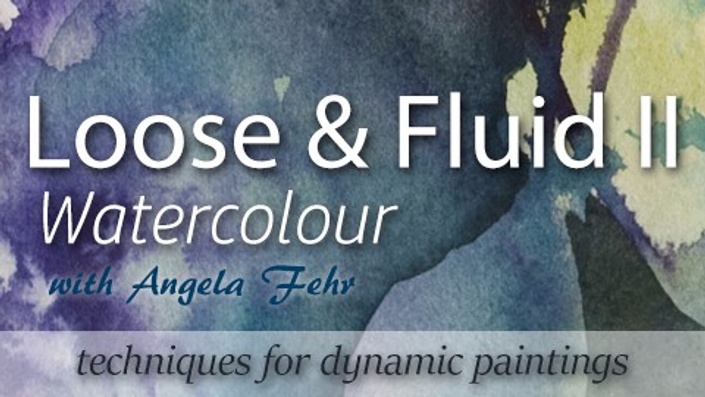 Loose & Fluid Watercolour Painting II (Membership)
Paint Expressively From the Heart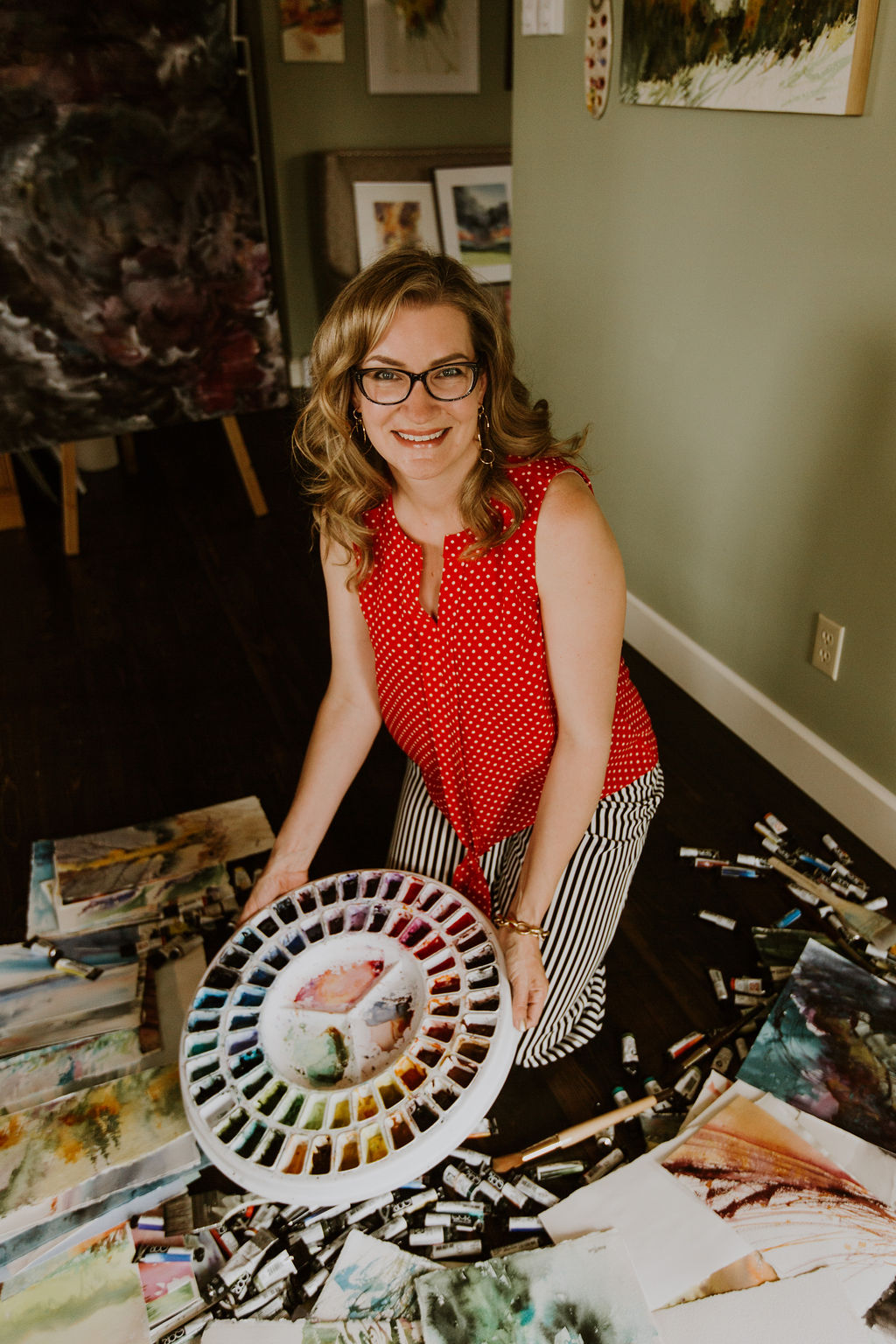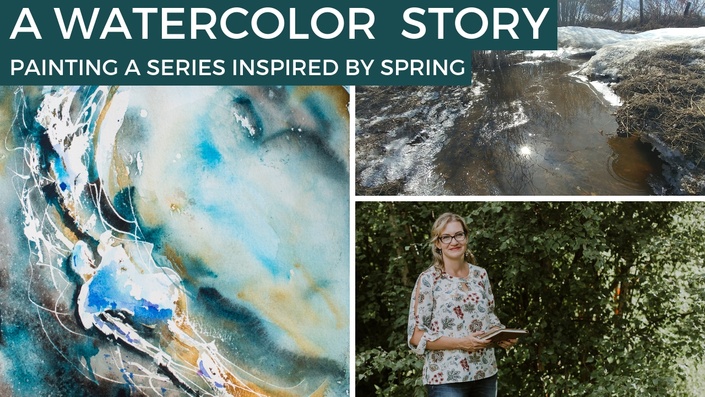 Runoff Painting Series (Membership)
Developing a Theme in Your Watercolour Process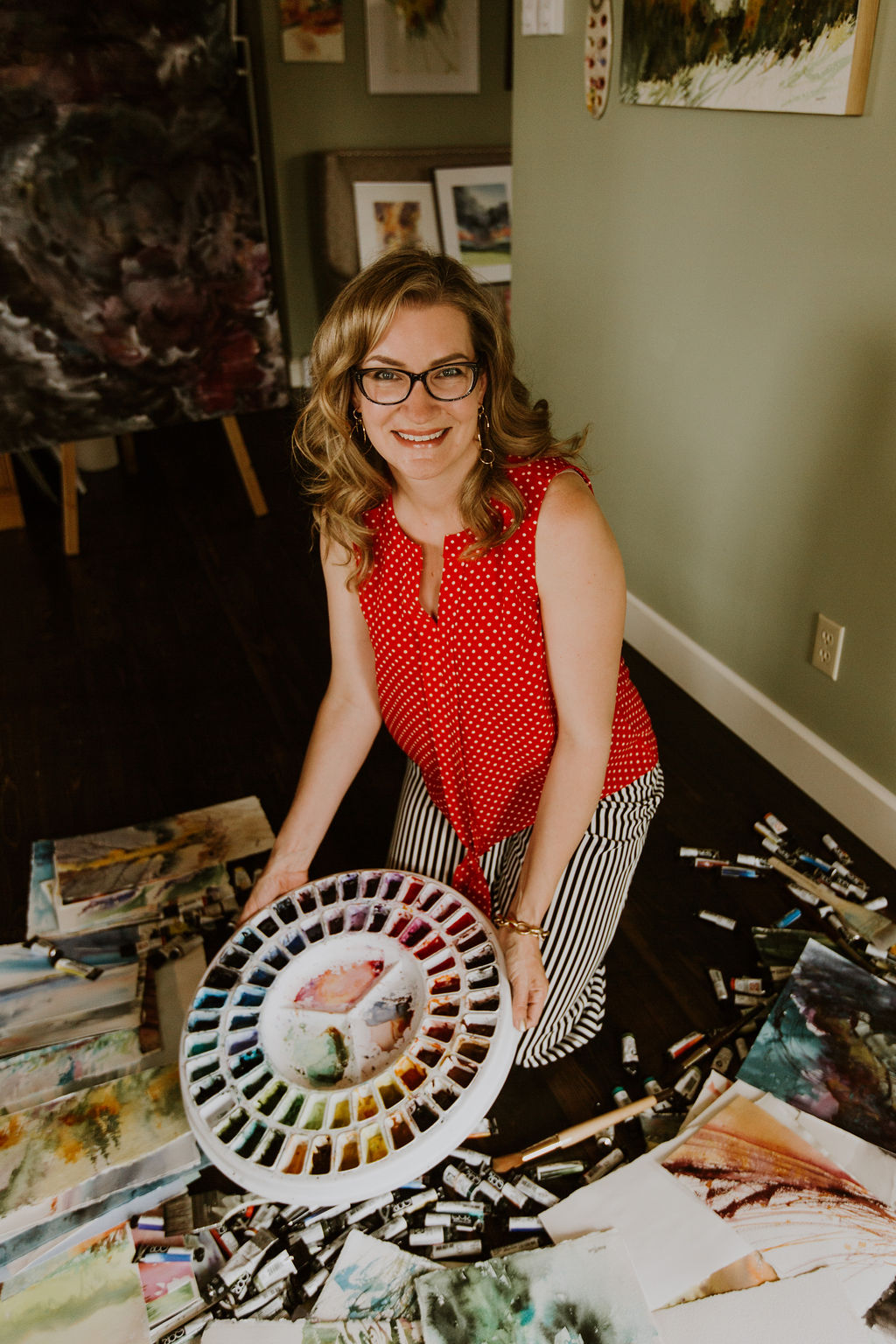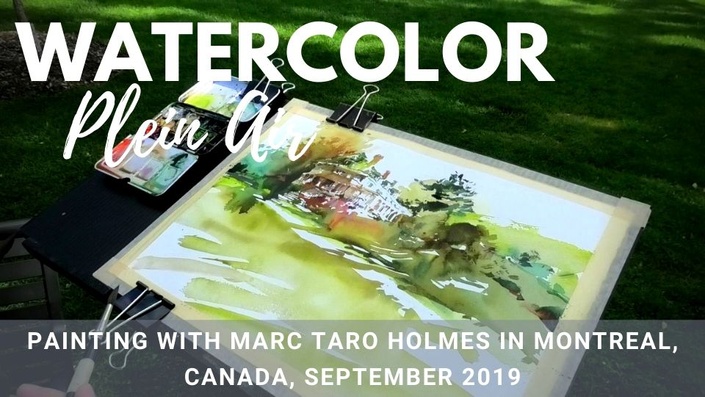 Plein Air Painting with Marc Taro Holmes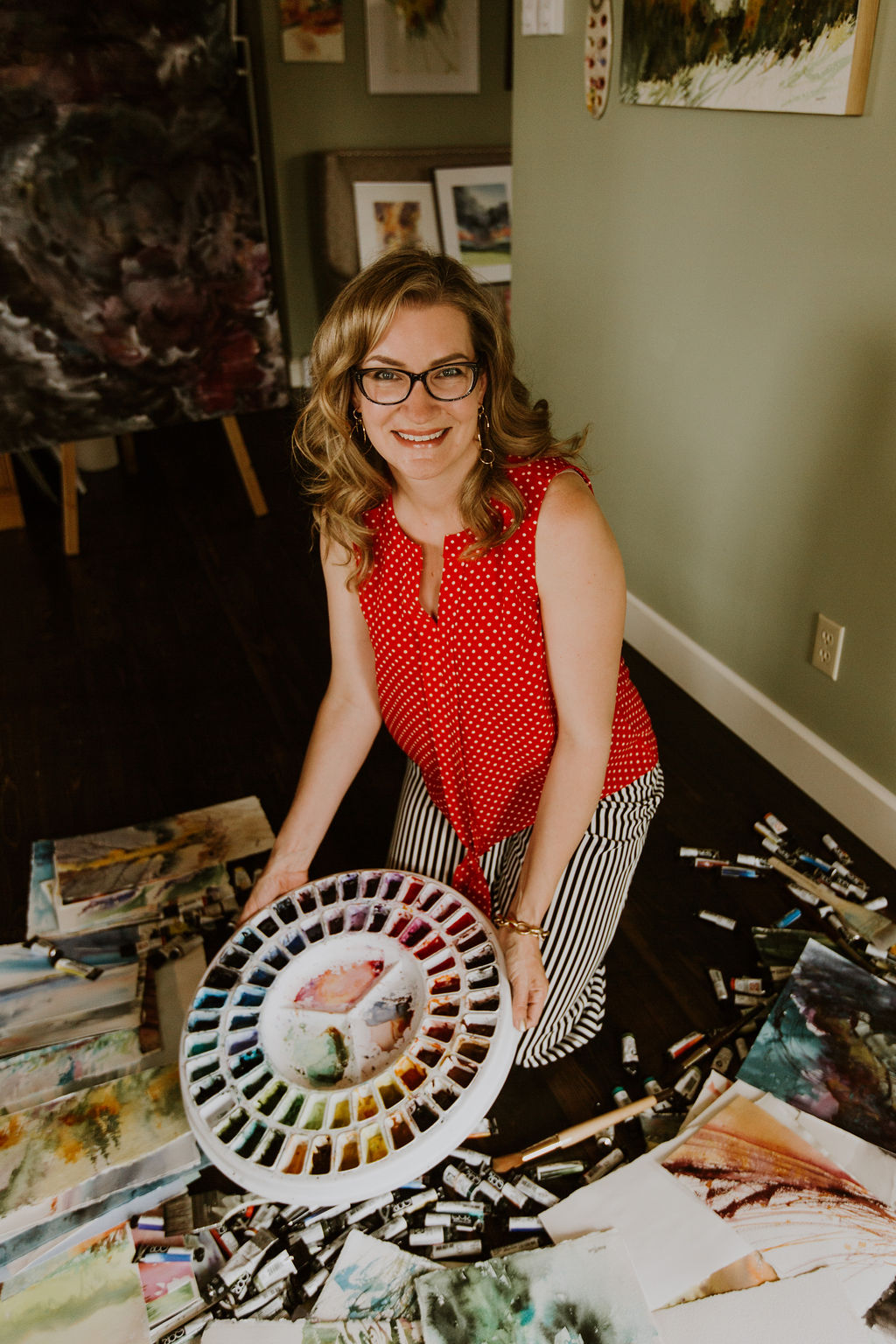 FREE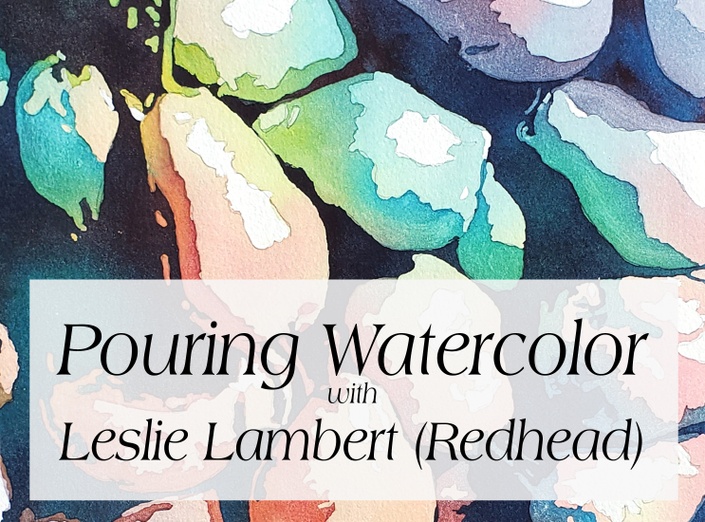 Pouring Watercolor with Leslie Lambert
An introduction to the art of pouring watercolor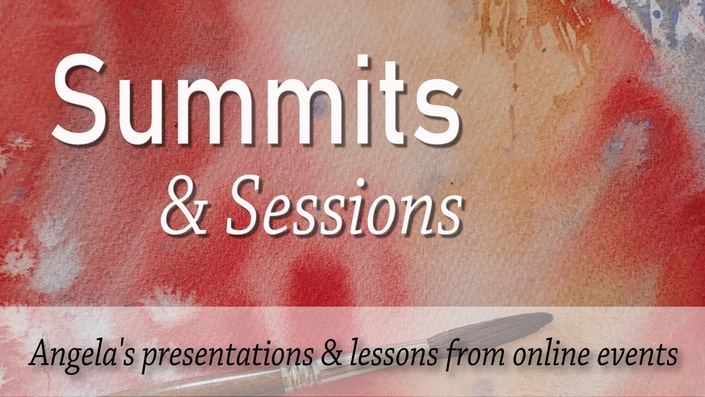 Summits & Sessions [Membership]
Angela's presentations and lessons from online events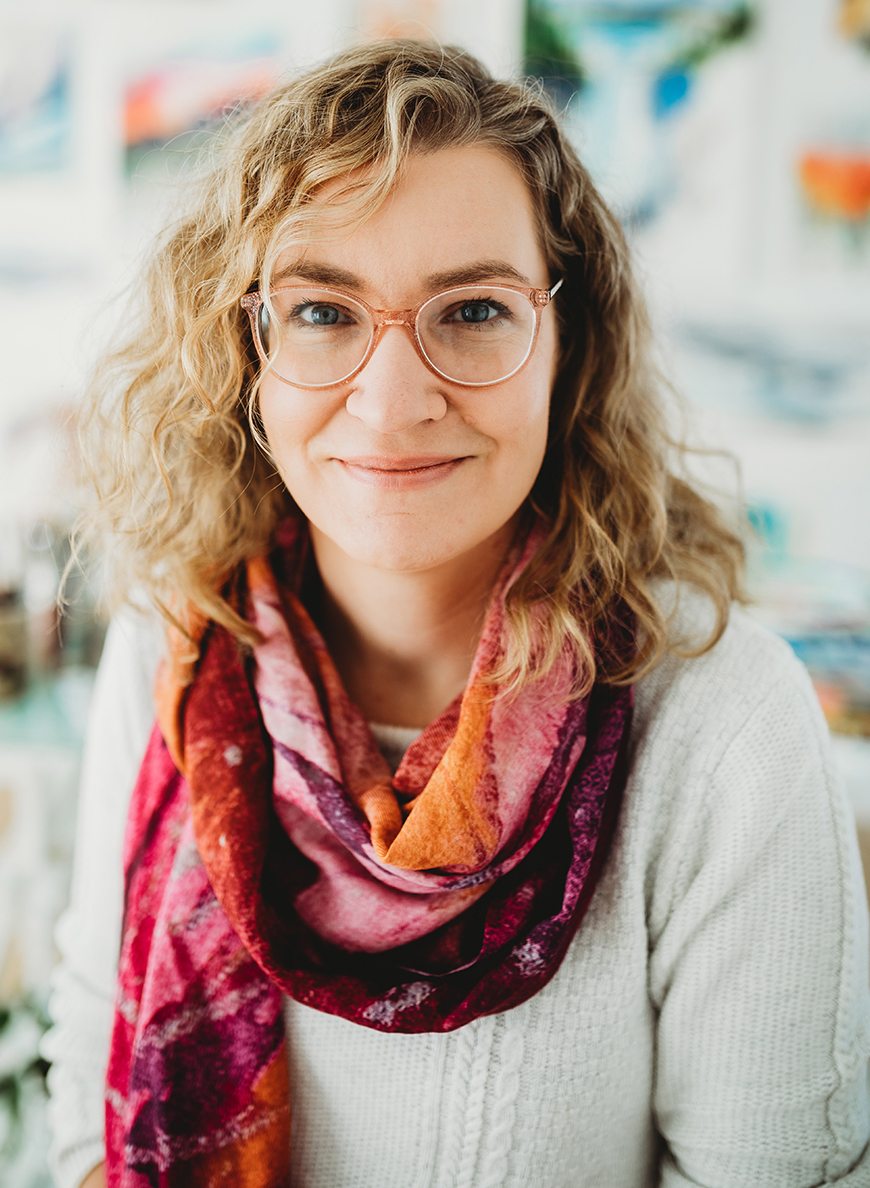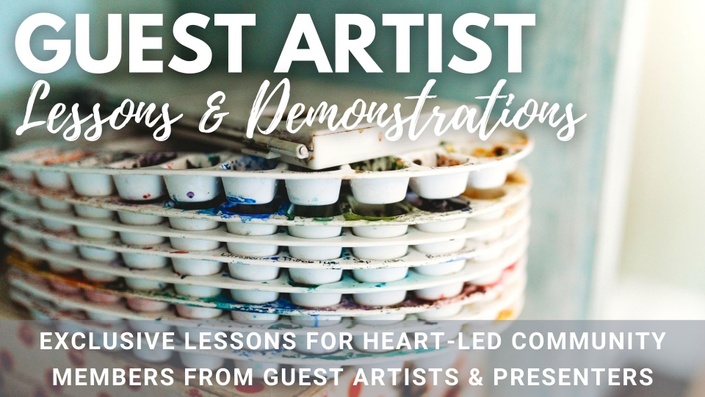 Guest Artist Interviews [Membership]
Angela Fehr talks with other great artists about Mindset & Technique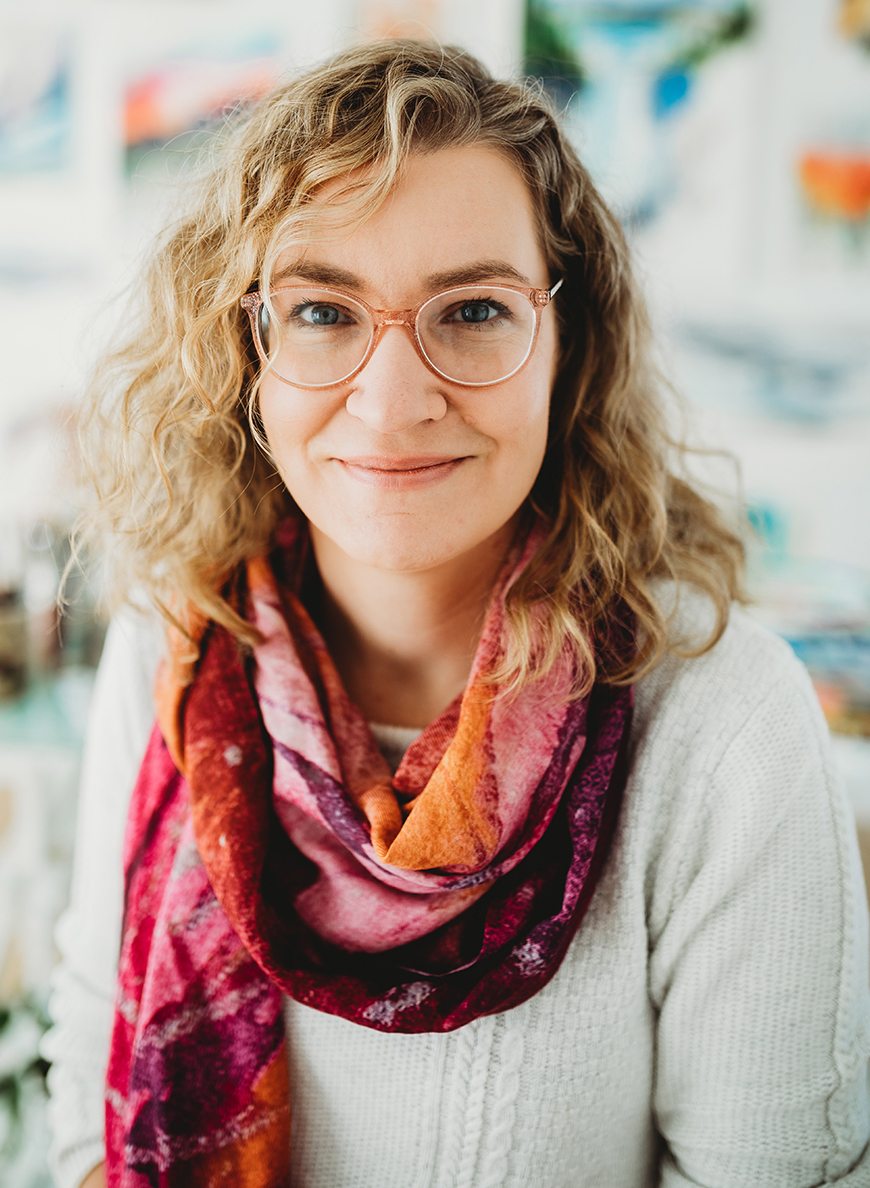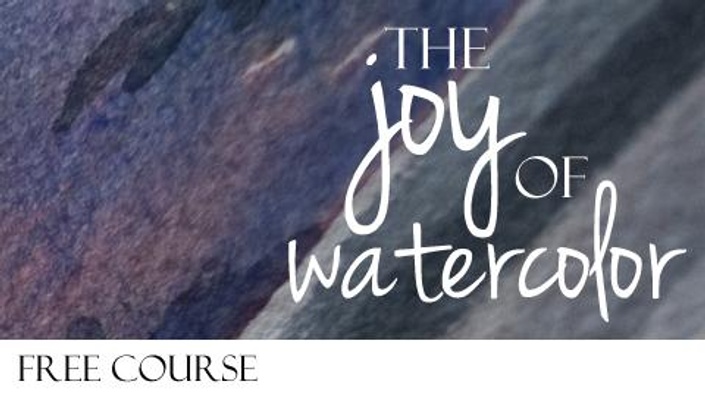 The Joy of Watercolor: Encouragement & Demos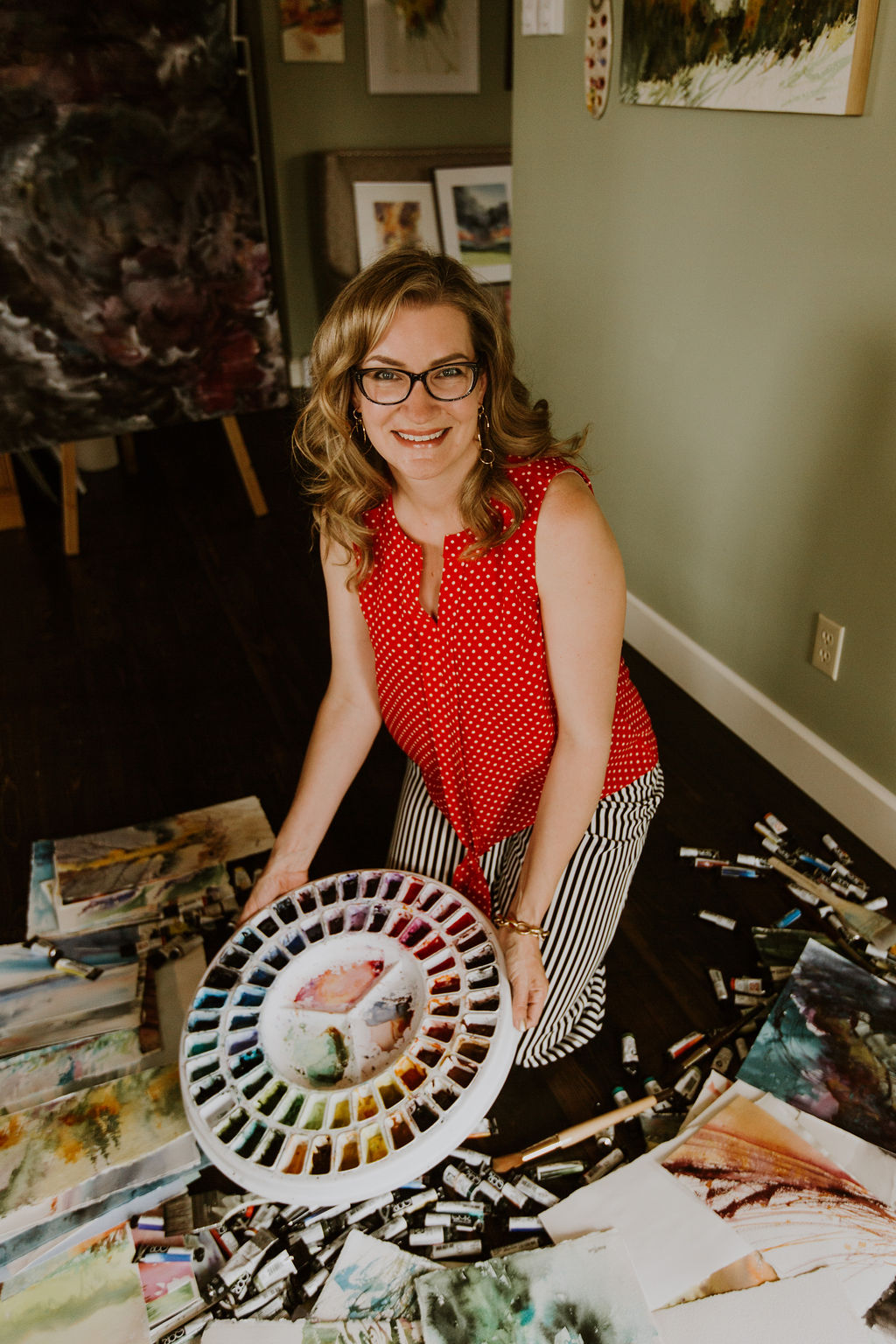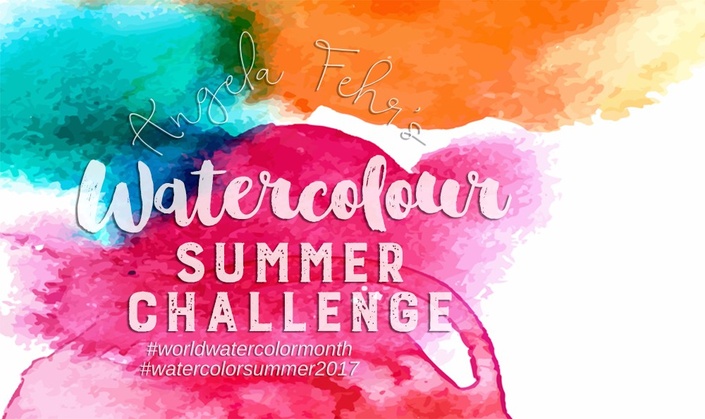 Watercolor Summer Challenge
Enroll to join the challenge group and win weekly prizes!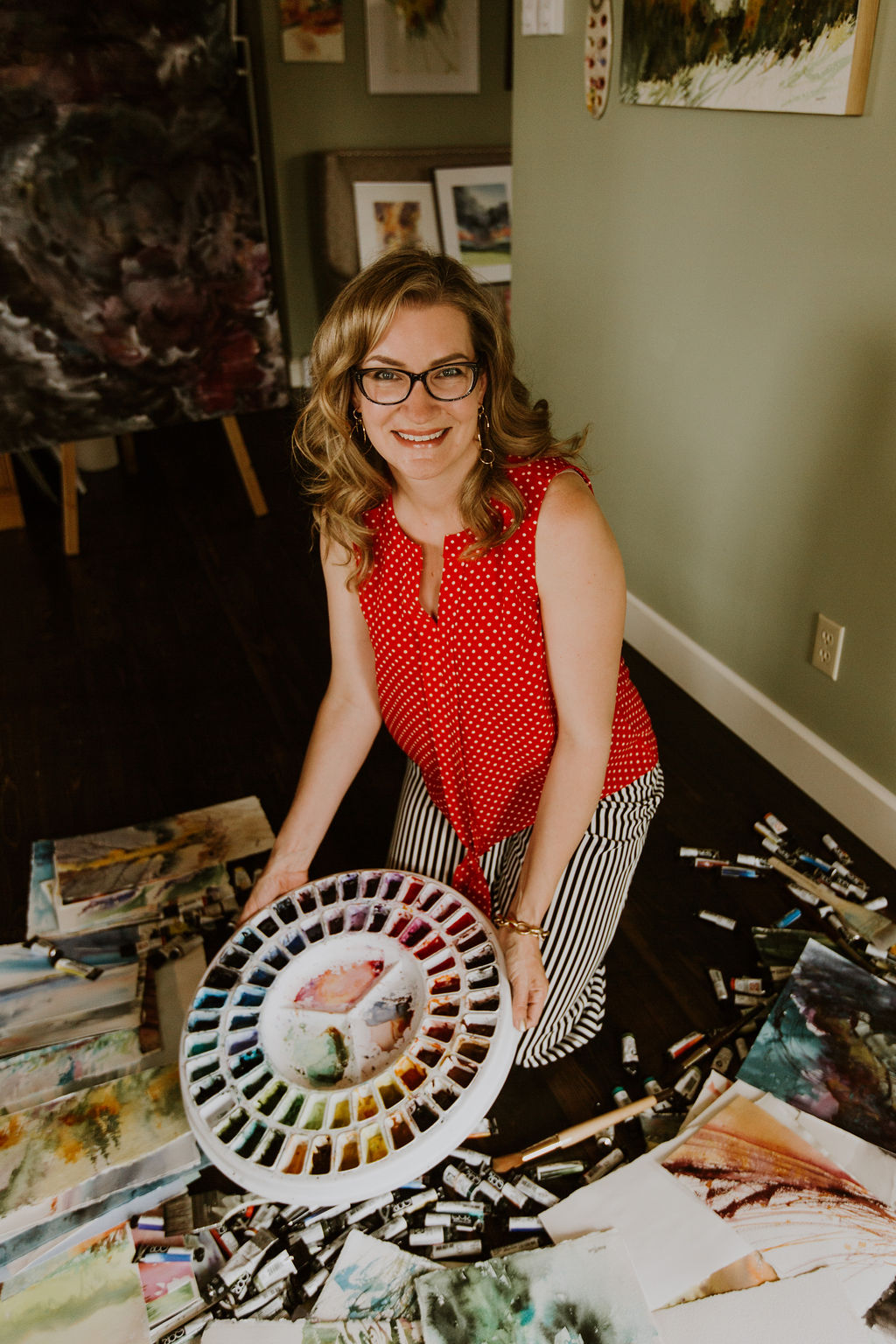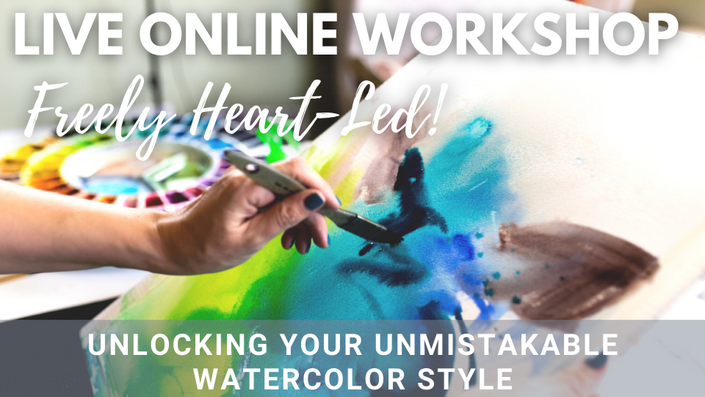 Freely Heart-Led! Unlocking Your Unmistakable Watercolor Style
Live Online Workshop: April 30-May 2, 2021