Supply List/Suggestions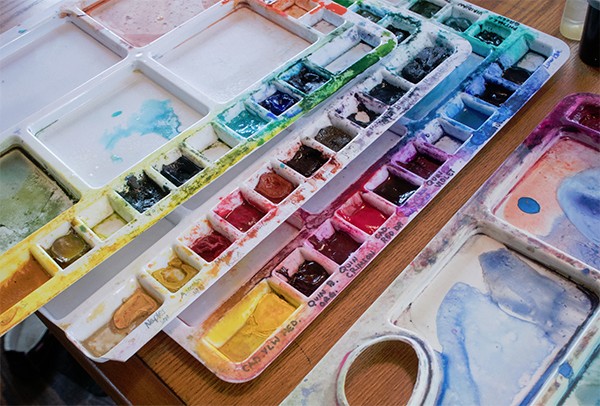 I never insist you use all the same supplies that I do, rather encouraging you to really get to know the colour palette you have before adding a lot of new colours that are unfamiliar. There is no magic brush that will improve your paintings, but with a nice round brush that holds a fine point and practice creating beautiful brush strokes, you can make magic.

I do recommend that you use the best paper you can afford, as how the paint responds with the water is very dependent on paper quality. It just won't flow the same on cheap, student grade, machine-made paper, so look for mould made, cotton rag paper. I use Arches 300 lb cold press or Indigo Art Paper's 300 lb. cotton rag paper which is an economical choice.
Links below are from Dick Blick; I get a small affiliate commission when you shop using these links, but I never recommend any supplies I don't use on a regular basis.
Paper:

Brushes:
For this course I've used almost exclusively an Escoda Versatil #10 rigger brush. It's my current favourite brush!
Paint:
In my studio I have five palettes filled with different colours of paint, choosing 6-10 colours to use in a single painting. The list below includes the colours I use most often in this course:
Palette:
Here's a link to my palette. Cheap and easy to use! Fits in a large ziploc bag for storage.
Complete and Continue